WhatsApp is a very important tool for almost every individual and businessman worldwide. It brings many features of the best quality, but when exporting WhatsApp chats, there are some lacking features. So, here we will discuss what is export chat in WhatsApp and the export WhatsApp chat feature for different chats.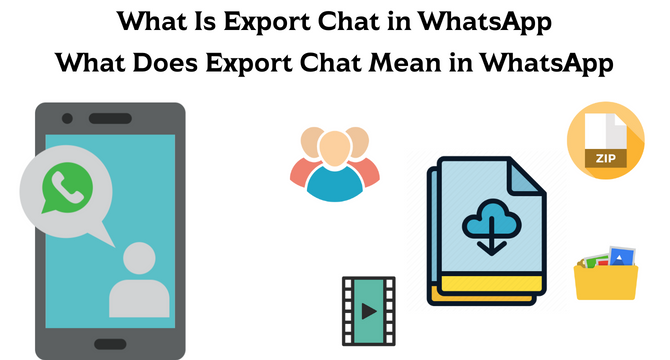 Part 1. What Is Export Chat in WhatsApp
WhatsApp is one of the best communication we find these days. Today it comes with a lot of features apart from chats only. There are calls, document sharing, status, and many other features. One of those is about exporting WhatsApp chat. As the name says, it lets you export your chat in email in TXT file format. Here are a few things worth noting about it.
1.1

What Does Export Chat Mean on WhatsApp?

You can export a copy of your WhatsApp chat history with an individual. It also works for groups. As you can export that chat, you can keep it in your drive or the offline storage as a TXT file or any other file format of your choice. Another interesting thing about exporting chat in WhatsApp is that it lets you choose whether you need to keep the media in that exported file or not.
1.2

Where can I Find/View Exported WhatsApp Chat?
You can find that chat in your offline storage when you export your WhatsApp chat.
You can also upload that to Google Drive and check it there.
If you are exporting through email, your chat will always stay on the email unless you delete it.
Part 2. How to Export WhatsApp Chat [2 Free Methods]
Exporting WhatsApp chat is pretty simple if you are interested only in exporting chat with an individual or a group. If you want to export many chats, it will need some tools. Otherwise, the process will be very tedious. However, for the individual and group chats, below is all the information you need to know.
2.1

Export WhatsApp Chat with Export Chat Feature

Export chat is the built-in feature you will find in every individual WhatsApp chat and a group chat. It lets you easily export the whole chat, inclusive or exclusive of the media files depending on your choices. So, here is how it works.
Launch WhatsApp and go to WhatsApp Settings.
Scroll down and find Chats section.
Go to Chat history on Android, or go to Export Chat on iphone.

Then you can export WhatsApp chats officially to its cloud drive. Also you can export WhatsApp to Google Drive or iCloud through Chat backup section.
With these steps, you will have a chat file on your device. You can also select the location to be an app.
2.2

Export WhatsApp Chats via Email in TXT Format

If you want to export your WhatsApp chat history via email in TXT format, you are at the right place. Below are the steps that you need to follow:
Open WhatsApp, go to that specific chat that you want to export; it can be a group chat or an individual chat.
Tap on the three dots on the top right (Android) or on the chat name(iPhone) to open options
Go for Export chat and set media preferences. Usually ATTACH MEDIA to avoid data loss.

Select Mail or Gmail and TXT as your file format.
Enter your another available email address and Send the email to your email address.
With these 5 steps, you will export your WhatsApp chats via Email in TXT format.
Part 3. One-click to Export All WhatsApp Chat at Once
When you are looking to export your WhatsApp chats, you have an option to export them selectively or export all chats at once. iMyFone iMyTrans (new version of iTransor for WhatsApp) is the tool you will be using here to export WhatsApp data. It not only exports all the WhatsApp chat data but ensures that there is no data loss. So, you also get to export call history, media, documents, and everything else on your WhatsApp.
Transferring WhatsApp data between iPhones and Android smartphones.
Backup your WhatsApp data directly to your PC storage.
Export WhatsApp data and chat history files like PDF, HTML, CSV, etc.
Restore WhatsApp backup from PC storage to your phone without restrictions of operating system.
Directly access and restore WhatsApp Google Drive backup to Android/iPhone, no need of any other tools.
The process to transfer your WhatsApp chat at once with a single click is pretty simple. However, you need to ensure to follow all the steps carefully in the right order. Below is the step-by-step guide to transferring your WhatsApp data and chat history usingiMyFone iMyTrans:
Step 1.First of all, download and install iMyFone iMyTrans on your PC. Connect your smartphone to your PC using a data cable.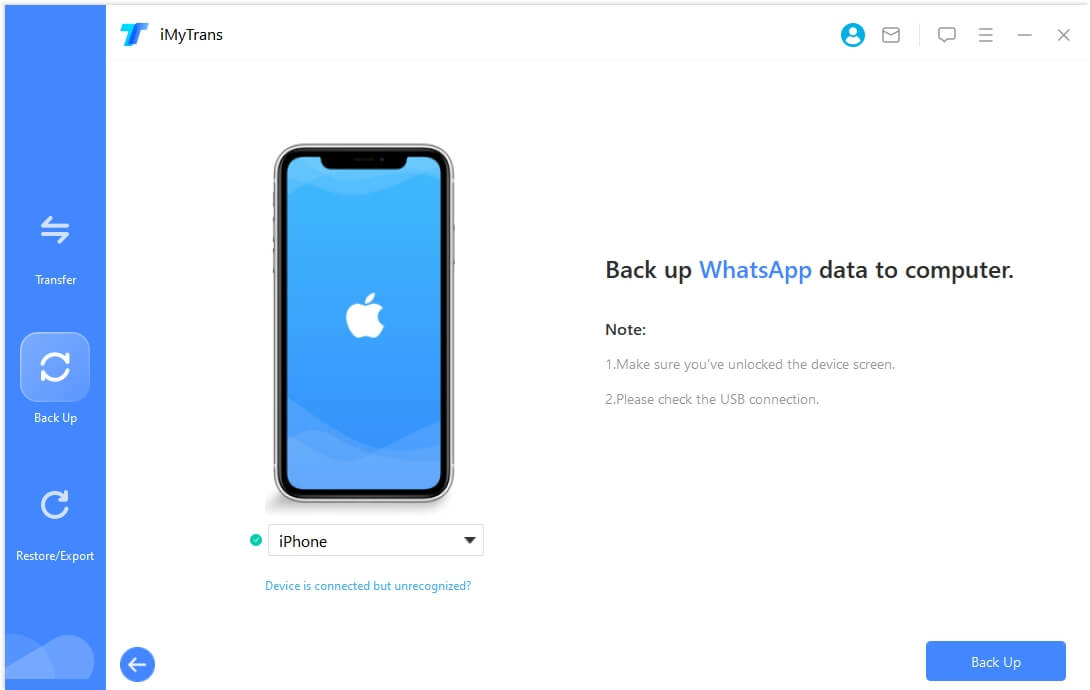 Step 2.Allow all the permissions if the program asks. Click on Back Up to start the process.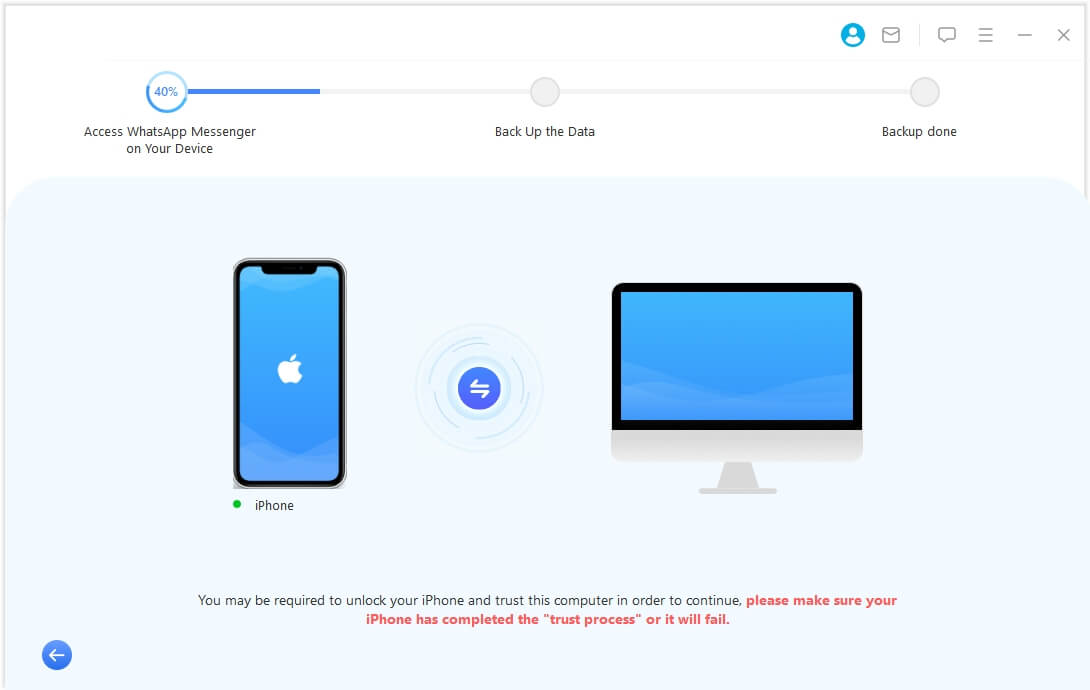 Step 3.Wait until the process is done. Then go to Restore/Export WhatsApp Backup from the left pannel.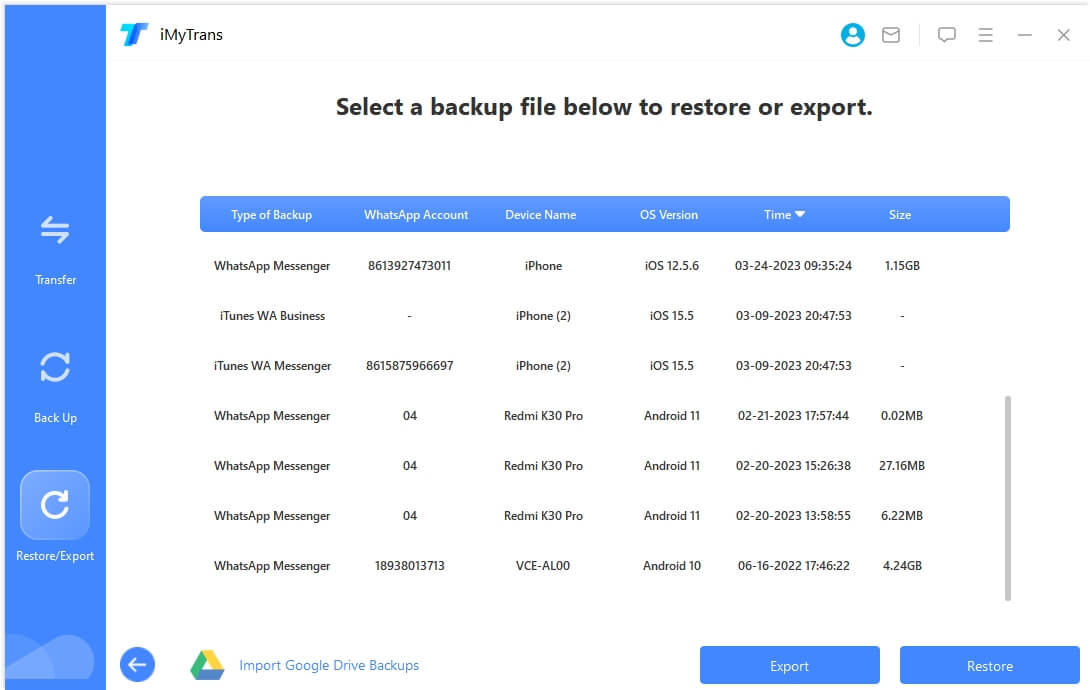 Step 4.There you can choose the latest WhatsApp backup you have just made. Then click on Export to Computer.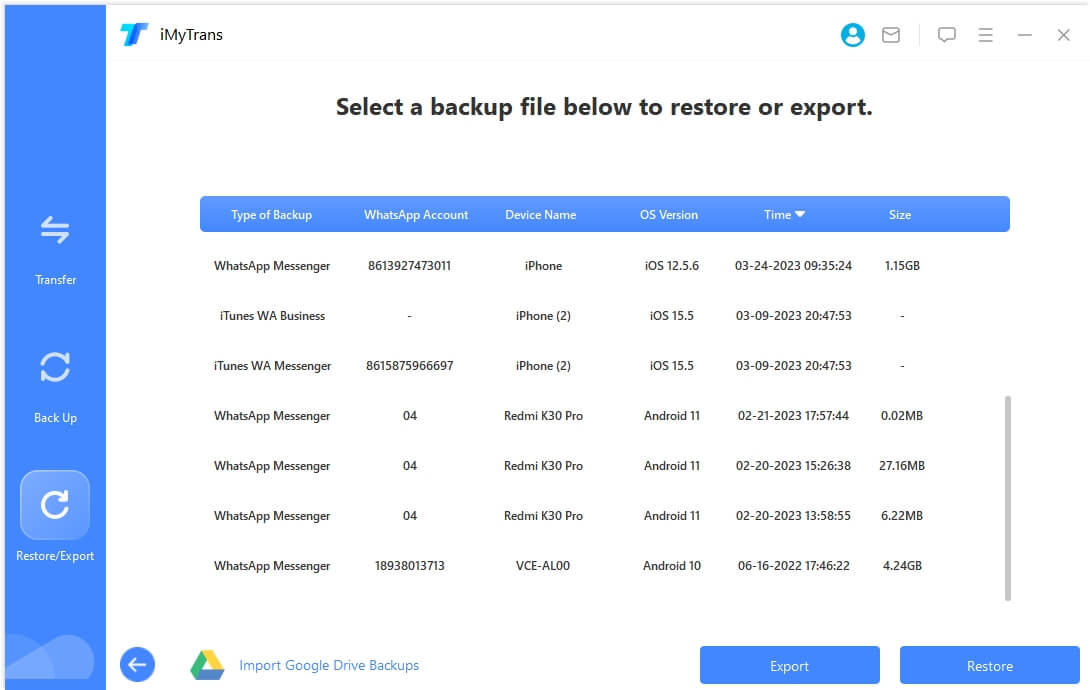 Step 5.From there you can preview and read the details. And you can selectively export or export all WhatsApp data at once.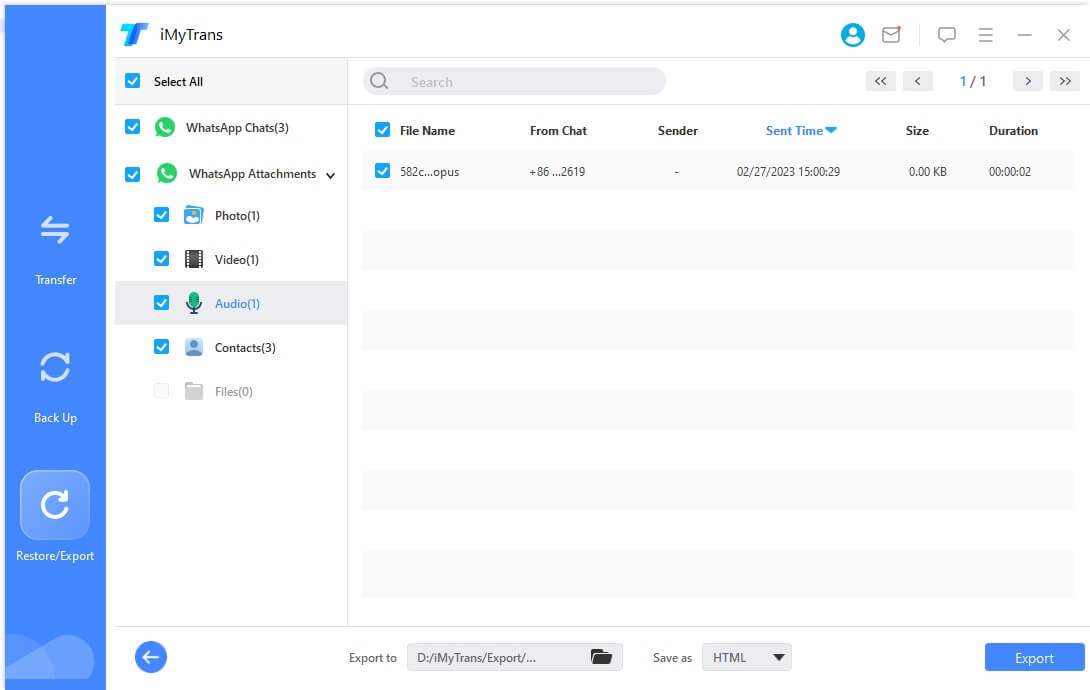 FAQs: More About Exporting WhatsApp Chat
1

Can I export WhatsApp chat to pdf?
Yes, there are direct and indirect ways to export WhatsApp chat to a PDF file. For the direct method, you can export in email in a TXT file and then convert it into PDF using any document processing tool. If you want to export it directly in PDF, you may need to use some WhatsApp exporting tool.
2

Why Can't I export WhatsApp Chat?
There could be several reasons you cannot export your WhatsApp chat. Those include compatibility issues, lack of space in your device, cache issues, etc.
Conclusion
Knowing what export chat means on WhatsApp can be very helpful if you are planning to change your device or need to keep a record of some chat. However, if you export your chats, using some WhatsApp export and backup restore tool will be your best choice with all the features you need.