Technology is evolving at a rapid rate and the turnaround time between upgraded models is getting shorter. Smartphones are a testament to this fact as you see new models every 6-12 months. This has led to people changing their smartphones more frequently. These switches have led to new concerns among smartphone users. One such concern is will I lose my WhatsApp conversations if I change phones? Today, we would try to address this question.
Will You Lose WhatsApp Conversations if Change Phones?
Well, it depends. If you log into the same WhatsApp account on the new phone, the WhatsApp conversations will be still on the old phone when you log back in. But if you are asking if the WhatsApp conversations will also switch to the new phone, the answer is no. WhatsApp conversations will not automatically sync from the old one.
How to Keep WhatsApp Conversations if You Change Phones?
WhatsApp does not allow users to frequently switch their account on different phones. If you log into WhatsApp account frequently, the account will be banned from hours to days. So, if you are changing to a new phone, rather than logging in back and forth, the best solution to keep your WhatsApp conversations will be transferring them to the new phone at the same time. In this part, we will discuss different methods that can transfer the WhatsApp data from old phone to the new one.
Change Phones with the Same Operating System
First, we would examine the situation where you are switching over to a device with an OS which is same as your current device. This means iPhone to iPhone or Android to Android switchovers. Being in the same ecosystem means that there are official options available to transfer your WhatsApp conversations.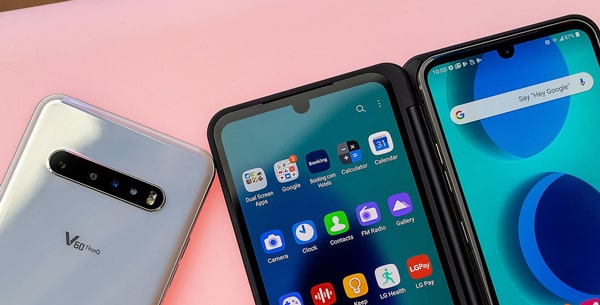 A. Transfer WhatsApp Conversations for iPhones by Backing Up via iCloud
For iPhones, the best course of action for transferring WhatsApp messages is to make use of the iCloud backup and restore it on your new iPhone. We would break it down in 2 different steps, Backup to iCloud and Restore from iCloud. There are a few considerations to keep in mind for both the steps.
You must be signed in with your Apple ID with iOS 9 or later and iCloud Drive turned on. Also, you need more than twice the free space on both the iPhone and the iCloud compared to the size of the backup. Finally, the phone number used for backing up and restoring the iCloud must be the same. Otherwise the process would not work.
The steps are as follows:
Step 1. On your old phone, if you have automatic backups enabled then the backup should already exist on the iCloud.
Step 2. If you wish to manually backup your messages, launch WhatsApp and follow the path, WhatsApp > Settings > Chats > Chat Backup > Back Up Now.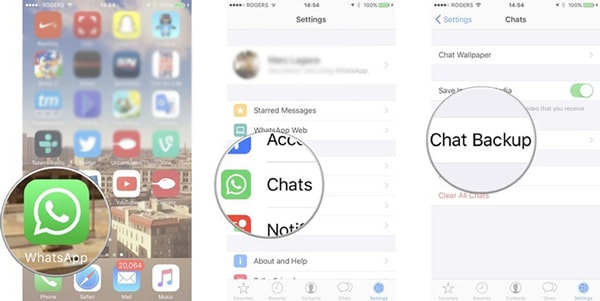 Step 3. On your new phone, install WhatsApp. Once your phone number is verified, follow the instructions on the screen to restore your WhatsApp data along with your conversations on the new phone.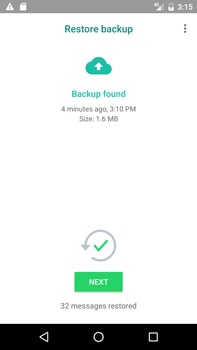 B. Transfer WhatsApp Conversations for Androids by Backing Up via Google Drive
For Androids, Google Drive is the iCloud equivalent. The process itself is somewhat similar but comes with a different set of considerations. Like the iCloud is linked to the Apple ID, the Google Drive is tied to the Google Account. Although WhatsApp backups do not take up your allotted Google Drive space, they do get deleted after a year if they are not updated. The process once again is divided into creation and restoration of the backup.
The steps are as follows:
Step 1. Open WhatsApp and tap the 3 dots in top right corner.
Step 2. Follow the path, Settings > Chats > Chat backup.
Step 3. Select Backup to manually create a backup. You can also set a frequency for how frequently you want the automatic backup to be done.

Step 4. On your new phone, sign in to your Google account. Install WhatsApp and, when the prompt appears, tap Restore to initiate the restoration of your WhatsApp data and conversations.
Change Phones with a Different Operating System
For transfers between Android and iPhones, there is no official method but there are few methods you can use to transfer your conversations.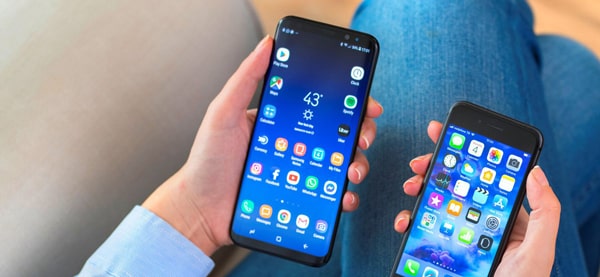 A. Transfer WhatsApp Data to New Phone Directly via iTransor for WhatsApp
Among the current options, by far the best and easiest to complete method to transfer WhatsApp conversations and data between Android and iPhone is the use of iTransor for WhatsApp. With this tool, you can transfer your WhatsApp conversations between different operating systems. And transfer between the same operating system is also available.
The process is:
Step 1. Download and launch the program.
Step 2. From the sidebar, select Transfer WhatsApp between devices. Connect both the source and destination device to your computer. Double check the source and destination devices.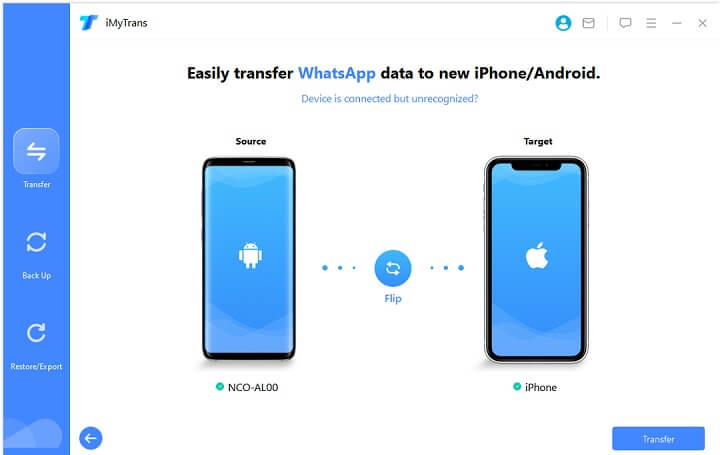 Step 3. Complete the process by clicking on Transfer which would eventually lead to your WhatsApp conversations being transferred to your new phone.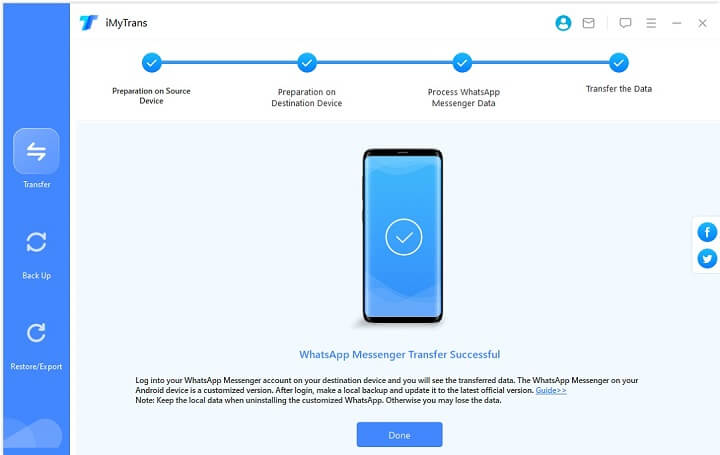 B. Export WhatsApp to the New Phone via WhatsApp Export Chat
Using WhatsApp's Export Chat option, it is possible to transfer your WhatsApp conversations between Android and iPhones. However, this method is not without its caveats.
Firstly, you can only transfer the last 40,000 messages (without media) or last 10,000 messages (with media) of a conversation. Secondly, the messages are no longer in their standard form. This is because the export chat option uses email to transfer the WhatsApp conversations. The messages are attached as a txt. file and media is attached as a zip. file. As a result, it is not possible to view them as proper WhatsApp chats. But with this method, you are able to keep your WhatsApp chats logs on phone.
The steps are as follows:
Step 1. On your old phone, select a chat after launching WhatsApp.
Step 2. For Android, tap on the 3 dots in the top right corner and select More> Export Chat. For iPhone, just tap on the contact name, scroll down and find Export Chat button.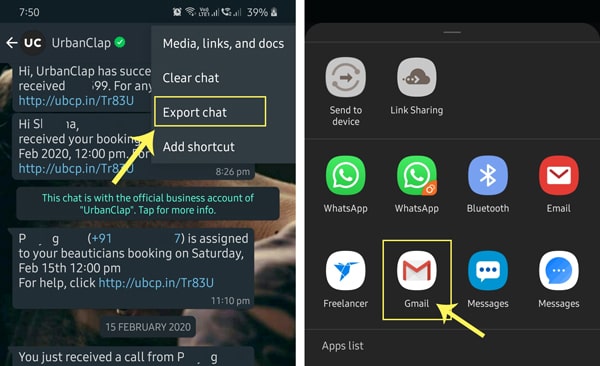 Step 3. After choosing your preference of media or no media, enter the email address of your choice.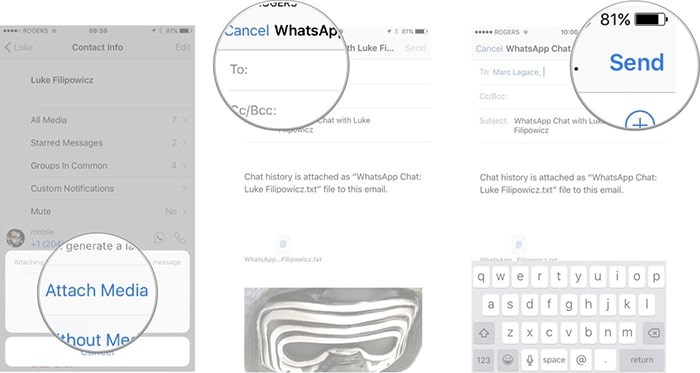 Step 4. The messages and media would be attached to the email. Simply open the email in your new phone and download the attachments.
Tip: Changing Phones and Shifting to a New Number
It is important to address an important consideration to note. In some cases when users change phones, they change their numbers as well. In that case, you will need to update your number on WhatsApp so that your WhatsApp account is linked to your new number.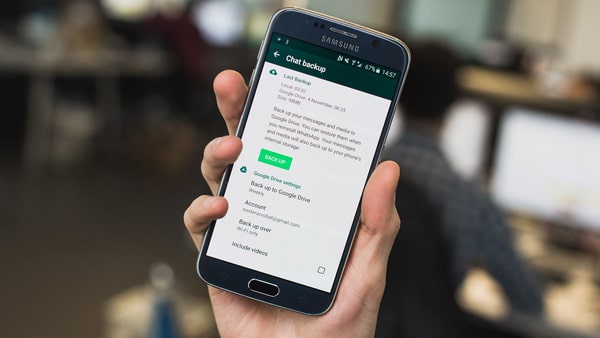 The steps for this process are as follows:
On your old phone, open WhatsApp.
After tapping the 3 dots in the top right corner, follow the path Settings > Account > Change number.
Enter the current number in the old phone number field and the new number in the new phone number field.
A verification code would be sent to your new number.
To complete the process, enter the code and now your new number would be associated with your WhatsApp account.