You are trying to open your iPhone and come across an activation lock screen. This popup makes many people panic because it makes users log out from their iPhones. There can be many reasons behind this. The common one is that someone has reported your iPhone as a stolen or lost device.
Or, if you try to unlock your iPhone through an online IMEI unlock service provider, they ask you to check the iCloud status and Find My iPhone statuses.
Well, if you are among the people who find themselves in this situation, here's how you can solve this issue in this detailed guide.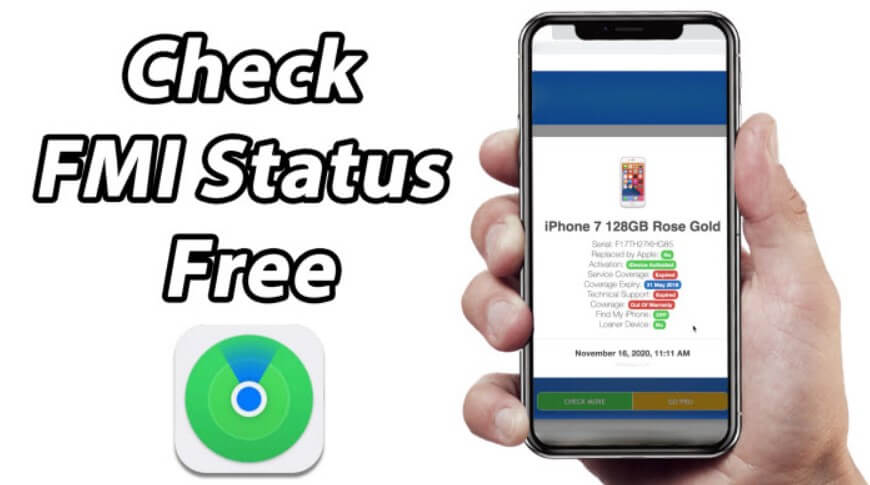 Part 1: When Do You Want to Check Find My iPhone and iCloud Status
There can be several reasons why you would need to check the Find my iPhone feature and iCloud status.
If you want to buy a second-hand iPhone, checking your iPhone and iCloud status is highly recommended to ensure that the device you spend your money on is not stolen. Even buying an iPhone from someone you know, taking these precautions can help your iPhone's privacy and data remain secure.
While using a third-party IMEI unlock service for your iPhone, checking the iCloud status and FMI would be necessary because many service providers will not unlock a black-listed iPhone.
The iCloud lock connects your iPhone to the iCloud account, ensuring that an unauthorized party does not access your iPhone. While Find My iPhone can help you to view the real-time location of your device using its GPS coordinates.
When checking the Find My iPhone status, there can be three outcomes:
1. Clean & Find My iPhone – ON
Even though the FMI feature is enabled, that iPhone is not yet reported as stolen or lost. But still, you will need to bypass the activation screen to use your iPhone.
2. Clean & Find My iPhone – OFF
The iPhone is not stolen or lost, and it will not be able to get tracked, given that the Find My iPhone feature is off.
3. Lost/Erased And Find My iPhone – ON
It means that the FMI feature is on and the iPhone has been reported stolen. That means the user can pinpoint its location through GPS.
Part 2: How to Check Find My iPhone
Apple used to have a dedicated page that allowed users to check the cloud status of an iPhone, but unfortunately, they have taken down this service. Don't worry; you can rely on third-party verification services to check the iCloud or FMI status of your iPhone
These are three ways that you can use to check the Find My iPhone feature.
1

Check Find My iPhone in Settings
The easiest way to confirm whether Find My iPhone (FMI) is enabled or not on your device is through settings. However, this method only works if you can log in to your iPhone without the need to enter the passcode. Here is how to check FMI in settings:
Step 1. Open the Settings app on your iPhone.
Step 2. Tap your name, then go to Find My iPhone Settings.
Step 3. You should now be able to see whether the FMI feature is toggled ON or not.
Step 4. Offline Findings can help you locate your iPhone when it's not connected to the internet.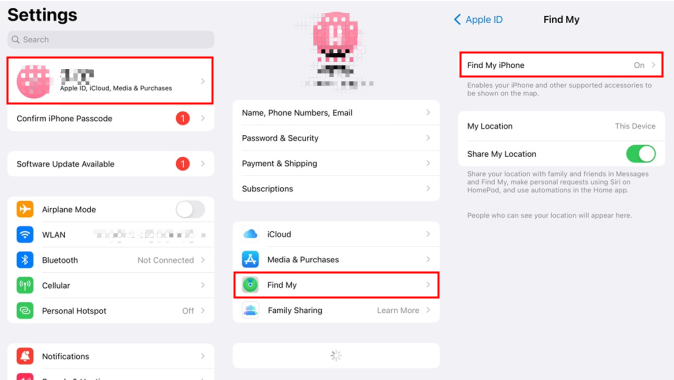 ---
2

Check Find My iPhone Online
To use the FMI feature online, you must have your iPhone's IMEI or serial number. You can find the serial number by going through Settings > General > About; among the listed details, you can find the IMEI and note it down. The other way to find this is to dial *#06# from your iPhone. If you have the IMEI or serial number with you now, let's proceed:
Step 1. Go to https://ifreeicloud.co.uk/free-check.

Step 2. Write down your iPhone's serial number, then hit Search.
Step 3. It will start checking your iPhone through the provided number.
Step 4. The results will be up after a few seconds.
---
3

Check iCloud Status Online
To check your iPhone's iCloud status online, follow the steps below. However, sometimes iCloud service is not available for free. You can request a paid check that's sure will work.
Step 1. Go to IMEI.info.

Step 2. Enter your IMEI code and tap Check.
Step 3. Select FMI and Cloud Status. A report will be generated on your iCloud.

Bonus: Remove Find My iPhone Activation Lock without Password

All the listed methods can work for some iPhones, not even with multiple tries, leading to frustration and disappointment for iPhone users.

However, another method resolves all kinds of activation errors one can come across in a locked iPhone, and it's called 'iMyFone iBypasser'.

Key Features of iMyFone iBypasser:

Steps to Follow

Step 1. After launching iMyFone iBypasser, select "Bypass iCloud Activation Lock Screen" mode.

Step 2. Connect your iPhone to the computer via a USB cable. Then click Start. Click Trust if Trust This Computer? appears on your iPhone screen.

Step 3. Before removing Find My iPhone activation lock, jailbreak is needed. Click Next after jailbreaking.

If you jailbreak for iPhone 6 to iPhone X, just follow this instruction.
If you jailbreak for iPhone XR to iPhone 11 Pro Max, click here Tutorial.

Step 4. After jailbreaking, click "Start Bypass". iBypasser will start to bypass the activation lock of your iPhone.

Step 5. When the activation lock is bypassed successfully, your Apple ID will be removed by iBypasser. When the process is completed, you can reset your iPhone without any obstacles.

Conclusion

This guide has covered all the methods you can use to check iCloud and the Find My iPhone feature. Keep in mind that all these methods are from third parties, which means Apple will not be responsible if anything goes wrong.

However, iMyFone iBypasser not only provides a complete solution to all the things related to bypassing and unlocking, but they assure that the whole process is very secure. The inclusion of numerous features it comes makes iMyFone iBypasser stand out from the competition.