Suppose you bought a pre-owned phone (phone that has been previously used by someone else). You were told when buying that a factory reset has been performed and that you should not have any trouble using it. However, when you try to access it, you see the "Find my iPhone activation" lock active. Unfortunately, you can no longer contact the previous owner, so you are locked out of your new phone. But don't worry, all solutions for the issue are listed below so you can easily lift the activation lock on your iPhone without the previous owner's presence.
Part 1: What is The "Find my iPhone Activation Lock" on Your Device
iPhones, as well as other Apple gadgets are known for their sleek quality and great usability, although they are also known to be pricier than Android devices. This alone makes Apple products attractive to thieves, so "find my iPhone Activation Lock" is there to protect you from them. If somebody takes your phone without permission, they cannot access the phone unless they remove Activation lock from it.
However, the scenario I painted earlier is also common to genuine users who purchased an iPhone from somebody else. As soon as the device is used for the first time, it is connected to iCloud, where a unique identifier of the device and the Apple ID are sent to (essentially, they are merged together, preventing unauthorized access).
After first setting up the phone, most users will not even know these features are activated, and at some point, sell their device. The new owners cannot access their phones unless they remove "Find my iPhone activation lock" with the help of the previous owner's credentials. In some cases, you may no longer be able to contact the previous owner. So, you'll need to use other methods to remove the find my iPhone activation lock. Now let's see how to remove find my iPhone activation lock without previous owner for free.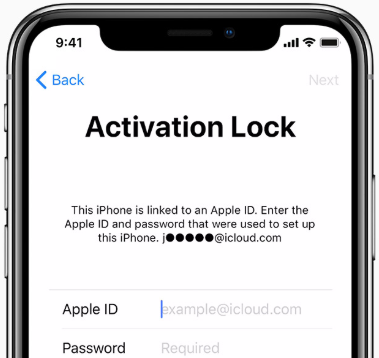 Part 2: Remove "Find my iPhone Activation Lock" without Previous Owner: iBypasser
The first solution, as well as one of the most promising solution for you to remove "Find my iPhone" activation lock without previous owner is by using iMyFone iBypasser. The iBypasser software is a software designed to unlock iPhone and other android devices. Now the wonderful iMyFone iBypasser software will easily help you bypass iCloud/Apple activation lock on your iPhone. While guarantee a high success rate when removing the activation lock, iMyFone iBypasser can ensure the safety of your device and will not risk bricking it like some other activation removal tools.
Key Features:
Bypass iCloud activation lock screen from iOS devices without Apple ID or passwords.
Access most functions of your iOS device after bypassing activation lock.
Sign in with a different Apple ID to access App Store.
Completely support iPhone 5S to iPhone X running iOS 12.3 and later versions.
Safe bypass without the risk of bricking your device.
Take a look at the following guide and you will know how effective this software is regarding to iPhone activation lock removal tasks.
Step 1: Download iMyFone iBypasser for free and launch the software. After connecting your device to your computer, click the "Start" button on the home page to start the activation lock removal process.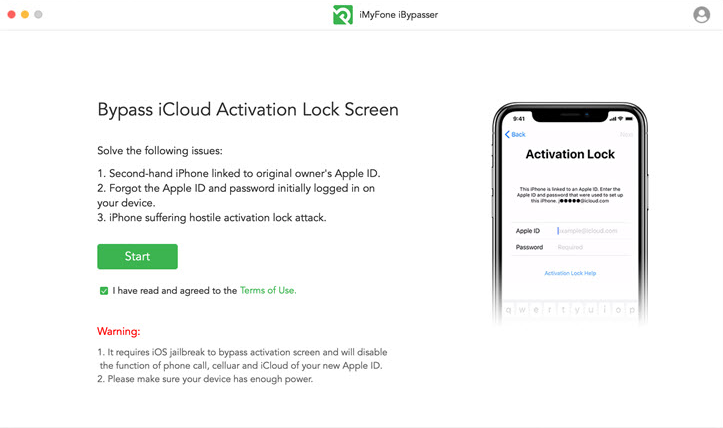 Step 2: Then a suitable jailbreaker package will be downloaded to your device. Patiently wait for the download process to finish, and then click "Next" to proceed to the jailbreaking step.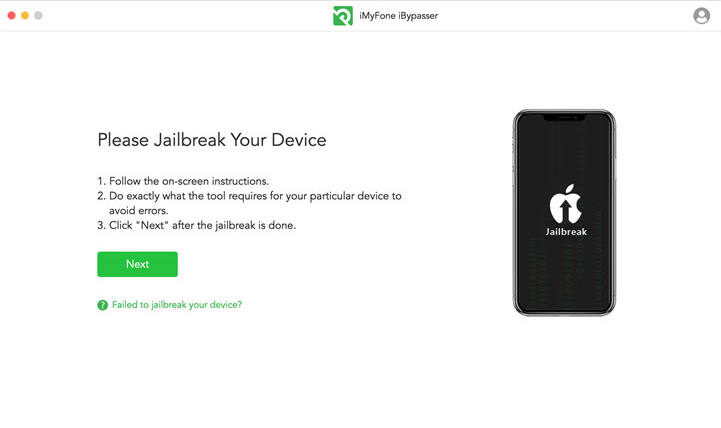 Step 3: After clicking "Next", you will see the program starting to bypassing the activation lock on your device. The process won't take long. Once it's finished, you will be able to regain the access to your device.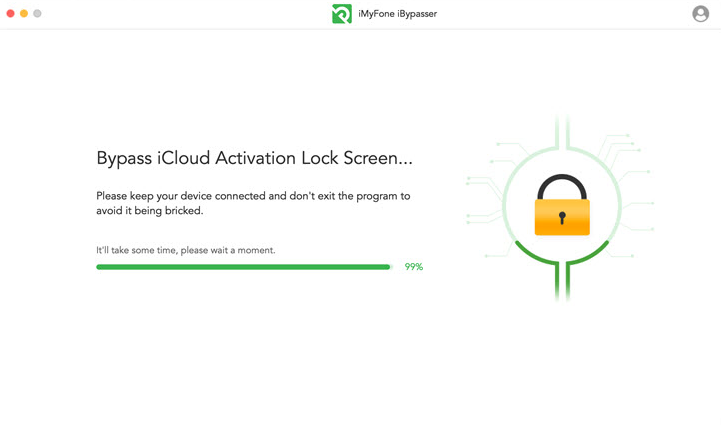 Pros:
Easy usability
High success rate
Completely safe and no risk of getting the device bricked
Cons:
Reappearance of activation lock when the device is restored
Part 3: Remove "Find my iPhone Activation Lock" without Previous Owner: DNS Server
Every time you setup your iOS device after a factory reset, your iOS device sends an activation request to Apple server. Apple processes the request and shows the status of your device. And if your pre-owned device's "Find My iPhone" function is turned ON, iCloud Activation Lock screen will pop up, asking you to provide iCloud account login details. But if you change the DNS server, you may be able to trick the system and make it believe that your device is not protected by the activation lock. So here is how to bypass activation lock without previous owner by using an alternative DNS server.
Note
Before running this process, ensure your device has SIM card present as it is needed to complete the process.
Step 1: On your device's screen, choose your country and language from the lists.
Step 2: Once you continue, a Wi-Fi setting page will come up requesting you to connect to a Wi-Fi network. Alongside the Wi-Fi network, look for 'i' symbol. If you don't see 'i' symbol alongside Wi-Fi network, press Home Button> More Wi-Fi Setting, and look for it.
Step 3: Now, disconnect the Wi-Fi network. Once you locate 'i' symbol, go to the connection settings and click "Forget this Network".
Step 4: Next, click 'i' and enter a DNS server IP address to bypass iCloud Activation Lock as applied to your region.
iCloud Bypass DNS Server IP Addresses based on Region

USA: 104.154.51.7
South America: 35.199.88.219
Europe: 104.155.28.90
Asia: 104.155.220.58
Australia and Oceania: 35.189.47.23
Other continents: 78.100.17.60
Step 5: After entering DNS IP, tap the Back option and turn on Wi-Fi, select the Wi-Fi network from the list and enter the password. After that, tap "Activation Help" and then you can access most apps and functions in your device.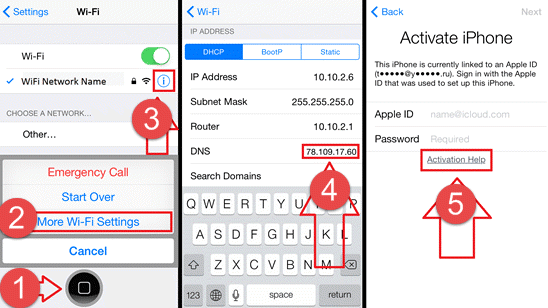 Pros:
Cons:
No assurance that it will always work to unlock your device.
Only allows you to access small part of the features in your device
Requires your device to be connected in WIFI
Part 4: Remove "Find my iPhone Activation Lock" without Previous Owner: Remote Help
When you need to remove the activation lock, the best-case scenario is you have the previous owner's iCloud information. If you are able to get in touch with the previous owner of your device, then you can follow these steps to remove the activation lock.
Go to iCloud Support official site:
Step 1: Enter the previous owner's Apple ID and Password to sign in to iCloud.
Step 2: Click on the "find iPhone" web app and launch it.
Step 3: Next, click "all devices" at the middle top of the screen
Step 4: Then, select the device(s) that needs the activation lock removed
Step 5: Next, select "remove from account" and the Find My iPhone Activation lock will be disabled.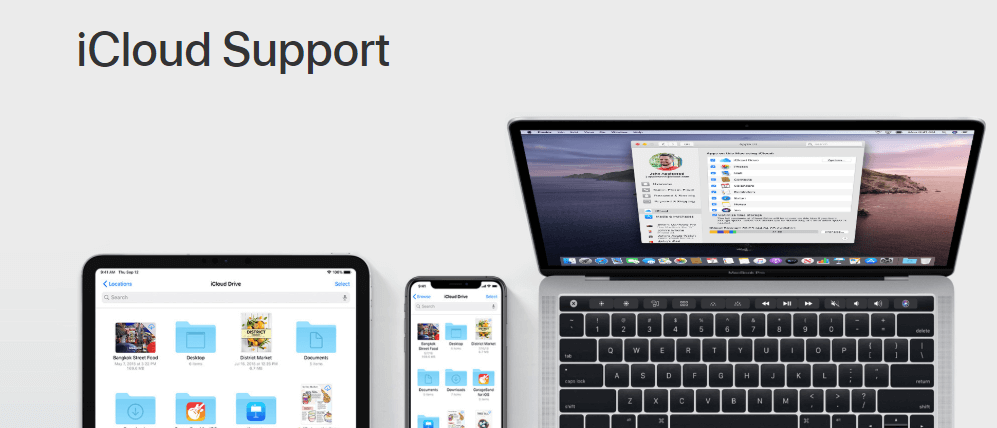 You may need to contact Apple customer support, if you can't get in touch with the previous owner. You will be asked a lot of questions, and they may even demand the original iOS device payment receipt. Hence, to avoid all these issues, ways to get your iPhone unlocked freely have been stated previously in this article.
Pros:
Safe and fast
No expenses needed
Cons:
You need to get in touch with previous owner
When asking for customer services' help, you need to prepare valid purchasing proof
Conclusion
Under normal circumstances, the activation lock on Apple's devices is an effective anti-theft method. However, for second-hand device buyers, getting a device with the activation lock on could be really frustrating. Fortunately, there are programs like iMyFone iBypasser out there to help people in such tricky situation. Providing a free trial, iByFone iBypasser can give you an easy solution to remove the find my iPhone activation lock without previous owner's presence. Of course, you can also try the DNS server trick and seek for remote help for the activation lock. They could sometimes also be just as effective.