WhatsApp has asserted itself as the leading messaging app in the world. But what is an effective chat without imagery? Sight is essential to human existence, enjoyment, and much more communication. Hence, WhatsApp would not have achieved statuesque if users could not access and share their images through it.
Unfortunately, due to users' mistakes and oversight, these pictures can be deleted or lost from your chat or messaging app. Losing pictures containing vital information can be pretty depressing.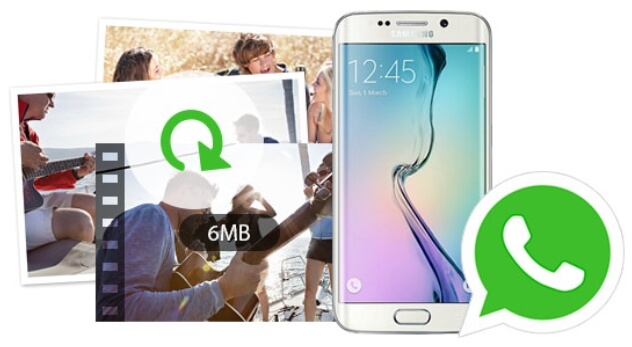 Good instances are where WhatsApp users empty their chats, delete images through cleaning apps, or clearing out the folder(s) from their Gallery and File Manager apps. But you can recover your WhatsApp images/photos/pictures online even after losing them.
Some different methods and tools can help you to recover your WhatsApp images. Below are five of those methods on how to recover deleted WhatsApp photos on android mobile.
Method 1. Recover WhatsApp Pictures from The Chat Participant
You can recover a WhatsApp image online by asking your chat participant to help send the picture. While you may have lost your copy of the image file, the participant may still be able to access theirs.
And if the photo was last seen in a group chat, you have more than one participant who can help access the image or picture. Such participant(s) can share the photo with you or forward it to you again if they have it.
Method 2. Selectively Recover Deleted Photos from WhatsApp on Android without Backup
iMyFone ChatsBack is one of the fastest recovery tools for getting back lost or deleted data like WhatsApp images on your android device. It gives you access to over eleven file types to recover selectively.
Come with the highest success rate of WhatsApp images recovery on Android.
Allow users to freely see and read WhatsApp photos before recovery and selectively recover the messages you need.
Supports extracting WhatsApp from phone or backups without overwriting the current data on the phone.
Finally but most importantly, its extremely safe and secure.
Here is how to use the software recovery tool to recover deleted photos from whatsapp on android without backup.
Step 1. Launch the iMyFone ChatsBack application on your computer, then connect your device to the computer. Select recover WhatsApp photos from Device Storage.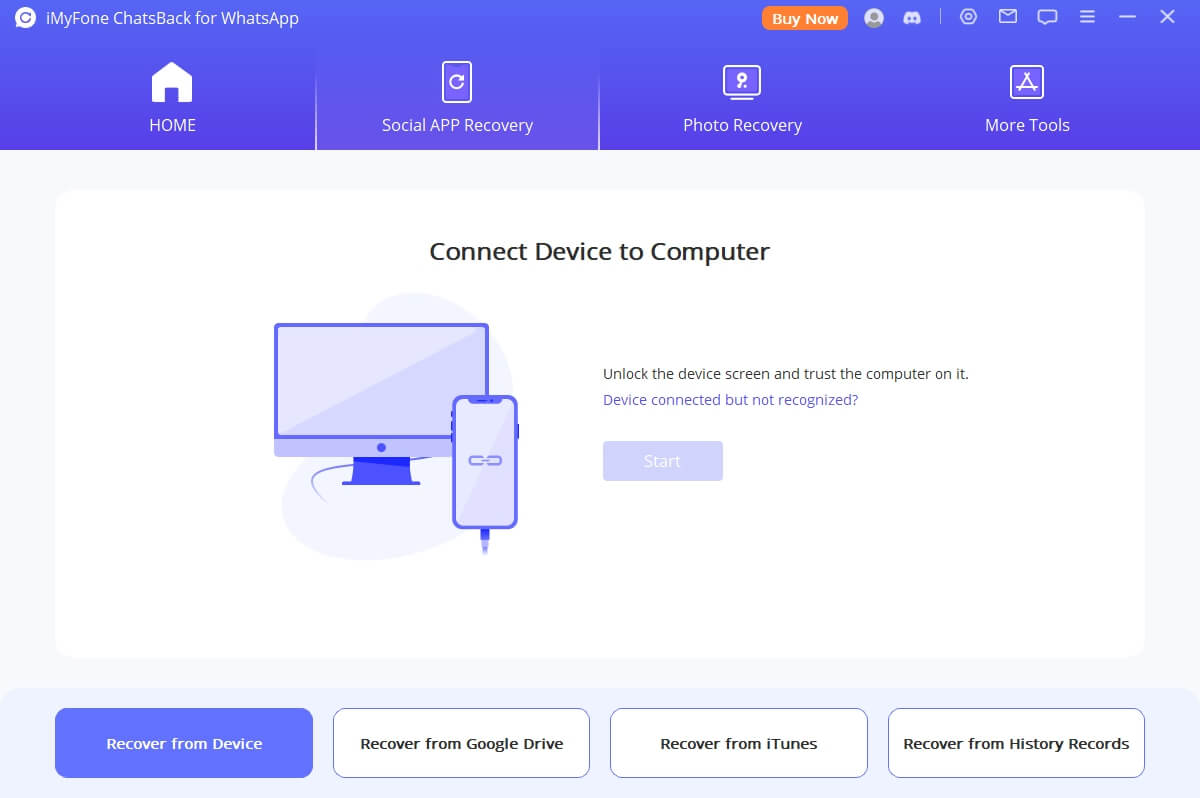 Step 2. Click the Start button to scan and fetch your WhatsApp data. You need to enter your phone number after scaning. Then a verification SMS will be sent to you. Now, you can continue with the next step to analyze.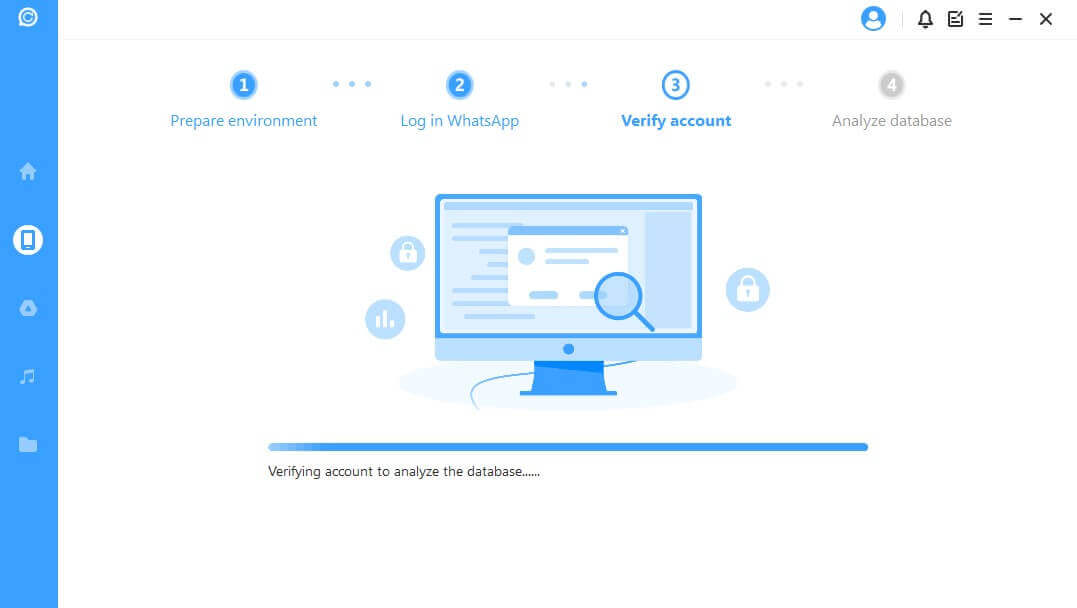 Step 3.The encrypted images will be feasible to see after analyzing. You can select the old messages you want to see from there. When you click on Recover to Device or Recover to PC, those images will be restored.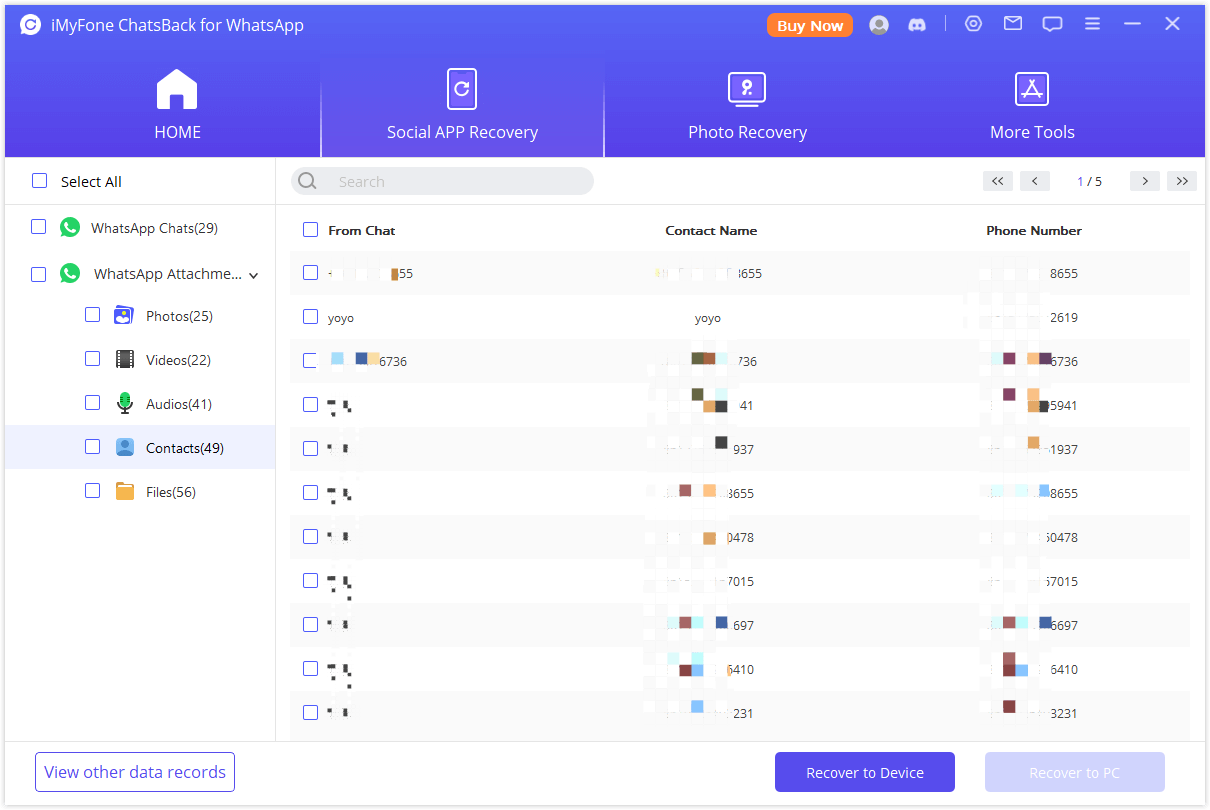 Method 3. Recover WhatsApp Images via Gallery App or Google Photos
You can discover a lost or deleted message when the picture is not displaying in your gallery. But you can use your Google Photos and Gallery applications to recover WhatsApp images.
If your gallery is synchronized with cloud storage, then you can access it through your gallery. Similarly, your Google Photo keeps your WhatsApp images in your Google Drive. Even when the picture is deleted, this storage method gives you access to a recycle bin where the image is kept.
Here is how to use either of the two to recover WhatsApp images or photos:
Open your Gallery or Google Photos application.
Navigate to your Gallery or Google Photos recycle or trash library using the hamburger icon at the bottom, top right, or top left corner of your screen.

Select the photo or images you want to restore from the library, then select the restore option on the screen.
Method 4. Restore Deleted Images from WhatsApp Backup
Here is another way to see deleted WhatsApp images on android. This method makes use of the automatic WhatsApp backup in your Google Drive.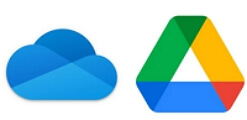 Here is how to restore deleted images from WhatsApp backup:
Open the Menu on your Android device and select the Settings application. Pick the Apps option from the Settings page and click on See All Apps.
Navigate to the WhatsApp application, then open it. Under the WhatsApp icon, select Uninstall. You can also hold down the WhatsApp icon from the menu of your Android phone, then select the Uninstall option.
Open the Android Google Play Store on your phone and search for WhatsApp. Click on install. When the installation is complete, set up your account by using your phone number.
Once the setup is complete, WhatsApp will prompt you to restore all your data. Here, tap on Restore.
The image you want to restore will be included in the restored data.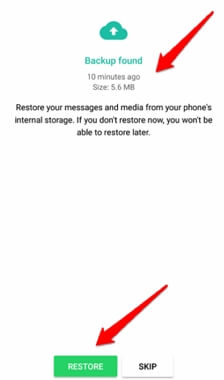 Method 5. Recover Deleted WhatsApp Pictures from Local Storage
Once you send or receive (and download) an image on WhatsApp, it is automatically stored on your phone. Hence, when an image is lost or deleted, the image on your local storage is still preserved for access. Now, you need to do is access the path of the stored photo.
Here is how to restore WhatsApp images in android from local storage by access the folder:
For Root Storage: Device Storage → WhatsApp → Media → WhatsApp Images/WhatsApp Document
For SD Card: SD Card → WhatsApp → Media → WhatsApp Images/WhatsApp Document
You can also check your WhatsApp Document folder if the picture was sent to you in document format. Also, if the image was sent by you, open the Sent folder in your WhatsApp Images/WhatsApp Document.
How to Recover WhatsApp Images Deleted by The Sender on Android?
If you want to see WhatsApp images deleted by the sender on android, you could ask the sender to send it again, especially if it was deleted by mistake. Also, you can use iMyFone D-Back (Android) to access the image if you have clicked the image before it was deleted.
Conclusion
WhatsApp instant messaging allows you to share images/photos/pictures with other users. It is also popular among users to delete specific images without the utmost intention to do so. So there is no need to fret again as to how you will recover these pictures. This article has highlighted five easy methods to access those lost files.