Is your iPhone taking forever to back up? Whenever you are backing it up in iTunes/iCloud, does the back up seem to stay on the screen for a long amount of time, with the progress bar hardly moving at all? Is it frozen entirely? If you're not sure what to do about this and need some help, keep reading.
How Long Does an iPhone Backup Take?
How long it takes for an iPhone to back itself up really depends. If there's tons of data on your iPhone, or the network speed is really slow—or both—then iTunes and iCloud will both need a longer amount of time to finish backing up your iPhone.

What Data Will iTunes or iCloud Back Up?
iTunes and iCloud will back up a large portion of your data. If you want to know what types specifically will be incorporated in the backup, then take a look at this link: About backups for iOS devices. As you can see, the backup is pretty thorough; this is why iPhone backups can take a lot of time.
It Takes Too Long to Back Up My iPhone, How to Fix?
If you're experiencing really delayed backup times with iTunes or iCloud, then keep reading. Below, we'll discuss 3 ways to fix this issue, and hopefully it won't take so long next time you need to back up your iPhone.
1

Reduce the Data on Your Phone
The easiest, most direct way to fix this problem is of course to reduce the amount of data that needs to be transferred during the backup in the first place. Go through your iPhone when you connect to iTunes and look to see if you have anything unnecessary that is taking up a lot of space. Delete it before you back up.
If you're going to use iCloud for the backup, then go to Settings > Your Name > iCloud > Apps Using iCloud. Look at the list of data types and see if you need all of them when you make the backup. If there are any that you don't really need, you can save yourself some time by turning them off.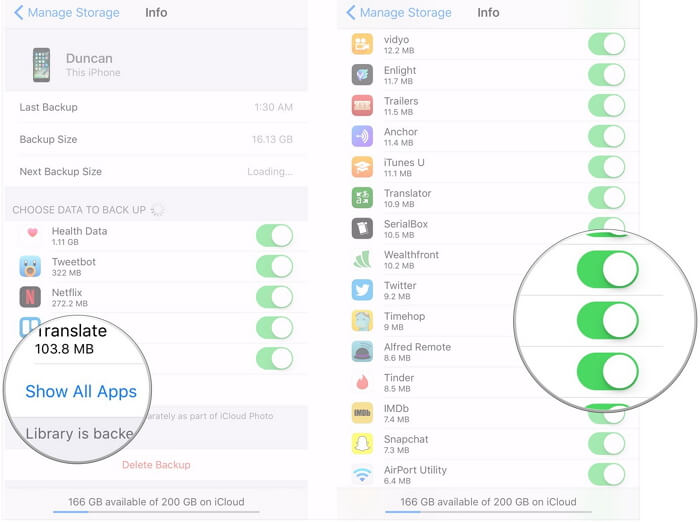 This approach may not be ideal for some users, especially those who need all of the data on their phones, but the less data you have on your phone, the less you have to wait.
2

Make Sure Your Wi-Fi Network Speed Is Good
The problem could also be that your network is too slow. iCloud backups depend on network speed, and it can really slow a backup down if you have an unreliable connection. Change to a better Wi-Fi network if you can, or disconnect other devices from the network during the back up process (leaving only your iPhone) so that you can speed things up.
3

Use an Alternative to iTunes / iCloud to Back Up Your iPhone Faster
There are also professional backup tools that you can use to backup your iPhone faster. One such tool is iMyFone iTransor, previously named D-Port Pro, which comes highly recommended. It's better than iTunes or iCloud in a lot of ways:
Key Features:
Backing up iOS devices selectively or completely.
Previewing and retoring backups to either merge backup with iPhone data or replace iPhone data with backup.
Restoring backups as a whole or selectively (Contacts, Messages, WhatsApp and WeChat), it's all up to you.
Previewing and exporting your data from backups or directly from iOS devices.
How to Back Up iPhone Faster and Easier With iMyFone iTransor
Step 1. Choose What and How You Want to Back Up
Run the program and click the Back Up Device option on the Acquire Backup from Device & iCloud tab.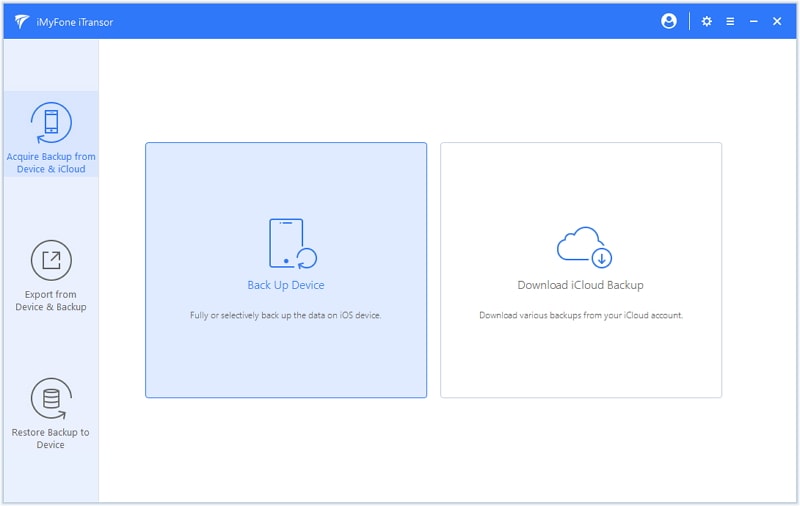 Then connect your device to the computer, and choose how and where you want to backup your iOS device on the right part of the next screen, and click Back Up to start the process.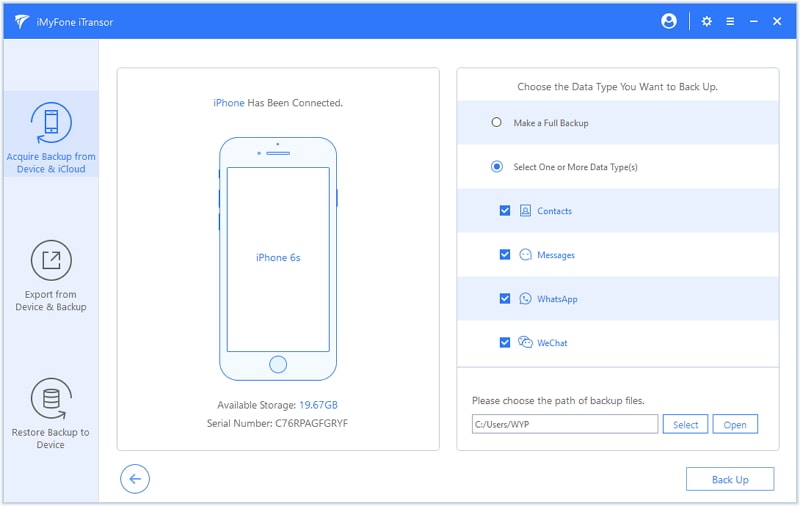 You can either make a full backup out of your device or back up specific iOS data individually. Currently, iTransor supports selective backup of WhatsApp, Wechat, Messages, and Contacts of iPhone, iPad, or iPod.
Step 2. Start Backing Up and Wait
You will come to the backing up screen right after you click Back Up. Just wait a while for the backup to complete.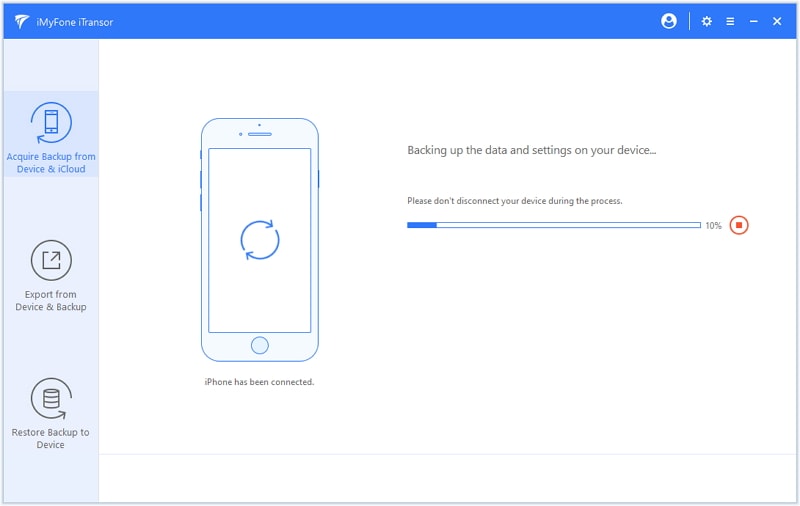 Backing up an iPhone can sometimes take forever using iTunes or iCloud. Luckily, there are alternatives. You can back up your phone using iMyFone iTransor and it will only take about 20 minutes. Best of all, you have a lot of control over the backup, and you can store it anywhere, as well as selectively extract data. It's definitely worth a try next time you need to back up your iPhone.