No matter your reason for the upgrade, you must not miss anything behind when you switch from Android to iPhone. While there are several tools and solutions to transfer your files, media, messages, and other stuff to iPhone, there are not a lot of solutions for games. So, in this guide, you will learn how to transfer the Clash of Clans game from Android to iPhone.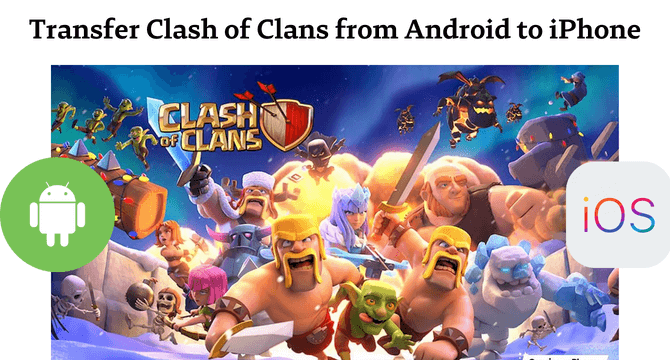 Part 1. Can You Transfer Clash of Clans from Android to iPhone?
When switching from Android to iPhone, many people are concerned about transferring their games and all the progress to iPhone. The same goes true for Clash of Clans players because they have spent hours achieving all the progress in the game.
If you are also looking for the possibility of transferring your game with all the progress from your Android to your iPhone, then the answer is yes. There are different solutions with professes and tools that you can try. Here we will discuss the best ones you can try for a convenient experience.
Part 2. How to Transfer Clash of Clans from Android to iPhone with Supercell ID
Creating a Supercell ID is one of the best ways you can use it to transfer the Clash of Clan game from one device to another. The best part is that you get to keep all your progress, including your village, in the game.
On top of that, the process is very simple, and you do not need to go through a complex process. There are a few simple steps to follow but be careful to follow them correctly.
Steps
Open the game on your device and tap on the settings button.
Now tap on the disconnected button (the red one) that is present next to Supercell ID.

Now you will need to tap on the register button and then go through the verification process with your email.

You will get a verification code 6-digits) on the same email you need to insert here and verify that it is your account.

With the verification process complete, your Supercell ID will be created, automatically saving your COC progress for the future.

Install the Clash of Clans game on your new device and sign in with the same Supercell ID.
Verify by providing the verification code that you will get on your email.

The game will automatically synchronize all of your progress, including your village.
So, whenever you want to transfer from one device to another, make sure that you have your Supercell ID connected to the game. It is also necessary to have your village saved to your ID before you switch if you want to transfer everything.
Bonus: How to Get Clash of Clans Account Back Without Old Phone?
If you do not have your old phone and want to get your COC account back, you still have a few chances. Chances are that you connected your amount with Facebook or Google; if that is the case, you can easily transfer your game account from one device to another.
Install COC on a new device.
Try signing in with Facebook or Google account.
However, if you hadn't connected any of these accounts with the game in the first place, then the chances of getting your account back are very less without the old account.
Conclusion
If you are switching from Android to iPhone, there is no reason to leave your game progress behind and start from scrap again. Transferring Clash of Clans to a new phone is not only possible, but it is also extremely easy. With the methods we were discussing here, we hope that the process will be very convenient for you to go through.