Twitter is one of the most popular social media platforms that having millions of daily active users. As with almost all social media apps, twitter uses your real-time location to offer geo-specific services and improve user experience.
If you ever thought of faking your location on twitter for any given reason, you can read this article till the end to learn how to fake location Twitter using several tested and tried methods.
Without any further ado, let's cut to the chase.
Part 1: Why Would You Want to Fake Location on Twitter?
A lot of reasons justify why many people tend to spoof their original location on twitter. Here are a few reasons:
1

Improve Privacy
The primary objective of using a twitter fake location is to protect your personal information from being tracked. Twitter tracks your IP address and other your personal information to track your movements and choices. It can feel a bit icky at times knowing someone is spying on you.
Faking location is the best way to add an extra layer of privacy protection and bar Twitter from keeping tabs on you.
2

Meet New People
As you already know, Twitter tracks your real-time location to recommend people who have a lot in common with you when it comes to tweeting about specific topics or hashtags.
Spoofing your Twitter location is the easiest way to meet new people nearby and increase your potential followers.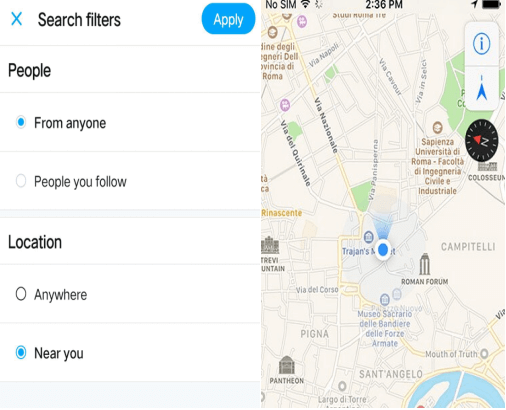 3

Surprise Your Friends
Twitter allows users to share their real-time location along with the tweet. If you're a jolly person who loves to prank friends, consider spoofing your twitter location to any place in the world. You'll be able to convince your friends or family members that you actually went on a short trip to that specific city.
Part 2: How to Fake Location on Twitter Tweets?
Thanks to the advanced technology, tons of third-party applications are available that empower users to spoof their location on twitter tweets with just a few clicks.
Let us discuss the three most sought-after such tools.
2.1 iMyFone AnyTo
When it comes to the best software for spoofing your Twitter location, iMyFone AnyTo stands apart from other players in the market. Over the years, it has established itself as the most credible and powerful tool to change GPS location to anywhere in the world.
What makes it the one of the ranked location spoofing tools is its compatibility with all iOS and Android devices and all major games. Thanks to its simple and intuitive interface and features, AnyTo is an ideal choice for both beginners and newbies.
Features of this remarkable software:
Spoof GPS location with just a few clicks
Support both Android and iOS devices
Customize moving speed
Plan a route on the map and save it for posterity
Compatible with all major location-based games
Follow the below steps to use this software:
Step 1: Once installed, launch iMyFone AnyTo on your computer and hit on Get Started to proceed.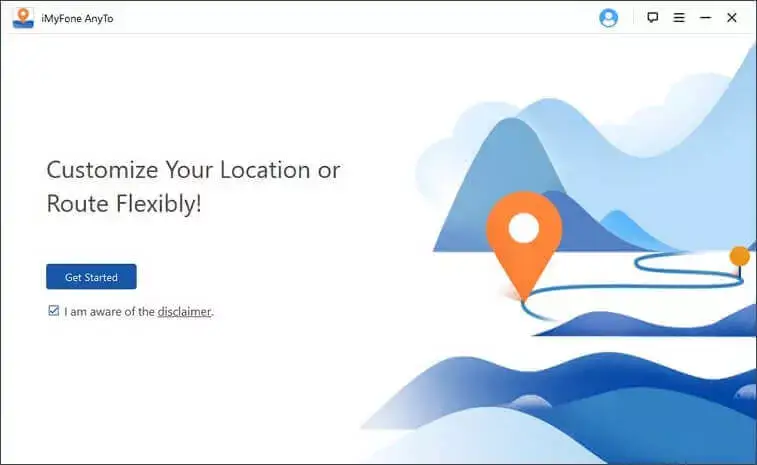 Step 2: Now, connect your mobile device to it via an original lightning cable.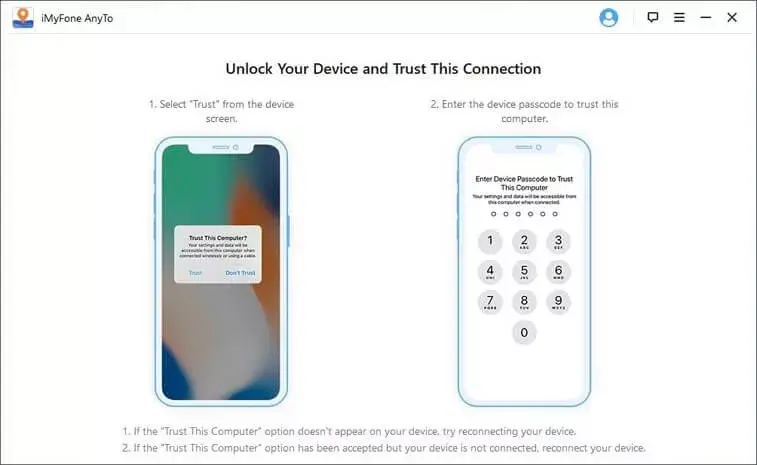 Step 3: Click the Teleport icon at the upper-right corner and search for any place you want to spoof to. You can also enter the coordinates.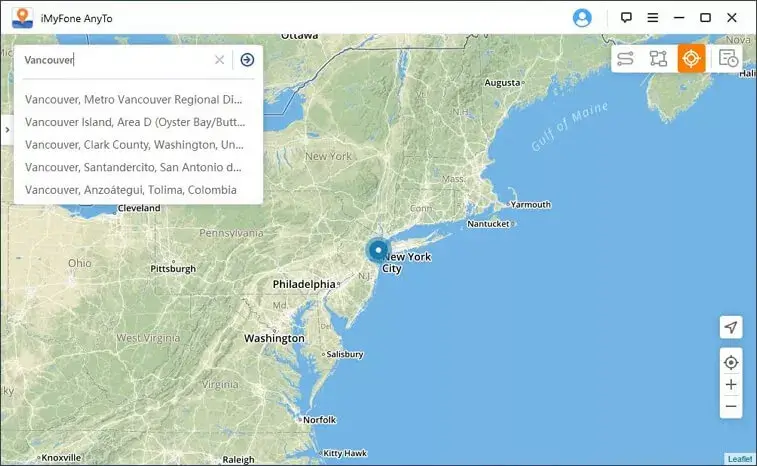 Step 4: Finally, click on Move and the program will teleport your GPS location to that particular place.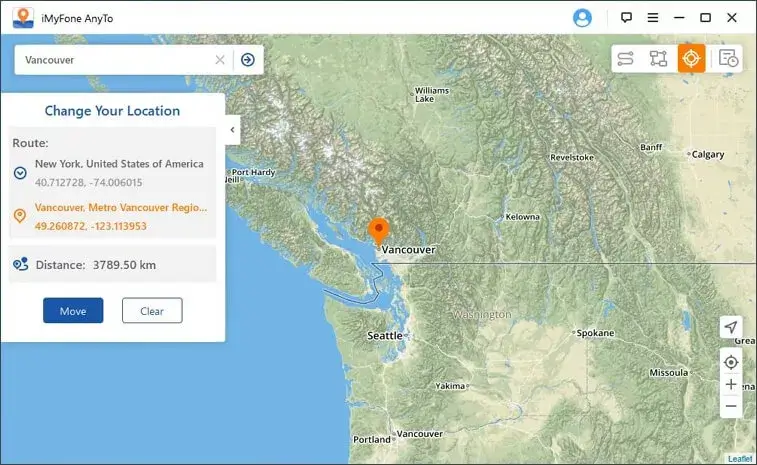 Now, launch the twitter app and it will show your current location as the selected place.
2.2 Fake GPS Location
Another top-ranked Android app to fake your original location is Fake GPS Location. Having over 10,000 installs, this simple yet feature-rich app makes it exceptionally easy to set your real location to any place on the world map.
What's more, it's very simple to install and use - even for not-so-tech-savvy users. All you need to do is install the app from the Google Play Store and search the desired location where you want to teleport to.

Features of Fake GPS Location Donate:
Mock your location safely and instantly.
Set a history count for record.
Automatically start from the last used location.
Automatic updates.
2.3 Fake GPS
Having a spectacular ranking of 4.3/5, Fake GPS is equipped with all the features that you want in a premium GPS spoofing app. Just like the other apps mentioned above, it also empowers users to set their location anywhere in the world with just a couple of taps.
Make sure to enable the "Allow Mock Locations" on your Android phone before spoofing the location via this app. Also, disable the Location Services on your device to avoid any interference in mock location services.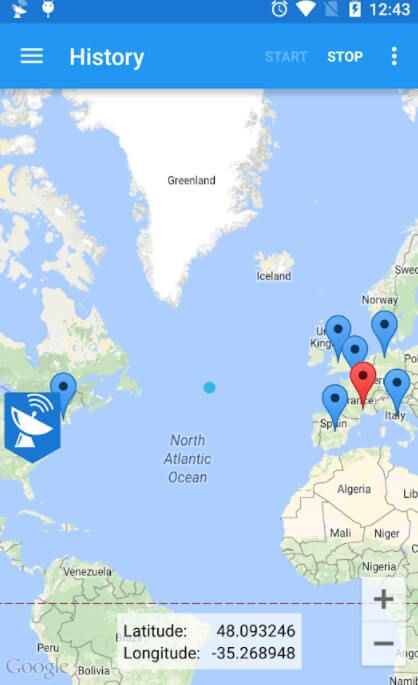 Features of Fake GPS:
Spoofs your original Twitter location to any place you want.
Free to use but offer in-app purchases.
A complete record of your past routes and locations.
Simple and easy to use.
Part 3: FAQs about Faking Location on Twitter
Read the below commonly asked questions to improve your understanding of the topic at hand.
1 Can Twitter track your IP address?
The answer is Yes. In its terms and services, twitter explicitly mentions that it tracks your IP address as well as your device's details and other information while you're using the app.
Twitter tracks your information to show your local twitter trends and to recommend the "topic" you like.
---
2 Why can't I add a location on twitter?
If you're not able to add a location to your tweets, maybe you have not enabled the location services for twitter.
Also, tap the location marker while composing your tweets and choose the location you want to tag.
---
3 How do you turn on location on twitter?
To turn on location on twitter:
On your smartphone, navigate to Settings > Privacy.
Now, tap Location Services and turn on the slider in front of it.
Locate the twitter app and select either "Never" or "While using the app".
---
4 How do you turn on precise location?
Enabling precise location allows twitter to use your real-time location and provide location-based services such as better delivery of advertisement/Tweets and showing local trends.
Here's how you turn on Precise Location:
Launch twitter and tap your profile icon.
Then, tap Settings and Privacy > Privacy and Safety and tap "Precise location" in the Location section.
Here, drag the slider to enable it.
---
The bottom line
To wrap it up, this article proves that there're tons of ways to fake Twitter location. No matter why you want to spoof your physical location, you can always rely on the useful methods to get the job done.
When you change your location with this tool, the location-based apps on your device will show the same virtual place. So, you can not only fake your location on twitter app, but also show or share fake location on the social platform like WhatsApp, Facebook, Snapchat, etc.