As we all know Pokémon Go is a game that requires you to move places to catch the Pokemons. Also, there are places where the game is not released yet. Also, if you are the kind of person who wishes to play the game sans any movement, faking GPS comes in handy. For the purpose, you may find many apps for Android. But for iPhone, the options are limited. One of them is Fly GPS app. In this article, we will help you know how you can use Fly GPS for Pokemon Go on iPhone. Also, we will know what can be the best alternative for Fly GPS for iPhone. Let us explore!
Part 1: Introduction for Fly GPS for iPhone App
What Is Fly GPS for iPhone?
Fly GPS for iPhone is basically an app designed for users to assist them spoofing their GPS on iPhone with ease, especially for the games based on AR concept. This tweak helps you play the game without moving or by employing different location.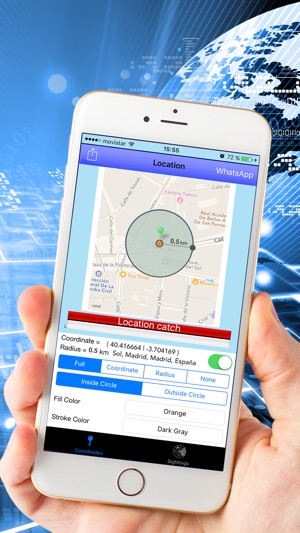 The app can be useful if the game is restricted in your region or area or even your country. You can simply set the coordinates and then let the app believe that you are at the place where even you are not.
The purpose for your necessity can vary yet simply. Like, when you wish to change your IP address to a different geological location's IP, this will allow you to browse websites that are blocked at your present geological location. Also, you can befuddle applications into trusting you are available in a spot where you or your iPhone aren't.
Limitations of Fly GPS for iPhone Reported by Users
One of the annoying things associated with the app is the ads. You will get to see a lot of it.
Some bugs can be problematic and the performance is not so effective.
The setting up process can be lengthy.
Not free.
Part 2: Alternative to Fly GPS to Change Location on iPhone
iMyFone AnyTo is the best alternative to Fly GPS Pokemon Go for iPhone. Not just particularly Pokemon Go or any other AR games, this tool is created to help you tweak with other social platforms based to GPS as well. The thing that attracts us the most to this tool is its user-friendliness and speed customizing options. Let us know more about its features.
Main features of iMyFone AnyTo
This Fly GPS for iPhone alternative helps changing the location without any restrictions.
It has Two-spot mode and Multiple-spot mode for route simulation.
You can customize the speed to simulate movement from walking, cycling and driving speed (expecially useful for games).
To pause the movement anytime is another good facility by the tool.
It is compatible for all of the iOS device running from iOS 7 to the latest iOS 16.
[Guide] How to use Fly GPS Alternative (iMyFone AnyTo) to Change GPS in Pokemon Go
You can watch the video in 1:20 to learn how to fake location to catch more pokemons with iMyFone AnyTo.
Step 1: Launch this Fly GPS Alternative
In order to start using this Fly GPS alternative, make sure to download it (free download it by clicking the button below). Once done, go with the installation procedures. When AnyTo is installed, run the software over your PC/Mac. On the main screen, you will notice the "Get Started" button. Click it to proceed.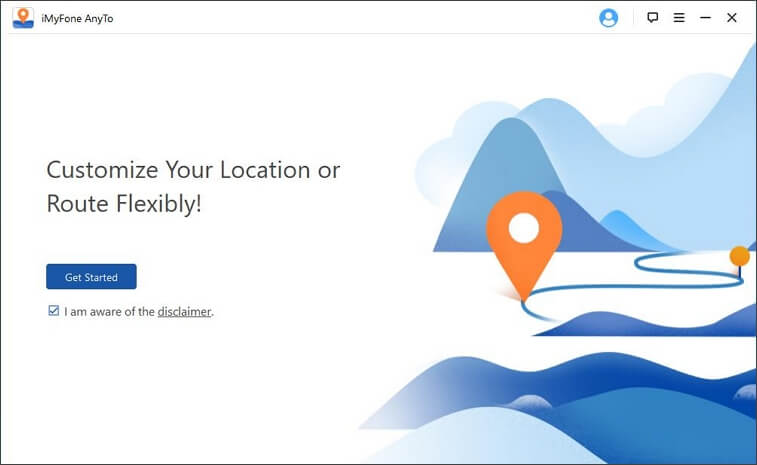 Step 2: Get the iDevice Connected
Use the lightning cable provided with your iPhone and connect the device with the PC/Mac. Unlock your iPhone and then tap on "Trust" when asked about trusting this computer. You are supposed to enter the passcode now to proceed.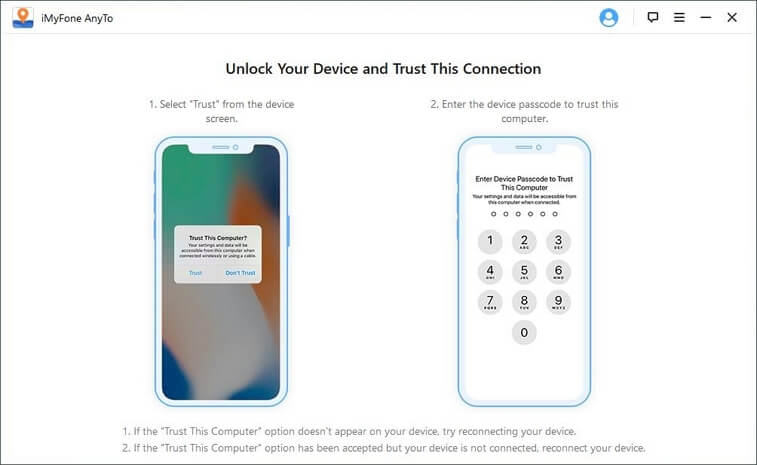 Step 3: Activate Teleport Mode
You will now see a map screen on your PC/Mac. To select the Teleport Mode, simply press the third icon from the left located at the top right screen. In the search field now, you can key in the address or coordinates for the GPS to get to the place where you want.
Alternatively, you can use zoom in/out feature to choose the target place.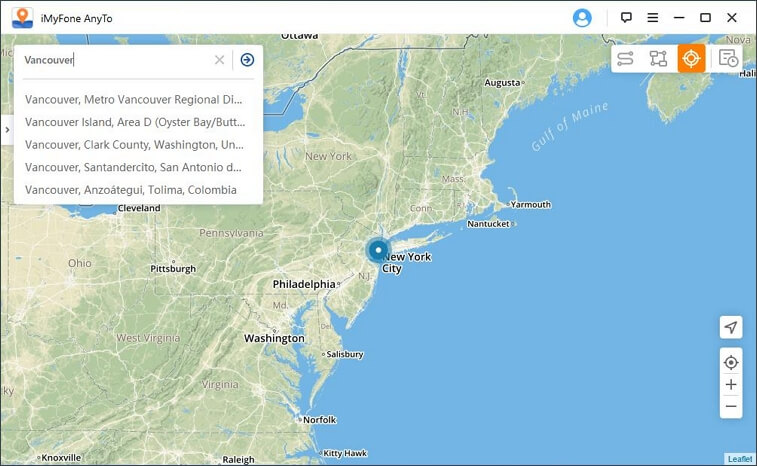 Step 4: Pinpoint a fake location
A side bar will come as soon as you pinpoint the destination place. It will confirm the place name, distance and the coordinates related to it. You need to hit on the "Move" button.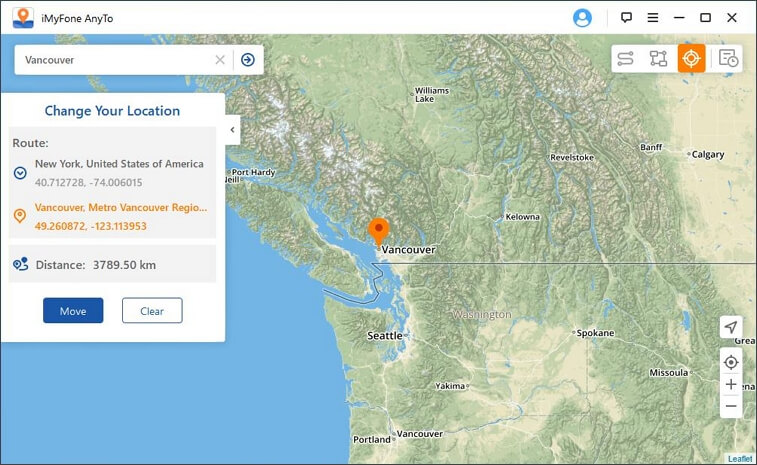 Congrats! You have changed the location. Now, any of the location-based app on your iPhone will show this location. Now you can open the apps on your device and check!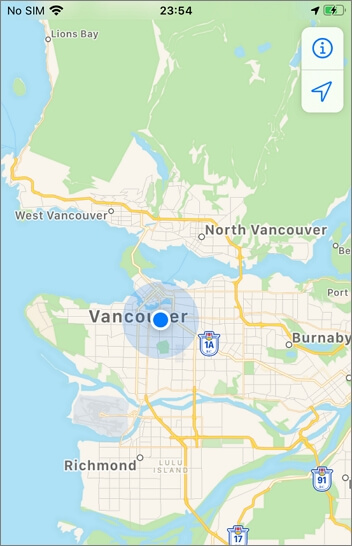 Note: If you want to move to the real location, you just need to restart your iPhone.
For your convenience, iMyFone AnyTo also provides your history records. In case you want to spoof the same location as you did in the past using the tool, you can return to it anytime in just a click.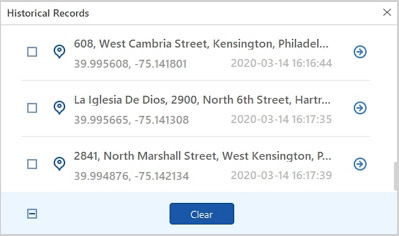 Conclusion
Spoofing GPS or changing the location for fun has become a new trend these days. No surprise that you can show off your fake location to your friends. And undoubtedly Fly GPS for iPhone is a blessing for the Pokemon Go lovers. However, it becomes a whole troublesome situation when Pokemon Go Fly GPS does not work as reported by various users. But now you have iMyFone AnyTo, the tool that enables you to get to the place you want with no such hard and fast efforts. We hope you like this article and got what you needed. For more such interesting topics in the future, stay tuned. Also, don't forget to share your views with us in the comment section. Thanks!
Download iMyFone AnyTo: