[2023] How to Add Location on Snapchat? (iOS & Android)
Category: Change Location
5 mins read
Snapchat is an interactive and fun app when it comes to socializing. It is quite popular among teens as they can share instant pictures and play streaks with friends. Adding a location and geo-filter adds more fun, as you can share your location just with a snap.
It's a quick way to update them about your current location. If you don't know how to add a location on Snapchat, this article will show you a few helpful ways.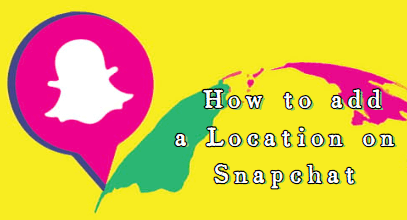 How to Add a Location to a Snapchat Post in the iPhone App?
Snapchat for iPhone makes the process of how to add a location on Snapchat straightforward. All you have to do is follow these simple steps:
Step 1. Launch Snapchat on your iPhone.
Step 2. Simply take a photo or shoot a video and choose it from your camera roll to add a location.
Step 3. Swipe right for geo-filters.
Step 4. Swipe left to find the geo-filter you need. Most filters are city or landmark specific.
Step 5. Tap a location to apply the filter to your photo or video.
Step 6. Pinch and zoom with two fingers or drag it to a different screen location to modify the size.
Step 7. After applying the location filter, share the photo with friends or post it on Snapchat.
Remember that your iPhone's location services must be turned on for Snapchat if you want to utilize location filters. Make sure Snapchat is toggled to "When Using the App" in your iPhone's Privacy > Location Services menu.
How to Add a Location to a Snapchat Post in the Android App?
If you have an Android phone and are interested to learn about how to add a location on Snapchat, you should follow the methods outlined below: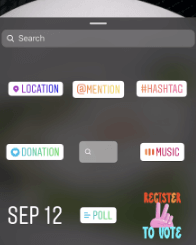 Step 1. Launch the Snapchat app on the Android smartphone you're using.
Step 2. Capture an image or video to which you'd like to assign a location afterward.
Step 3. To add a sticker, tap the paperclip symbol on the bottom right.
Step 4. Tap on the "Location" sticker after scrolling down to it.
Step 5. When asked, grant Snapchat permission to access your location.
Step 6. You may select the place you wish to add from a list of nearby locations, or you can search for a particular site.
Step 7. Modify the dimensions of the location sticker on your snap, as well as its placement.
The final step is to hit the send button to publish your picture with the location you added.
How to Enable/Disable & Share Location Filters on Snapchat Posts?
The following are the general processes for setting or removing location filters on Snapchat posts, as well as sharing them:
Step 1. Launch the Snapchat app, and then select the camera from the menu on the left.
Step 2. To access the Settings menu, use the gear icon in the screen's upper right corner.
Step 3. Just scroll down until you reach the part labeled "Who can..."
Step 4. You may select who can view your position on the Snap Map by tapping the "See My Location" button.
Step 5. To set or disable location filters for your Snaps, you may do so by toggling the switch labeled "Filters" on or off.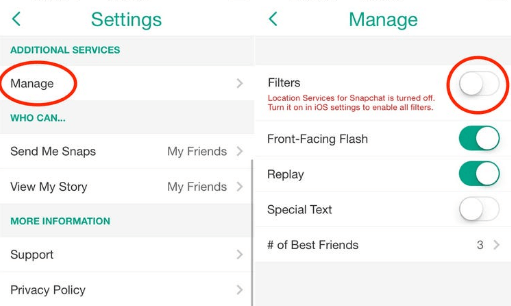 However, if you want to know how to share location on Snapchat with your friends, you can simply use the below-mentioned steps to do so:
Step 1. Use the camera on your Snapchat to take a picture.
Step 2. Swipe the screen to the left or right to view the different filter options.
Step 3. You should look for the location filter that displays the name of your city or a landmark that is close by.
Step 4. Just share your discovery with your pals by tapping on the location filter.
You may send the snap as you would typically or post it to your Story so all your followers can view it.
How to Change or Add a Fake Location on Snapchat Filters?
Snapchat utilizes your phone's GPS or internet connection to figure out where you are and then adds that information to the location filter. Because of this, it is challenging to fake your location on this app unless you are utilizing a virtual private network service (VPN).
You won't need those pricey VPNs if you just download iMyFone AnyTo as it can trick the GPS into changing your location. At times, you feel a need to change your location because of privacy concerns or safety concerns or may be you just want to try new geo filters.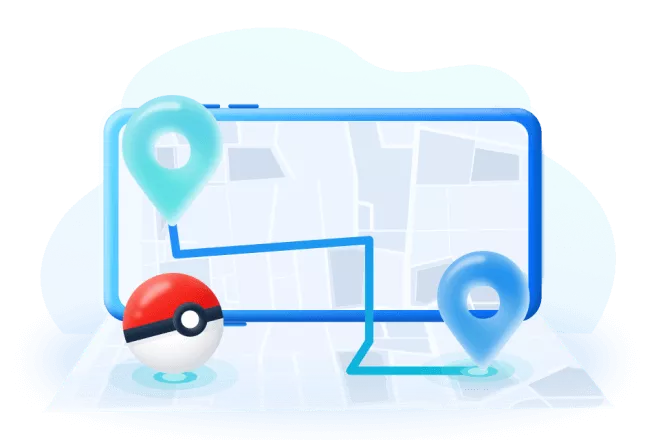 Key Features:
One-click access to GPS location customization.
Apps like Facebook, WhatsApp, and Pokémon Go that rely on your location will work with no problems.
Adds support for GPS files, so you can get going on your preferred routes.
Joysticks make it easy to adjust course with minimal effort.
Step 1: Install the iMyFone software on your PC. Open the software, and clock on Get Started.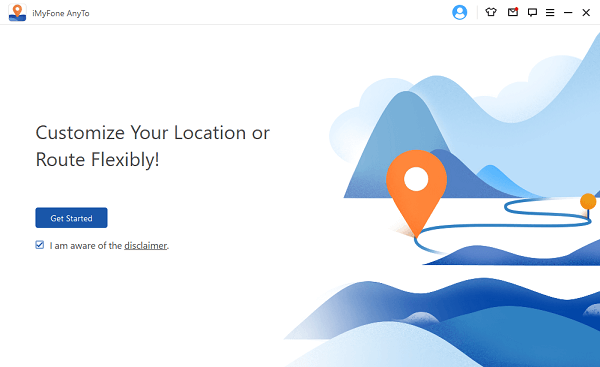 Step 2: Connect your phone with it, and you will see your location on a map.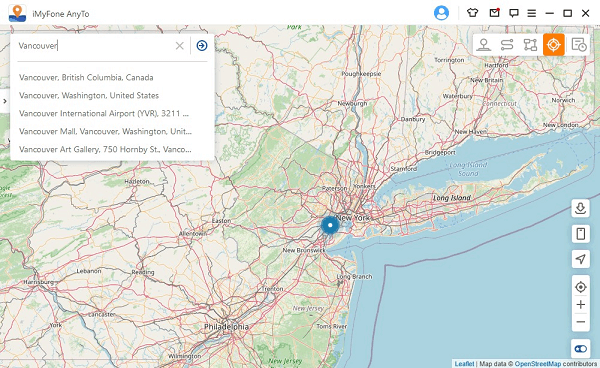 Step 3: Here you will get a map, drag and select the location you want. Choose the place where you want to go to and click Move.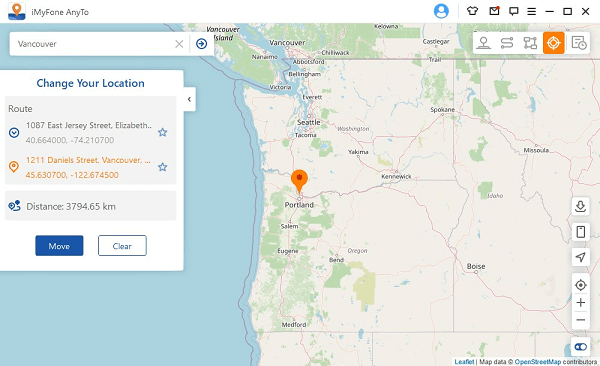 Now you will get your fake location, and the new location will appear in your phone.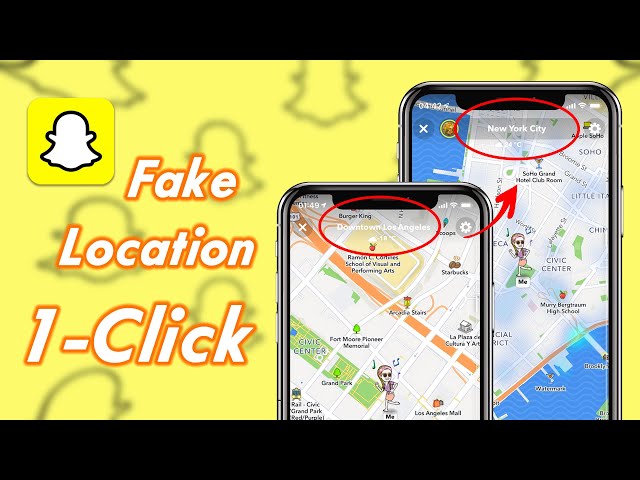 With iMyFone AnyTo utility software, you can change your location on Snapchat easily to any location in the globe with only a click of the mouse on your personal computer. Also, it helps you replicate Snapchat location moves to make it appear more authentic.
Hot FAQs about Snap Map
1

What are the differences between Ghost Mode and disabling Location Filters?

Ghost Mode renders the user invisible until the timer runs out or they manually turn it off. You may utilize this function even if your phone is set to track your position. On the other hand, if you don't want your location to be shown in Snapchat postings, you can easily hide this feature under the app's Location Filters settings.
2

How does Snapchat get information on your location?

Snap Map leverages geo-location services users' mobile devices provide to change Snapchat location in real time. You can check out your friends' locations and activities by exploring the map and the Snaps shared by other Snapchatters. 
3

How to tell if someone viewed your Snapchat Story more than once?

Snapchat doesn't send notifications that your story has been watched multiple times. You may use a technique to figure out who saw your story again. Snapchat's viewer list is based on your last viewer. Compare your current viewer list to a prior one to see whether someone revisited your story. However, this technique does not show how often a person watches your content.
Conclusion
Snapchat supports sharing locations with trusted friends to make the conversation and interaction more fun. A straight snap to family or friends with a location might quickly let them know you got home safely. Snapchat's location function is excellent, but you may don't need all the time. Location stickers and filters are still functional and fun. If you are excited to add location to your next Snapchat story, we hope you have learned about how to add a location on Snapchat for more interaction and fun!
Change GPS Location on iOS/Android
168,282 people have downloaded it.
Fake iOS/Android GPS location to anywhere in the world instantly.
100% Work with location-based apps such as AR games, social platforms, etc.
Joystick to simulate GPS movement freely when playing games.
Import / Export GPX file to save your favorite routes.
Compatible with All iOS & Android versions.