Question
"What kind of function is Dragon Quest Walk's 'adventure together'?"
"I want to go on an adventure with all my friends, how do I form a party?"
Do you have such a problem?
Of course, the game would be more fun if you could play Dragon Quest with your nearby friends.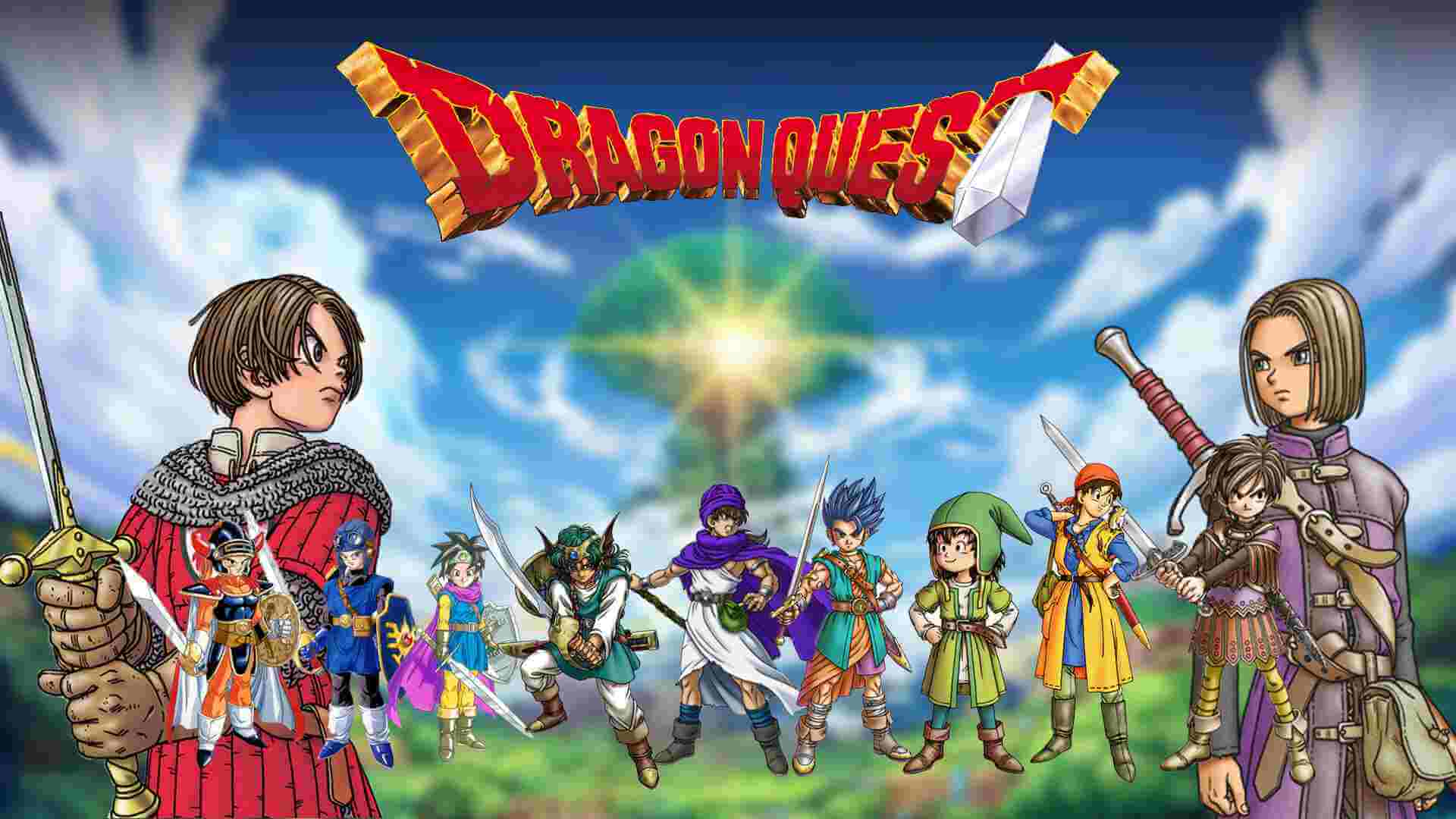 Of course, the game would be more fun if you could play Dragon Quest with your nearby friends. So, in this article, we'll explain in detail the pros and cons of Dragon Quest's "Boken Together" feature, and how to invite everyone to a party. If you read this, you can enjoy Dragon Quest Walk even more.
Part 1: [Dragon Quest Walk] What is an Adventure Together?
"Boken together" in Dragon Quest Walk is a function to pair with nearby players and form an adventure party.
Dragon Quest Walk is a location-based smartphone RPG that differs from Dragon Quest 10, the first numbered game in the Dragon Quest franchise to become an online RPG.
Using this location information to search for people nearby and play together as a team offers several benefits.
Part 2: What to Do When You are Looking for a Signal in a DQWalk?
"Blog Together" for sharing adventures is a handy feature that has the following advantages and disadvantages.
Pros
During battles, one of the team members will participate as an assistant, so you can defeat powerful enemies together (quests, shrines, dungeons, etc. are not included).
Save MP when upgrading.
All members can enjoy the effects of items used by one person.
Cons
Usually there are no special problems, but friends and other assistants do not participate in battles during the event.
In missions like "Thank your assistant X times", you can't thank you in "Unite", so in this case, fight alone.
Also, when you're at a party with Polken, the Reda's tavern helpers won't rush to you, so be careful.
Part 3: How to Take an Adventure Together?
Now, let's explain how to operate the "play together" function.
How to take an adventure together?
Step 1. Choose Join Together > Form a Party from the menu.
Step 2. Teach the displayed "password" to your friend.
Step 3. Wait until the party is ready.
Step 4. When everyone is ready, click "Leave".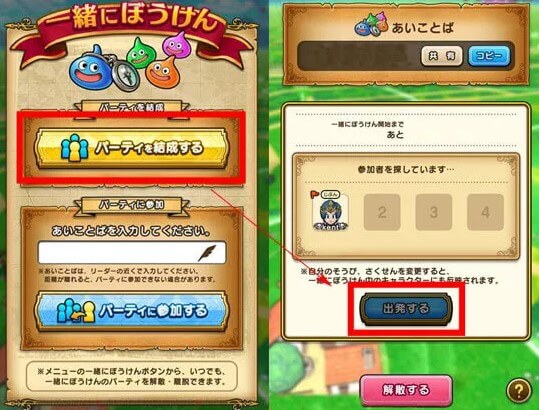 Now you can form a party and start your adventure. Additionally, members can join the party by doing the following.
How to join the party?
Step 1. Let them teach you "passwords".
Step 2. Select "Join Together" from the menu.
Step 3. Enter your password in the "Join Party" field and click "Join Party".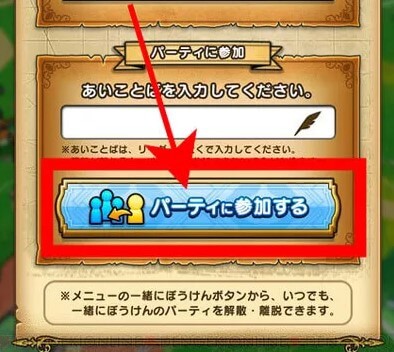 You can now join parties created by leaders. Be sure to enter the password correctly as it doesn't make any sense.
Part 4: How to End the Adventure Together?
Dragon Quest Walk's "Boken Together" is a very similar feature to "Helper," but how long will the team be formed?
In fact, it can be dissolved at any time by the following procedure.
Step 1. Select Join Together from the Menu.
Step 2. Select "Dismissal".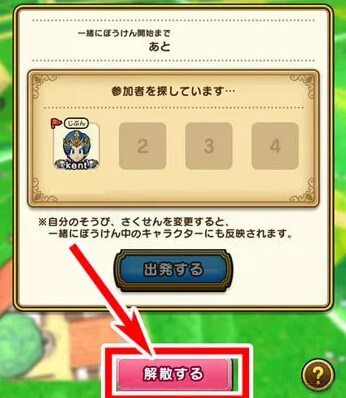 This action will disband your party. In addition, the team formed by the "Bokken Together" function will not be disbanded even if the distance is separated or if you log out, but if you do not log in to the game for more than 5 hours, it will be automatically disbanded.
So, even if you don't dare to dissolve using the method above, when you wake up in the morning, the party will dissolve.
Part 5: You Can Share Your Adventures Together?
In "Bokken Together", the following items can be shared among party members.
If a member uses "experience gem" or "gold gem", everyone can enjoy its effect.
When one of the members uses "Tobutsu Tegata", members without a bill can also participate in the battle against the giant monster.
Looking at it this way, "Boken Together" is a very convenient feature. However, be aware that you can't just share "scent bags".
Part 6: FAQ on Adventure Together?
From here, let's answer frequently asked questions about Boken Together.
1 How far can we venture together?
Members within 600m of the leader can join the party using the "Join Together" function.
If you are more than 600m away from the leader, you cannot join the party, but the party itself will not disband.
---
2 Will the bill be paid to all participants?
Only the first team member to join the team can use the "Tobutsu Tegata" used in Mega Monster Battle.
Therefore, members who join later can participate in the battle without consuming the bill of lading.
When one person uses the bill, the screen of the other members will display the message "A friend of yours on the mission used a dead person's bill. Do you want to participate in the Mega Monster Depression?" Let's click "OK"".
---
[Bonus Tips] How to Continue Your Adventure Together, Even at Home
When it comes to adventures together, the most important thing is to move. Here are some tips on how to always get your adventure rewards together, even when you're at home.
The tool used is a position changing software - iMyFone AnyTo. This location-changing software can GPS-navigate, create custom routes, and automatically keep moving anywhere in the world.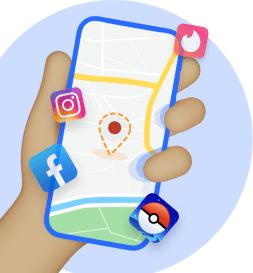 Change GPS Location on iOS/Android
Watch Video Tutorial to Change GPS Location to Anywhere for Pokémon Go
(Note: If you have installed iMyFone AnyTo on the computer, drag the video bar to 0:56 to skip the downloading and installation part.)
Step 1: Connect your phone to the Computer/Mac
Firstly, free download and install iMyFone AnyTo to your computer/Mac. Open it and click the Get Started button. Then connect your phone where the Pokémon Go installed to the computer with USB cable.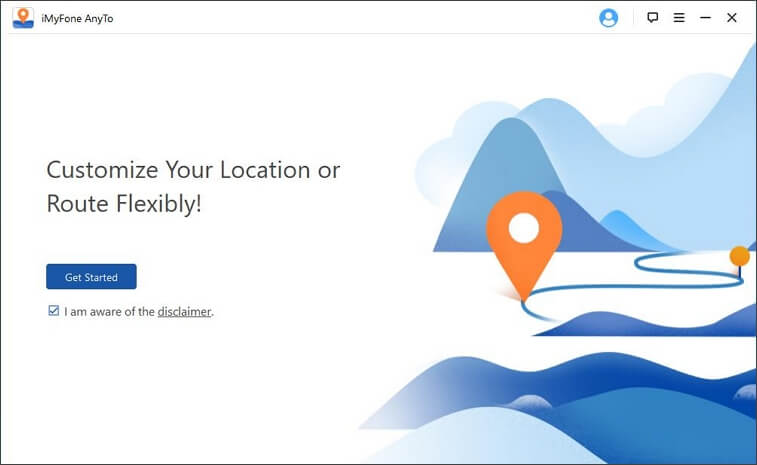 Step 2: Select a Location
iMyFone AnyTo will guide you to a map-like interface. Click on the Teleport Mode on the top-right corner (the 3rd icon).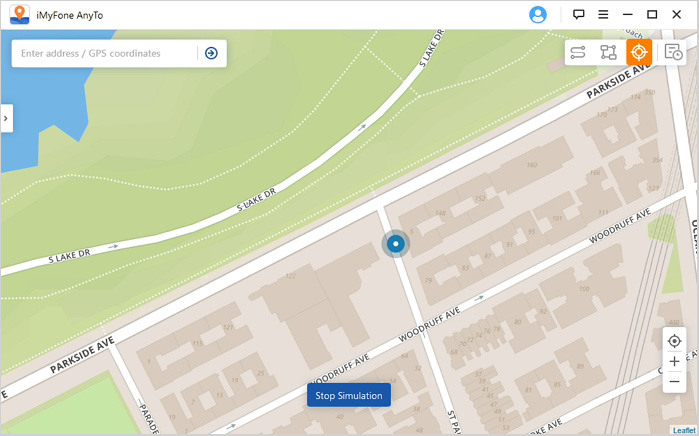 Now you can drag or zoom the map to select a location for your game. Or you can type the location or coordinates on the search bar. Once you click a location, it will pop up a sidebar, showing the information of the selected location.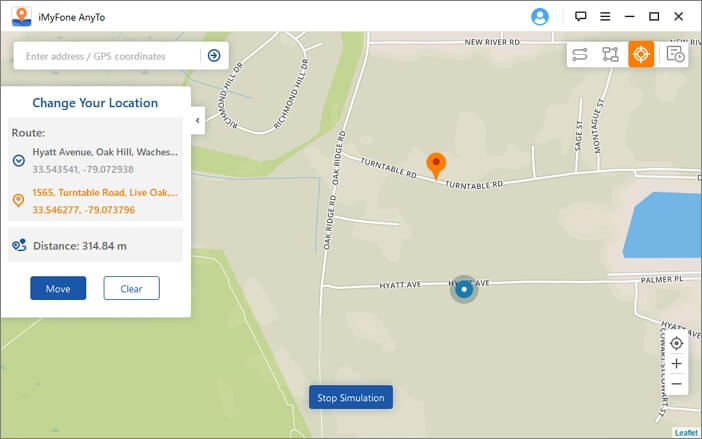 Step 3: New location is Complished on your iOS or Android
After selecting a location, click Move. Here you go! Your location is changed with 1 click! Now you can check the location on your Phone. Your location in the game is changed as well! In this way, you can get to anywhere to easily fake GPS joystick location.
Conclusion
This time, I explained the pros and cons of Dragon Quest Walk's "Boken Together" feature, and how to invite everyone to a party.
"Boken together" is a feature that allows you to play cooperatively with nearby players by using location information.
By using this function, you can defeat powerful enemies with other members, and you can all get the effects of items used by one person. The distance to participate is about 600m, and it is not possible to participate in the distance.
In fact, if you use the location-changing tool iMyFone AnyTo to disguise your location, you can continue to party even when you're not there. Change your location with one click!