Losing data from an SDHC card is quite common, but it is a nightmare for the user. The data could be of utmost importance, and the loss of that data ruins your effort.
Fortunately, SDHC card recovery is possible. You can restore all your data using the software. In this post, we will share a free SDHC card recovery software that you can use. And how to prevent data loss on memory cards.
Before starting, you can watch this video for quick guide about knowing SDHC card data recovery:
Part 1. Best SDHC Card Recovery Software Free-iMyFone D-Back Hard Drive Recovery
iMyFone D-Back Hard Drive Recovery is a fantastic data recovery tool to recover your lost data without any hassle. If you have lost your data from an SDHC card, hard drive, or other storage, it can recover it through robust deep scanning. It can recover more than 1000 file formats.
It works on all scenarios, including accidental deletion of files, virus attack, corrupt SDHC card, and sudden power outage. Its algorithm scans all your files and separates them according to type and format. You can quickly recover the files you need.
D-Back Hard Drive Recovery works on both Windows and macOS. It offers an excellent success rate of recovering lost files and completes the process quickly. The quick scan takes a few minutes only.
For complete recovery, you need to get the premium plan. However, scanning and preview are free.
Here are steps for SDHC Card Recovery Using D-Back Hard Drive Recovery:
Step 1. Free download the software on your computer and install it. You only need a few seconds to download and install the software.
Step 2. Insert your SDHC card on your computer. Use a card reader or a suitable device that supports the card. Open D-Back Hard Drive Recovery, and you will see the SDHC card on the main screen. Click on it.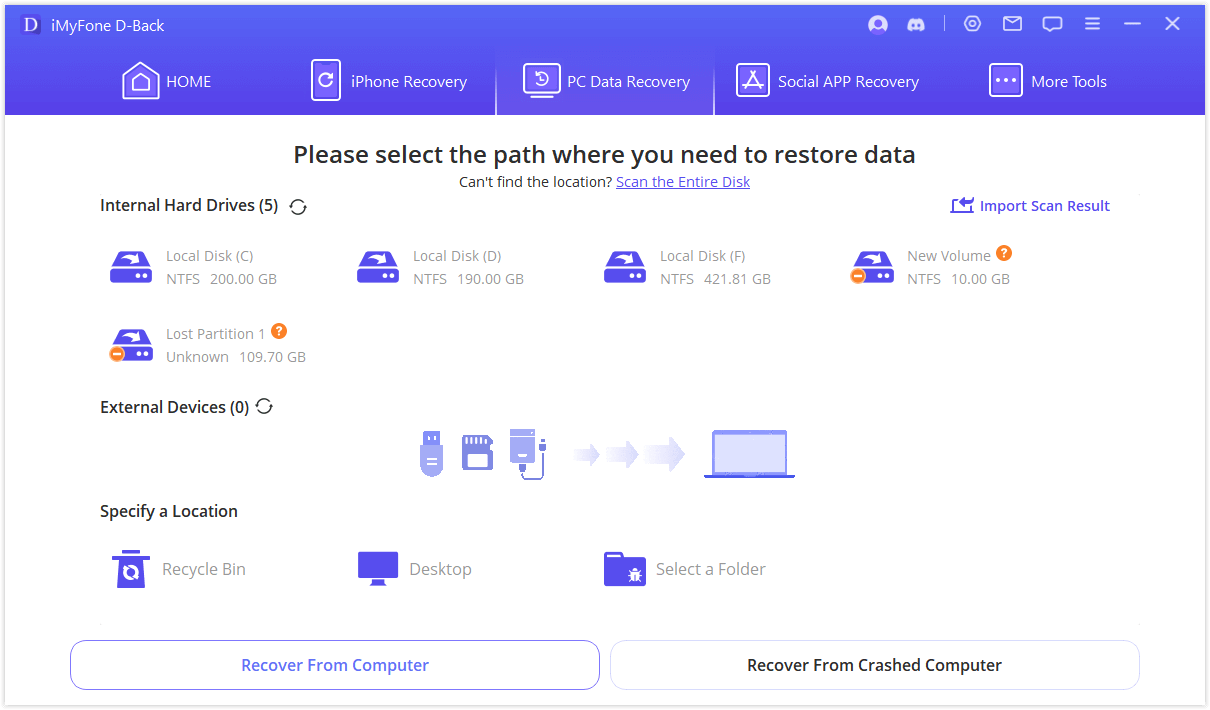 Step 3. D-Back Hard Drive Recovery will scan the SDHC card. It will do a quick scan first and then a deep scan. The quick scan is completed within a few minutes, depending on your data. The deep scan takes time as it thoroughly searches the card. You can also stop it whenever you have already found your file.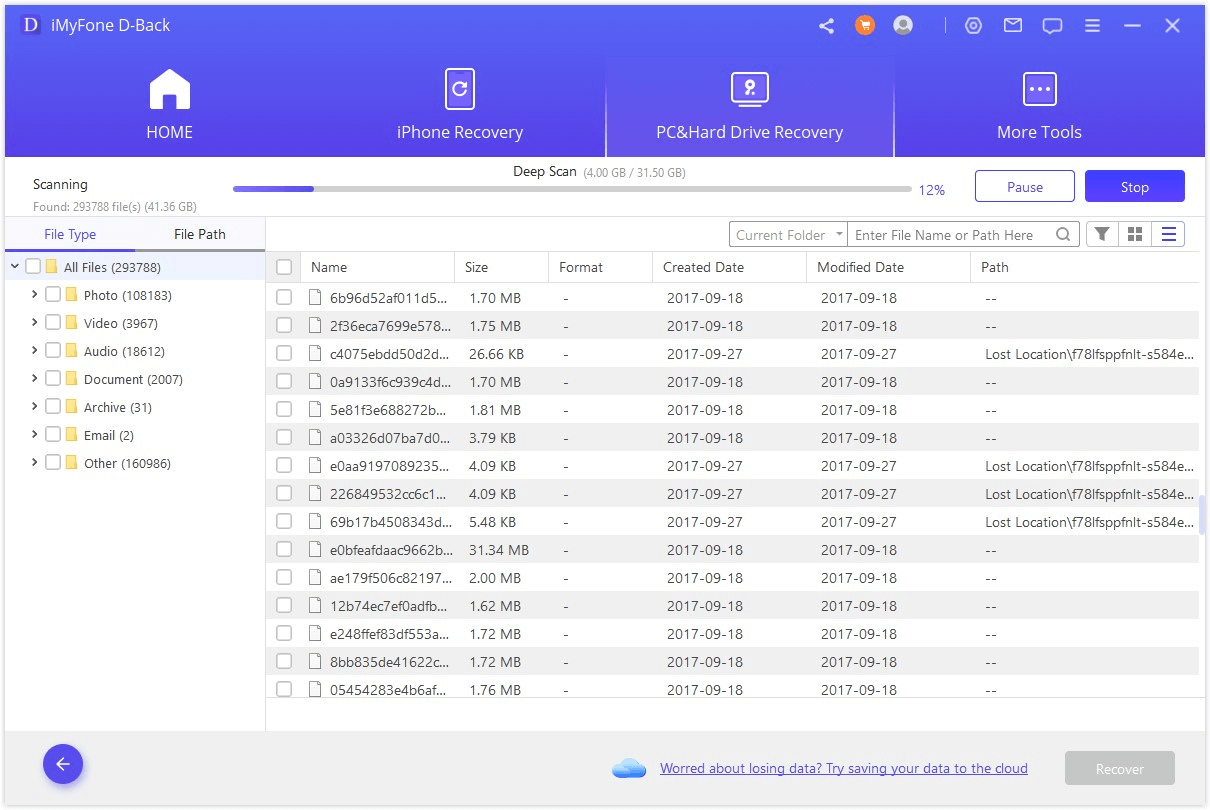 Step 4. After scanning, you can search your file using the search bar. You can see the file types on the left. Click on any file type and then select the format. You will see all your files appropriately organized. Now, select the files to recover. Click on the Recover button.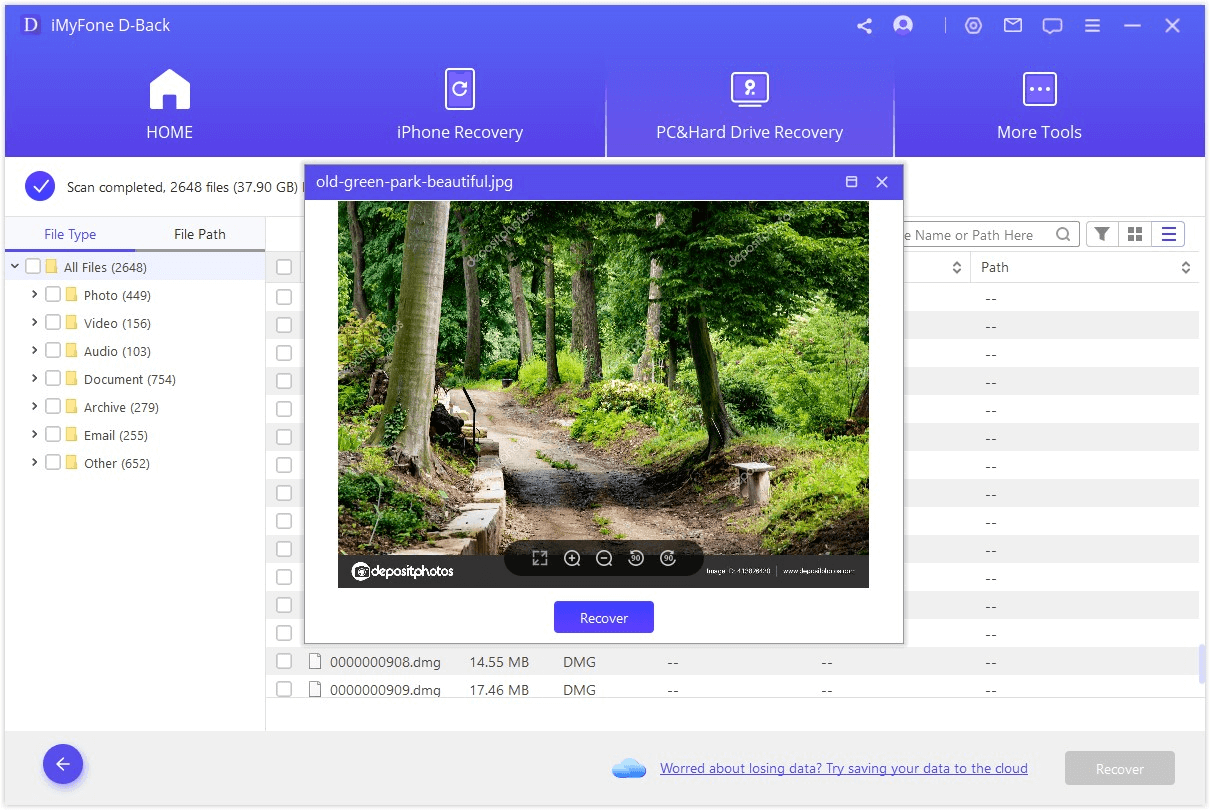 Part 2. What Causes Data Loss on SDHC Cards and How to Avoid It
There are multiple reasons for losing data on SDHC cards. Users do not care about these reasons, but they regret losing their data. There are various reasons for data loss on SDHC cards, and you can easily prevent them.
Unsafe Removal from Computers
The most common SDHC cards are unsafe removal from computers and other devices. If the card is working, never take it out immediately. Even if you have finished what you were doing, eject it first from the computer and then take it out. It ensures no data loss after the removal.
Use of the Card on Multiple Devices
Never use the same card on multiple devices. It is another reason for data loss. When you plug in and plug out SDHC cards, they tend to wear quickly. It is better to have a dedicated SDHC card for each device.
Virus Attack
Viruses can remove your important file from your SDHC card. Make sure your computer has antivirus protection. It ensures no virus on the computer will transfer to the card. Avoid inserting the card in other computers.
Power Failure During Cut and Paste
When you cut files, the files are removed from the original location and stored in the temporary memory. Once you paste these files, they are kept from temporary memory to the destination. But if the power fails or the computer shuts down before pasting the files, you will lose the files. You can avoid it by using Copy and Paste and then deleting the files from the old location.
Sudden Computer Failure or Power Outage
Sudden computer failure or power outage is the cause of data loss from SDHC cards. You can ensure a backup supply if you don't want your computer to be turned off suddenly. If you are using a laptop and it shuts down unexpectedly, it is time to replace its battery.
Extreme Environmental Conditions
SDHC cards are pretty sensitive. You may lose data if you store them in high temperature and high humidity environments. Keep them away from dirt, water, high temperature, and humidity. Otherwise, they might get corrupted or stop responding.
Formatting of the Card
Sometimes, the memory card shows an error for formatting your card. If you format your card at this stage, your will lose your data. The best way to prevent data loss is by using iMyFone D-Back Hard Drive Recovery. First, save the data to any other location and format the card.
Accidental Deletion
Users have a misconception that the deleted files from their SDHC cards land in the recycle bin. There is no recycle bin on the card. It is directly deleted without being sent to the recycle bin when you delete the file. Avoid deleting files and delete them when you are sure.
Part 3. FAQs about SDHC Card Recovery
What is the SDHC Card
SDHC stands for Secure Digital High Capacity. It is a better and improved version of the standard SD card. The storage capacity starts from 4GB and is available up to 32GB.
How to Recover Deleted Files from SDHC Card
You can recover the deleted files from the SDHC card using iMyFone D-Back Hard Drive Recovery, a data recovery tool that works in almost all types of data loss scenarios and drives. It will recover your lost files without any hassle.
How to Fix SDHC Card Recovery Not Formatted Error
Before trying other methods, use iMyFone D-Back Hard Drive Recovery for SDHC card recovery. Once your data is recovered and saved to another location, you can repair the card. You can use Windows Disk Management, also called "create and format hard disk partitions." After opening it, find the SDHC card and right-click on it. Click on Format. Select the file system and unit size and click on OK.
Conclusion
You can make SDHC card recovery on your own. There is no need for expertise and experience. If you have lost data on an SDHC card, you can use iMyFone D-Back Hard Drive Recovery to recover the lost files.
It is a beginner-friendly and simple data recovery tool that can quickly recover all types of files. Its robust algorithm scans files and recovers them quickly. Most importantly, you can recover a few files for free, and the scanning and preview are free for unlimited attempts.