Losing crucial data is frustrating, but a good data recovery solution may save you a lot of trouble. One of the most effective and standard methods for recovering data is to use powerful data recovery software. Several data recovery programs are available, each with its benefits and drawbacks.
This article will provide a CCleaner Recuva review and look at how competent it is at recovering data. We will also explore why the iMyFone D-Back Hard Drive Recovery Expert is a better option.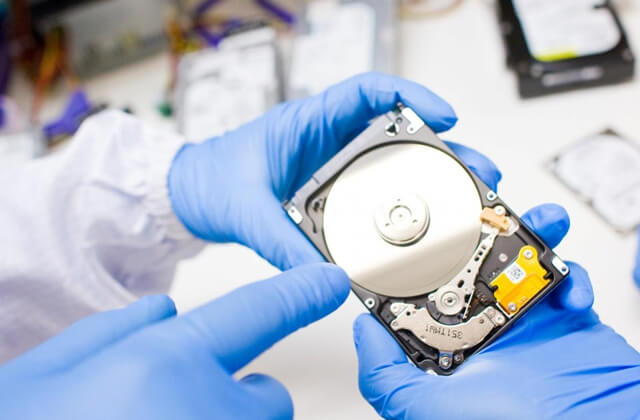 Part 1. CCleaner Recuva Review
CCleaner Recuva is one of the most effective data recovery tools. This highly affordable software recovers data from various file formats and devices. Let us take a closer look at what this program has to offer.
1.1 Overview of Recuva Software Review
Recuva by CCleaner is a widely used data recovery program with diverse functions. This sophisticated and free file recovery program is for Windows. Users can download the free version of Recuva recovery software from the company's website or pay for the premium version. This program can retrieve data from various sources, including external devices, even in its free edition.
Let us take a look at some of its key features:
Recuva offers both a standard and a deep scan, allowing users to choose their preferred method.
The user interface shows a glimpse of the recovered data with different color codes indicating its quality.
It may recover data from a Windows internal partition or a linked device such as a USB drive, digital camera, or MP3 player.
It can retrieve data from a formatted drive and various other scenarios.
This software can recover photos, videos, audios, emails, Word docs, PDFs, and other file types.
Pros
There is a free version with limitless recovery available.
Cost-effective paid version.
Safe and secure deletion.
This software has a simple and user-friendly interface for your convenience.
Filtered results to help you locate files faster.
Cons
It takes longer to scan.
It doesn't guarantee the recovery of data you lost a long time ago.
Recovery rates are lower.
It is compatible only with Windows.
Recuva is a good one to have a try. But if you want a higher success rate and take a shorter time to scan the lost data, the iMyFone D-Back Hard Drive Recovery Expert won't let you down. It is friendly to the beginners. Ans you can jump to part 2 to learn more about it or click the free download button to have a try.
1.2 Is Recuva Software Safe/Legit to Use
"Is Recuva safe?" is one of the most prevalent concerns among consumers contemplating Recuva for data recovery. Many users are skeptical of Recuva's safety because it provides an entirely free edition to all users, making them feel that a free program must always come with something bothersome. Recuva is virus-free and secure to use with no associated malware.
1.3 What Is Recuva Recovery Limit
There is no Recuva recovery limit in its free version. However, Recuva Professional may detect some files that will not surface after deep scanning with the free version, necessitating virtual disk support. Since virtual drive functionality is only available in Recuva Professional, you need to upgrade your free version to get specific files back.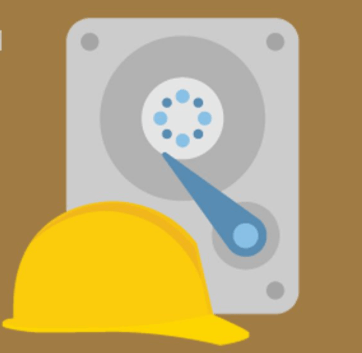 1.4 How Much Does Recuva Cost
There is an entirely cost-free version of Recuva. However, the free version has certain limitations, so you may consider upgrading to the Recuva professional version, which costs only $19.95. Recuva's price is very minimal and affordable as compared to other software.
Part 2. Better than Recuva-Data Recovery Expert from iMyFone
While Recuva is an excellent data recovery solution, it does not guarantee data recovery in all scenarios; therefore, you will need to find a better option that offers a more comprehensive data recovery solution. Employing robust software like the iMyFone D-Back Hard Drive Recovery Expert is one of the most effective methods to complete the job.
Key Features of iMyFone D-Back Hard Drive Recovery Expert:
This tool has several innovative features that can assist you in recovering lost data fast and without exposing your data to risk. Let us check out the key features of this program that make it the most reliable and excellent solution for data recovery.
It is a comprehensive data recovery solution that can recover data from various drives, external devices, and directories and supports over 1000 file types.
It scans your drive for the lost data at a breakneck pace.
You can pause and resume the scanning process as required for your convenience.
You can see a preview of the data before restoring it.
It has a simple digital interface that makes the process easy and quick.
It offers a filter tool that saves time and effort by rapidly locating a missing file by its characteristics.
Download and install the software version that is compatible with the operating system. Allow a few minutes for the installation to complete, then launch it on your system.
Follow these simple 3 steps to recover data with the iMyFone D-Back Hard Drive Recovery Expert:
Step 1. Select the location
Following the program's installation on your computer, the software will present you with the following interface that lists all probable data recovery locations. Choose the place where you lost the data.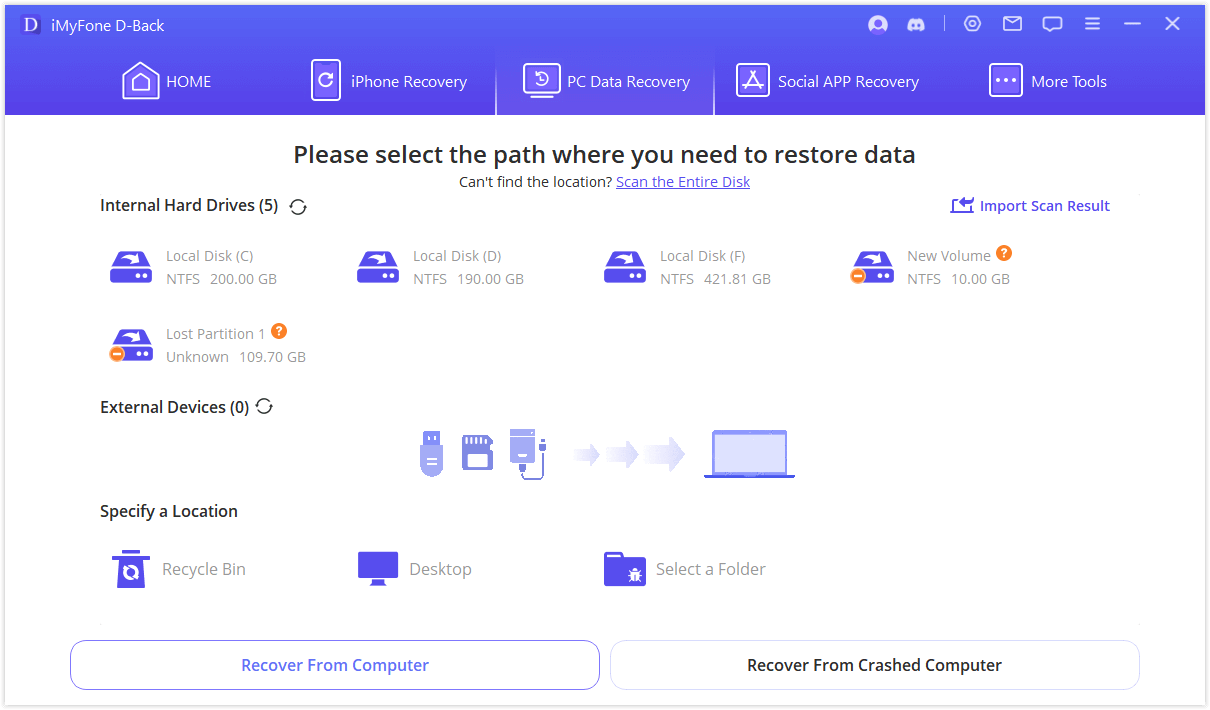 Step 2. Scan the location
The software will thoroughly scan your selected location to search for the lost data. The progress of the process will be shown on the interface for your convenience.
The program will present the result of scanning in real-time on your screen, allowing you to swiftly evaluate the data.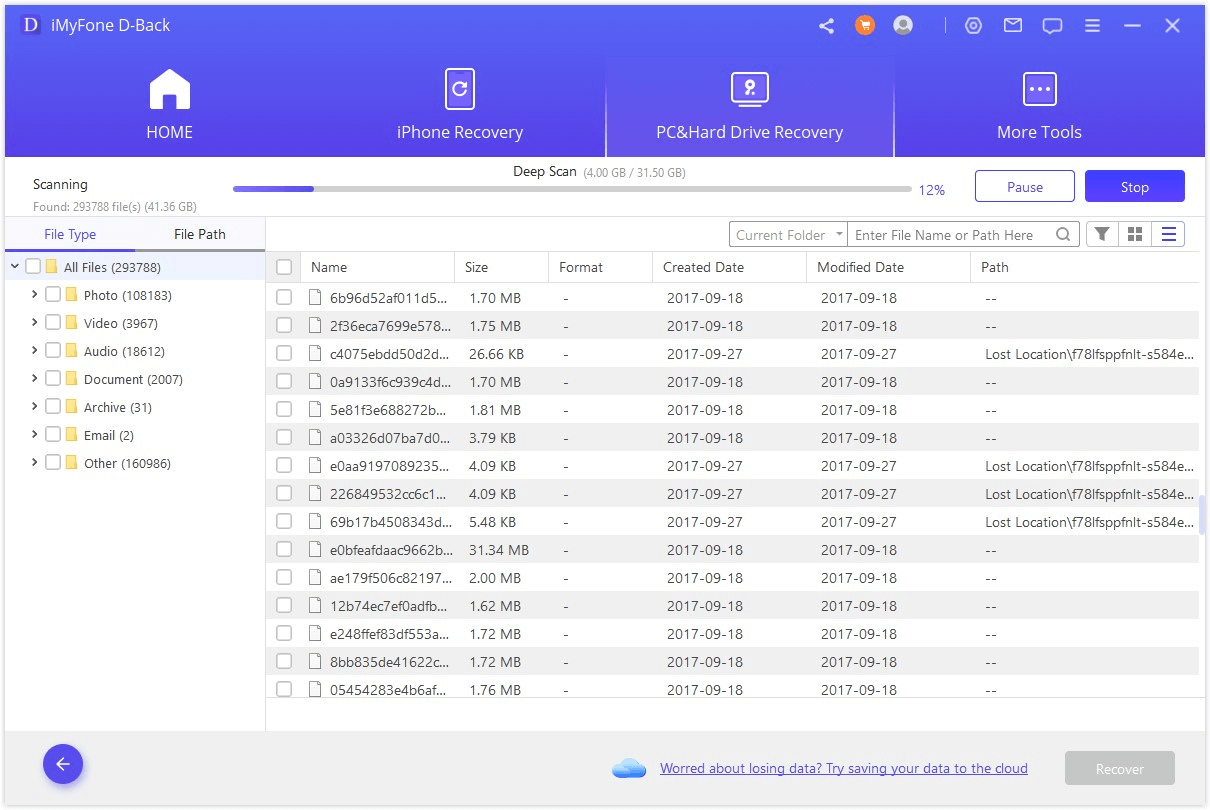 Step 3. Preview and recover files
All the scanned files will be present on your screen, and the software will allow you to restore them after previewing. Also, you can navigate through the "File Type" and "File Path" options to promptly find the files you need.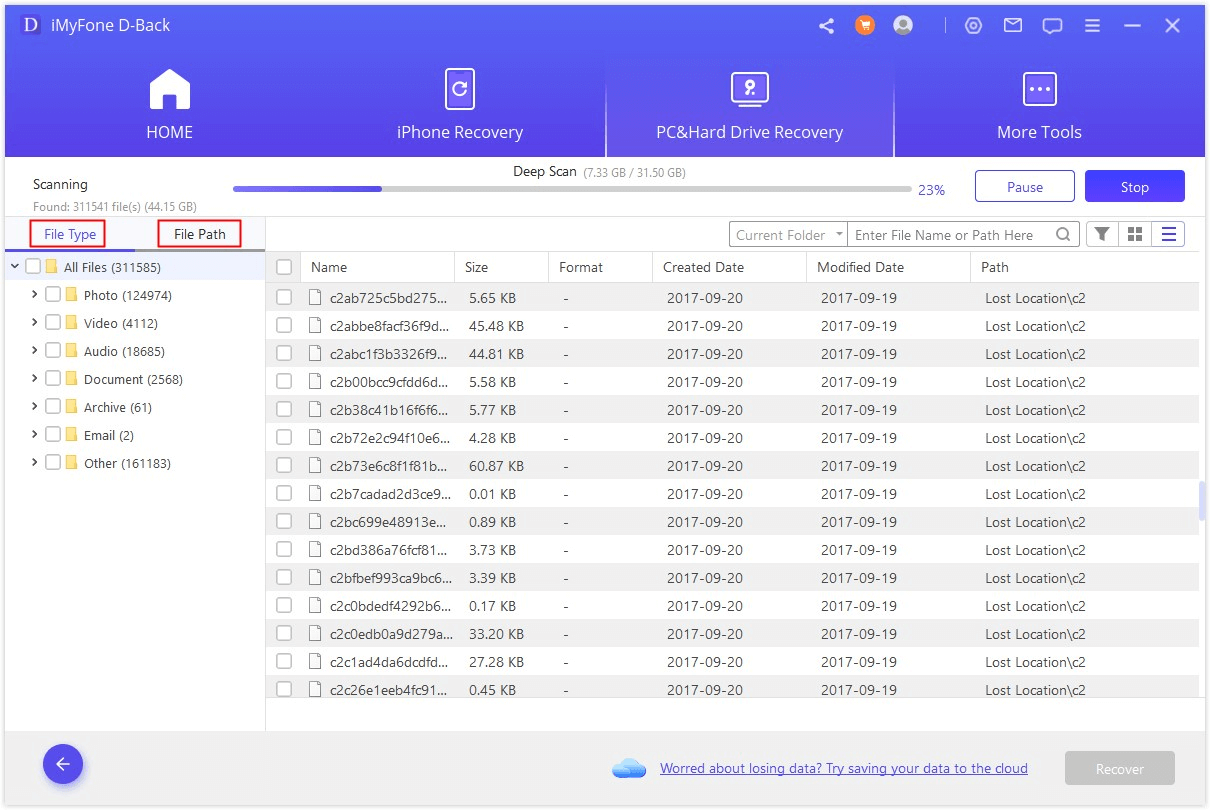 When you double-click a file, a pop-up window appears with a preview of the content. Once you have seen the preview, click the Recover button.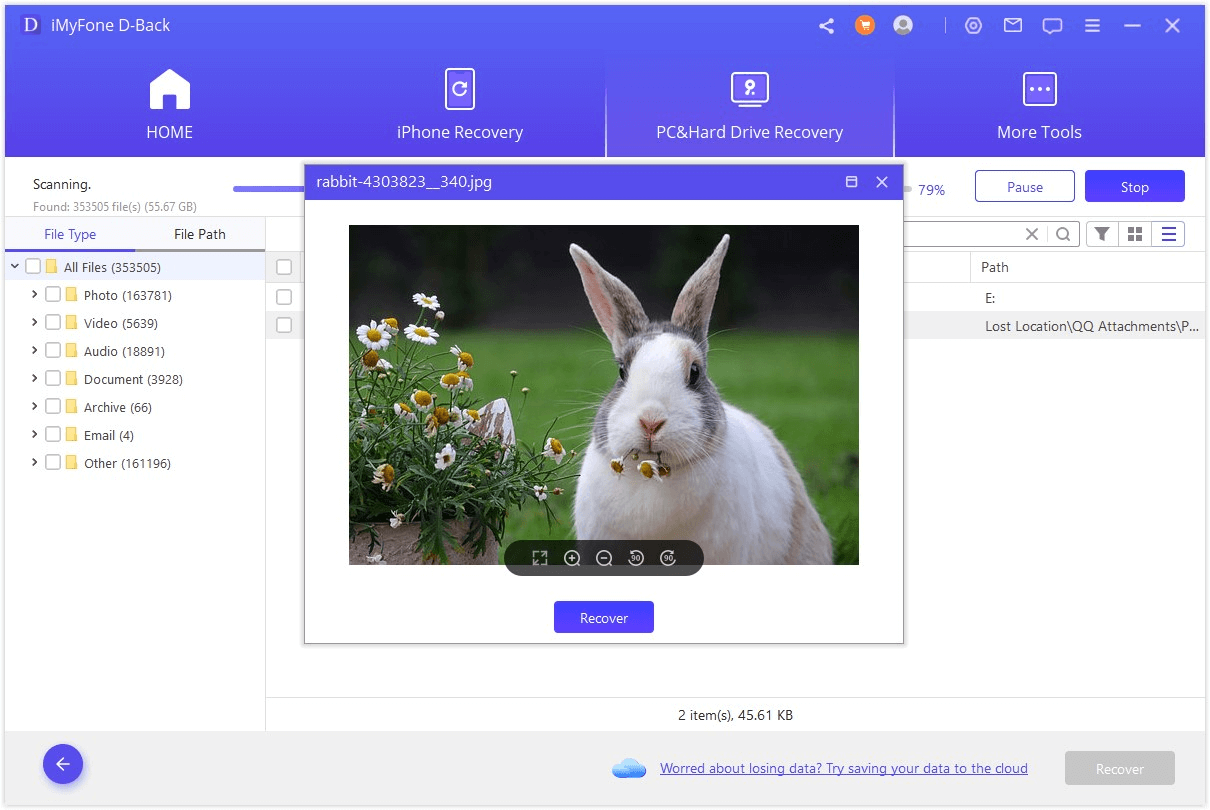 Part 3. FAQs about Recuva
3.1 What Does Recuva Do
Recuva can help you recover photos, audio, files, video, emails, and other types of files. It can also recover data from various storage devices and rewritable media, such as memory cards, SSDs, external hard drives, USBs, etc.
3.2 Is Recuva Trustworthy
Recuva is trustworthy. Therefore you can entirely rely on it for data recovery. It has no adverse effect on your system. Furthermore, it cannot steal or access private data, and neither can it spread malware on your system. It just recovers the lost data on the disk.
3.3 What Is Better than Recuva
iMyFone D-Back Hard Drive Recovery Expert is a better data recovery solution than Recuva, owing to its top-notch features and higher recovery rates.
3.4 How Much Data Can Recuva Recover
The amount of data you can recover has no set restrictions; however, the files must be larger than 80 MB. When it comes to recovering data from a hard drive, Recuva recovers over 80% of recently lost files. Furthermore, it was able to retrieve some long-forgotten data that had been erased earlier, in addition to recent ones.
Conclusion
CCleaner Recuva is a powerful data recovery software that offers nearly all of its features for free. Furthermore, its premium edition is reasonably cost-effective, making it a great pick.
However, this program has certain limits, and you may not want to risk losing your vital data; therefore, you will need a fast and straightforward way to restore data with a 100% recovery rate. In this case, a better alternative, such as iMyFone D-Back Hard Drive Recovery Expert, may be recommended. This software provides a quick and simple solution to recover your data in any scenario with its comprehensive capabilities.