The offline feature is handy since you can open and modify files without an internet connection once they are ready for offline usage. So you may work without worrying, and as soon as the internet becomes accessible, the online version will be updated.
However, your essential offline file data is still vulnerable to deletion or corruption for various reasons, and losing them might create a slew of issues. But, to save you the hassle, this article will demonstrate how to recover offline files with iMyFone D-Back Hard Drive Recovery Expert and other effective methods.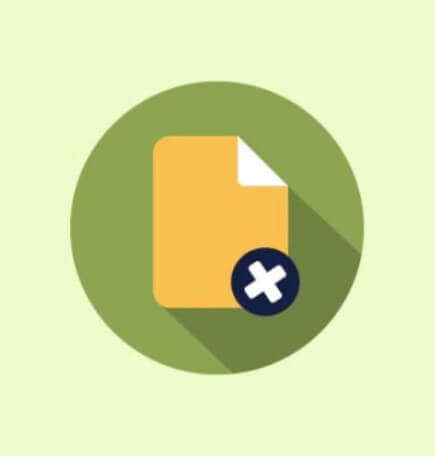 Part 1. Offline Files-Restore Offline Files
No matter how hard you attempt to secure your important files, you may inevitably lose them, which can cause a lot of problems. Instead of panicking, you should seek viable solutions, and there are a number of them, including robust data recovery tools, to recover offline files. Let us look at some of the reliable methods for recovering lost offline files.
1.1 Is It Possible to Recover Lost Offline Files and How to Restore
It is possible to recover lost online files. One of the most workable ways to do the job is using effective and powerful software like the iMyFone D-Back Hard Drive Recovery Expert.
This program has many advanced features that can help you quickly recover offline files without putting your data at risk. Before we get into the procedure, let us go over the main features of this software that make it the most dependable and excellent option for data recovery.
Main Features about iMyFone D-Back Hard Drive Recovery Expert:
It is a robust data recovery program that supports over 1000 file types and can recover data from various devices and folders.
It can discover and recover lost, damaged, or inaccessible data.
Thanks to specific algorithms, this program enables you to scan at rapid speeds while pausing and resuming the scanning process as needed.
It offers a simple digital interface that allows even novice users to recover data quickly.
The software's filter function quickly locates a missing file by its type, date, and filename, saving time and effort.
Now that we have gone through the apps' unique features let us get started with recovering lost offline files:
Step 1.Download and Install iMyFone D-Back Hard Drive Recovery Expert.
Download and install the Windows version of the software.
Step 2. Select the location
And then, you will see a simple interface that lists all possible data recovery locations. Proceed by selecting the directory where your offline files are saved.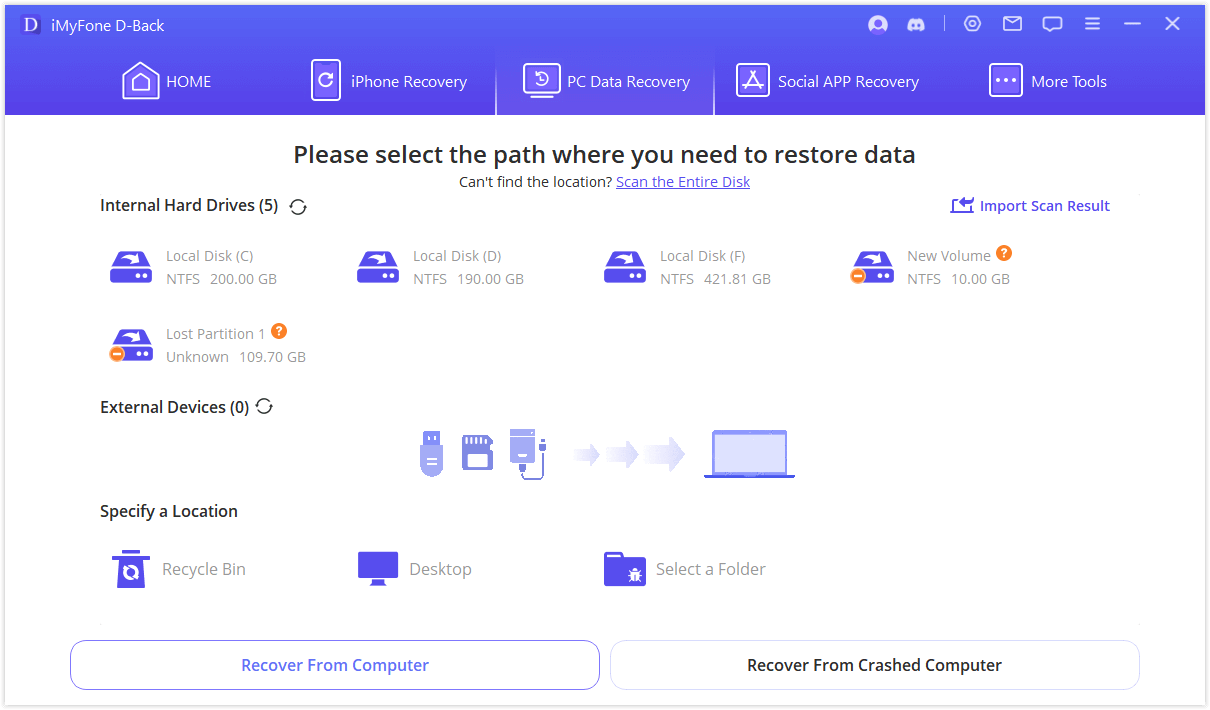 Step 3. Scan the location
The program will do an all-around scan of the location, which can be tracked via the progress bar. It will also display the scanning findings in real-time on the interface, allowing you to examine the results quickly. You can pause or stop the scanning process whenever convenient for you.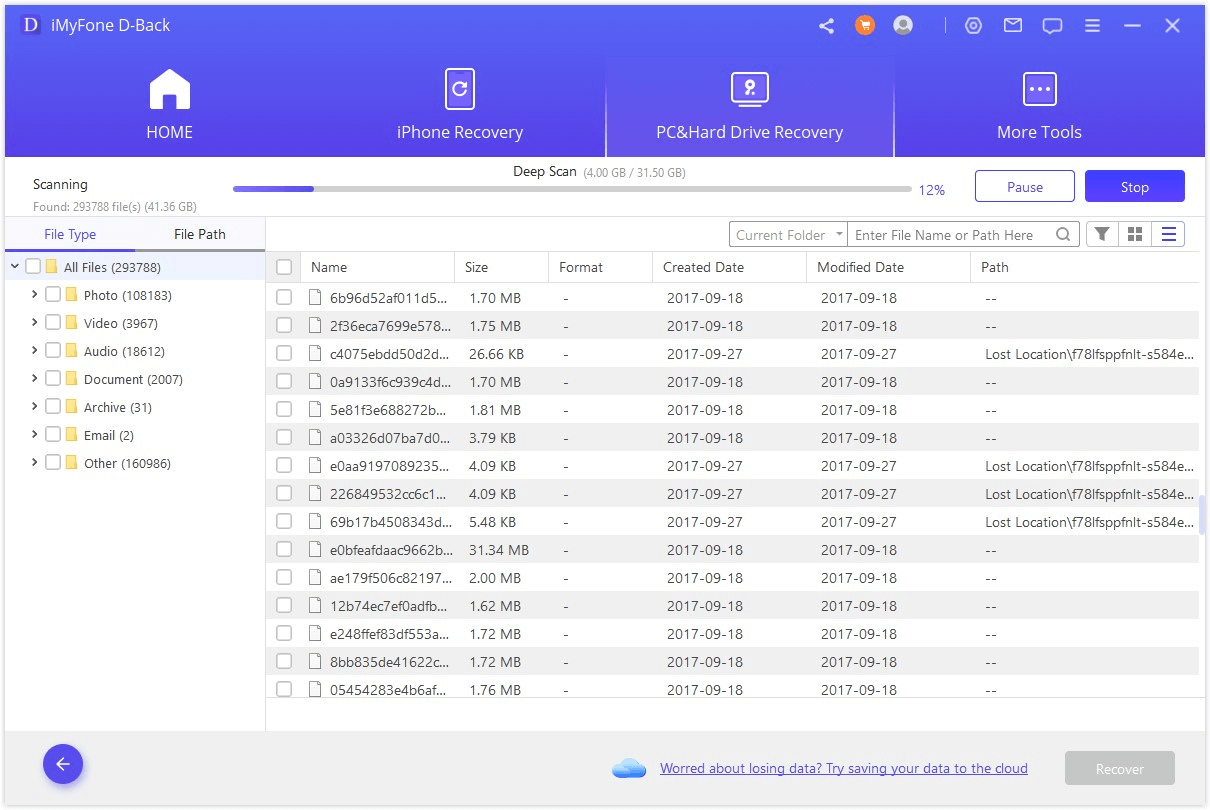 Step 4. Preview and recover files
All files will be neatly listed after the scanning is done. You can preview the files and selectively restore them using the software. To quickly discover the files you need, go through the File Type and File Path options.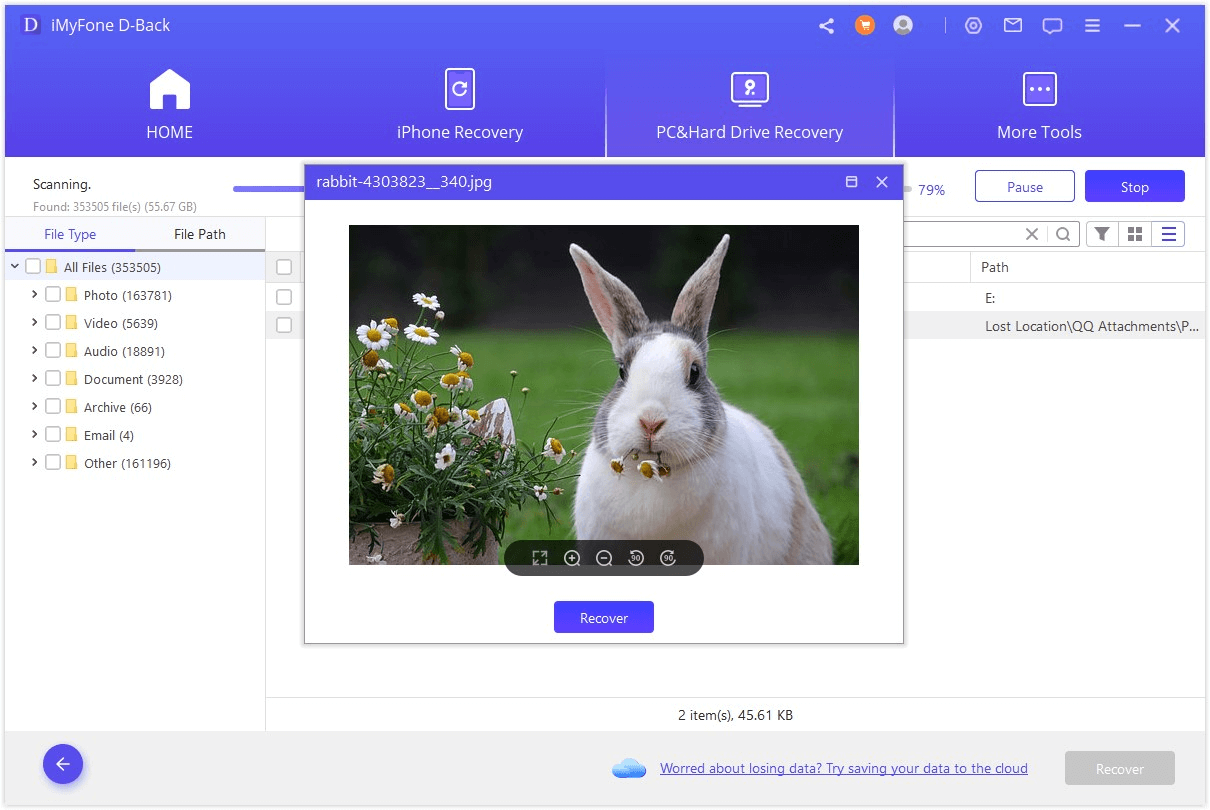 Double-click on a file and a pop-up window will appear that lets you preview the content. iMyFone D-Back Hard Drive Recovery Expert for Windows supports previewing documents like PDF files, Word files, and Excel workbooks. If that's the file you need, click the "Recover" button.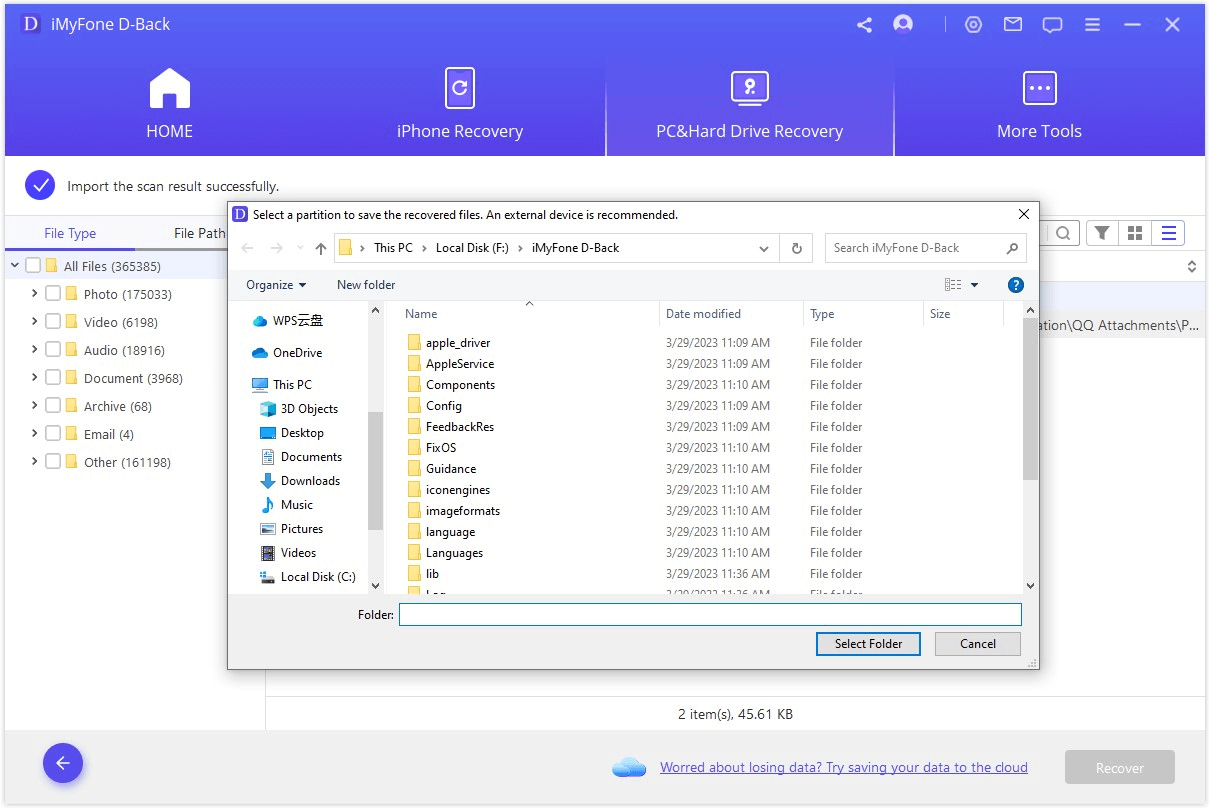 1.2 Methods that May Help to Restore Deleted Offline Files
Other than utilizing data recovery software, there are different ways to recover offline files. The following are some dependable options for getting the task done:
1

Recover Lost Offline Files Using CMD
You may utilize the CMD to access numerous system tools and use them to recover lost files.
The following are the steps you need to follow to restore files using CMD:
Step 1. Open the CMD from the start menu.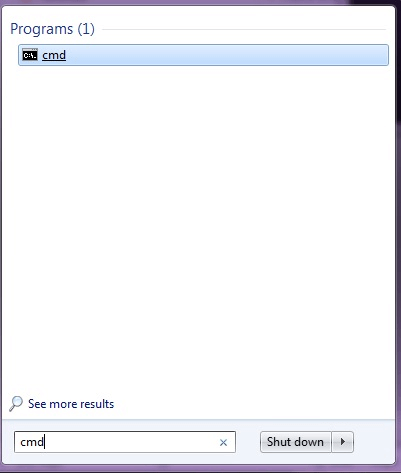 Step 2. Now, write the following command. chkdsk G: /r. (Replace G with the letter of your storage device)
This command tells the CHKDSK software to look for faulty sectors and faults throughout the whole surface of the storage device.
Step 3. To restore files, use the following command (replace G with the letter of your storage device): ATTRIB -H -R -S /S /D G: *.*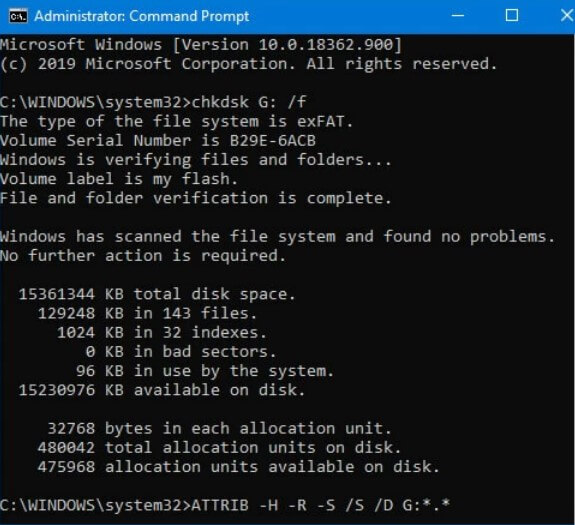 2

Restore Permanently Deleted Offline Files from a File History Backup
In Windows, there's a backup function called File History. It generates copies of files in chosen directories automatically when activated. File History backup permanently deleted files in various file formats by default. To utilize it to recover files, follow these easy steps:
Open the folder containing the lost files using Windows Explorer.
Select Restore previous versions from the context menu by right-clicking anywhere within the folder.
To preview the content of the valuable File History backup, choose it and click Open.
Select them and click the green Recover button to recover the desired files.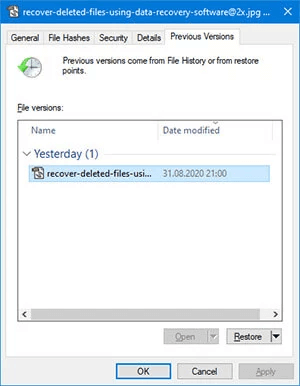 Part 2. FAQs about Offline Files
2.1 What is an Offline File
Offline Files is one of the most practical features in Windows that allows you to download and keep network files available offline. This is a valuable tool that is helpful when trying to access files over a sluggish network connection. Offline Files allows client computers to cache a copy of shared folder contents and offers transparent access to the files when the user is away from the association.
2.2 Where are offline files stored
Offline files and folders are stored in the user directory cache, accessible through the virtual drive.
2.3 How do I recover offline files in Windows 10
You can recover the lost or inaccessible offline files with the iMyFone D-Back Hard Drive Recovery Expert, by following the simple steps given above. You can also use CMD or the file history backup available exclusively in Windows 10 to get the job done.
2.4 How do I access the offline file cache
You can not access the file cache with File Explorer as it is kept in the User directory cache. You can only access them through the virtual drive, and you must have the Drive for Desktop operating to do so.
2.5 I delete offline files cache windows 7; how to recover
If you've deleted the offline files, you can quickly recover them using the iMyFone D-Back Hard Drive Recovery Expert. We've mentioned it in part 1; you can recover the files in the simple 4 steps.
2.6 How can I always enable the offline feature on Win
You can enable the "always available offline" feature for your files on Windows with the following simple steps:
Go to the File Explorer.
Select the network folder you wish to keep offline.
Select Always available offline from the context menu by right-clicking the folder.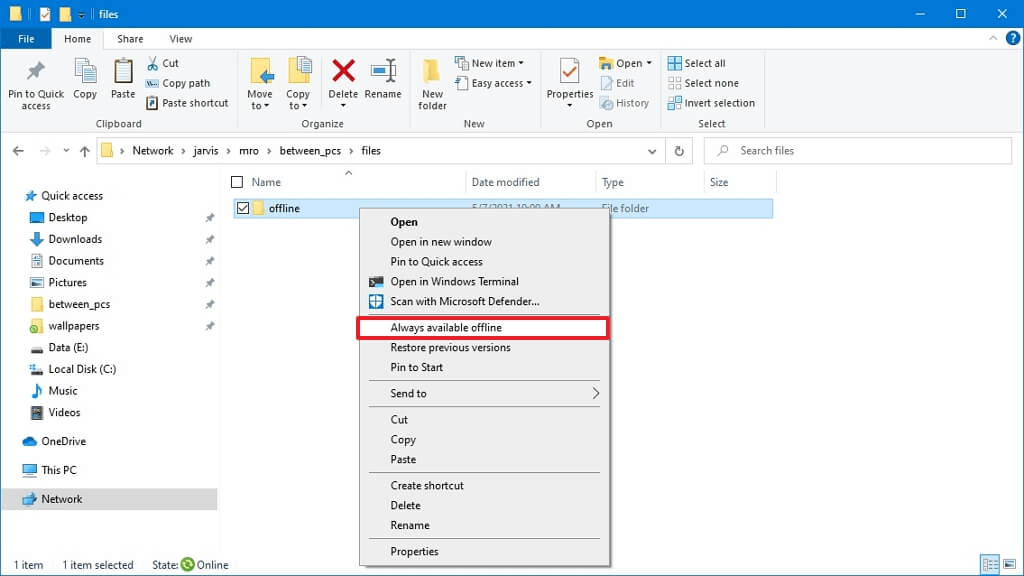 Once you have followed the instructions, the sync process will begin. It may take some time based on how much data you have. Once it is done, your files will be available offline.
Conclusion
The offline files function allows you to continue working even if the internet is unavailable. Losing those files, on the other hand, can be a nightmare.
However, you may alleviate this headache by employing powerful data recovery software like iMyFone D-Back Hard Drive Recovery Expert, which can safely retrieve lost offline files. This program has a user-friendly interface to make the procedure even more accessible; this program has a user-friendly interface.
However, if you do not want to utilize data recovery software, you may use the backup history option in Windows 10 or CMD to get the job done.