It is not a rare case that you have accidentally lost or deleted your files on your phone/PC caused by a system shutdown and virus attack. In this frustrating situation, You might be wondering how I can get them back. The straightforward process to resolve this problem is using advanced software.
In this post, I will introduce the data recovery tool from Easeus and its better alternative programs from iMyFone. All in word, iMyFone data recovery tool is much cheaper than Easeus. It takes shorter time to scan and recover files. Higher recovery rate is recommended! Keep reading the Easeus review and try the iMyFone data recovery software.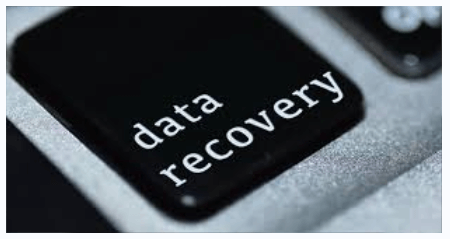 Part 1.Easeus Review
Now, we've decided to take the time to address all of our users' concerns and provide more information about Easeus review. Well, let's start with Easeus Data Recovery Wizard Review.
1.1 Easeus Data Recovery Wizard Review
Easeus Data Recovery Wizard permits you to recover various files from a PC (Mac and Windows) and an external device, including Documents, Graphics, Video, Audio, Email, and Other Files(ZIP, RAR, Html, SITX, etc.). It works in the case of deleted files, RAW drives, virus attacks, power failure, and other scenarios. Additionally, two simple recovery modes will not necessitate any expertise or experience. What's more you can preview missing files before recovering them to make sure they've been discovered.
However, it takes long time to preview and restore the files. It is also stuck on some interface while using the software. We also find that the data got back are in folders that are unrecognizable. What's even worse is that it is more expensive than iMyFone D-Back Hard Drive Recovery. Here are the pros and cons of Easeus Data Recovery Wizard:
Pros
Restore files from various places, including laptops, PCs, flash drives, and hard drives.
There are more than 1000 types of Files it can recover.
Has a configurable data recovery method that includes a search option for locating specific files and the ability to pause or halt data scanning.
Cons
It is a little costly when compared to other data recovery tools takes a long time to recover large files.
It can't scan some of the corrupted files.
1.2 Easeus Mobisaver iPhone/Android Data Recovery Review
Easeus Mobisaver is another data recovery tool from Easeus. Unlike the former software, it retrieves lost data on iPhone and Android devices. Whatever the type of file you are missing, Easeus Mobisaver can make it. What's more, it is compatible with Windows(11/10/8/7) and Mac OS. It is also an essential program in Easeus review. Here is the feature:
Get data directly from iOS Device, iTunes & iCloud backup.
Support iOS 13, iPhone, iPad, iPod, and iTouch.
Support various data types: Photos, Videos, Contacts, Messages, Safari Bookmarks, Notes, Voice Memos, and WhatsApp Chat History.
Retrieve lost data in any scenarios, such as Accidentally Deletion, Virus Attack, Damaged Devices, Upgrade/Downgrade, etc.
Cover a variety of scenarios that lead to data loss on an Android phone, such as device failure, rooting, SD card Issues, etc.
Restore all types of data: Documents, SMS, Music, Voice Memo, Contacts, etc.
Retrieve with easy steps.
But, the shortcomings of the software are similar to its PC data recovery program. Many people complain to its high price, long time to recover, and lag of use,etc. And, its recovery files types are less than iMyFone D-back.
1.3. Is Easeus Safe/Legit
When it comes to security, people are concerned about their safety when utilizing a data recovery program. Is Easeus safe? In general, employing data recovery software is safer than removing internal components for physical data recovery.
What's more, EaseUS programs appear to be entirely trustworthy, and millions of user reviews from throughout the world indicate that there are no problems with safety and security. And the company has switched to a 256-bit SSL encryption system. All data is automatically encrypted while you use this wizard. So, you may relax while using EaseUS to recover your essential files.
Part 2. Better Alternative for Easeus - iMyFone D-Back Hard Drive Recovery and iMyFone D-Back
Well, after the brief introduction of Easeus review, you may be curious about whether Easeus have a better alternative? The answer is BIG YES! In this part, I would introduce its better replacement from iMyFone--D-Back Hard Drive Recovery and D-Back.
2.1 Retrieve PC Data with iMyFone D-Back Hard Drive Recovery
iMyFone D-Back Hard Drive Recovery is a fantastic software that can recover your lost PC data. It is effective in all-inclusive data, including formatted device recovery, lost partition recovery, RAW recovery, computer crash recovery, etc. In addition, anyone can use D-Back Hard Drive Recovery because it is user-friendly and straightforward. With a few clicks and three steps, you can recover deleted files from your device. The best section is that you can try it for free; the scanning and preview of recovered files are free.
Support more than 1000 formats, including Images, Videos, Archives, Documents, Emails, Audio Files, HTML, etc.
Retrieve data from hard drives, USB flash drives, SD cards, SSDs, Cameras, and More.
Restore data with high speed, and it offers a high successful recovery rate.
Step to Retrieve PC Data with iMyFone D-Back Hard Drive Recovery:
Step 1. D-Back Hard Drive Recovery data recovery works on both Windows and Mac OS; download the version that fits your PC.
Step 2. Lunch the software; you will see the interface and select the location to retrieve the data. Then continue on it.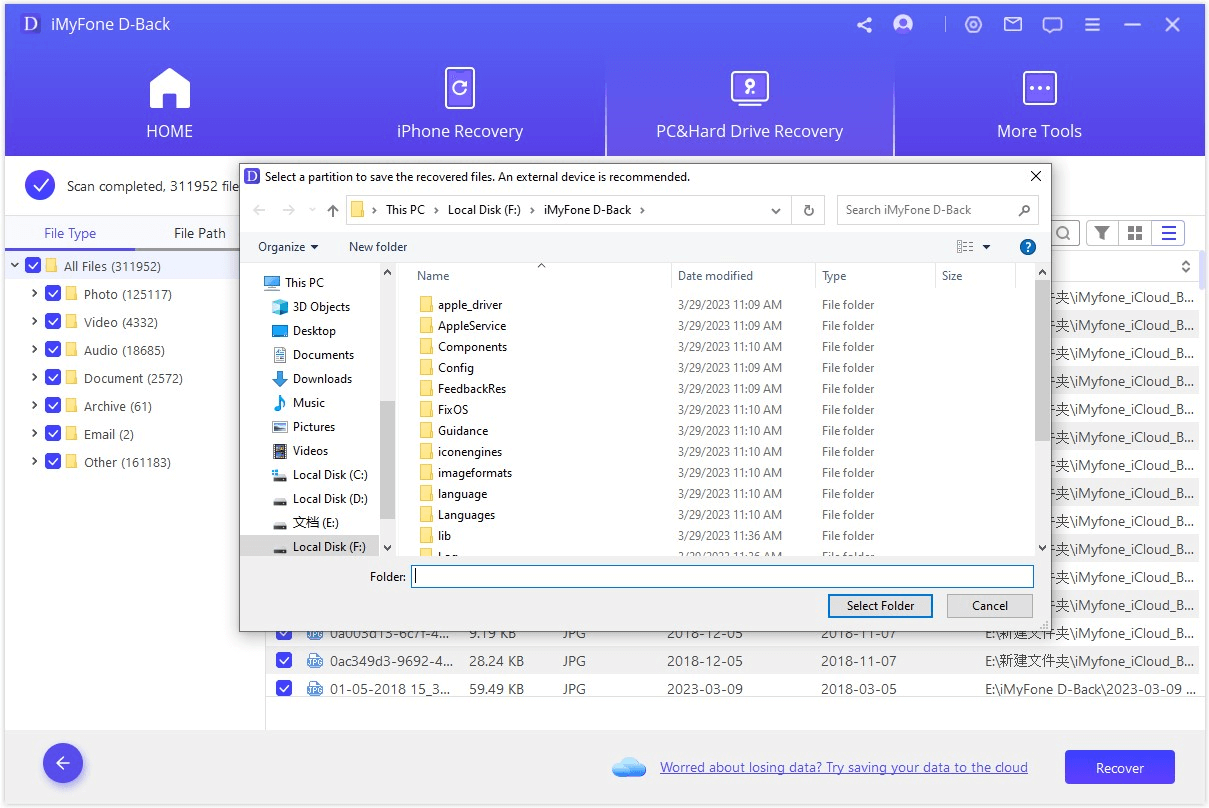 Step 3. After you have chosen the drive, it will start scanning. Then select the files you want to recover.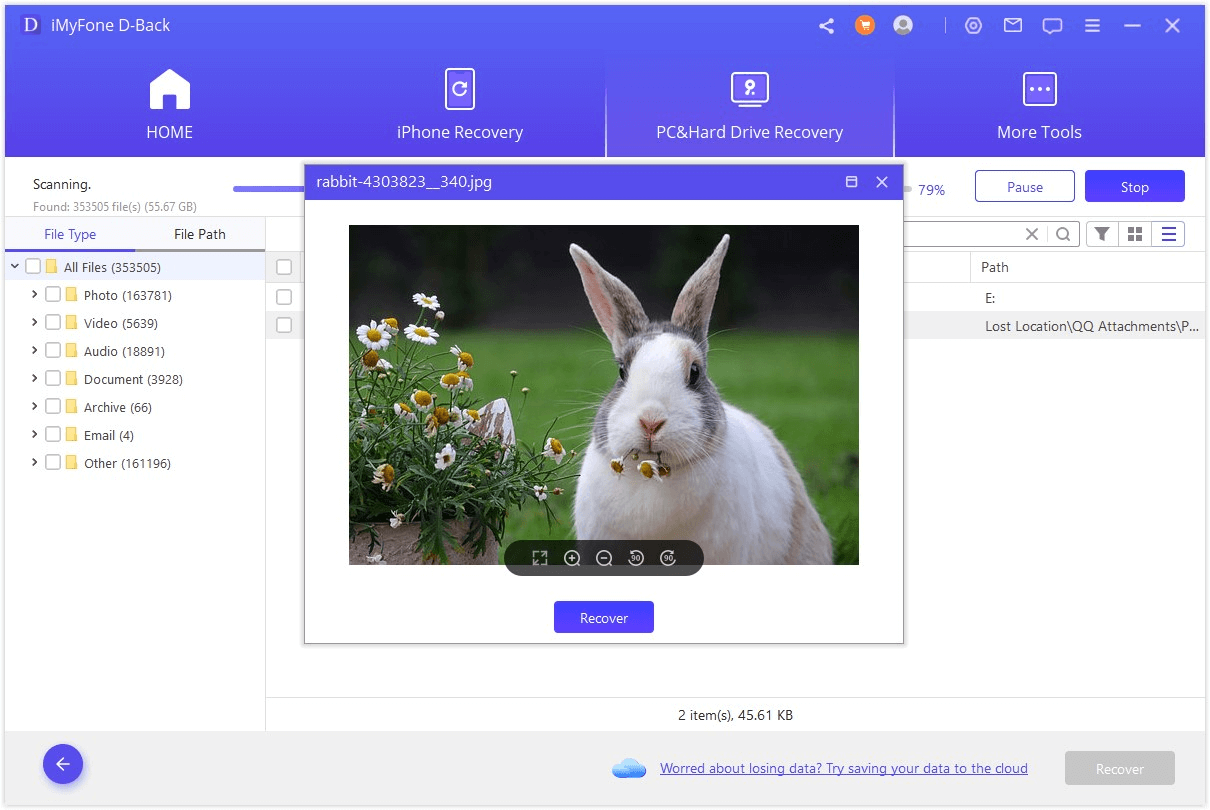 Note
When you double-click a file, a pop-up window will emerge, allowing you to preview the content. D-Back Hard Drive Recovery enables you to preview images and documents such as PDF files, Word documents, and Excel spreadsheets. Click the "Recover" button if that's the file you're looking for.
2.2 Recover iPhone Data with iMyFone D-Back
For iPhone users, it is more challenging to get back the lost file. However, iMyFone D-backdata recovery software is here to solve all your data loss problems. And it is a legally recognized program and won't reveal any privacy. Hundreds of thousands of worldwide users and favorable reviews show the security of the software.
Four mode support to recover data from iCloud, iTunes, broken devices.
Support all kinds of data and the third party App including photos, videos, contacts, safari history, WhatsApp data, Line data, Kik data, Wechat data, and more.
Free and quick to preview your lost data, selectively restore lost files, original data will not be overwritten.
Fix iOS issues without data loss.
Retrieve data with high-speed and high successful rate.
Step to recover iPhone Data with iMyFone D-Back.
Step 1. Download and lunch D-Back on your computer, select "Recover from iOS Device" mode. Then connect your phone to the device, click "Next" to continue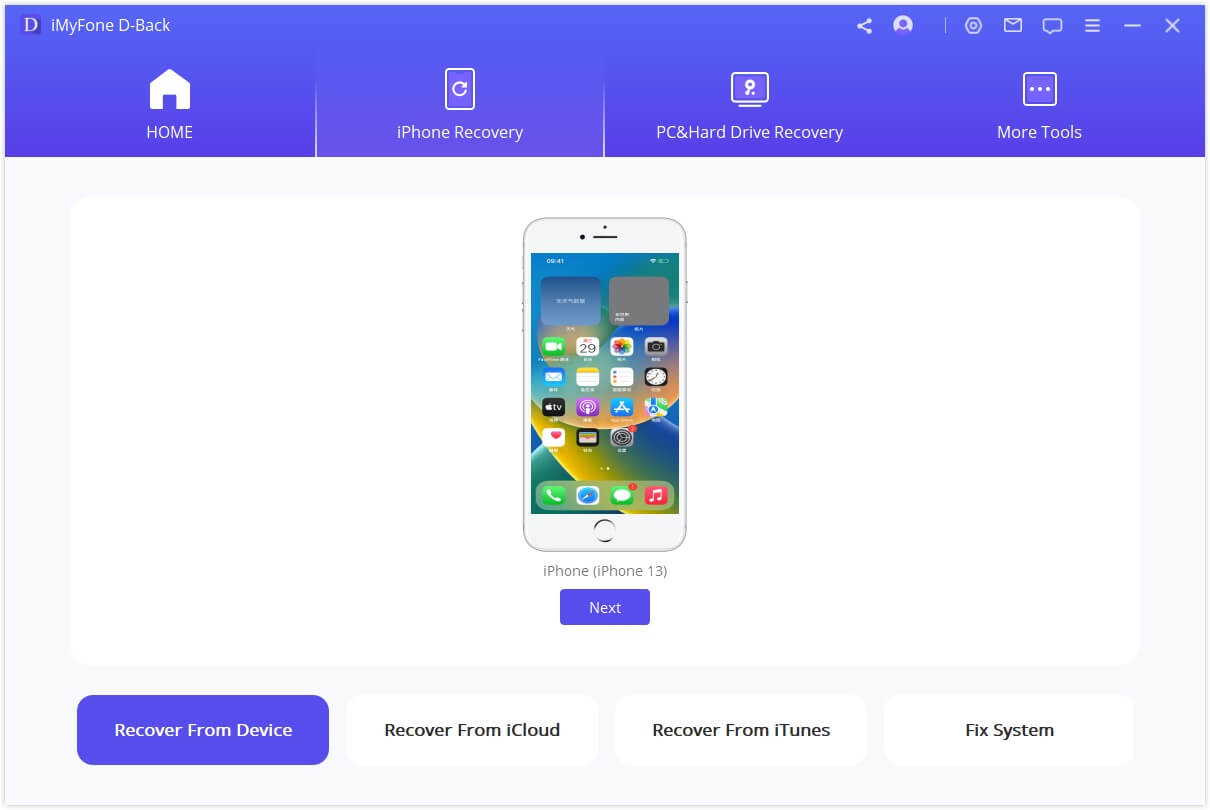 Step 2. Now, it works on scanning your data, choose all the data that you want to recover. Click on the" Recover" button. Your files are now recovered.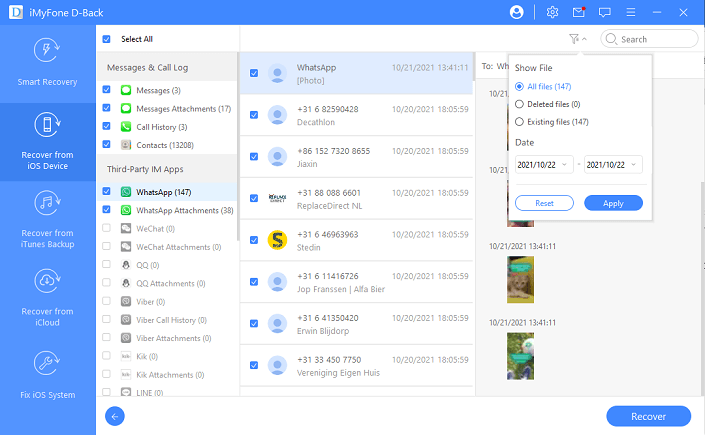 Part 3. Easeus Coupon code
If you want to try the free version or enjoy a discount price, pay more attention to this part!
3.1 Easeus Data Recovery Free Activation Key
Firstly, download the Easeus Data Recovery tool on the official website. Then you can refer to the following free activation key.
05K-CO5-STY-BAK-KKX-DGZ
10U-OGA-0Q5-R9Q-7CA-JLV
14P-JHR-5BC-89A-H5Z-65B
1901293-348020E-DISDFOSIOF
1KC-9CO-TVE-1PG-ZHP-04F
4OS-9H1-GRD-9ZB-KAY-B82
55FDE-56YGF-DE56T-YUHFD-RE67Y
56Y5E-6UYR6-78UIH-FR678-IHT67
You can try one of them for Easeus Data Recovery.
3.2 Easeus Coupon Code
The following is a list of Easeus coupon code that will help you save your amount
60% off code: EDMPANNI
50% off code: AFF50DARC
20% off code: AFF-5P3F
Open the Easeus official website put these Easeus coupon codes while you're on the checkout page. Finally, you will get the discounted final price.
Conclusion
We've defined four programs to recover lost data from phone/pc in Easeus review; and answer the question "is Easeus safe?". You can use them per your requirements. But our best recommendation is to go for iMyFone D-Back Hard Drive Recovery and iMyFone D-back. They have taken the market by a great force and have helped countless customers recover their data. Both of two software have excellent features and can help you recover your data in minutes.