Losing data is quite irritating and frustrating. Data is of immense importance, and no one can bear its loss. In this article, we will provide you with a solution that can help you to recover deleted data or lost data from your drive or external storage devices. There are third-party data recovery tools that you can use and recover your data easily.
In this article, we will show the full guide of AnyRecover Review. We will also show its update version to help you recover your hard drive data.(This version is discount now! You can click here to get discount!)
Part 1. iMyFone AnyRecover Review
1

How to use iMyFone AnyRecover?

If you want to recover your lost or deleted data, then you can do it easily with iMyFone AnyRecover. It is a third-party data recovery tool that works like a charm. It doesn't have many steps and scans your selected drive or device to obtain the recoverable data.

iMyFone AnyRecover can recover data in different difficult scenarios. It can recover data after accidental deletion, formatted device, damaged hard drive, computer crash, or even lost partition. Let us see how to recover data using iMyFone AnyRecover in this full review.

Step 1: Depending on your operating system, download the version of iMyFone AnyRecover. Install the tool and open it. You will see all the drives and external devices connected to your computer. Select the drive from which you want to recover the data.
Step 2: Scan the selected drive. You will see a progress bar for scanning. You can also pause or stop the scanning process if the file that you are looking for is found.
Step 3: Preview and confirm that you want to recover. Select the files and click on "Recover" to restore them to your computer. You can choose the location where you want to save these recovered files.
Key Features:
iMyFone AnyRecover has an ultra-fast scanning speed.
Supports more than 1000 file types.
Reliable and safe to use.
You can preview the data after scanning and before recovery.
Features a file filter that makes it easy to search for specific files.
It can recover data from Windows and Mac
2

What is the Price of iMyFone AnyRecover?

You may want to know"Is AnyRecover Free"? Actually, Its trail version is free, the trial version is not a full version. It may not work like the full version because it has fewer features and few restrictions. To enjoy all the features, you need to get your hands on the full version that comes with monthly, yearly, and lifetime subscriptions.

There are different price plans for iMyFone AnyRecover. You can get a monthly, yearly, or a 1-time lifetime subscription. All have different prices. iMyFone AnyRecover costs about $49.95/Month, and $59.95/Year, and the lifetime plan costs $79.95. All these subscriptions are for a single user (1 PC). However, if you want a lifetime subscription for 5 PCs, then you can get it for $99.95.
3

Is AnyRecover Safe/Trustable?

Yes. AnyRecover is a safe and reliable tool. The data is completely secure and is not exploited in any way. The payment gateway is also safe for anyone that wants to buy iMyFone AnyRecover. iMyFone AnyRecover is also recognized by big brands like Engadget, TechRadar, Softpedia, and more. It also provides a 30-day money-back guarantee, so it is quite reliable.
Part 2. AnyRecover Update Version-iMyFone D-Back Hard Drive Recovery Expert
Both iMyFone AnyRecover and iMyFone D-Back Hard Drive Recovery Expert are tools of the same company. iMyFone D-Back Hard Drive Recovery Expert is among the signature and first tools of iMyFone. They both are very effective, but iMyFone D-Back Hard Drive Recovery Expert is a better alternative, it is cheaper and more powerful than iMyFone AnyRecover. It can recover data from hard drives, external disks, USB drives, Micro Card, Zip Drive, Music players, and much more. It can recover 1000+ files type, let's see this tool.
Step 1: Download and install iMyFone D-Back Hard Drive Recovery Expert. Open the tool. Here, you can see a list of drives on your computer. The user can also attach an external storage device, and it will be displayed here.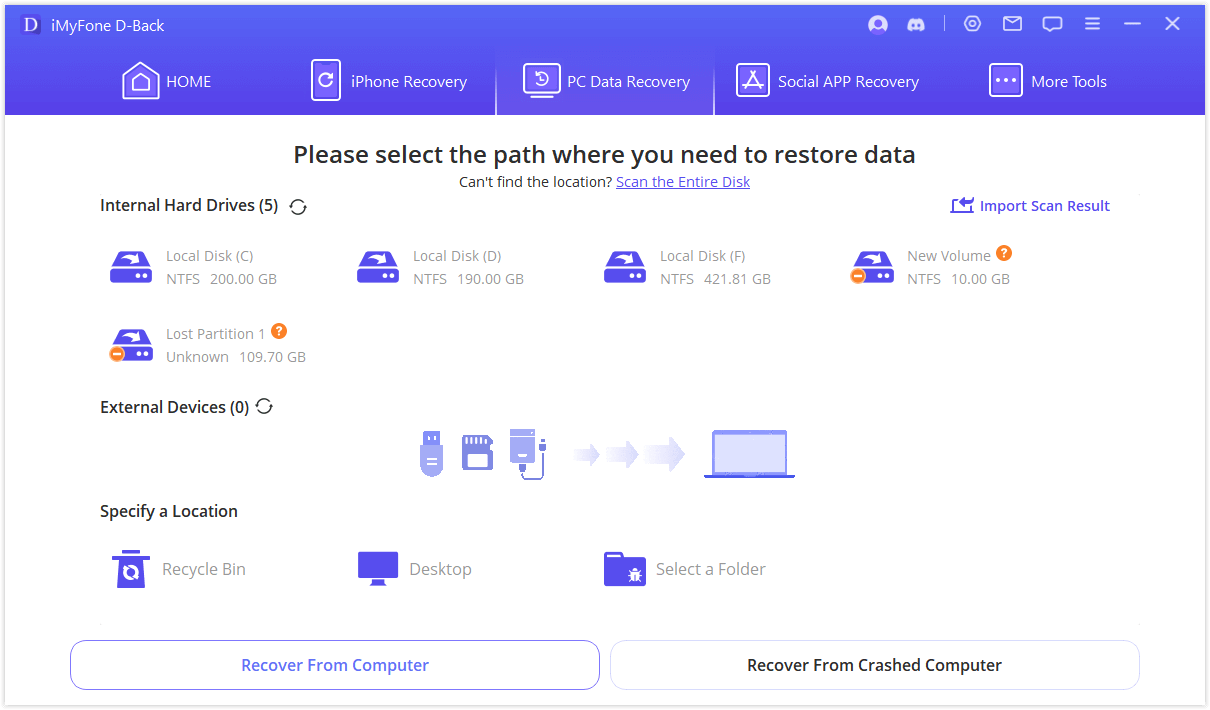 Step 2: Select any drive or location to perform the scanning process and find all the recoverable data. If you find the required file, you can stop the scanning process.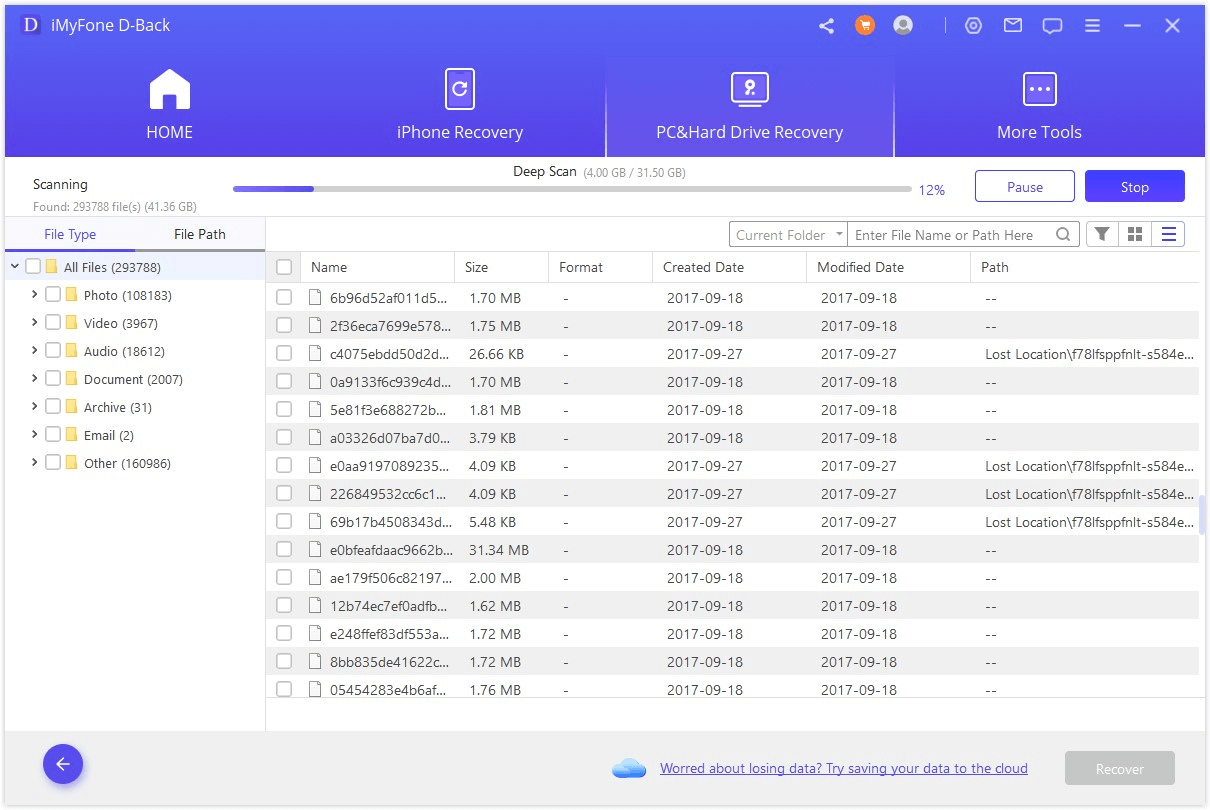 Step 3: Preview the files and then select them. After selecting, click on "Recover" to restore this file to your desired location.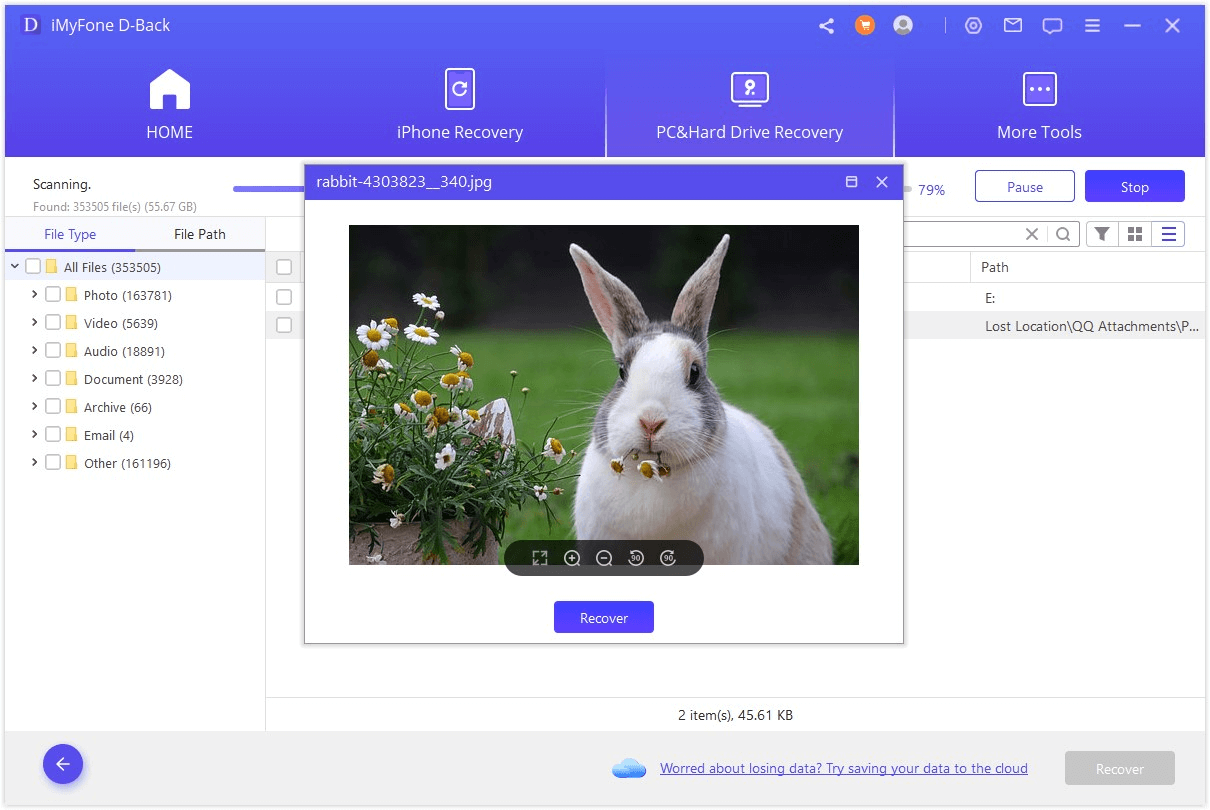 Part 3. AnyRecover Free License Key and Coupon Code
01

How to Get AnyRecover Coupon Code?

There are different websites, including the home website of iMyFone that offers discounts or AnyRecover coupon codes. You can go to this link and find iMyFone products at discounted rates. You can also use the coupon code "SMS20" or "AR15OFF" to get a discount on iMyFone AnyRecover. Use these coupon codes at checkout and save yourself some money buying this product.
02

How to Get AnyRecover Free License Key?

There are cracked versions and free license keys of AnyRecover, but it is unethical to do so. The full version is not free. You can go for the trial version and use this tool as much as you can. Getting a free license key may lead you to download malicious content to your computer that can greatly affect your computer's performance and speed.
Part 3. Conclusion
In this article, we have discussed two different products of iMyFone. Both of these are data recovery tools and are quite powerful. These tools can recover lost and deleted data without any issues. However, the iMyFone D-Back Hard Drive Recovery Expert is a simpler and better alternative because it is cheaper and people are used to this tool. Both of these tools have a trial version that users can download and check what goes best with their PC.