Losing your data to corrupted windows is a frustrating situation. But you don't need to get depressed. Today, we've come up with the best solution to all your data loss problems; the iBoysoft Data recovery tool.
This article will review this incredible tool, from its features to its pricing and functionality. What's more, we will introduce a best alternative: iMyFone D-Back for you.
Let's dive deep into it!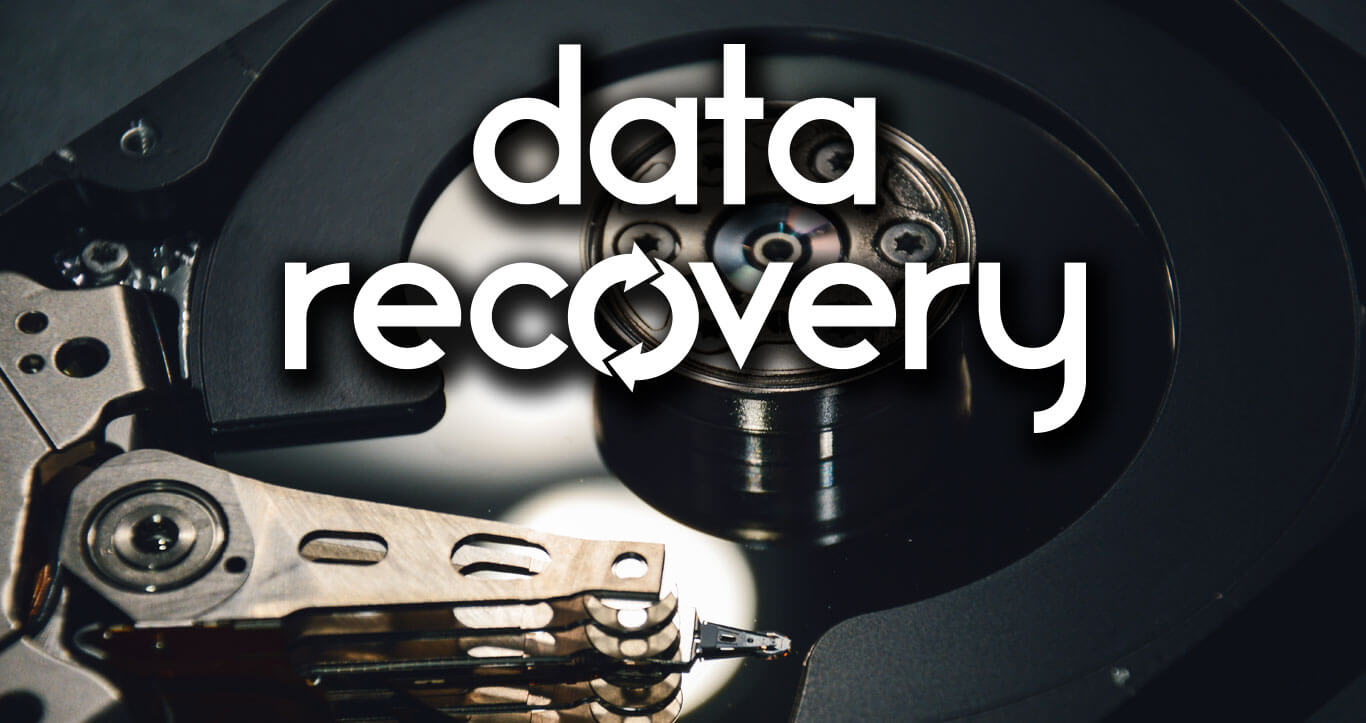 Part 1. iBoySoft Data Recovery Review
iBoySoft Data Recovery is the safest and fastest data recovery tool with an almost 99% success rate. Therefore, it's the most reliable software to help one recover the lost files. The IBoysoft recovery tool comes up with some unique features that allow users to retrieve their files without hassles.
1.1 Main Features of iBoySoft Data Recovery Software
The following are the features of the software that keep it ahead of the game:
Key Features:
Offers deep scan to recover corrupted and unreadable drives.
More than 1000+ types of file formats are supported, including documents, photographs, big video files, etc.
Allows saving the scan session.
It can offer filters for pre-recovery.
System Requirements:
The software requires at least 32MB of disk space and 128MB of RAM for optimal performance.
OS Compatibility:
It is compatible with both Windows and macOS.
Device formats supported:
It supports most file systems, including FAT32, NTFS, exFAT, and APS. Using this software, you can recover data from encrypted disks, memory cards, SSD, digital cameras, PC, and USB sticks.
1.2 Pros and Cons of iBoySoft Data Recovery Software
Pros
Works on corrupted storage devices and supports various file and storage types.
It is entirely free if you need to recover 1GB of data.
Its graphic interface is user-friendly and straightforward to utilize.
Cons
Scans at a slow speed.
A preview is not available during the scanning process.
Many documents, including PDF, Word, RTF, Text, Excel, Word, and others, cannot be previewed even after scanning.
It is expensive.
1.3 How Does iBoySoft Data Recovery Cost
The iBoysoft data recovery cost is determined by the type of subscription. Following are the available plan for data recovery in windows:
The software's basic edition costs $69.95 for a one-year subscription.
The professional edition of this software costs 169$ for a one-year subscription. It offers some advanced features as well.
Finally, the technician version costs $299 for a one-year subscription with premium features and is permitted to be used on up to five PCs simultaneously.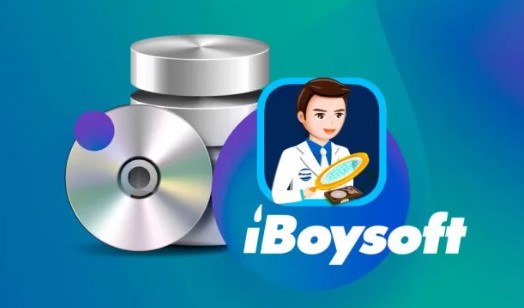 1.4 Is iBoySoft Data Recovery Safe/Legit
iBoysoft data recovery is safe and reliable, considering the evaluations and iBoysoft reviews. It is a legitimate program that is not a hoax. Many well-known companies throughout the world rely on this software.
It is entirely safe and will not affect your system or data. It will not seize any digital assets on your device, including private details, business papers, etc. The scanning and data recovery are made locally, and nothing will be shared with a third party.
The iBoysoft Data Recovery program does not contain any virus or bundled software. It is ideal and safe to use as long as you use it for personal purposes and do not use it to recover someone else's data.
1.5 How to Use iBoySoft Data Recovery
You might be wondering how to use iBoysoft data recovery after going over all of the benefits and security this program provides. This program is highly user-friendly, and you can recover your essential data by simply following the steps outlined below:
Step 1. Download and install the program
The first step to recover your data is iBoysoft data recovery download and install it on your system.
Step 2. Choose the data recovery module
Select the data recovery module from the available options after the software has started up in your system.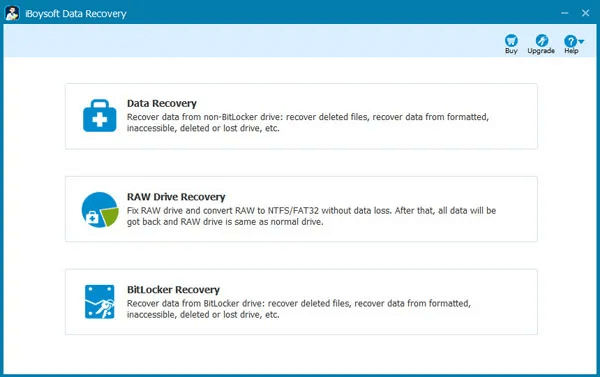 Step 3. Select the drive and scan it.
In this step, you will be required to choose the drive you want to recover data from and then click next to scan it. The scanning process will start right after you select the drive, and you will be able to monitor its progress on your interface.
Step 4. Preview and recover the files
You can see the search results displayed on your interface after completing the scanning process. Double-click the files to preview them and then recover them if they are what you were looking for.
Part 2. [2022] Best iBoySoft Alternative: iMyFone D-Back
We want the best possible, entirely reliable solution when retrieving vital data. While iBoysoft Data Recovery is one of the best data recovery software, it is not without flaws. It is not that affordable, and it has certain limitations on previewing files and a scanning procedure that is too sluggish for some customers wanting to recover their data.
In this instance, one should seek another alternative. The best option is the iMyFone D-Back. It is inexpensive, free of drawbacks, and has top-notch features that make data recovery a breeze.
iMyFone D-Back can make data recovery straightforward and hassle-free. All you should do is follow the simple steps below:
Step 1. Download and install the software
The initial step to recovering the lost data is downloading, installing, and launching the software on your system.
Step 2. Select location for data recovery
The next step is to choose the location where the data has to be recovered.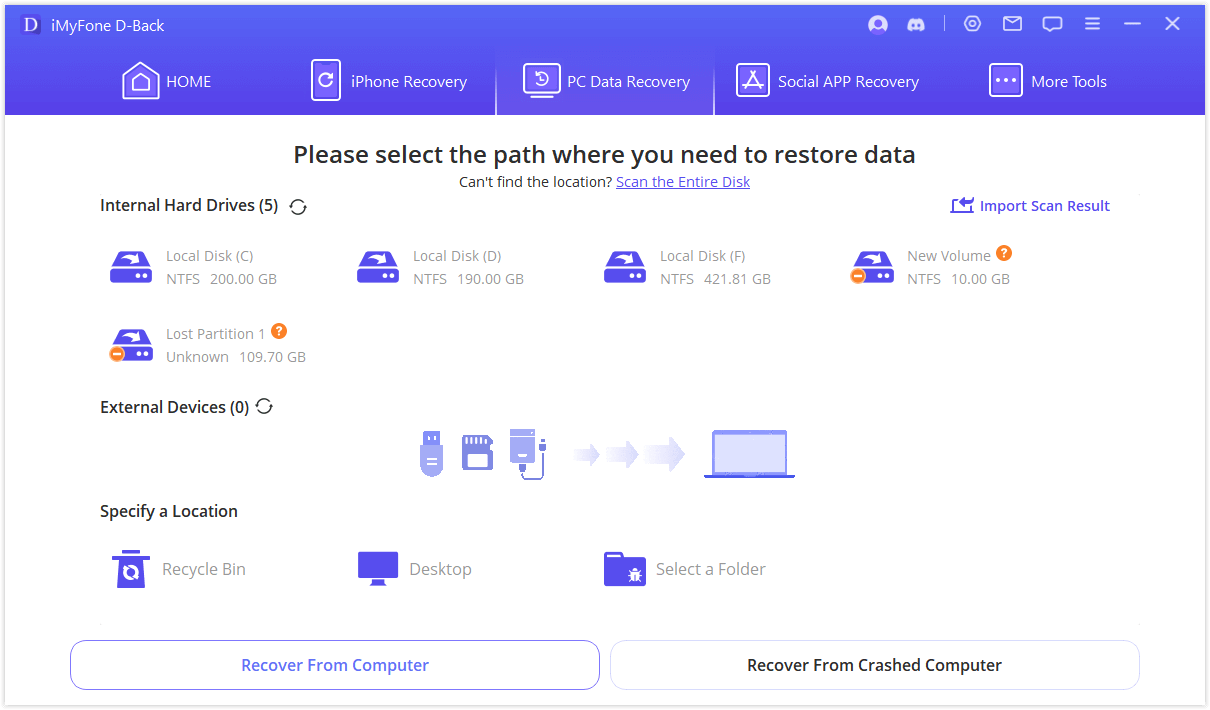 Step 3. Scan the location
The program will perform a thorough scan of the location you selected.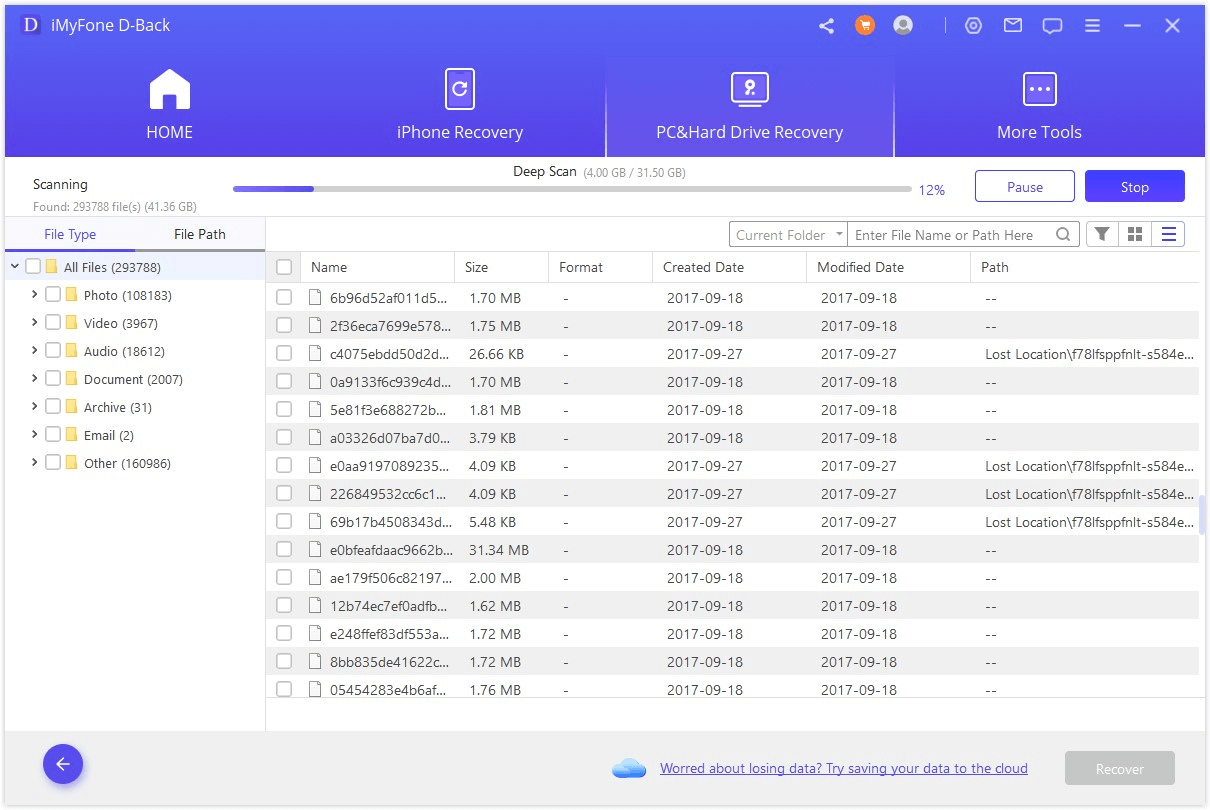 Step 4. Preview and Recover
You will be able to preview the lost data that you want to restore once the scanning process is done. Evaluate the data, select Recover, and store it in a safe place.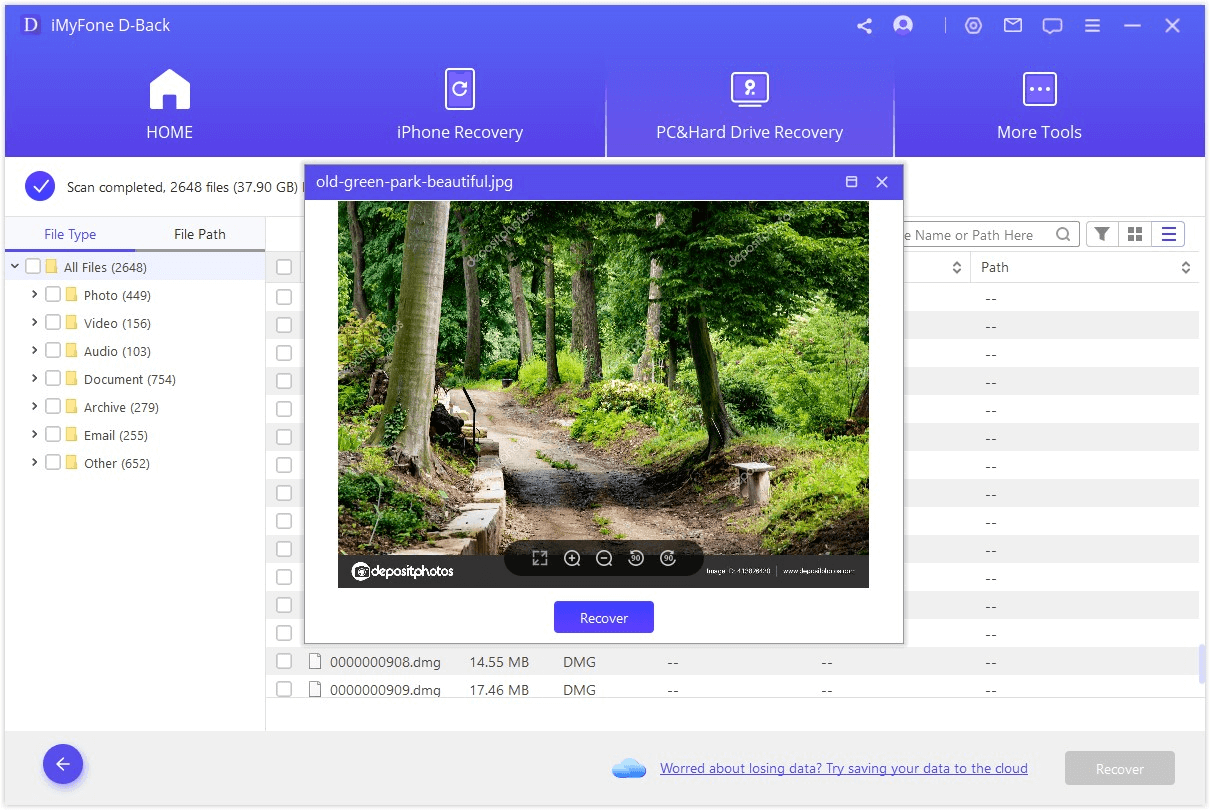 2.1 What Can iMyFone D-Back Do for You
D-Back Hard Drive Recovery Expert is the all-in-one solution if you wonder how to get your lost data back. It offers all the answers you need and distinctive and efficient features that make data recovery quick and straightforward.
Following are some of the iMyFone D-Back features that make it a better choice.
Fast Scanning
Its advanced algorithms enable it to scan while also allowing you to halt and continue the scanning process as needed.
Free scan and preview
It allows you to scan lost data for free and preview images and documents before recovering them, ensuring that what was lost can be retrieved.
Cost-effective
It is a cost-effective alternative, with a one-year subscription to the full version for $59.95.
Part 3. FAQs about iBoySoft Data Recovery
3.1 Is iBoySoft Data Recovery for Mac free
It has a free version that includes most premium features but with certain limitations. The free version of iBoysoft data recovery for mac can only recover 1GB of data, has no restoration options for corrupted photos or videos, and does not support the NTFS file system.
3.2 Are there any iBoySoft Data Recovery Mac serial keys
When a customer purchases iBoysoft data recovery for mac from their official website, they will receive a serial key. It is one-of-a-kind for each consumer and helps activate the program to recover the data effectively.
3.3 Is there any iBoySoft Data Recovery full version free download
It's preferred to buy the full version from their official website by paying the total amount. If you don't want to go for a full version, you can go for a trial version. It's free for a certain period. It will allow you to use limited options.
It can recover data from partitions on a hard disk, an external hard drive, a USB stick, a memory card, a CF card, or an SD card that has been damaged, destroyed, or erased. You may use the program in recovery mode to recover data from Windows or macOS systems that cannot boot.
Conclusion
Losing necessary data is frightening, but recovering it can be simple with the right software. iBoysoft Data Recovery can help you recover the data you have lost. However, there are several limitations to this program.
Were you looking for a cost-effective data recovery solution with top-notch features? The iMyFone D-Back won't let you down! Even if you are a newbie, it is the ideal solution because of the quicker scanning speed, flexible selection options, and improved user interface.