Krita is a digital painting tool that allows artists to digitally paint any logo or painting. The tool has very wide usage and is available across all platforms. Krita has different types of Autosave options, but sometimes, it is easy to lost your Krita files. In this article, we will talk about how to recover the unsaved/autosave Krita files.
Let's begin.

Part 1. How to Recover Unsaved/Autosave Krita Files
The best way to recover any lost unsaved or autosaved Krita file is by using D-Back Hard Drive Recovery Expert. It is very simple and easy to use. It is compatible with both Windows and macOS. There is also a trial version available that helps the user to test the tool out.
The software can help in recovering 1000+ file formats, including Krita files. It works in all scenarios and brings back your files without any hassle.
Let us see how we can recover unsaved/autosaved Krita files with iMyFone D-Back Hard Drive Recovery Expert.
Step 1: Download and install iMyFone D-Back Hard Drive Recovery Expert on your computer. Open the tool and choose the drive where Krita saves the data.
Step 2: After choosing the drive, perform the scan, and all the deleted Autosave files will be recovered within a few minutes.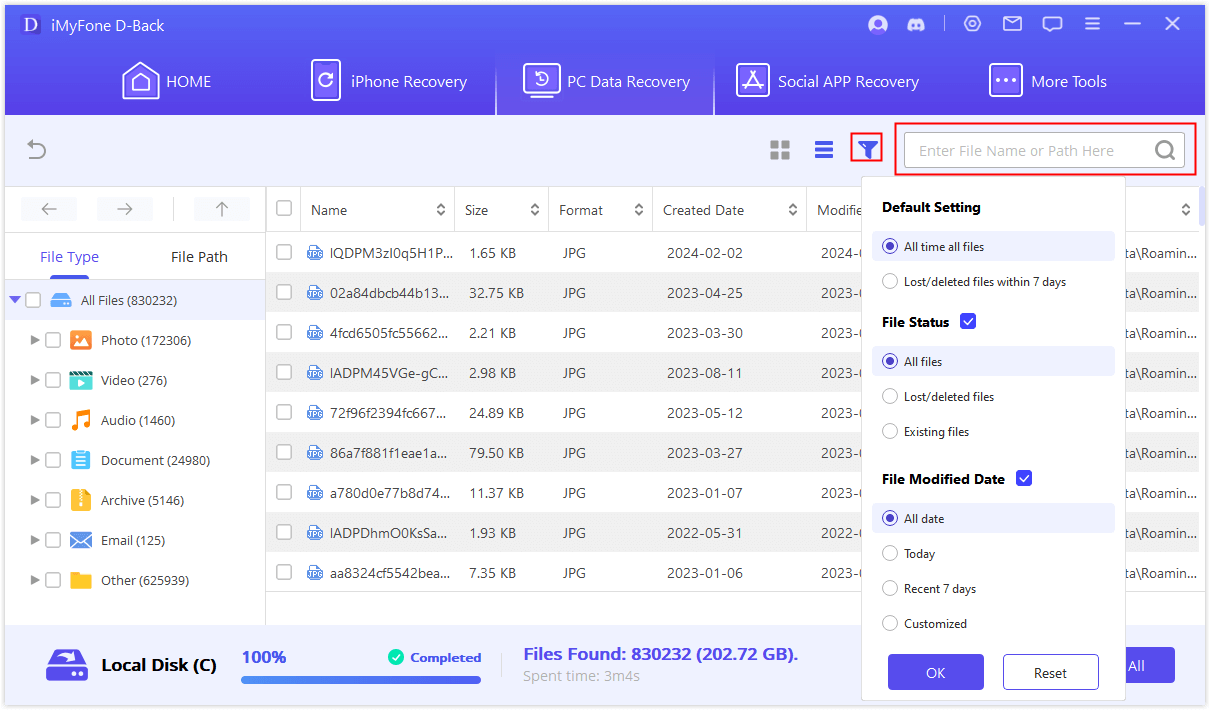 Step 3: Choose the files that you want to recover and click on Recover. Select a path where you want to save the recovered data.
Part 2. Pro Tip about Krita AutoSave and Backup Files
2.1. Krita Open Autosave Files
When you are working with Krita, there are different types of autosave options. It would perform autosave if you didn't save the file at all or there were changes made to the file. When you install Krita, the default setting autosaves the work every fifteen minutes, but you can change this from the settings inside the Configure Krita. But if you are using Krita on a Mac, then the same option will be inside the Application menu.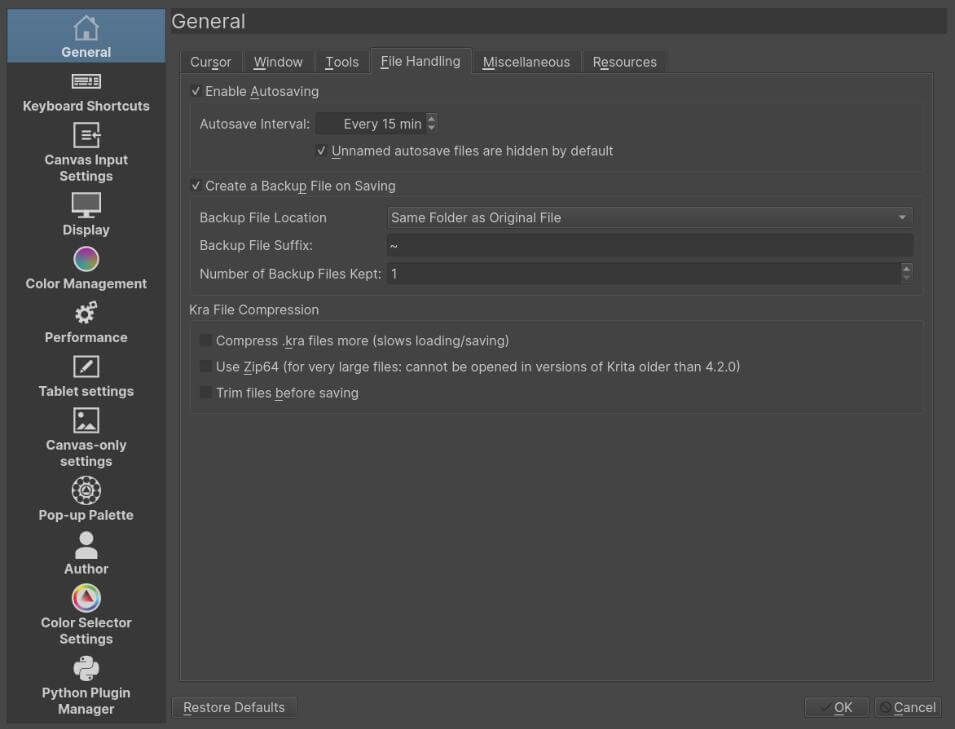 So, if you didn't save your work, then Krita creates an unnamed file that contains the autosave for your project. This unnamed file is located in the home directory. In Windows, the autosave file will be in "User's> %TEMP%".
Moreover, there is an option where you can configure to make these Autosave files visible. But if Krita crashes or shuts down before you have the time to save your file, then the next time you open Krita, you will see an option asking you whether to restore the files or delete them.
But if you have already saved your work, Krita will still Autosave your file. These files are hidden in the same folder as your saved file. Now, if you start Krita after crashing, then it will ask you if you want to open the Autosave file or not. If you click on "No", this Autosave file will be deleted, and the work till you last saved the file will be restored.
2.2 Krita Backup Files
Krita has three types of Backup Files. The first one is Ordinary Backup, the second one is Incremental Backup, and the last is Incremental Version. Now, let us distinguish these types of backup files.
Krita has a default setting of creating a backup of every file. If you have opened a previously saved file and made changes to it or if you save the file the first time, in both of these situations, a backup of your file will be created. This backup file will be saved in the same folder as the original file.
However, this option of ordinary backup can be disabled from the Configure Krita option in the General Settings for Windows and Linux users. Mac users can find this option under the section of the Application menu.
Incremental Backup is quite similar to Ordinary Backup, but here the copy of the last saved data is saved to another file before saving. Here, Incremental Backup does not overwrite the Backup file, and these Backup files have numbers unlike a unlike a '~' ; suffix in Ordinary Backup.
Coming to the last type of Backup in Krita, the Incremental Version does not involve the original files. It works like Incremental Backup, but the only difference is that it saves a new file with a file number.
Part 3. FAQs about Recover Krita Files
01

How to Recover Lost Krita Files?
If you have accidentally deleted the Autosave files as well, then you can use the iMyFone D-Back Hard drive Recovery Expert. It will perform a deep scan, and all your files will be restored easily.
02

How to Recover Overwritten Krita Files?
If you have overwritten the Krita files, then there are Incremental Backup files available and also Incremental Version backup. If the files are not recovered from these backup methods, you can use iMyFone D-Back Hard Drive Recovery Expert, and all the previous files will be recovered.
03

Where Is the Krita Autosave File's Location?
As we mentioned above, the Autosave of Krita is usually saved in the home directory in the form of a hidden file if you are using Linux or macOS. In Windows, the Autosave file will be inside the folder of "User's> %TEMP%". But the user has the option to make these hidden Autosave files visible.
04

How to Find Krita Autosaves?
If you have already saved the file once and want to open the Autosave, open the Krita after it crashes. It will ask you if you want to restore the Autosavel; if not, then you will be presented with the data that you last saved. Moreover, you can find the Krita Autosave in the same location where your file is, but the Autosave file will be hidden by default, and you can change the setting to make it visible.
05

Can I Recover Unsaved Files from Crashed Krita?
Yes. Krita Autosaves the file every fifteen minutes. If you didn't save the file at all, you could recover the file from the home directory (Linux and Mac) or or "User's> %TEMP%" (Windows) as it is saved there with an unnamed Autosave file.
06

How do I Recover My Tool Brushes on Krita?
If you have lost your tool brushes, you bring them back. Go to the toolbar button located on the right and open a workspace selection. Pick any of the workspaces, and your tool brushes will be back.
Conclusion
The article includes all the information about the Autosave option and Backup options of Krita and how one can enable and disable all the options from settings. However, these backup files are saved permanently. They are overwritten and sometimes deleted after a while.
Now, if these files are lost once, iMyFone D-Back Hard Drive Recovery Expert comes to the rescue. It allows the user to recover the lost or deleted Autosave/Unsaved Krita file. With just a few steps, all your hard work will be recovered in no time and without any hassle.