Sandisk USB flash drives are famous due to their mini size and portability and are used for many applications. For instance, you can transfer files from one device to another, back up computer files, and help to store your precious moments like videos, photos, and others.
However, there are sad movements, and you get depressed because you lose some precious moments. So if you are willing to know how to recover SanDisk USB drive, this article is all about methods and techniques that can help you restore your lost data.
Part 1. What Needs You to Do before USB/Thumb Drive Recovery
Before starting your drive recovery, you should follow the below precautions:
1. Don't save any new files on the USB, thumb drive or any other external drive when you get to know that the device is corrupted.
2. Safely eject the external device from your Windows or MAC. Also, make sure you don't copy or cut files from the same device.
3. Perform data recovery as soon as possible.
After following the above precautions, you can start your recovery process. In the next part, we're going to define how to recover your data with a few simple steps.
Part 2. How to Recover Data from SanDisk USB Flash Drive/Thumb Drive
For Sandisk thumb drive recovery, iMyFone D-Back is here to help you. Don't rush after other unreliable restoring software. The iMyFone D-Back is secure and reliable software that retrieves all your data by following simple steps.
If you wish to find out how to recover SanDisk USB drive, let's consider the three simple sets.
Let's look at some of the fantastic features of the iMyFone D-Back:
iMyFone D-Back thoroughly scans your device, including all the files that have been lost or destroyed.
With a unique algorithm, it scans the lost files quickly, and you can stop the canning if you wish and continue again when you want.
The software comes with a filter. If you are looking for a specific file, you can search under the filter option, which helps you find it without wasting your time.
The best feature that the software provides is that you can look for the files before restoring them. It is probably the best option as it avoids unnecessary restoring of the file.
If you wish to find out how to recover SanDisk USB drive, let's consider the three simple sets:
Step 1: Quickly download the iMyFone D-Back and select the location of the file.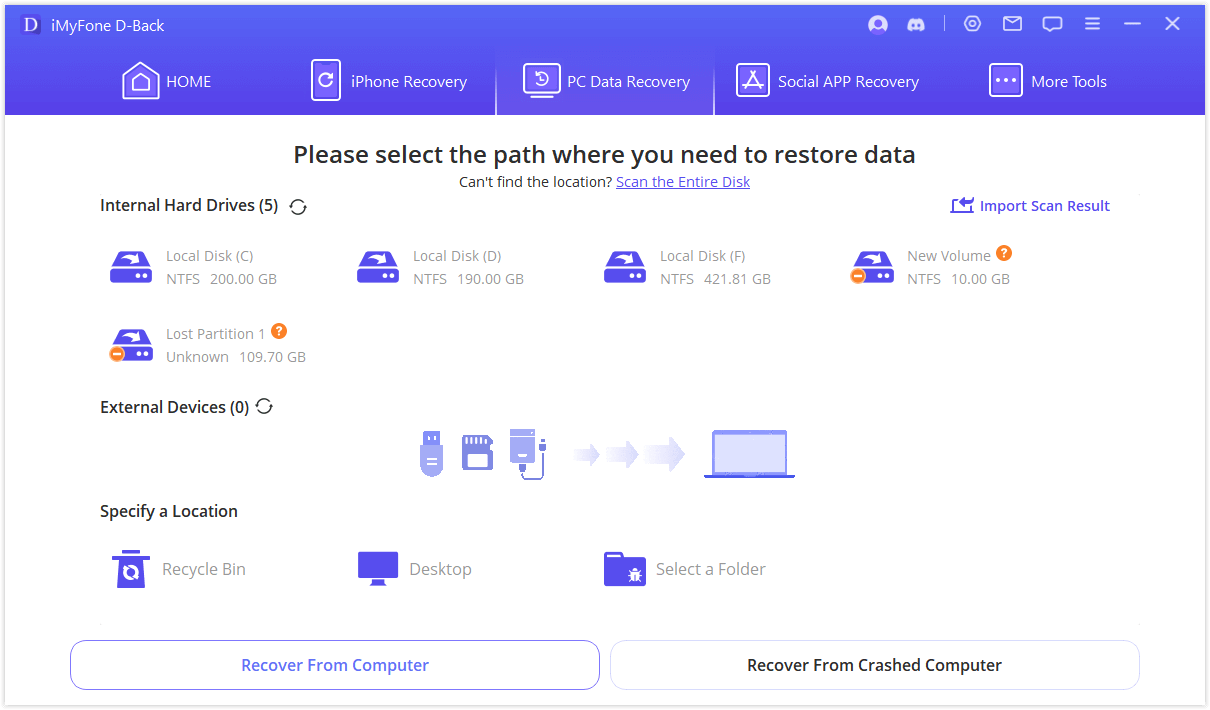 Step 2: Once the location is selected, it will scan your device and look for lost files.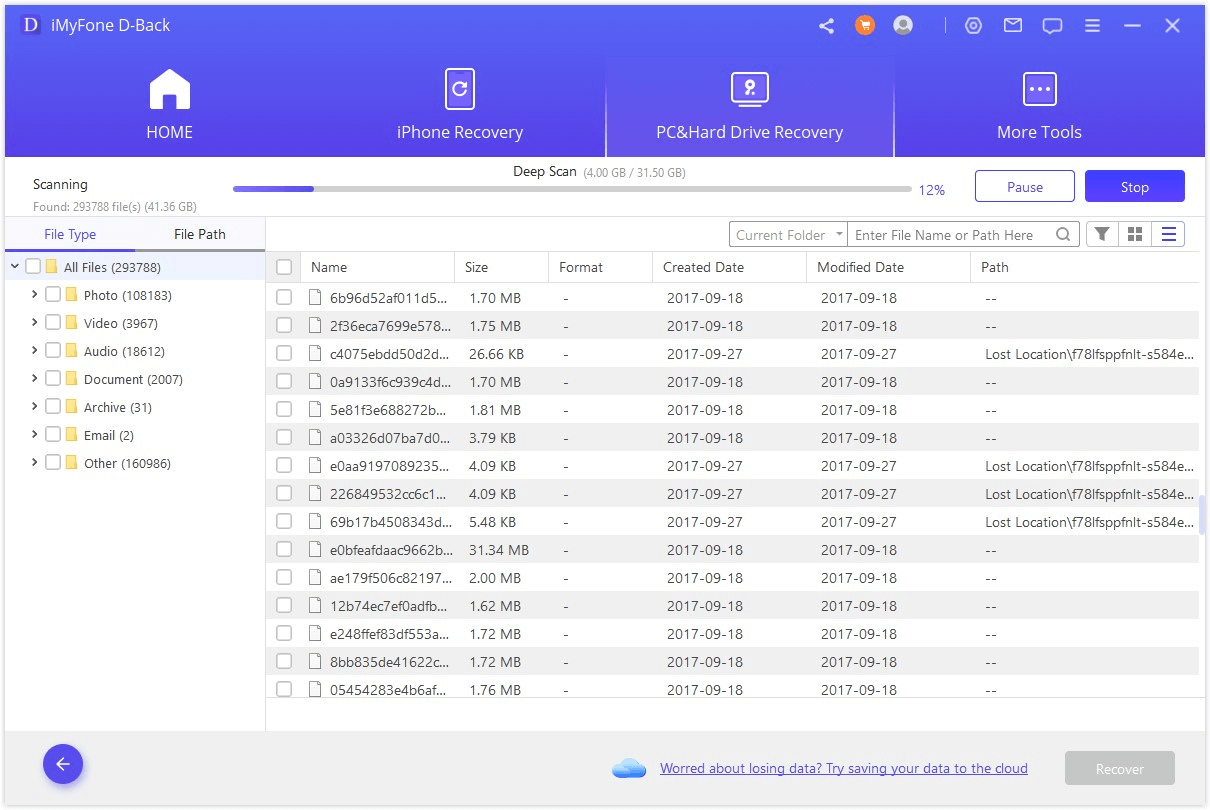 Step 3: Once the scanning is done, preview for files you really want to restore. Now, click on the restore button, and your files will be restored.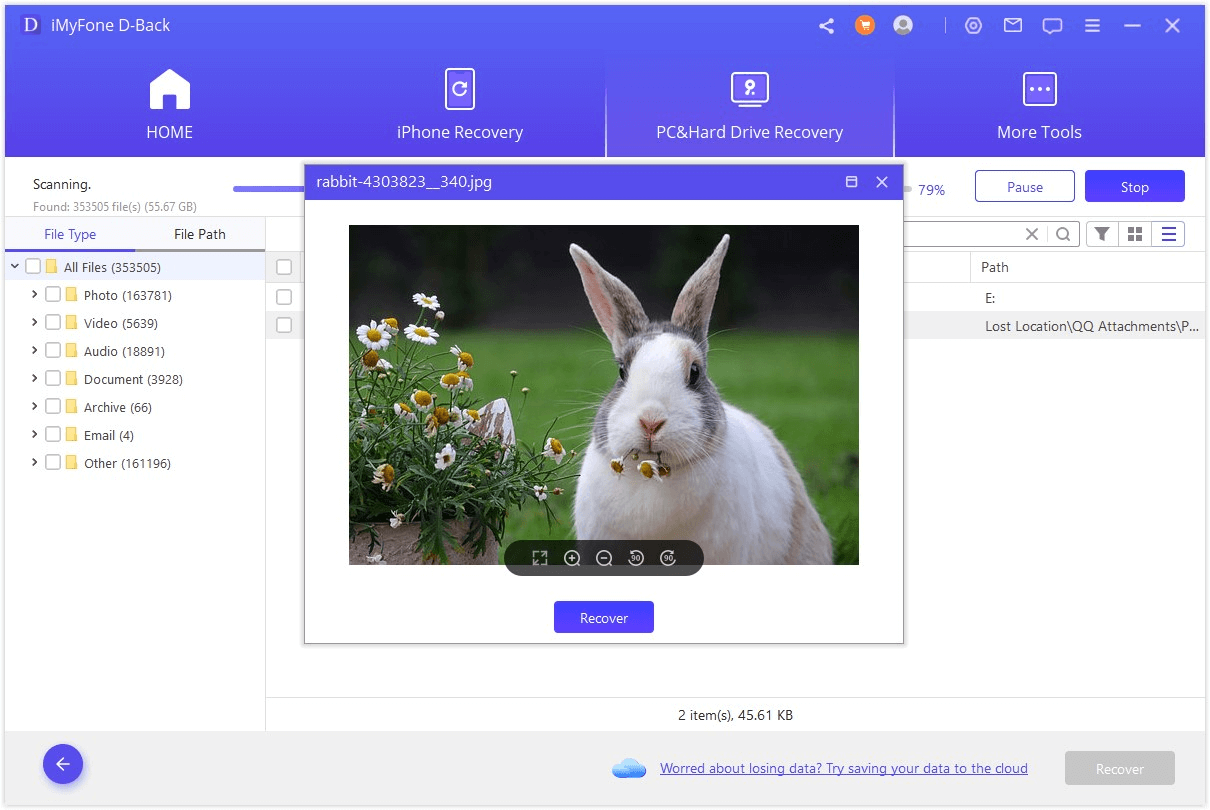 Part 3. FAQs
1

How can I recover my deleted files from SanDisk USB without the software?
There are various others for Sandisk thumb drive recovery without using any software. Using the previous version feature can help you restore the data.
With the help of the following steps, you can restore the data:
Firstly, connect the USB to the computer.
Now, open the Device manager. Right-click on a USB drive, and select the properties.
Under properties, you will have the previous version option. Click on it, and a life list will open. After that, click the restore button, and your files will be retrieved.
2

Does SanDisk offer data recovery?
There is no built-in feature that can help you restore data recovery. But, iMyFone D-Back offers simple ways to get back your data. Whether the data is deleted files from a Sandisk device, or it is infected by a virus, this tool will help you restore your data quickly.
3

Can data be recovered after formatting a Sandisk USB flash drive?
Yes, you can easily recover data from a formatted Sandisk drive using iMyFone D-Back. You can simply follow the above 3 steps to get your data back within a few minutes.
4

How much does it cost to recover a flash drive?
The current price to repair a pen drive is approximately 2GB USB, just 150 dollars. If you have a broken pen drive, don't lose hope. There are multiple low cost and easy ways to restore your images, files, videos, and much more using iMyFone D-Back and various other techniques.
Conclusion
Sandisk USB is an external USB drive that can store data forever, but sometimes due to some malfunction, it can lose data. So instead of worrying and using unreliable software, use the iMyFone D-Back, which can help you retrieve all your data quickly. It is secure, authentic, recommended, and used by many users around the globe.