SD cards and USB flash drives are commonly used for storing data. These are also used for moving or transferring data from one computer to another. Due to many issues, the data can corrupt on an SD card or USB drive. But you can recover the data. To recover the fragments of a file, we can use the iMyFone D-Back. In this article, we will discuss everything about recovery and how you can do it independently.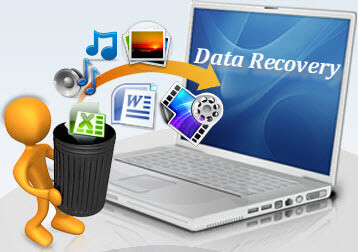 Part 1. How to Recover Fragments of a File Is Called for SD Card/USB
iMyFone D-Back is a recovery tool that can help the user recover or retrieve any corrupt data. This tool also works for lost data that's been lost for months or even years.
iMyFone D-Back is a simple and effective tool that people can use to recover files' fragments. If you have accidentally deleted or lost files due to partition, power outage, or any other problem, it can help the user recover the lost files. There is a trial version available for the users to check the feasibility and success rate of the tool.
iMyFone D-Back is an effortless and unadorned recovery tool compatible with Windows and macOS computers. Unlike a complex recovery tool, it has a three-step recovery process overall. It saves time and has a file format listing preview that helps the user search for a specific file. iMyFone D-Back gives the user a preview of all the data, and the user can then select the data that he wants to recover.
Steps to Recover the Fragments of a File Using iMyFone D-Back Hard Drive Recovery:
Step 1. Go to the iMyFone website, and depending on the operating system you are using, download iMyFone D-Back. Install the tool on your computer; it will take a few minutes. After installation, open the tool.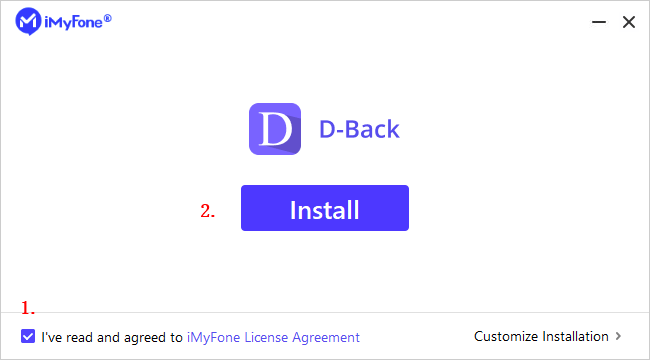 Step 2. Make sure that the SD Card or USB flash drive is attached and displayed on the home screen of the recovery tool. Choose and select the SD card or USB flash drive and perform the scan. A deep scan recovers corrupted as well as deleted files.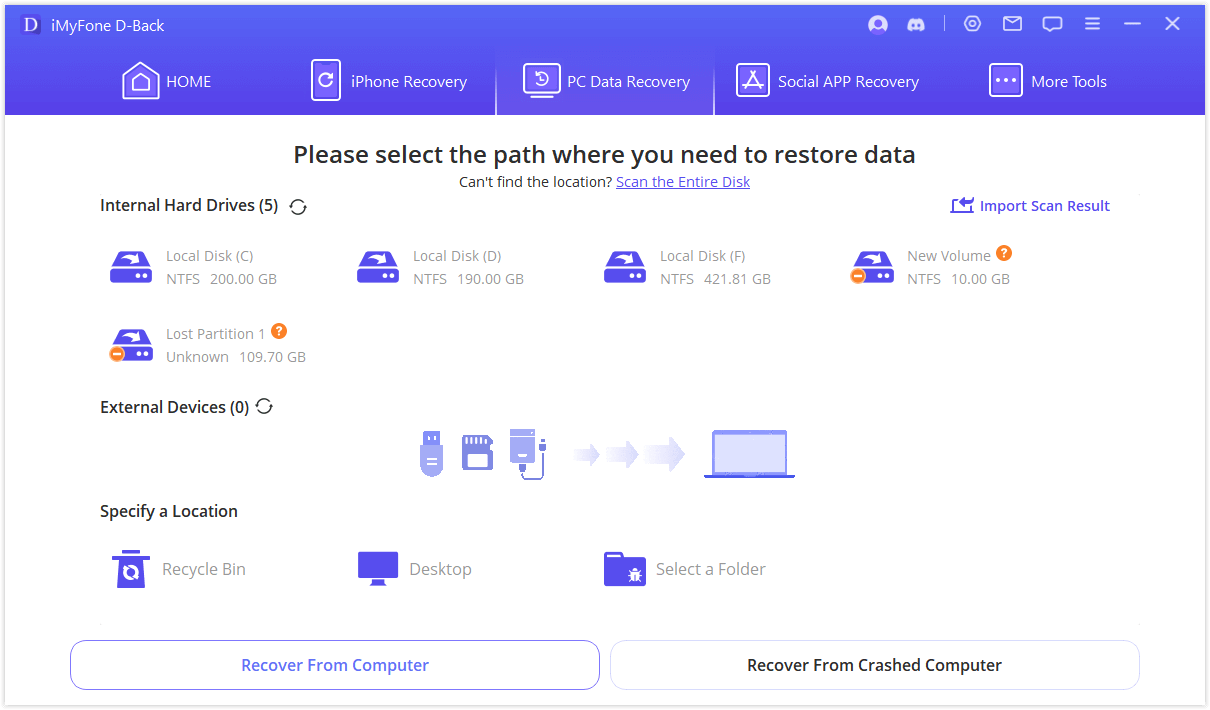 Step 3.
After the deep scan, you will see a list of recovery files. Find the file that you want to recover and select only that file. Click on Recover and choose a path where you want to save this file. It will be saved in no time.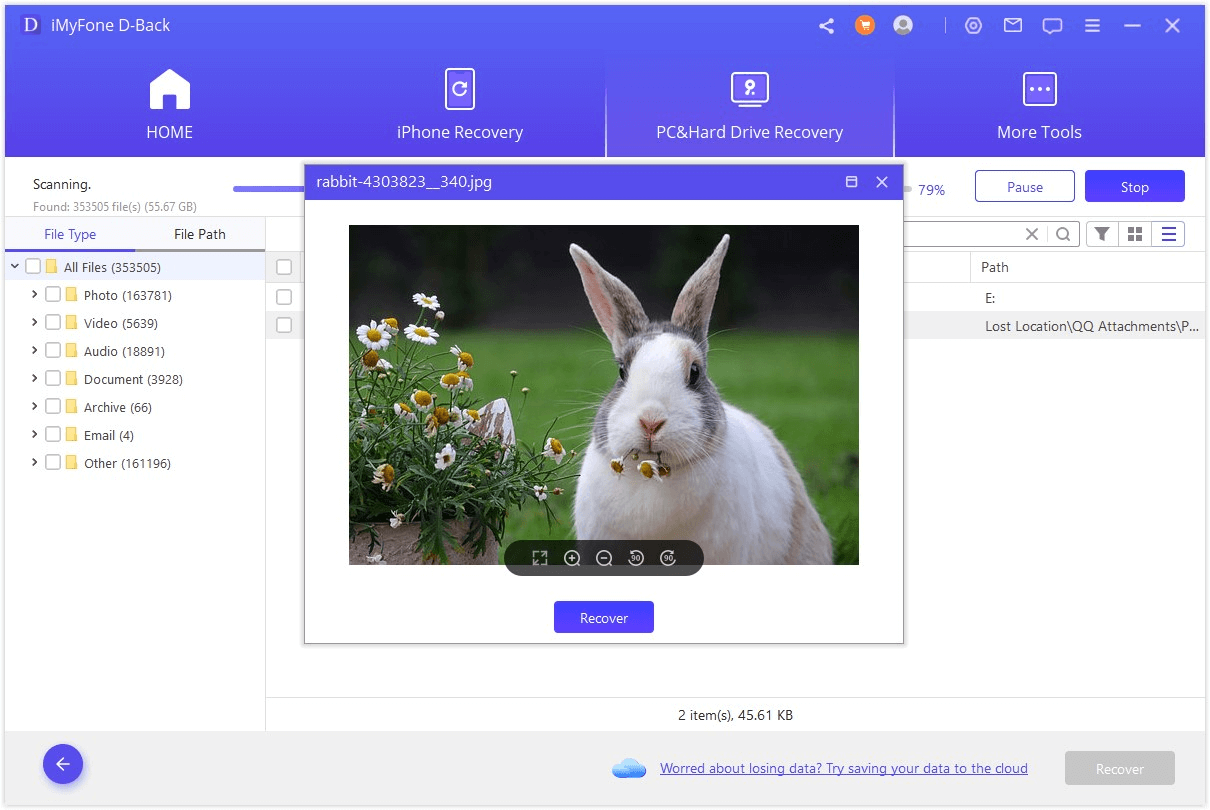 FAQs about Fragmented File Recovery
2.1 What to do with recovered file fragments
After recovering the file fragments, you can defragment the files and repair them. There are different methods of defragmentation, including Disk Defragmenter. Another default Windows tool is the CMD prompt. You can also use it to convert the file to the previous format.
2.2 How do I fix recovered file fragments
File fragments can cause system errors. After recovering the file fragments, you can repair and defragment these files. There are error-checking tools as well as Disk Defragmenter by default in Windows. However, there are also third-party tools that users can use to defragment the fragmented files.
Error checking tool helps the user to repair file fragments. Go to "Start > Computer > 'desired drive' > Right-click to open properties > Tools". Under the tools section, click on "Check" in the Error-checking box. However, if you are using Disk Defragmenter, then run Error-checking before defragmentation. It will prevent the moving of files to bad sectors of the disk.
2.3 Can I recover files after defragmentation
Usually, files cannot be recovered after defragmentation. Defragmentation means that there is less chance of recovering the files as the deleted file is not easily accessible. However, the iMyFone D-Back can help the user recover the file in any scenario. Even if the files are defragmented, it is still recoverable with an iMyFone D-Back. Just choose the location of the files from where you want to recover them, and an iMyFone D-Back will do the rest.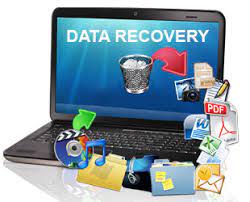 2.4 What term refers to recovering fragments of a file
Carving is the term that refers to recovering fragments of a file. iMyFone D-Back is a tool that recovers pieces of a file. It supports more than 1000 file types and requires only three steps. It works flawlessly in all conditions, whether a hard disk, portable hard drive, USB flash drive, SD card, or anything.
2.5 How to restore recovered file fragments
The best way to restore the recovered file fragments is to change chk files into the original file extension. First, you need to create a text document on your computer. Open the file and type "ren*chk*.jpg." In place of jpg, change the extension to the desired format. Next, change the .txt to .bat.
Copy this .bat file and paste it to the Found.000 folder. You can run the file by double-clicking on it. This is the easiest way to restore the file.
2.6 Recovered file fragments chk
Using CMD, the user can convert the existing chk file to the same format. Type "command prompt" in the start menu. Type "cd/," which means changing the directory and changing the root directory. Now, enter the drive alphabet where chk files are saved or stored and hit "Enter." Usually, chk files are in the Found.000 folder, so type cd 'Found.000' and press Enter. Then type, "ren*chk*.mov." You can change mov to any other format that you want. Now, check the Found.000 folder; the files will be available.
Conclusion
iMyFone D-Back is a recovery tool that works for hard drives and works for SD cards and USB flash drives. If you want to recover file fragments, you can use this tool, and with three steps, your files will be recovered. You can also preview the files before actual recovery.