An XQD card is a type of card that helps you to keep pace with the speed of the cameras, which means that you will be able to capture photojournalism, wildlife pictures, and sports moments with sudden bursts of consecutive shooting. But, sometimes, you may lose precious data due to viruses or corruption in files.
Therefore, to redeem valuable data, there is multiple Sony XQD card recovery software to help you get your missing data back. These tools track down data in a concise duration. So this article will highlight all the necessary steps and types to retrieve your files.
Part 1. Something You Must Know about the Sony XQD Card
Before proceeding further, there are a couple of things you need to know Sony XQD card:
1.1. What is a Sony XQD Card?
The Sony XQD card keeps up with the camera's lightning speed and quickly clears out the memory buffer. This memory card will help capture beautiful moments and bursts.
1.2. Can I Recover Data from Sony XQD Card?
Yes, you can redeem data from your Sony XQD card. Ensure the card is connected to the system, and select the specific file you want to retrieve.
Part 2. How to Recover Data from Sony XQD Card on Mac/Win?
When you lose your precious data, sometimes you find it quite tricky and frustrating, and you may lose hope. This is due to a lack of trust when dealing with non-authorized or insecure software, but the iMyFone D-Back is the best software when dealing with such problems. This software is relatively safe and easy to use.
Let's look at some of the attributes that make it unique from other Sony XQD card recovery software for mac/win:
The iMyFone D-Back is unique and genuine. It can help you redeem deleted images, videos, recordings, and much more after formatting and deletion, virus attacks, or damages.
It is one the most trending software that can be used in windows 7,8,9,10,11 and XP, and you can choose any storage device to recover, like memory card, USB drives, and other devices.
One distinctive feature of the iMyFone D-Back is that it helps you preview the files you want to recover before pressing the recovery button.
It is a special algorithm-based software with quick scanning.
There is the option of filtration, and you can select the specific file, the time, and the date. This way, you can find your file quickly without wasting time.
2.1. Restore Data from Sony XQD Card on Mac/Win
Here are three simple steps for Sony XQD card recovery software Mac using iMyFone D-Back:
Step 1: Install iMyFone D-Back and Choose the Location of the File
Download and install iMyFone D-Back and select the location.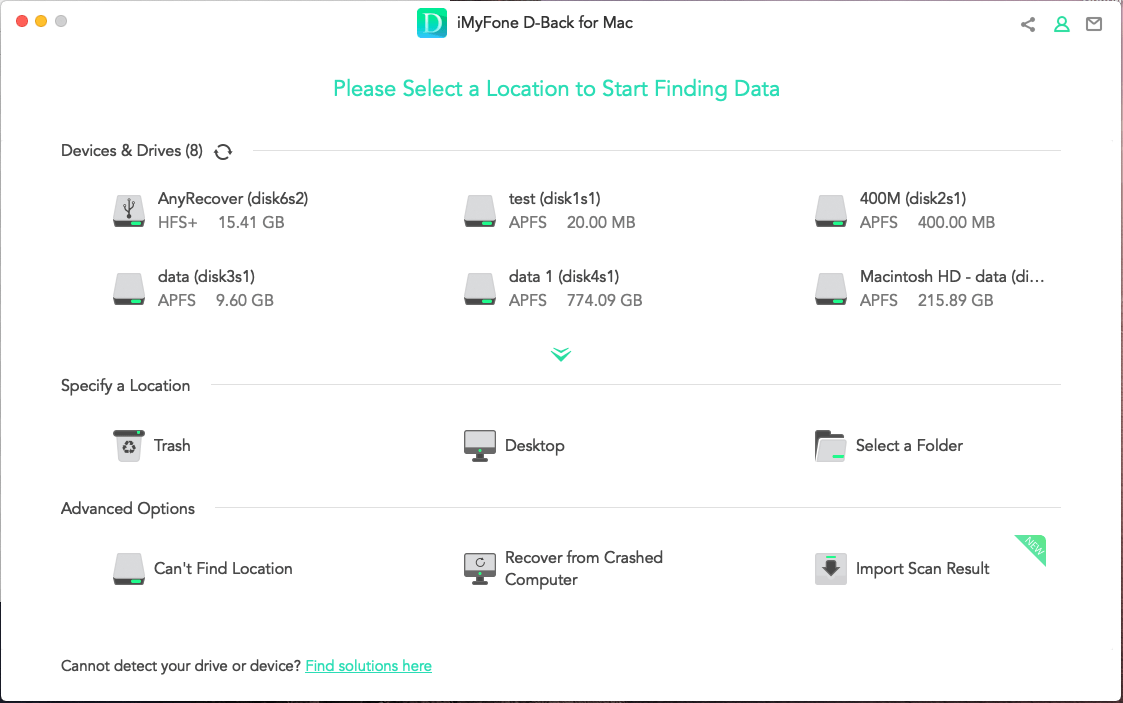 Step 2: Scanning Your Device Deeply
Once you have chosen the destination of the file, scanning will be initiated.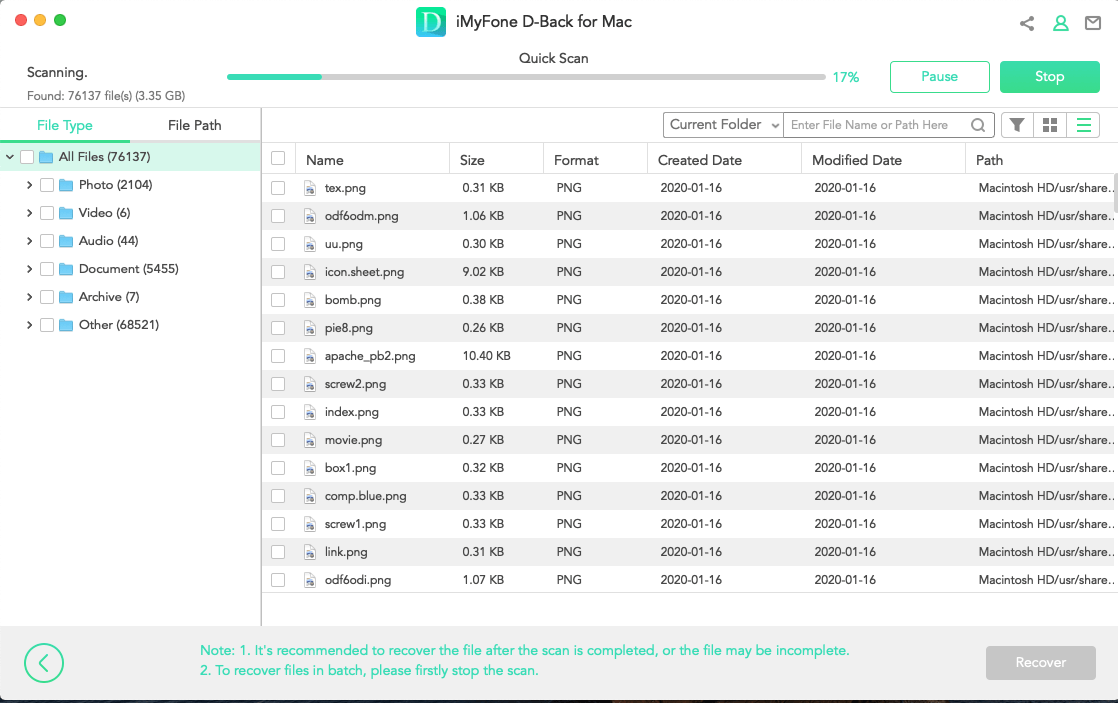 Step 3: Recover Your Missing Data
Now, select the file you want to get back and preview the file to ensure that the required file is selected or not. If yes, click on the recovery tab, and your files will be recovered.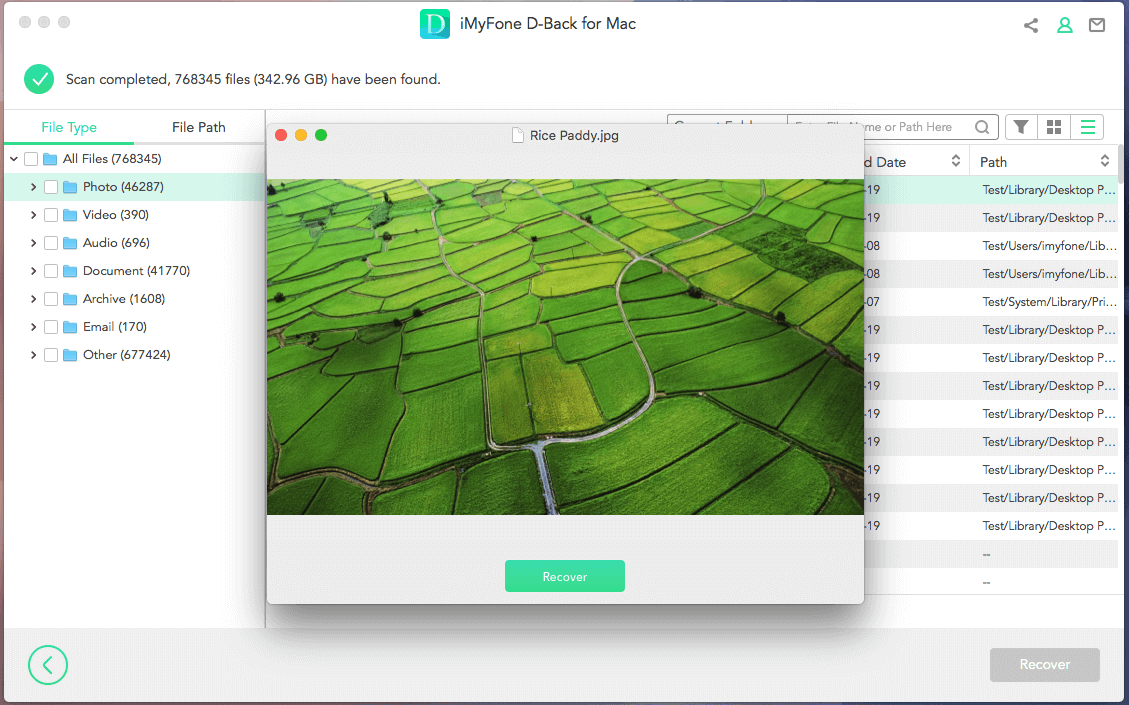 2.2. Restore Data from Sony XQD Card with Other Methods on Mac
In this section, we are going to share other manual techniques for Sony XQD card recovery. Let's discuss each below:
1. Time Machine Method
With the help of a time machine built-in feature, we can quickly recover your data:
Step 1: Go to System Preferences
At the top left corner of the Mac screen, select the apple logo tab and choose system reference in the menu.
Step 2: Open Time Machine
There will be an icon of time machines. Click to open it.
Step 3: Select the Enter Time Machine Option
Now, click on the Enter Time Machine option. You will receive all the previous backups.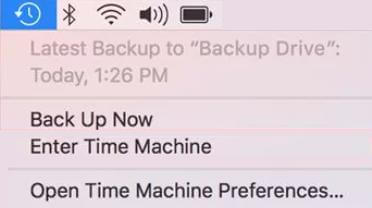 Step 4: Restore the Files
You can use the arrow to change the time and dates. Select the files you want to recover. After that, click on the Restore button. Once you have clicked the restore button, all your selected files will be retrieved to their original place.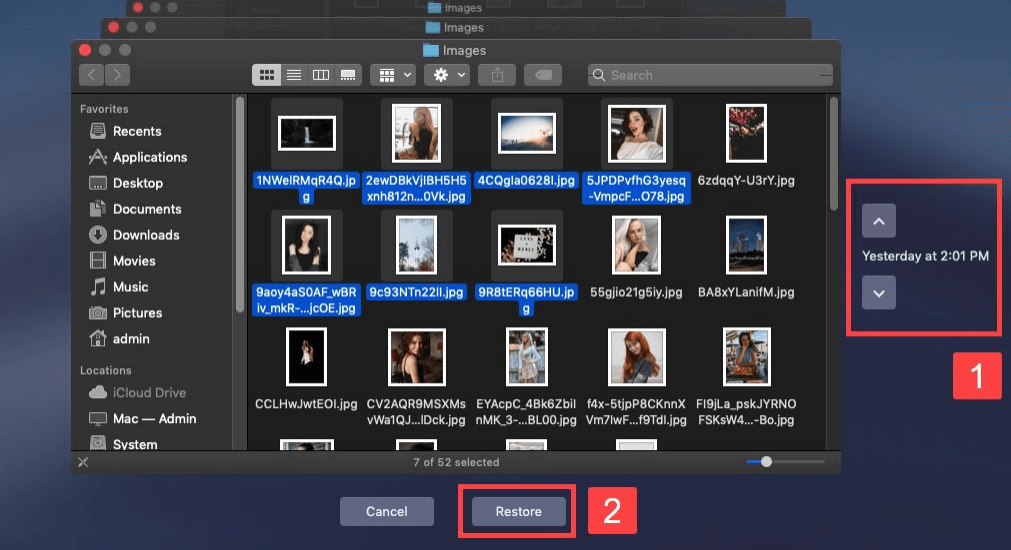 2. Trash Bin Method
This is another method. It is a particular type of folder where all the deleted files are temporarily stored. So, to restore the deleted data, follow the 3 simple steps:
Step 1: Firstly, click on the trash bin icon and open it.
Step 2: Look for the files that you want to restore. Select the files, right-click on them and select the Put-Back option.
Bonus Tip: How to Avoid Losing Sony XQD Card Data
If you want to avoid loss of data, there are certain things you need to be cautious of. To avoid losing Sony XQD card data, there are specific key points to remember:
Avoid using the camera when the battery is relatively low.
A sudden interruption in the power supply can result in data loss permanently.
Removing the memory card in the wrong way from Sony XQD can cause total data loss, so try to detach the card properly.
There is a chance that a file can be deleted while using the device. So, to avoid it, one must ensure the focus is on the device.
A virus or harmful program could cause disturbance in the XQD card, so you should avoid transferring unsecure data to this device.
Conclusion
To keep up with the speed camera and record certain moments, Sony XQD cards are helpful. But occasionally, you could lose some data for no apparent cause. In this case, you'll require reliable software like iMyfone D-Back Hard Drive Recovery Expert to retrieve the data—using the three straightforward procedures listed above.