TikTok allows users to create videos of duration from fifteen seconds to three minutes. It will show you videos from different users who have publically shared their contents which based on your gender, age, location, and preferences. When you start seeing more and more content, like it, TikTok stores your preferences in the cache on TikTok. It helps the application show you content that you like. But the problem occur: the TikTok cache occupy our phone storage, which will make our phone running slowly and hard to operate.
In this article, I will show you how to clear TikTok cache easily. Now, let's move on!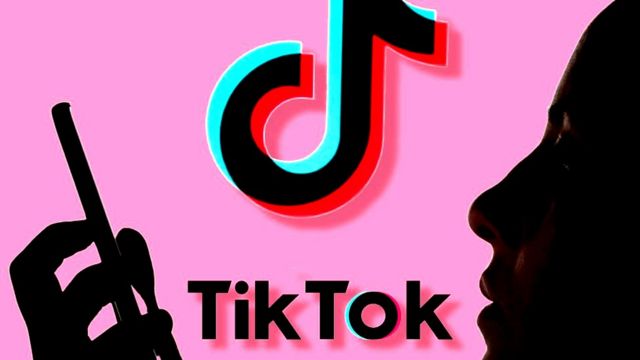 What is the cache on TikTok?
A cache is a folder where your data is stored. It reserves your searches and temporary data so the application may run faster without any delay. Just like that, cache on TikTok works. It allows your TikTok to work hassle-free without hanging.
Cache on TikTok serves more than just your browser cache option. On TikTok, cache not just stores your data, it also helps the algorithm to show you the videos based on your search history and likeliness. When you like certain content, you watch similar videos and follow such accounts. TikTok understands your preference from this pattern and behavior and shows you similar content.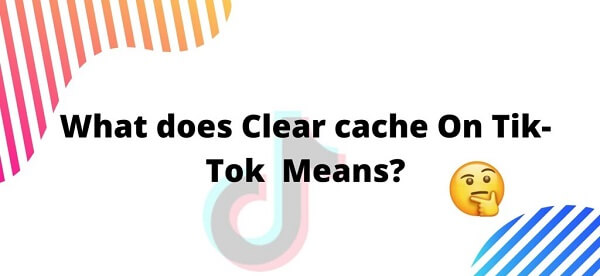 What does clear cache mean on TikTok?
As we mentioned above, the TikTok cache will help the phone run fast sometimes. But do we need to keep that cache data indeed? What if we clear the TikTok cache? Somebody may be worried if they clear the TikTok cache may need to say bye to their draft or videos, but here we want to say you needn't worry about that! Clear TitTok cache just erases temporary data, like your pre-loaded profile info or watching history. It make no effect on your watching preference.
How to clear the TikTok cache?
To clear TikTok cache to free up more space, follow the steps below:
1.Go to "Profile" > "Three Dots", and then you can enter into the "Setting" menu.

2.Then click "Cache & Cellular Data", keep scrolling down to find the "Free up space" option, choose it.

3.Tap on the "Clear" option, and you can see a prompt to ask you to confirm.

4.Tap on it to confirm and you can finish all projects!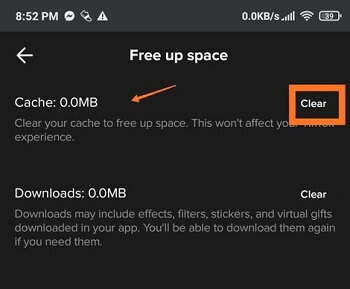 Note
The number beside the "Clear Cache" tab is how much space TikTok is taking up.
FAQ Related to TikTok Cache Deleted
1

Should I clear cache on TikTok?
Yes, many tech geeks and professionals advise you to clear the cache on TikTok regularly as it removes all the temporary files and frees up the storage space in your phone.
---
2

Does clearing cache on TikTok change your Fyp?
Clearing cache does not affect your followings or liked pages. It did not delete anything on your application and just deletes your stored data in the phone in the form of temporary files. Your data on your TikTok remains the same.
In Brief
TikTok is undoubtedly an interesting and valuable application. It's addictive to a point where you can binge watch hundreds of videos at a time without even realizing it. While it entertains us, it piles up a big chunk of temporary files in our mobile phones. By clearing cache folders regularly, you can easily free up that space and keep surfing for more videos. It may take some additional time to load but you can avail yourself a chance to see some new content too.