Question
"How can I recover the deleted voice memos from my iPhone 12 if I have no backup? Those are the preparation for an important conference! I really need to get them back! Any help would be appreciated!"
Voice memos can be very handy to record some important information on the iPhone. But sometimes they may get deleted by unintentional operation. For example, you are trimming a piece of voice memo, then all of a sudden, you hit the wrong key and the memo is gone. It can also occur when you've just upgraded to a new iOS system. Regardless of the reasons, the top priority after accidental deletion is trying to get them back. Here in this article, let's talk about how to recover accidentally deleted voice memos on iPhone without backup. Our editor recommend iMyFone D-Back iPhone data recovery to get back your deleted voice memos from iPhone, Download iMyFone D-Back free now.
"Can I Recover Deleted Voice Memos?"
Simply put, YES – you can recover deleted voice memos on your iPhone.
Let's first get complicated for a second on where do the deleted voice memos go. There is a database storage system known as SQLite in iOS devices. Before deleted, data is stored in it as "Allocated" data; and after deleted, it is changed from "Allocated" to "Unallocated". So whenever you delete something from your iPhone, it isn't actually gone right away but still stays in the storage system. Although obviously the deleted data marked as "Unallocated" can't be viewed, it can surely be recovered.
What's more, one important thing you need to note is that once new data is created and occupy the space in "Unallocated", the deleted data will be overwritten and removed completely.Therefore you should stop using your phone after losing voice memos. If you continue, you are risking overwriting them and losing them for good.
Now that we've made clear this question, let's move on to the specific methods to recover deleted voice memos.
Before Getting Started - Check the Recently Deleted Folder
When you delete a voice memo from the Voice Memos app, it will be removed to the Recently Deleted folder instead of being erased immediately. And the deleted voice memos are available in the folder for 30 days. Therefore, to get back deleted voice memos, you can first go to the Recently Deleted folder to check if your voice memos are still there. If so, you can simply recover them from the folder.
Step 1: Open the Voice Memos app and find the Recently Deleted folder.
Step 2: In the folder, click "Edit" in the top right corner. Select the voice memos you need and click "Recover".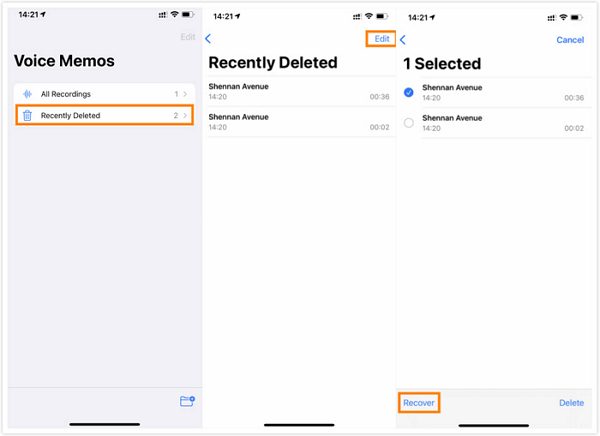 Note
The recently deleted voice memos will stay in the Recently Deleted folder for only 30 days. After that they will be permanently deleted from your iPhone and in that case you need to try the following methods.
Overview of the Methods
Before officially introduce the methods in detail, let's first have a look at the analysis and comparison of them.
Recover Permanently Deleted Voice Memos from iPhone in the Easiest Way
Option1:Recover Recently Deleted Voice Memos Directly from iPhone without Backup
One of most effective ways to recover the missing voice memos on your iPhone is to make the bestof a data recovery tool. And here we highly recommend iMyFone D-Back iPhone Data Recovery - a real expert in fixing data loss issues. Check the features of it in detail:
Powerful Function: supports recovering deleted voice memos regardless of the reasons leading up to data loss with high success rate.
Easy Operation: enables you to get back the lost voice memos either with or without backups, requiring merely simple steps.
Flexible Recovery: Provides 4 different modes of recovery to satisfy different needs under various circumstances.
Free Preview: comes with a preview function which allows you to make sure you are recovering the data you exactly want.
Selective Recovery: supports selectively recovering a specific voice memo, without fully restoring all the data.
Data Integrity: strictly keeps the safety of your personal data and prevents any data loss.
Excellent Compatiblity: compatible with all iOS versions including the latest iOS 16/15/14 and all iOS devices including iPhone 14/13/12.
Below are the steps to retrieve deleted voice memos directly from iPhone using D-Back. Start by downloading and installing this program.
Step 1.

Choose a Recovery Mode

After launching D-Back on your computer, choose "Recover from iOS Device" and click "Start".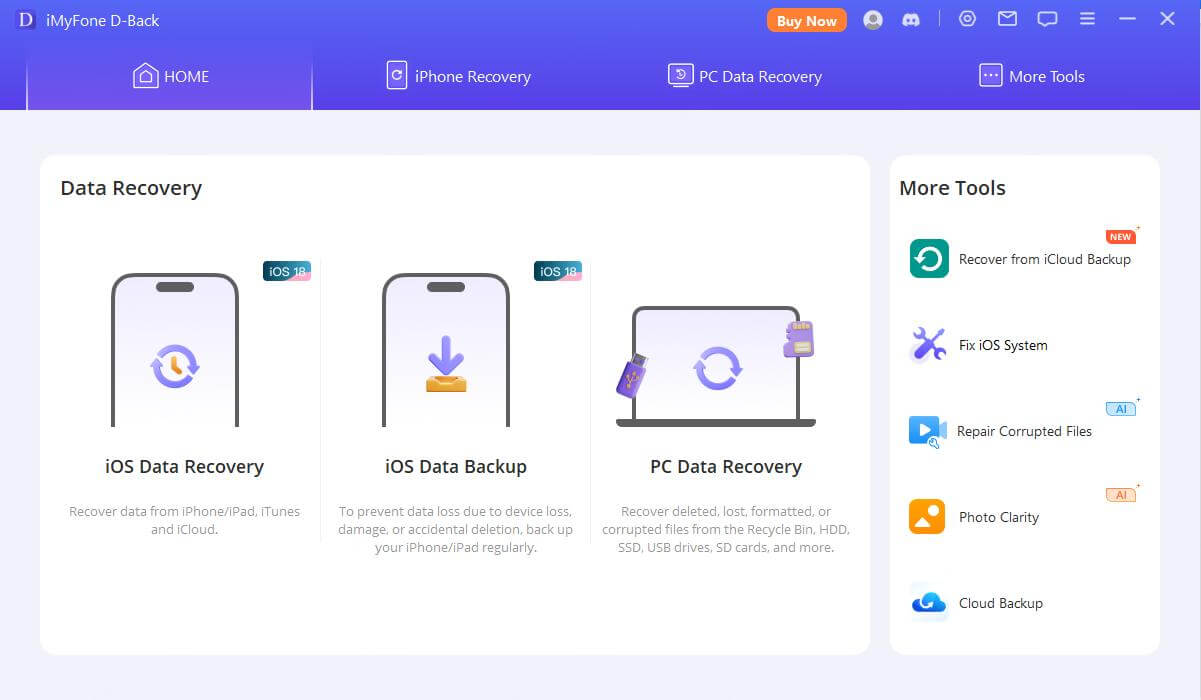 Step 2.

Connect and Scan the iOS Device

Get your iPhone connected to the computer. Click "Next."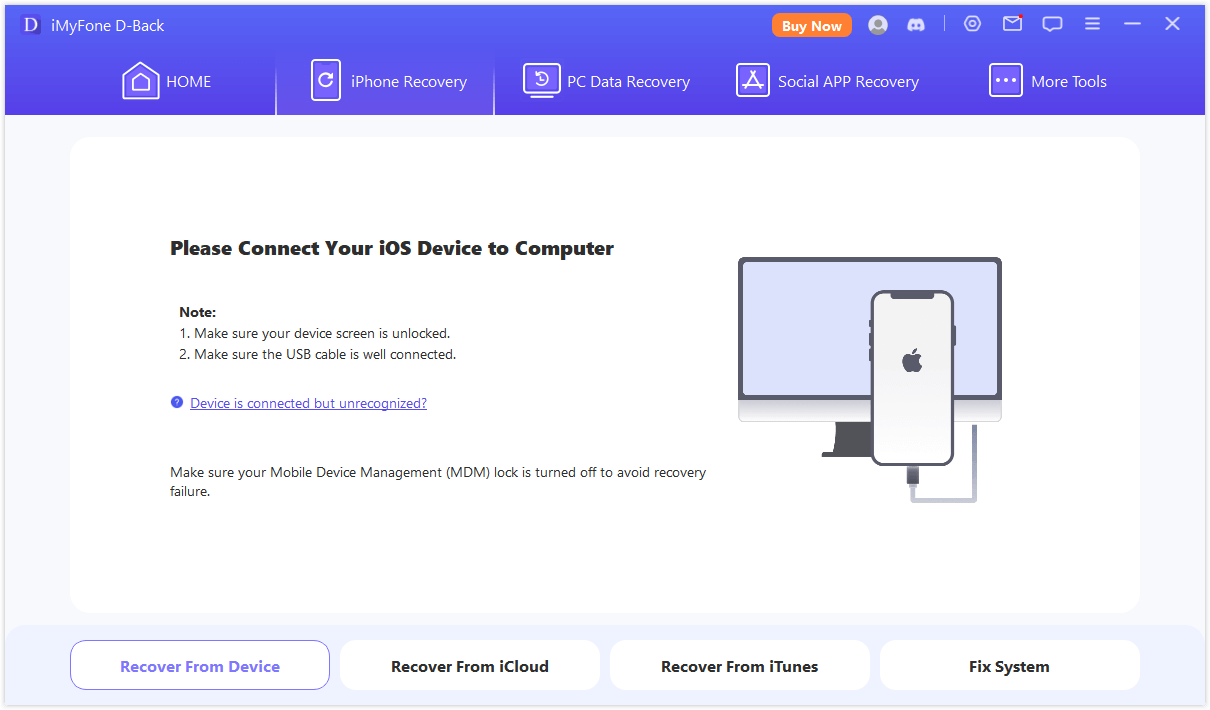 Choose the data type "Voice Memos" and click "Scan" to start. D-Back will then scan your lost voice memos.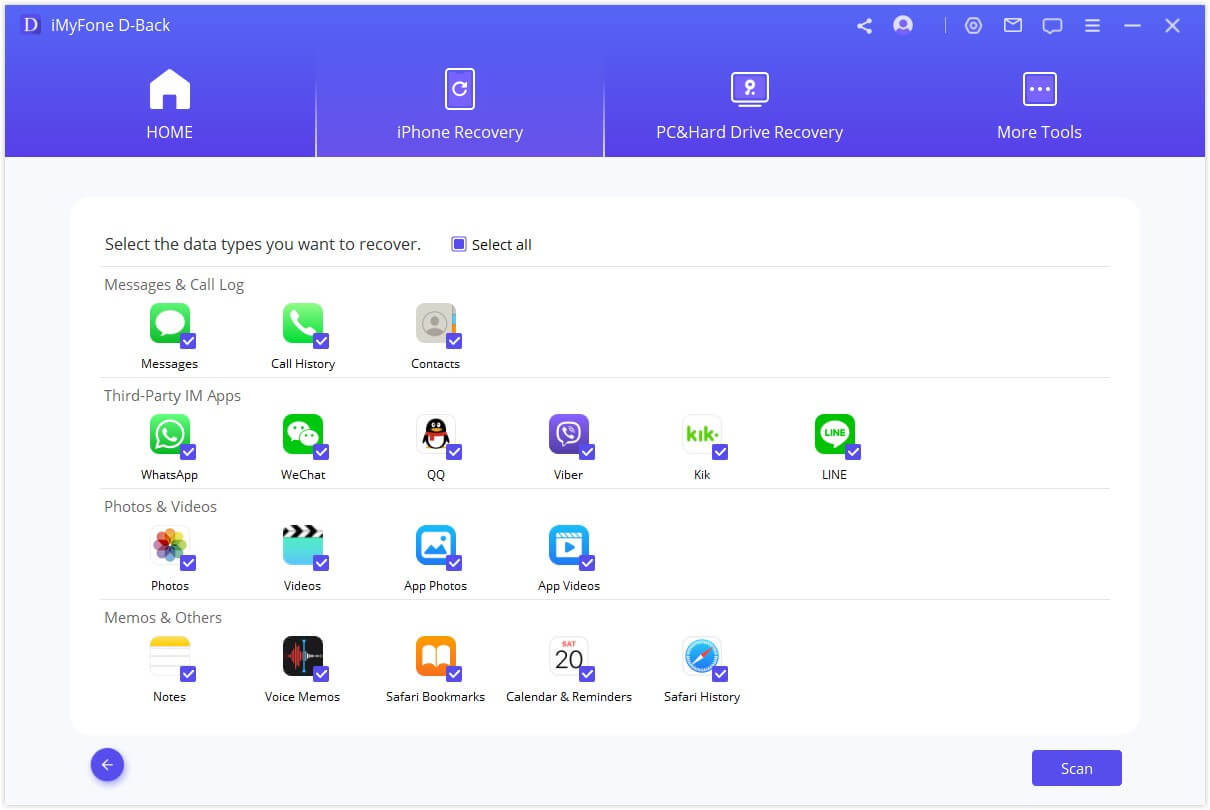 Step 3.

Preview and Recover

Preview the files and choose what to recover. Hit the "Recover" button to finish the last step.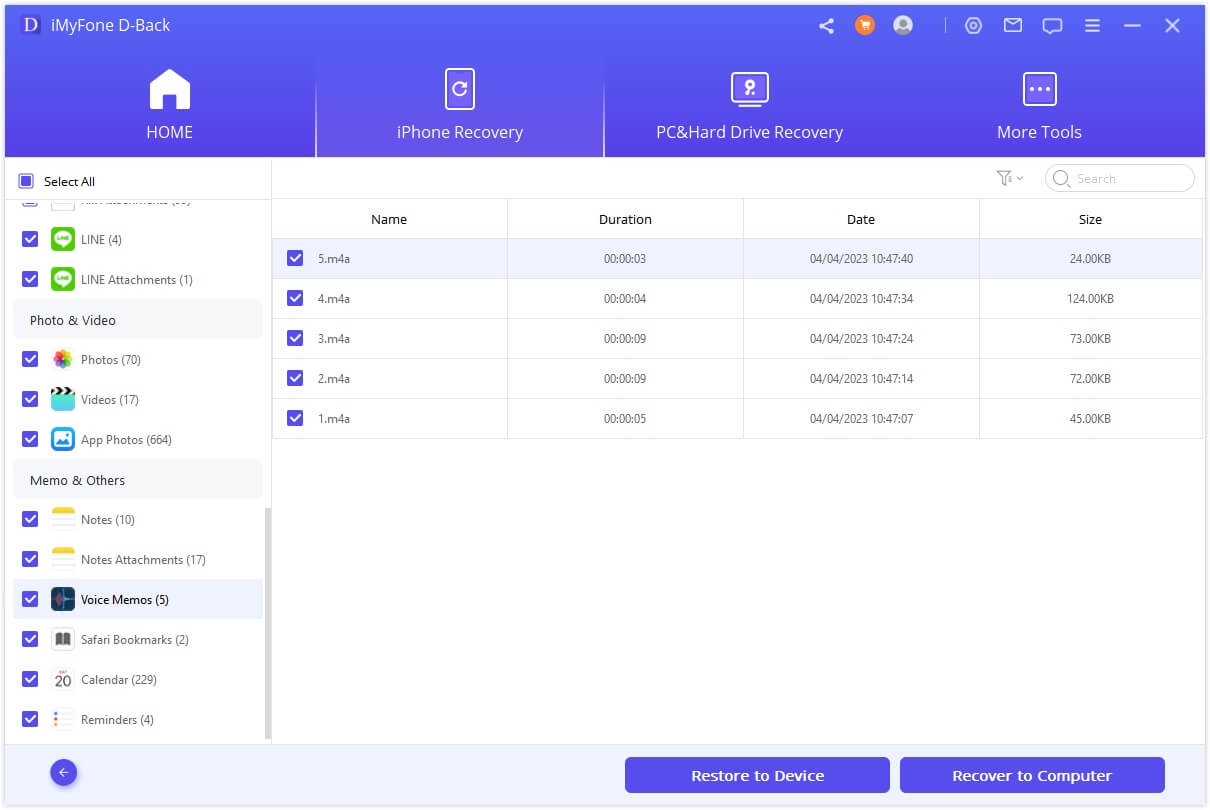 Option2: Recover Deleted Voice Memos Selectively from iTunes Backup
Apart from recovering directly from iOS device, you can also opt for another mode in D-Back - Recover from iTunes Backup- as long as you have the voice memos backed up in one of your iTunes backup files beforehand.
Download and install D-Back on your computer. Then follow this simple guide below to make it.
Step 1.

Select a Recovery Mode

Launch this software and choose the mode "Recover from iTunes Backup". Click "Start" to proceed.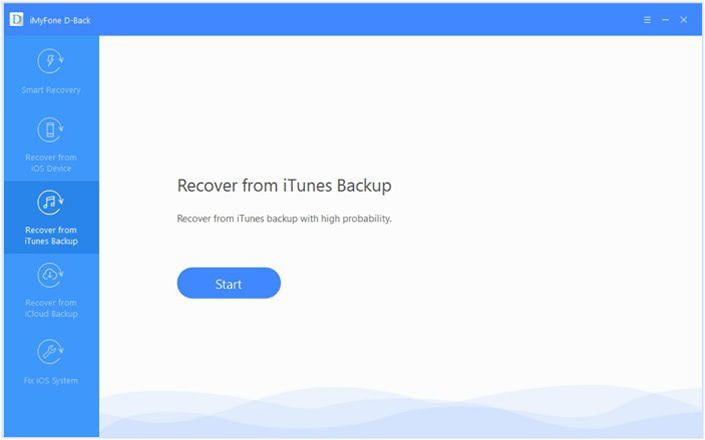 Step 2.

Choose a Backup File and Scan

Choose the exact iTunes backup from which you want to recover the deleted voice memos and click "Next".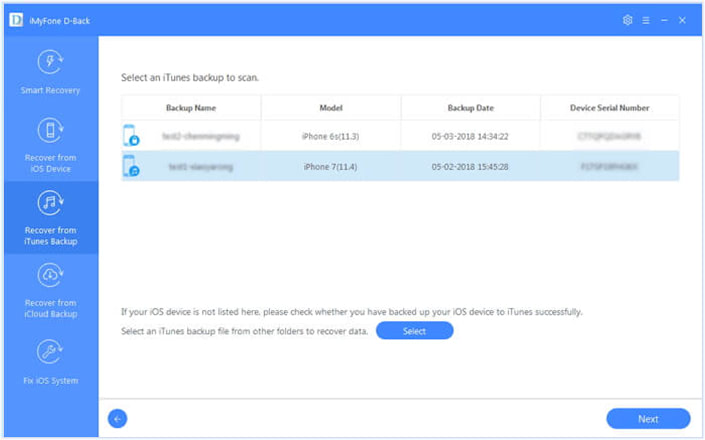 As for the data type, select "Voice Memos". Click the "Scan" button. Please wait a moment while it scans.
Step 3.

Preview and Recover

You can preview the voice memos to decide on what to recover. Tap "Recover" to get them back.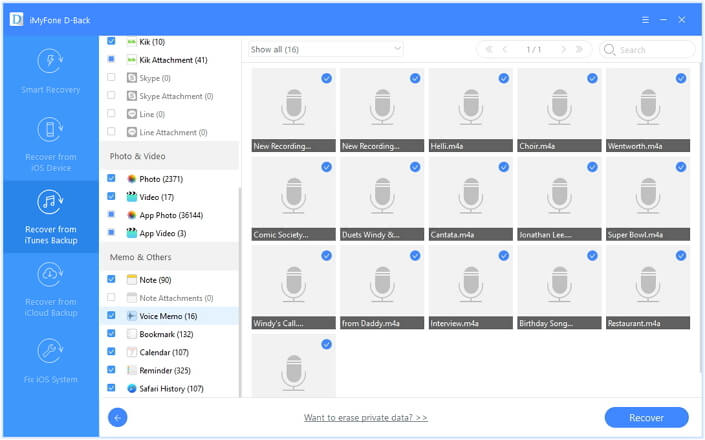 Video Guide on iPhone Voice Memo Recovery with D-Back
If you want to know more about how to recover deleted voice memos with D-Back, watch the tutorial video to have a clearer idea or check the complete guide.
Tips
1. iMyFone D-Back provides free trial to scan and preview all the recoverable data. You can download it and have a try first.
2. We offer special sales for iMyFone's top-selling products. Check it and buy D-Back with the best discount now!
Method 2:Fully Retrieve Deleted iPhone Voice Memos from iTunes Backup
With iTunes backups, you can adopt the official method to restore the entire backup to your iPhone.
Step 1: Launch iTunes on your computer and connect your iPhone.
Step 2: Click on the device icon and tap "Summary".
Step 3: From this menu, click on "Restore Backup…".
Step 4: Select the backup you want to restore from the drop-down menu and click "Restore".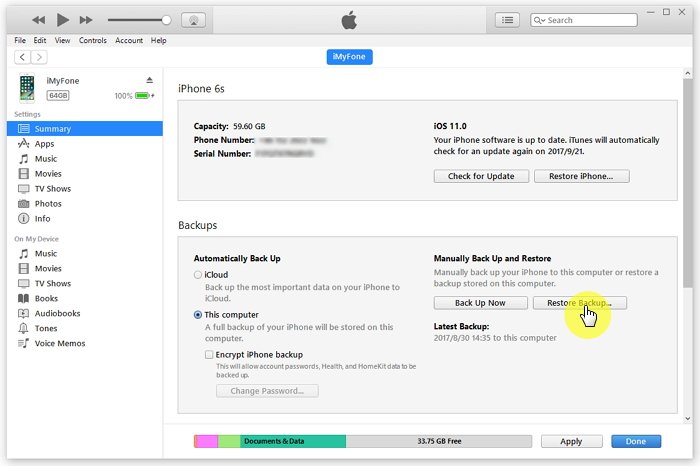 Method 3:Fully Restore Deleted iPhone Voice Memos from iCloud Backup
If you aren't able to access a computer and you've backed you iPhone with iCloud, then iCloud backup is what you can rely on to find the deleted voice memos.
Step 1: Go to Settings > General > Reset and tap on "Erase All Content and Settings".
Step 2: Enter your iPhone's passcode and your iPhone will be reset.
Step 3: After the reset is completed, follow the setup steps and tap on "Restore from iCloud Backup".
Step 4: Sign in to your iCloud account and choose the backup which contains your accidentally deleted voice memos to restore.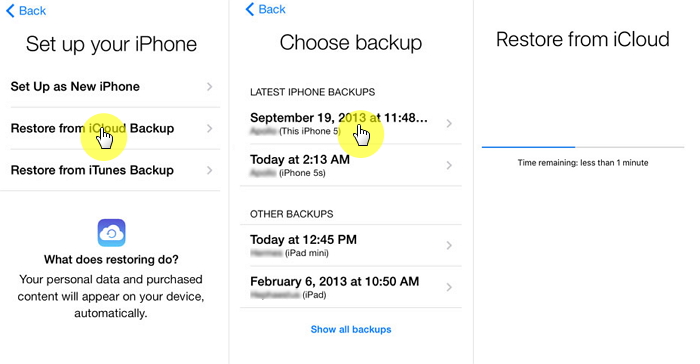 Frequently Asked Questions
1. Why is the Voice Memos app icon missing from my iPhone 12?
Your Voice Memos app can go missing from your home screen for 2 reasons: you accidentally deleted it, or it's just hidden somewhere somehow.
In case you accidentally delete the Voice Memos app, simply restore the app from App Store. If the App Store indicates that the app has already been installed, then it's still in your iPhone. Use the spotlight search to find it. Or you can alternatively reset the home screen to the default layout by going to Settings > General > Reset > Reset Home Screen Layout. Then your Voice Memo app icon will show up in the Utilities folder again.
2. When will the deleted voice memos be cleared?
Generally, the deleted voice memos will be automatically cleared, i.e. removed forever, from the Recently Deleted folder after 30 days. But you can also customize it by yourself:
Step 1. Navigate to Settings, scroll down to Voice Memos and click on it.
Step 2. Click on "Clear Deleted".
Step 3. Choose among these 5 options based on your own preference: Immediately, After 1 Day, After 7 Days, After 30 Days, Never.
3. How can I recover a voice recording?
Apart from the aforementioned methods, you can recover the deleted voice recordings from iCloud.com. But it only works when you have saved them to iCloud Drive. Check the following steps:
Step 1. Use the same Apple ID to log in to iCloud.com and click iCloud Drive.
Step 2. Open the file where your deleted voice recording is located.
Step 3. Double click on the voice memo you want to recover to get it downloaded.
If you are wondering about how to recover deleted voice memos on Mac, try AnyRecover - a top data recovery helper for Mac.
Conclusion
We understand how frustrating it can be to lose valuable voice memos and we hope that by reading this article, you've learned how to retrieve your voice memos on iPhone without too much stress. Among the listed options, we still hold that iMyFone D-Back iPhone Data Recovery is the ideal choice. Besides, any questions or advice regarding the solutions are welcomed in the comment area.