Question
" I accidentally deleted some couple hundred photos because I didn't realize deleting them would remove them forever from iPhone. So how do I get my photos back on my iPhone from the iCloud backup? Can anyone help? "
We lose valuable photos on iPhone for various reasons, such as accidental deletion, virus attack, devicegetting broken, jailbreak failure, and iOS 16/15/14/13/12 upgrade. Quite a few factors that may result in photo loss "disaster" are indeed uncontrolled, which is exactly the reason why we need to create backups - to defend against unpredictable risks as best as we can. For this, Apple official provides iCloud service. It is really convenient for users to back up photos and recover lost ones. If you have unfortunately lost some photos, here in this article, we'll offer 3 useful ways to recover photos from iCloud, provided that you have created frequent backups to your iCloud account beforehand, of course.
1. Recover Photos from iCloud through Recent Deleted Folder
If you have recently deleted photos from your iCloud account, don't worry, you still have an opportunity to get them back through Recent Deleted folder.
Step 1: Visit www.icloud.com and log into your account.
Step 2: Select "Photos" on the main interface.
Step 3: You will notice the folder "Recently Deleted" on the left.

Step 4: Click the option to see the images deleted recently. From the available pictures, you can mark the files that you need to get back and hit the "Recover" button.
Note
This folder only stores recently deleted photos for 30 days. After that time, items will be permanently deleted.
You can only select and download up to 1000 photos at a time.

The default free storage is only 5GB. If you still want to save data beyond this storage, you need to purchase more.
2. Download Photos from iCloud Photo Library to PC/Mac
#2.1 Download Photos from iCloud Photo Library to PC
If you have enabled iCloud Photo Library on your iPhone and used iCloud for Windows before, then you may have backed up the photos to your PC. And the process of retrieving your photos is very easy.
Step 1: Install iCloud for Windows first on your computer if you haven't. Then open it from the Start menu.
Step 2: Tap on "Options..." after Photos and set it based on your need. Click on "Done" and confirm it by choosing "Apply".

Step 3: Now click "Download Photos and Videos". When the download process is completed, you will see the photos in your PC's designated downloads folder.
#2.2 Download Photos from iCloud Photo Library to Mac
It is also possible to retrieve iCloud photos from your iCloud backup to your Mac. Here's how to do it:
Step 1: On your Mac, click "Photos" and then click on "Photos" again in the main menu. From the drop down menu that appears, click on "Preferences."
Step 2: Click "iCloud" and then sign into your iCloud account if you haven't. Make sure it is the same iCloud account as iCloud Photo Library.
Step 3: Ensure "Originals to this Mac" is enabled and then close "Preferences".

Step 4: Now, click on "Photos" in the sub-menu and select the photos you want to retrieve.
Step 5: With the photos selected, click "File" > "Export" > "Export Unmodified Original". Navigate to a folder and click "Export" to move the photos toMac's internal storage.
Note
The precondition of this method is that you have enabled iCloud Photo Library on your iPhone before, or it will fail.
3. Use efficient iCloud data recovery tool to recover photos from iCloud account & iCloud backups
If you don't want to erase all your current data on iPhone during recovery process, iMyFone D-Back iCloud Data Recovery will help you recover permanently deleted photos from iCloud backup without resetting your device as a new one. Besides photos, you can also easily recover deleted contacts, text messages, videos, voice memos, WhatsApp messages and more from iCloud backup, iTunes backup or your iPhone using D-Back.
Key Features:
D-Back enables you to retrieve pictures from iCloud/iTunes backup or directly from iOS device if you don't have any backup.
There is zero data loss risk while restoring pictures from iCloud backup using D-Back.
You can preview photos and other contents before recovery and selectively recover exactly what you need.
Support 22+ types of data recovery from iOS device. You can recover deleted photos from iPhone, retrieve deleted messages on iPhone and so on.
Fully compatible with almost all iOS devices including iPhone, iPad, and iPod touch as well as all iOS versions including iOS 16.
To start with, download and install this program on your computer.
#1. Restore Photos from Your iCloud Account [Preview Photos Before Recover]
Step 1.Select "Recover from iCloud" and click the "iCloud - Recover data from iCloud account" button.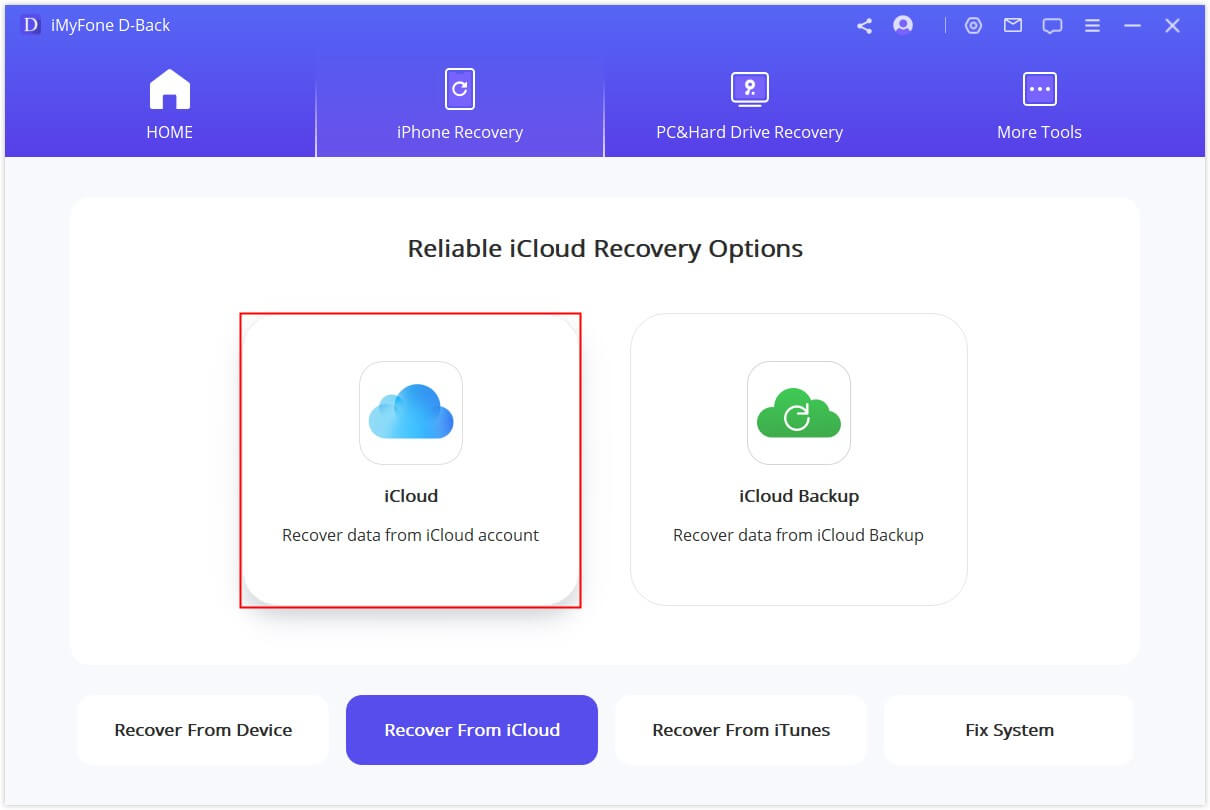 Step 2.To get your iCloud data, sign in to your iCloud account using your Apple ID information.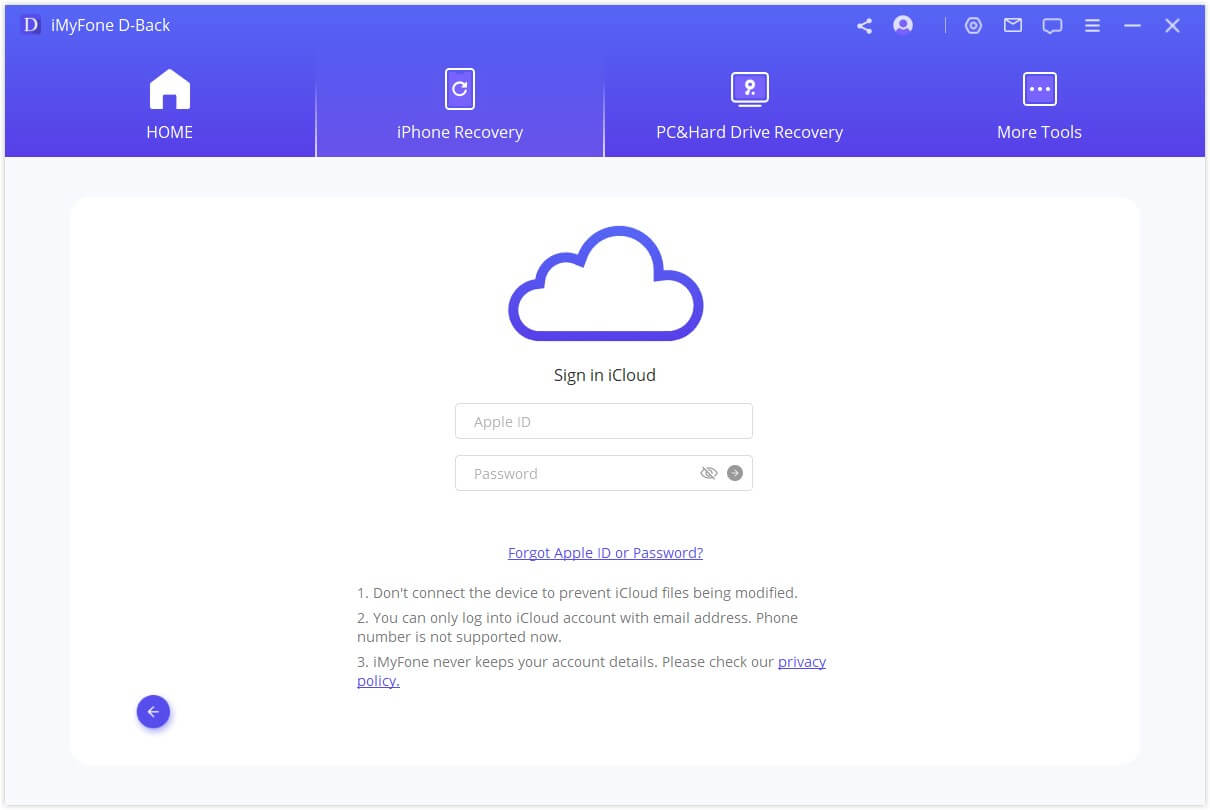 Step 3.As for the data type, choose 'Photos' here. Click Scan' and then the scan will be in process.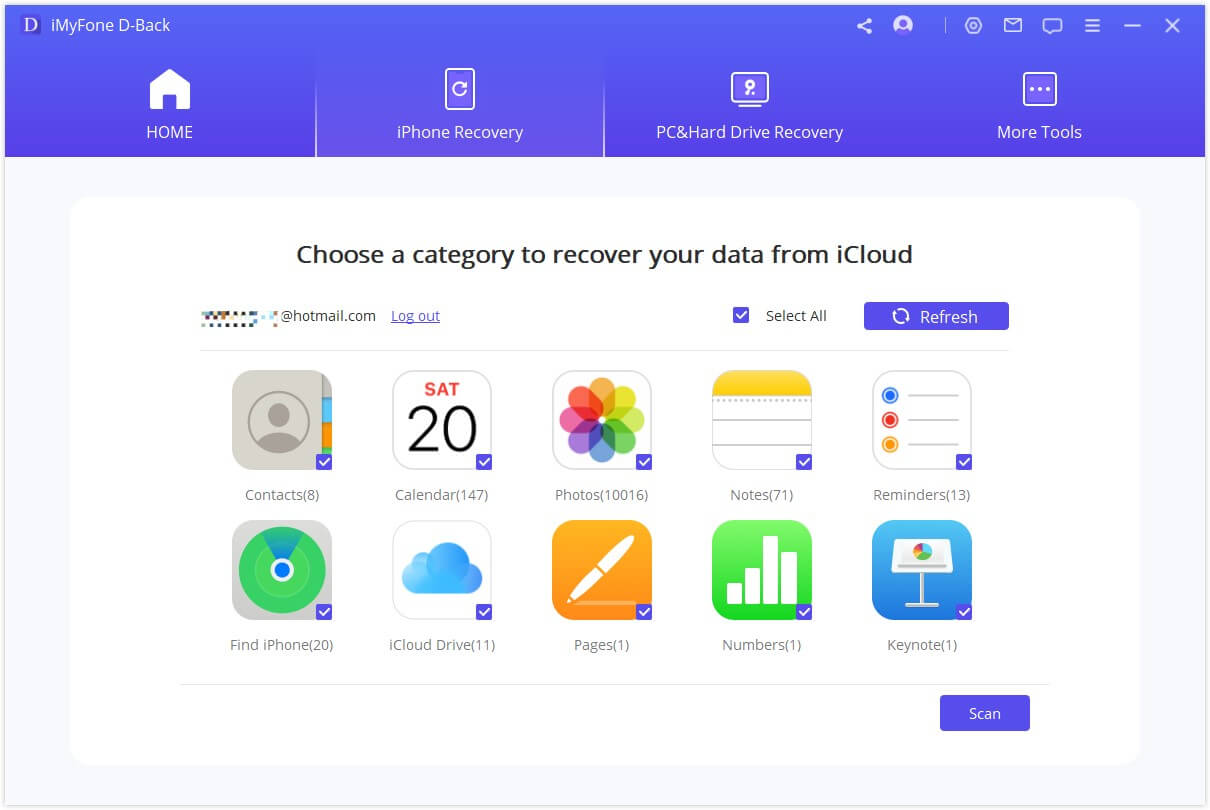 Step 4.Once the scan is done, all the photos will appear. You can preview first, and then select the photos you want to retrieve. Lastly, click 'Recover'.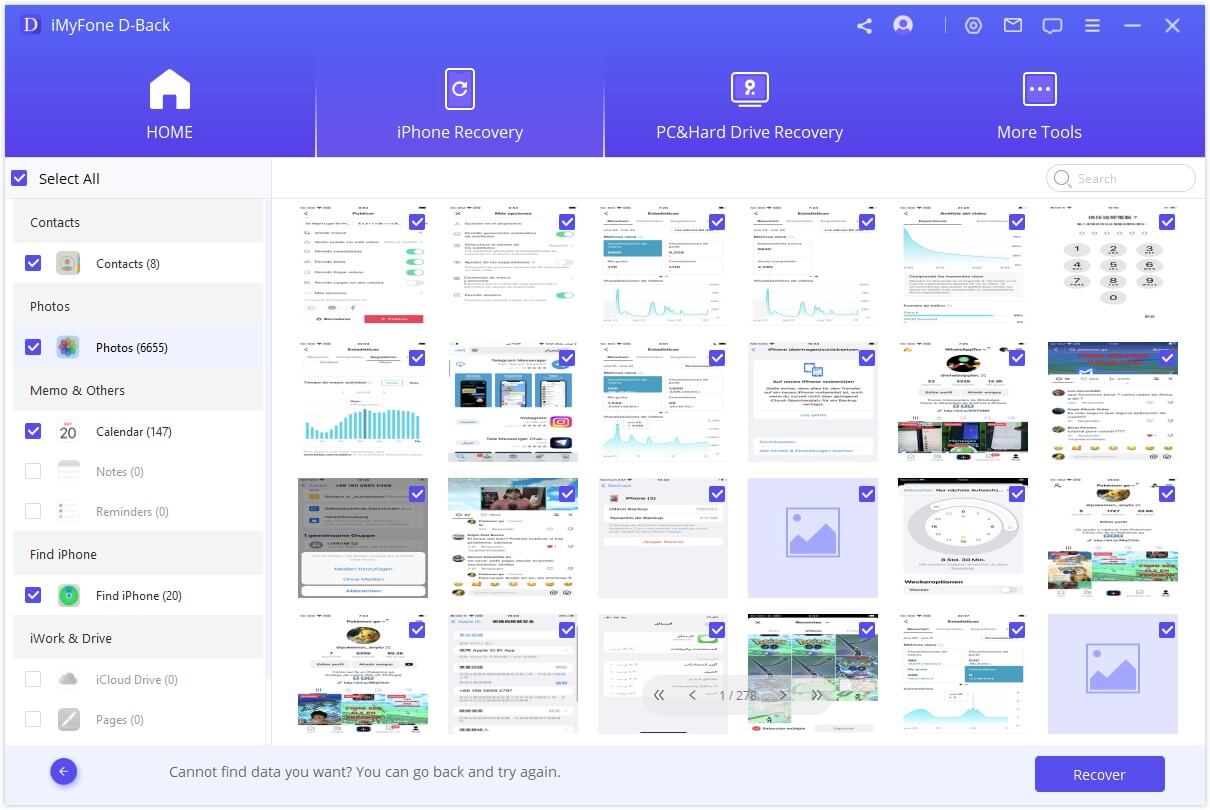 #2. Restore Photos from iCloud Backup [View Photos After Recover Process]
This function is kinder like the way you recover iCloud Backup from iPhone, the advantage of using this way is that you can view more than 18 types of data included WhatsApp, Wechat, Line, Kik and other 3rd-party apps data through D-Back. All data of your third-party apps will be remained and keep using your previous logged-in status. If you are interested in this, just keep reading.
Step 1: Still using D-Back but this time, choose 'iCloud Backup' function in 'Recover from iCloud' module.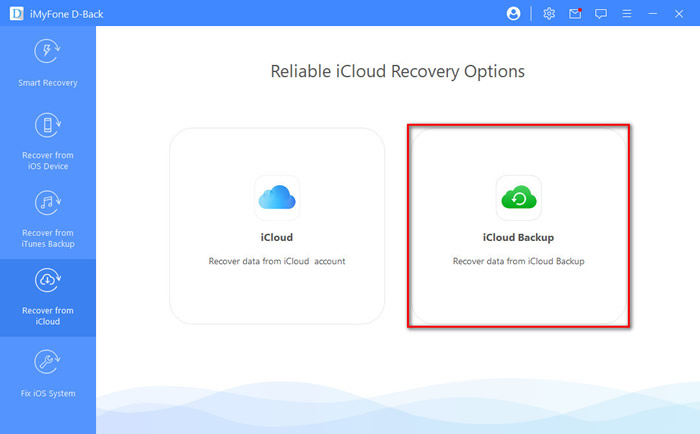 Step 2: Choose the iPhone status according to your real condition.
"An iPhone in initial setup": If you just buy a new iPhone or have resetted an iPhone, you can follow this step.
"A currently using iPhone with data": This could be an idle device, or even the one you are using now, you need to do some settings before starting the recovery process.
Notes: You should follow the steps to make a full backup of your current iPhone, or restore iCloud backups will overwrite all your current data. We recommend you to back up your iPhone to iTunes or iCloud in case you want to retrieve the data back, D-Back still offers to extract data from iTunes backup as well. After that, you can follow the steps to erase and reset your iPhone.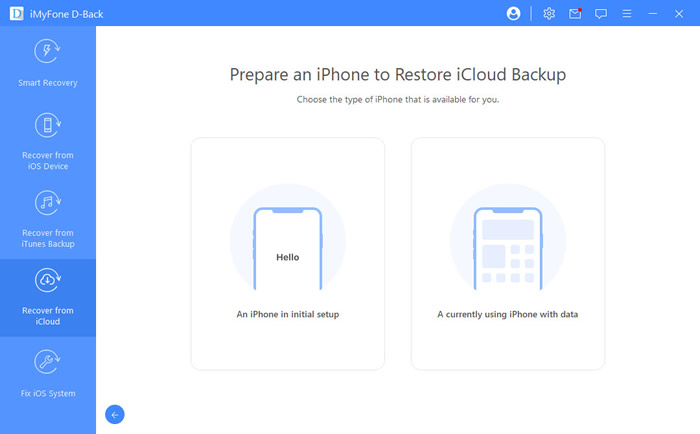 Step 3: On your iPhone, select 'Recover from iCloud Backup' in 'Apps & Data', then enter the Apple ID and password of which you want to restore data from iCloud. Two-factor authentication can be skipped if permits.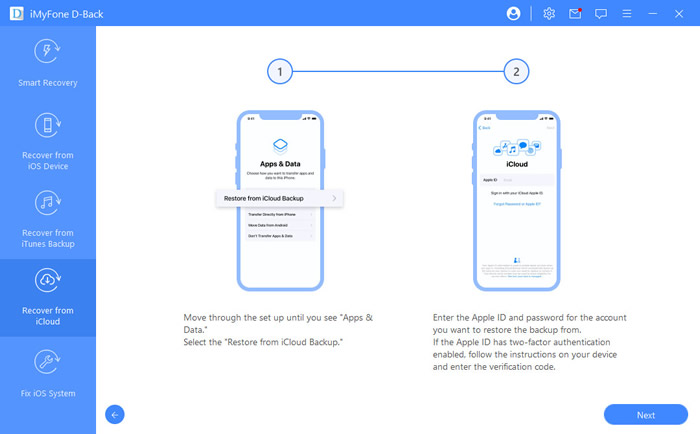 Step 4: Choose the certain iCloud backup that you want to restore and wait for a reboot.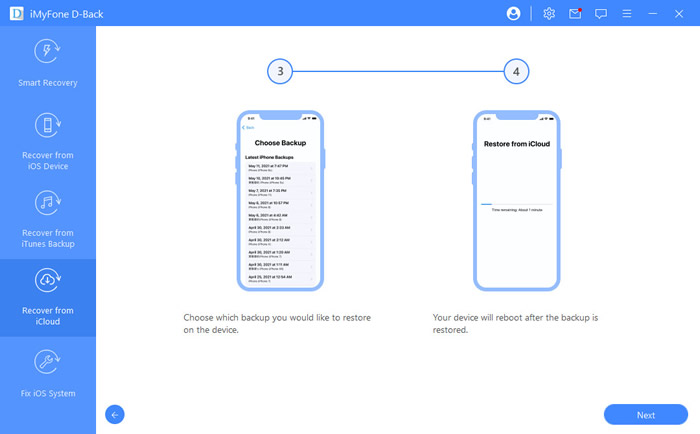 Step 5: Then you can follow the instructions on the screen to set up your iDevice. For checking the restoring photos from iCloud, connect your iPhone to D-Back and view restored photos of your iCloud backup. All done!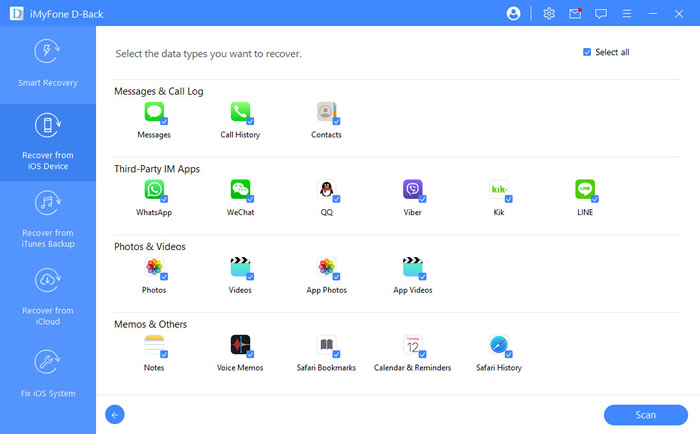 D-Back is trusted by million users, here are some reviews for D-Back:
Sara: Honestly, this is the second recovery app I've tried. The first one just not worked for my iPad. But iMyFone D-Back truly got the job done nicely. What I want to retrieve were the texts that contained some important information, I just couldn't find them on my iPad somehow. And what's the worst was, I had no backup of those texts. You know it can be a disaster for a person that losses something important. But thankfully, D-Back did what it advertised.
Ben: It works. For someone who wants to recover deleted images or videos, it is the best. I purchased it last week, and it helped me to find my images back. I tried the trial version, and it did display my missing pictures after the scan, so I purchased it. Glad that it works! Thank you!
Comparison Table of the Four Restoring Ways
Still unsure about which method to choose - iMyFone D-Back iPhone Data Recovery or Apple solution? Below are the comparisons for you to refer to whenever you need to restore photos from iCloud .
| | via "Recently Deleted" Folder | via iMyFone D-Back | via iCloud Photo Library | via iCloud Restore |
| --- | --- | --- | --- | --- |
| Success rate | Low | High | Medium | Medium |
| Recover deleted Photo without backup | Yes | Yes | No | No |
| Data Loss | Yes | No | Yes | Yes |
| Recovery Time Needed | Varies from 20-40 min | Varies from 5-10 min | Varies from 20-40 min | Varies from 40-60 min |
| Difficulty | Easy | Easy | Complex | Complex |
Frequently Asked Questions
1

I'm not sure whether my photos were backed up to iCloud before I deleted them. How can I check?
You can check your iCloud backups simply on your iPhone.
For iOS 10.3, go to Settings > [your name] > iCloud. Tap the graph that shows your iCloud usage, then tap Manage Storage.
For iOS 11 or later, go to Settings > [your name] > iCloud > Manage Storage > Backups.
Or you can use iMyFone D-Back for previewing the photo files before you delete them.
2

Why did my photos disappeared on my iPhone?
Something must have gone wrong if you're missing photos from your Photos app. Here are some steps you can take to find them.
Check your Recently Deleted folder. Photos there will be stored for 30 days. You can have them recovered if you find your accidentally deleted photos in this folder.
Check if the iCloud Photos is turned on. iCloud Photos securely uploads and stores all of your photos in iCloud, which enables you to access them on all your devices. If you took a photo on your iPhone but cannot see it on your other devices, you may need to check your settings. Go to Settings > [your name], then tap iCloud. Click Photos and turn on iCloud Photos. After that, connect to Wi-Fi and wait a few minutes. Then look for your photos again.
Check if you have signed in with the same Apple ID. In Settings, tap on your name at the very top of the screen. Then you'll see the email address under your name, i.e. the current Apple ID. If it is not the right one, sign out and log into the right account.
Check if you have hidden your photos. If you have put some photos in the Hidden Album, it might seem like they're missing. You can unhide them if you want. Just go to the Albums tab, tap Hidden, find the hidden photos you would like to recover, click the Share button and finally tap Unhide.
3

How can I recover photos without backup?
iMyFone D-Back is capable of recovering deleted photos directly from iOS device even if you don't have any backup. Don't hesitate to give it a try.
4

How can I recover permanently deleted photos from my iPhone after 30 days?
#1. Restore your photos from a local iTunes backup
Connect your iPhone to your PC/Mac.
Open iTunes and select the iPhone icon.
Click the 'Restore Backup' button and select the photo backup.
Wait for the process till complete.
#2. Or you can use D-Back to find your deleted photos back.
Launch D-Back and connect your iPhone to it.
Choose 'Recover from iOS Device' module and click 'Next'.
Choose 'Photos' and click 'Scan'.
Preview your photos and find the deleted one to restore back.
Conclusion
If you are looking for a quick and powerful fixto retrieve photos from iCloud toiPhone, iMyFone D-Back is bly recommended. With high success rate and no data loss, you don't need to worry at all even when dealing with such a difficult recovery task which accepts not a single mistake. Just download the free trial version to have a try. It will never let you down.