When browsing with an iPad, Safari bookmarks can help a lot indeed to save favorite URLs, frequently visited websites, following blog spots, etc. Nevertheless, if you have been bookmarking pages for a long time, then you should learn how to manage them as well. And, some of the users reported that they want to hide the bookmark bar when in landscape mode.
There are ways to get rid of bookmarks on the iPad, whether it's an individual or the sidebar. This article will teach you the ways on how to remove bookmarks on an iPad and how to hide the bookmark bar. Let's get started!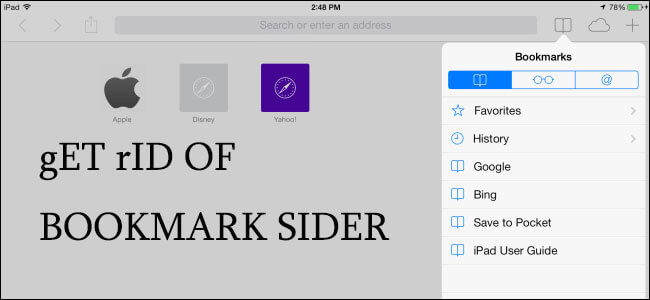 Part 1. How to Get Rid of Bookmark Sidebar on iPad?

-- Most people get fed up with the Safari bookmark and always ask how it can be removed. In fact, it is important especially if you would like your browser to run clean and lean. It is easy to close bookmarks on iPad from hanging under the address bar because having a whole lot of extra toolbar of your bookmark gets things cluttered easily.
It just requires the following few steps:
Tap the book icon at the top left to turn it on and off.
This is just simple and alternatively, you can also use the keyboard shortcut to hide the bookmarks bar by just pressing command + Shift + B on your keyboard.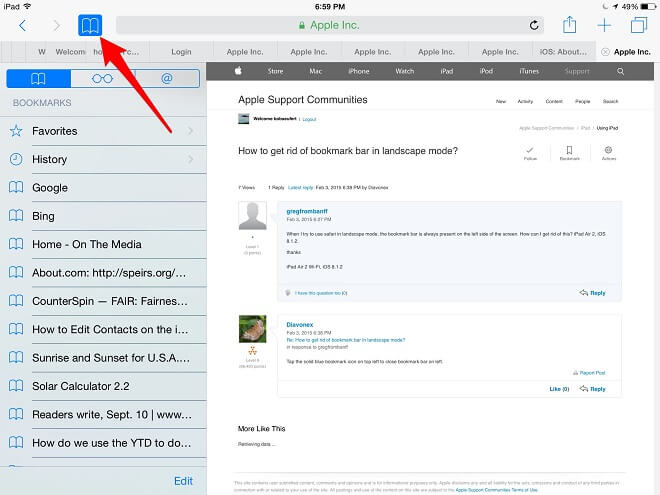 Part 2. How to Delete Bookmark From an iPad's Bookmark Bar
If you are just wondering how to delete bookmarks on an iPad to manage them well, then you can do it on iPad without the hassle by following few simple steps. Read more to get it!
Method 1: Remove an Individual Bookmark Directly in iPad Safari
It is possible to individually delete a bookmark on your iPad/iPhone and it does not really require additional applications or tools but few clicks. Now follow the steps below.
Step 1: Open your iPad safari browser.
Step 2: At the top, you will find a book like item, this is the bookmark, tap on the button.
Step 3: Tap the Edit button on the top right corner.
Step 4: You will see a minus sign that appears to each of the saved bookmarks. Just tap on those Minus signs and click "Done" for every bookmark in safari you want to delete.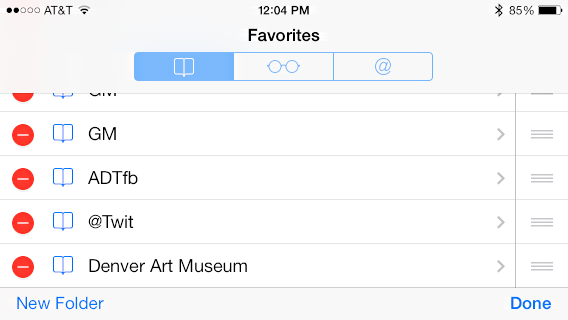 Tips
This way can only achieve a temporary delete because the deleted Safari data can be recovered with iCloud. While there is also an opportunity for a permanent deletion, which you can find on the Method 2 2.
2. Permanently Erase iPad Safari Bookmarks, Search Histories and Cookies
In order to better protect privacy, you need to clear some sensitive information on the iPad regularly, this includes deleting saved bookmarks on the gadget.
Additionally, Erase iPad Safari Bookmarks, Search Histories, and Cookies regularly, it can do a great help for protecting your security, and free up more space for iPad. So how do I get rid of the bookmark on the iPad completely? Read below to find the answer!
To remove bookmarks on iPad, you can easily erase them using iMyFone Umate Pro - Safari data eraser tool. It is a tool to manage iPhone/iPad data especially the private data. You can choose the unwanted Safari data being erasd from your iPad just a few minutes!
Benefit A Lot from Umate Pro:
Not just clear Safari bookmarks but also clear Safari history, Safari caches, and even Safari cookies.
Your data is permanently deleted and nobody can recover or view your private data.
Erases data just 5 easy step.
The following are the steps required to delete iPad Safari bookmarks via Umate Pro.
Step 1: Download iMyfone Umate Pro on your PC and then connect with iPad.

Note

If this is the first time you are connecting to the computer, you need to Trust the computer first.

Step 2. Click the "Erase Private Data" tab, and click "Scan", and then the program will start to scan the device.

Step 3: You can see the private data on your Mac after scanning finished, like photos, messages, call history, etc. You can click and preview them and select the files you want to delete.

Click the "Erase Now" button.

Step 4. Type "Delete" into the box to confirm.

Of course, you can click the link to change the security level if you want. Please read the security level settings carefully if you need to operate.

Step 5: After confirming your action, just click "Erase Now" bottom and then you can erase the private data.
You can get rid of bookmark after this process, it's suitable to delete iphone bookmark permanently also!
Conclusion
By reading here, we have learned how to get rid of bookmarks on iPad as well as the way to close the Safari sidebar on iPad. The steps for both are pretty easy to operate for everyone!
Deleting Safari bookmarks is a good option to protect your private data, but don't forget that Safari browsing histories and cookies can also bring a lot of your personal data. It's better for you to use a tool like iMyFone Umate Pro to erase them permanently without any risk.
If you have any discoveries or suggestions, please feel free to share with us in the following comments section.