iMyFone Umate Pro
Free download iMyFone Umate Pro to delete Snapchat data.
Download Now
Almost everyone is hooked on to Snapchat now. We know that the app has the feature to delete some messages and pictures automatically after reading or a specified period. But this can really ensure the data privacy? No. We must take some extra measures to protect privacy and permanently delete Snapchat data.
Someone says that we can delete the Snapchat account to delete the Snapchat data permanently. I should tell you that it's wrong. You can continue to read this post to find the truth. We will give the details at below.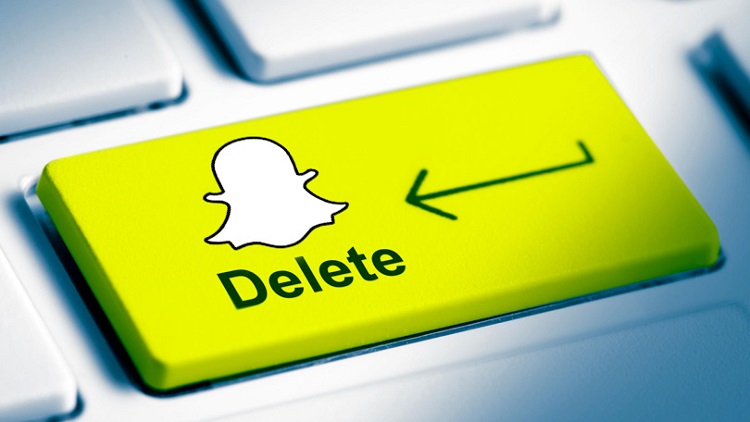 Part 1: Something Need to Know Before Deleting
Deleting Snapchat Account will Delete Messages Permanently?
No, they will still be stored on the server and you can access them again when you reactivate your account. And or the sent messages, you can also able to view them because you can't delete messages other people have already received through the Snapchat app, even if you block them, remove them as a friend or delete your account.
What will Happen When you Delete Snapchat Account?
To delete the Snapchat account is to deactivate it. While your account is deactivated, your friends will not be able to contact or interact with you on Snapchat. After 30 days, your account will be permanently deleted. This means that your account, account settings, friends, Snaps, Chats, Story, device data, and location data in our main user database will be deleted. So, though this way can delete the Snapchat messages indeed, you must wait for 30 days. There is still the risk of data leaking.
After we have the basic knowledge of Snapchat deletion, then we are going to find the solutions on how to delete data from Snapchat.
Part 2: 2 Ways to Permanently Delete Snapchat Data
Way 1. How to Permanently Delete Snapchat Data in One Click
Just like we mentioned above, there are 2 ways to delete Snapchat data permanently. You can use the help of account deletion and some third party iPhone data erasers. The most recommended way, of course, is to use third-party tools. We proved that iMyFone Umate Pro is the most effective way without any limitations. It can protect your data privacy and permanently delete Snapchat.
One-click deletion: All the messages, stories and pictures can be deleted with just 1 click.
Instant deletion: It can delete all the contents right now without 24 hours or 30 days delay.
Unnecessary to delete account deletion: There is no need to delete the account forever to realize the purpose of deleting data permanently.
Delete Snapchat fragments: Even the hidden Snapchat fragments can be detected and deleted.
Watch the video to learn how to delete Snapchat data with iMyFone Umate Pro
Step 1: Once you have downloaded and installed iMyFone Umate Pro on your PC, connect your iOS device before starting the software.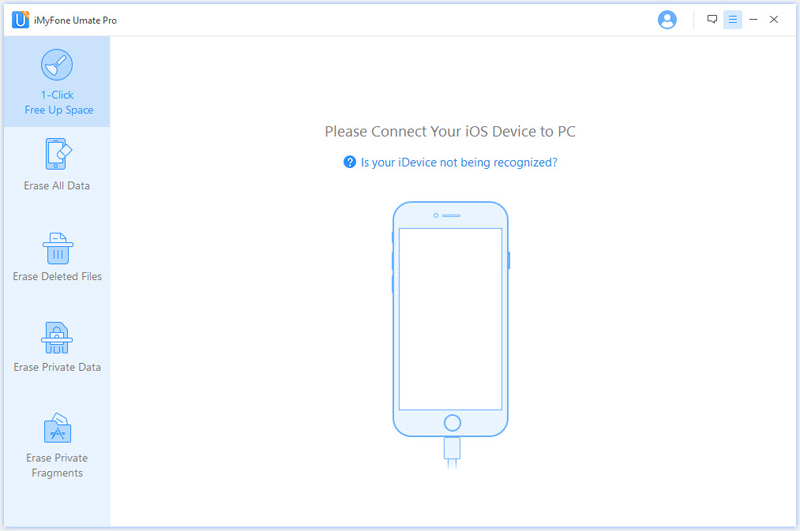 Step 2: After running iMyFone Umate Pro, you will get the choice of different erase models- such as 1-Click Free Up Space, Erase All Data and others.
Select "Erase All Data" and then click on Scan to permanently erase all the Snapchat conversations and histories;
Select "1-Click Free Up Space" and then click on Quick Scan to remove all the associated Snapchat traces.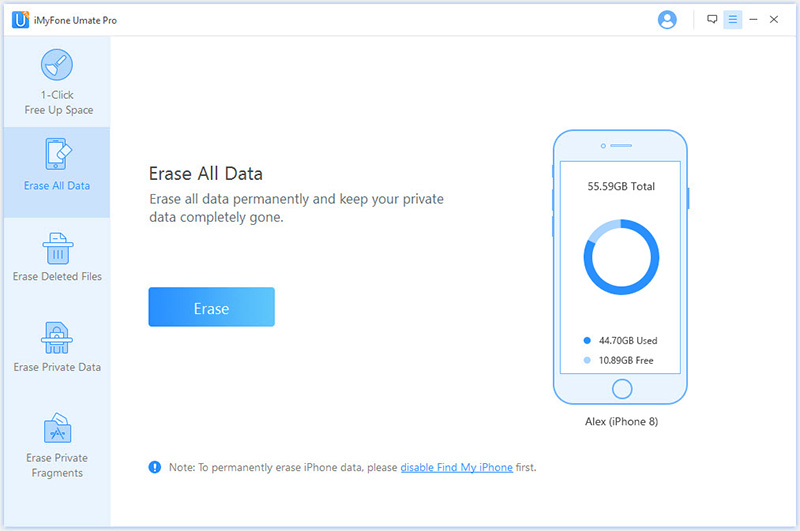 Step 3: The scanning process will show you a categorized list of data on your iPhone. From this, select the content that you want to delete, and then click on "Erase Now".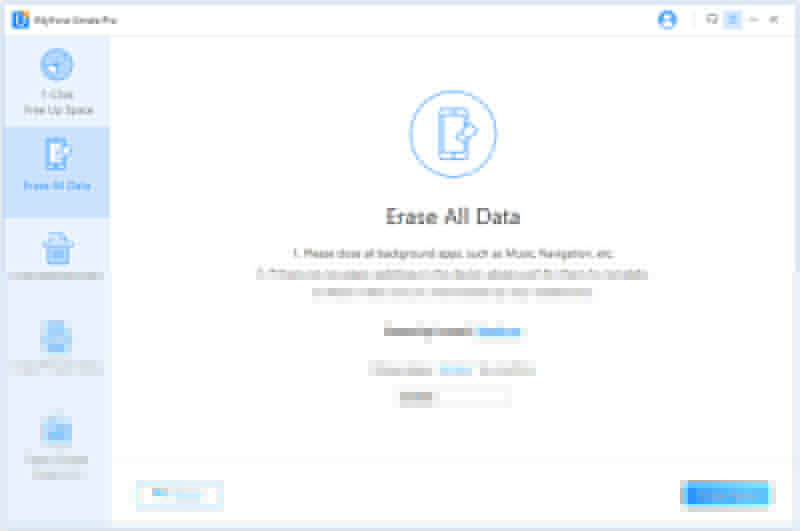 With just one click, you can remove all your Snapchat data: messages, histories, chats, pictures, etc. In addition, the associated Snapchat traces ( caches, crash logs, downloaded temp files, user storage files, corrupted files, etc) can also be removed, these files contain also your personal data and maybe just sitting on your device and occupying precious storage space.
---
Way 2. How to Permanently Delete Snapchat Data by Deleting Account - Not Recommended
If you also want to try the way to delete Snapchat data permanently by deleting your account. Here also have the guide for you. But one thing we should be noted that: When you have deleted your Snapchat account, the data on it will keep 30 days. After that period, you will lose your account forever. So there still is the risk of privacy leaking, and that's why we don't recommend this way.
Go to https://support.snapchat.com/delete-account in any web browser. You can even use Safari on your iPhone or iPad.
Enter your Snapchat username and password.
Click on Submit
Re-enter your username and password on the next page.
Click on Continue.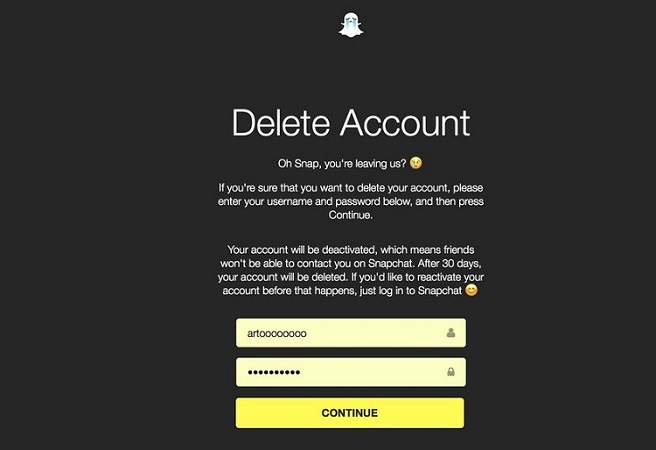 Part 3: Why Should Permanently Erase All Private Data on iPhone?
A common misconception that most people have is that once they tap on that little Trash icon, the files and content that was selected is gone forever. However - the reality is that while that content is deleted, it is by no means gone forever. In fact, with some very basic tools available online for free, there are ways to recover those things.
Thus, in order to better protect your privacy and ensure that you delete Snapchat permanently along with any other private and junk content, you can make use of the "Erase Private Fragments" feature in iMyFone Umate Pro. Besides, with the "Erase Private Data", you can permanently remove all your photos, messages, app history and other private data.
The stuff that you delete from your iPhone can still be recovered as mentioned earlier - but using the 'Erase Deleted Files' function, you can ensure that your previously deleted data is erased for good. You can select and remove all the deleted files, images, notes, videos and conversation histories from your iPhone.
Thus, with the software, you can permanently clear Snapchat data to protect your privacy and ensure that no unwanted parties ever get any of your personal data and information.