If you're concerned about your privacy or you just want to make room on your iPhone, then it might be a good idea to delete your Viber message history. There are a few different ways to delete Viber message history permanently, but some of them are better than others.
Why Delete Viber Message History at All?
There are several reasons why you might want to delete your Viber message history.
First of all, if you have any sensitive conversations on your iPhone, you wouldn't want someone else to read it. This is especially true if someone is borrowing your iPhone or you're giving it away.
Second of all, like anything else on your iPhone, Viber messages easily take up space. To save room in your storage, you could delete unnecessary messages.
Note: Just keep in mind that manually deleting the messages may not be enough for a determined snoop. If you are deleting for privacy, it's a good idea to use a tool that will delete Viber chat permanently and make it unrecoverable.
1. Permanently Delete Viber Message History on iPhone (Unrecoverable)
One of the best tools to use to permanently delete Viber messages, is iMyFone iPhone Eraser for Win or for Mac. This software has all kinds of features that help you permanently erase data on your iPhone so that it is completely unrecoverable, even by hackers.
Key Features:
Preview and erase your Viber messages history, WhatsApp, note, texts, call history, contacts, etc. Selectively.
Erase manually-deleted Viber data that is still left on your iPhone drive.
Clear your Viber cache for free.
Wipe private fragments that Viber and other third-party apps might leave behind.
Simple Steps to Permanently Delete Viber Message History
Step 1: Install iMyFone iPhone Eraser on your PC or Mac. Step 2: Click where it says Erase Private Data. Next, Click Scan.
Step 3: You will see a list of data on your iPhone, including your Viber message history. Select the Viber data you want to erase. Click Erase Now.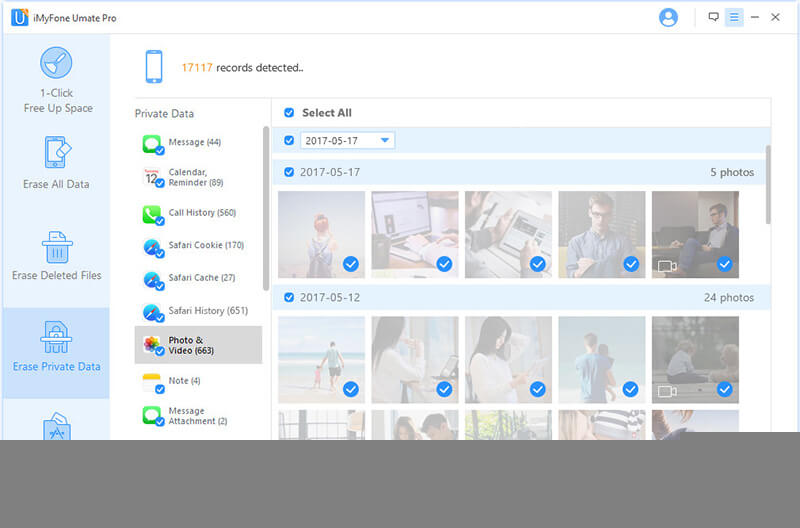 iMyFone Umate Pro is the first and only one iPhone eraser that supports to erase third-party apps, like WhatsApp, Kik, WeChat, Viber. etc. It wins lots of positive review from may media, like MacWorld, iPhoneinCanada, APPKED, etc.

2. Manually Delete Viber Message History on iPhone (Recoverable)
Here is how to delete Viber messages manually. This is not recommended if you're concerned about your privacy, since the data would be potentially recoverable:
2.1 Delete the Whole Message History on Viber
Step 1. Tap on the Viber icon to open the app on your iPhone.
Step 2. You should see a list of contacts with their message history. Simply swipe left to delete the entire chat thread with that person.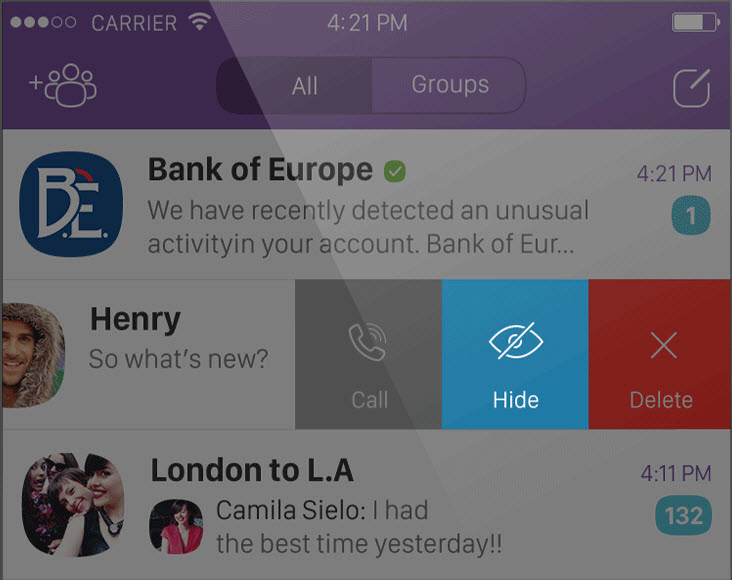 2.2 Delete Specific Messages from Viber
Deleting specific messages just delete the individual messages but keeps the chat.
Step 1. Open Viber app on your iPhone.
Step 2. Tap on a contact to see your message history.
Step 3. Choose which specific message you want to delete. Long-press it until an options bubble comes up. The options should be, Copy, Forward, and Delete. Tap Delete to remove the message.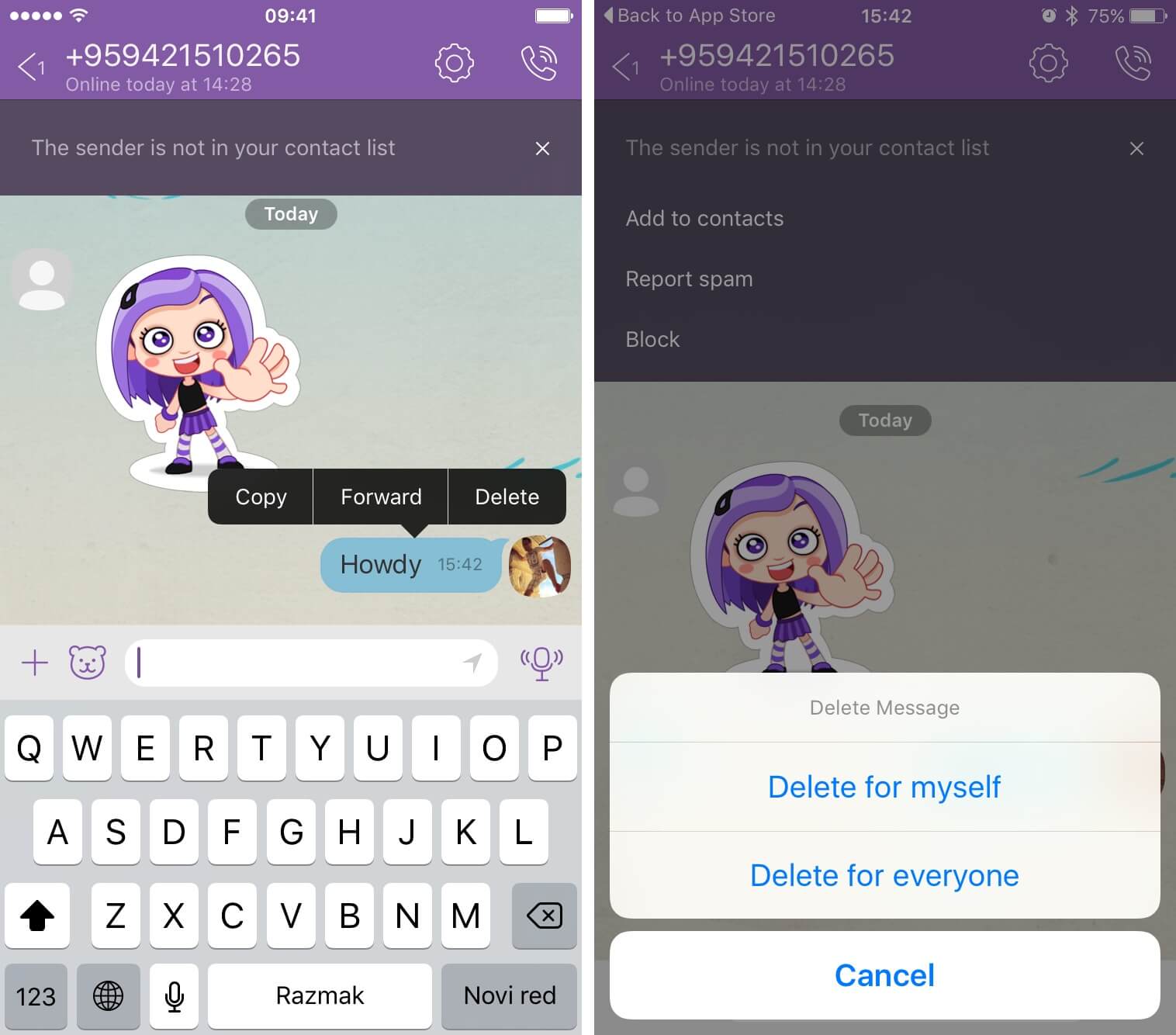 The "Delete for Everyone" Option
If you sent an embarrassing message on Viber and want to delete it for everyone—not just yourself—so that no one can ever read it again, you can now do so with Viber. This option is only available for messages that you sent yourself, naturally.
Just long-press the message you want to delete in the chat history, and there should be an option that says "Delete for Everyone." Choose that option to delete the message on everyone's phones. It works both for two-way conversations and group conversations.