You can also read this guide in Français.
Snapchat is the leading social media platform on the internet, given the fact that Snapchat users share more photos and videos on Snapchat more than the combination of photos and videos shared on Facebook and Instagram. However, users should be mindful of their privacy and data security while using a reputation-destructive photo app like Snapchat.
Different privacy leak scandals have been recorded with Snapchat over the years. The most prominent is the 200,000-leaked celebrity nude photo scandal of October 2014, which was captioned Snappening. The lesson we all learnt was that if the celebrities had managed their Snapchat history and security appropriately, that scandal would not have happened.
Therefore, taking your Snapchat security and history for granted can be very risky, and may lead to serious privacy leak. Hence, the best approach to ensuring no-iPhone-privacy-leak is to delete Snapchat history through a secured means.
How to Completely Delete Snapchat Histories on iPhone? (Unrecoverable)
Should we erase all other traces of Snapchat from iPhone? Yes, because there is every need to permanently erase traces of files and data embedded in Snapchat history from your iPhone in order to avoid privacy leak and the humiliations that comes with it. Nevertheless, the only efficient way I know through which is by a powerful data-destroying tool known as iMyFone iPhone Eraser or iMyFone iPhone Eraser for Mac .
iMyFone iPhone Eraser has served iPhone users over the years in protecting their privacy and limiting the possibilities of accumulating junk files, temporary files, browser cookies, caches, app logs, useless and needless files on their iPhone and other iDevices.
Key Features:
Clear Snapchat junk files for free: iMyFone can wipe out all app caches on iPhone, including Snapchat. After eliminating caches, you will have extra storage space to store important data.
Clear up temporary files: Temporary app files like Snapchat are not essential for operating Snapchat app on iPhone. Using it to clear these temporary files can avoid privacy leaks.
Permanently delete Snapchat history: "Erase All Data" can permanently erase all your personal data on iPhone, including Snapchat histories - messages, photos, videos, etc.
Permanently erase Snapchat private fragments: Data fragments will remain on iPhone even you clear Snapchat history. This tool can erase any trace of the private fragments, 100% unrecoverable.
Steps to Delete Snapchat Histories on iPhone:
Notice: This guide will erase all your iPhone data.
Step 1. Download and install iMyFone iPhone Eraser, launch it and then connect your iDevice to PC via a usb cable.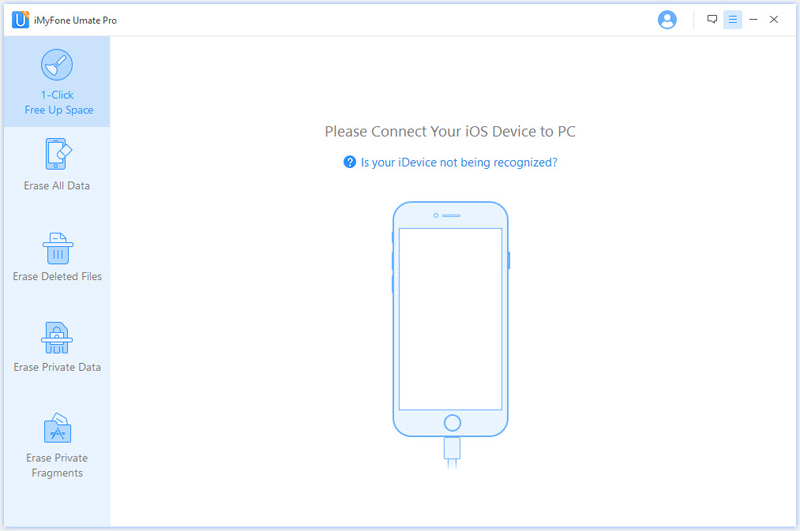 Step 2. Choose the "Erase All Data" tab.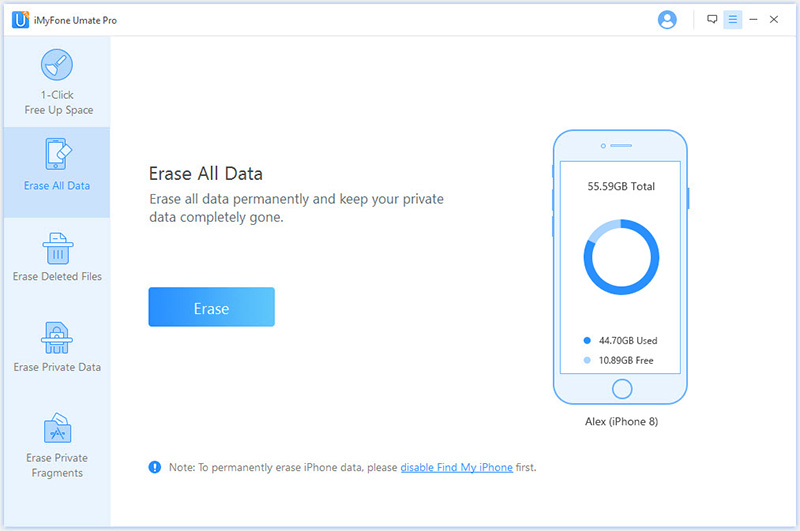 Step 3. In the new window, you can see "Security Level". You can choose one from 3 erasing levels. We recommend you to select the "Medium Level".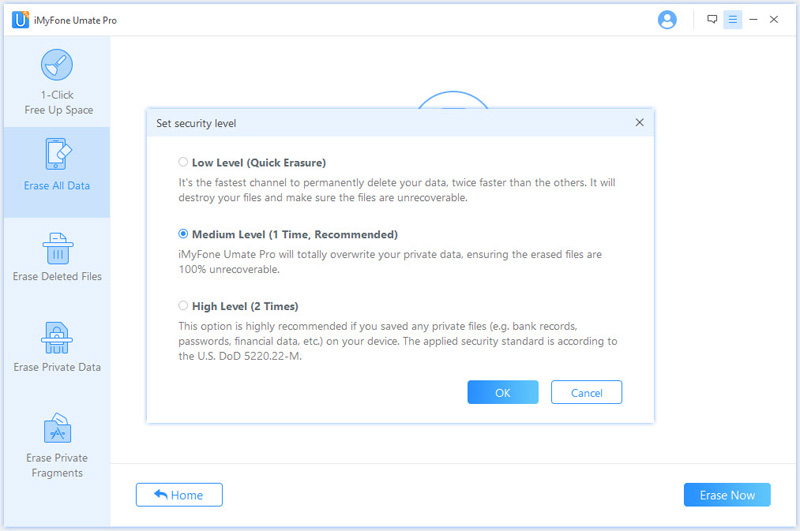 Step 4. After that, you can type "delete" into the box to confirm. And then click "Erase Now" button to continue.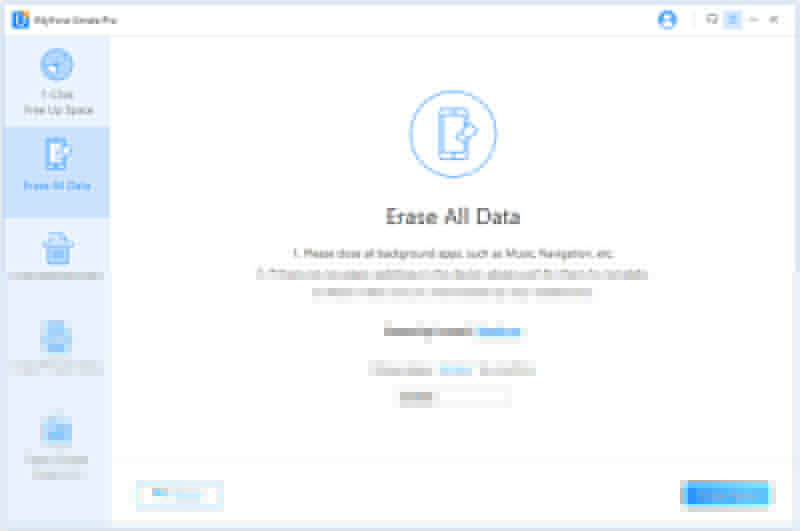 After a while, all your iPhone data will be erase includes the Snapchat histories.
How to Permanently Erase Private Fragments of SnapChat?
Using the "Erase Private Fragments" feature provided by the software, you can very easily break down the kind of changes that you want – and need – to make to your SnapChat app or other third-party apps. This allows you to pinpoint the parts that you would prefer to remove.
Step 1: Run iMyFone iPhone Eraser after downloading and installing it, and connect your iPhone via a cable.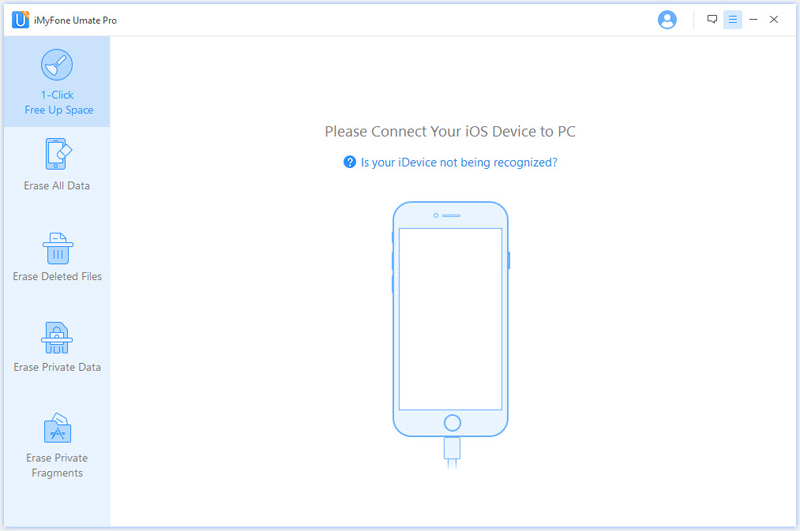 Step 2: This time we can choose "Erase Private Fragments" options. Click "Scan" when inside and iMyFone iPhone Eraser will begin the scanning process.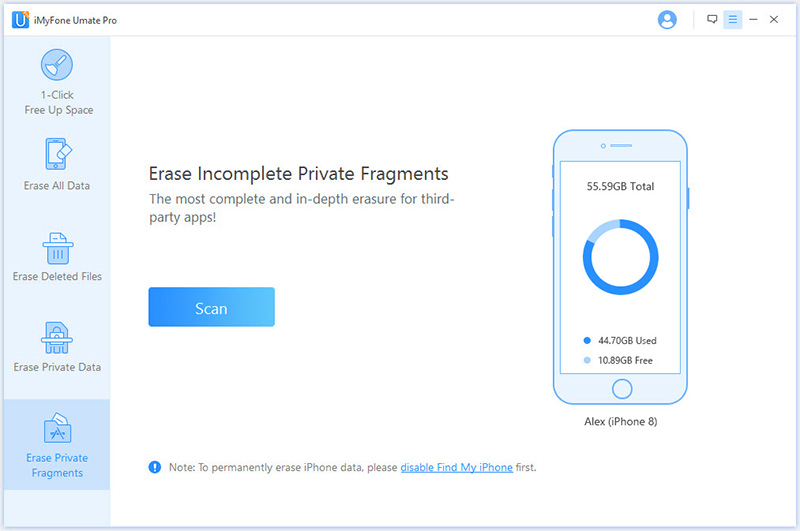 Step 3: Once scanned, it will show the private fragments that exist for each of your apps, from WhatsApp and Kik to SnapChat and Instagram. You can check Snapchat only and hit "Erase Now" to erase it.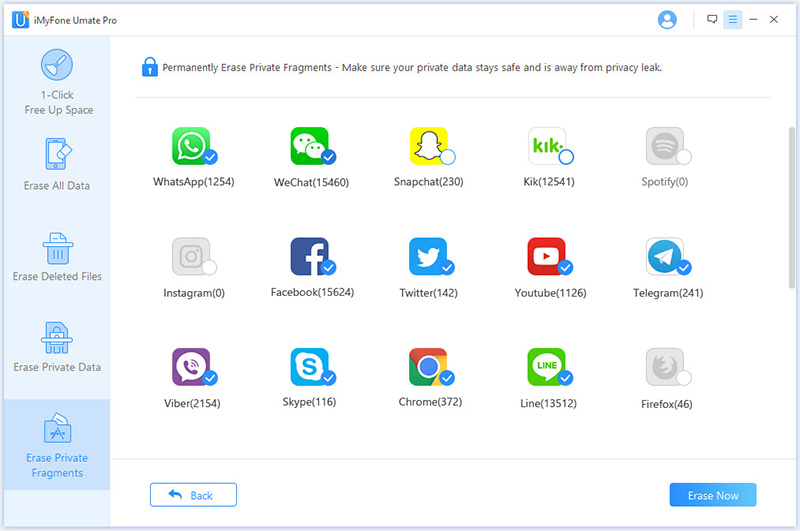 It is suggested to download iMyFone iPhone Eraser and scan the "Erase Private Fragments" for free. I bet there would be many data fragments found for your third-party apps on your iPhone.
How to Manually Delete All Snapchat History on iPhone?
Snapchat history can be deleted on iPhone, iPad, iPod Touch or on any iOS devices through the app settings by following the systematic steps listed below.
Step 1: Launch Snapchat on your iPhone.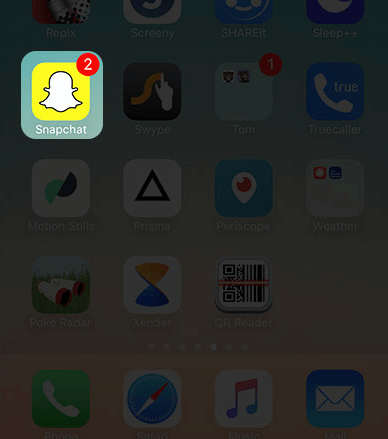 Step 2: At the top left corner of the screen, you can see the Snapchat icon. Tap on it.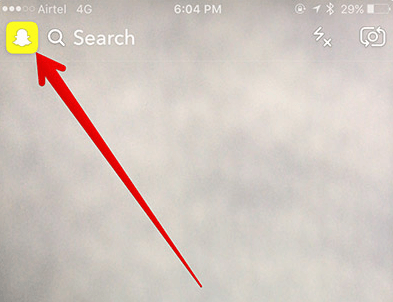 Step 3: At the top right corner. Choose "Settings".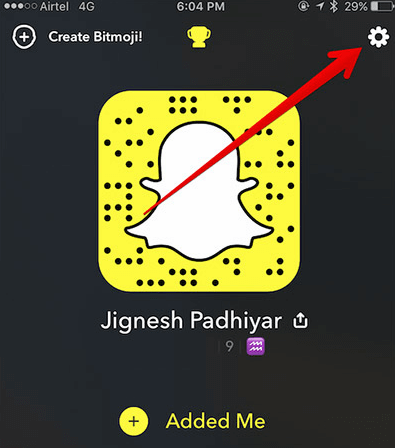 Step 4: Select "Clear Conversation" under the "Account Action" section.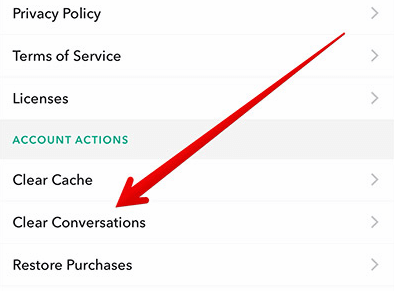 Step 5: Now, tap on the "Clear All" at the top right corner.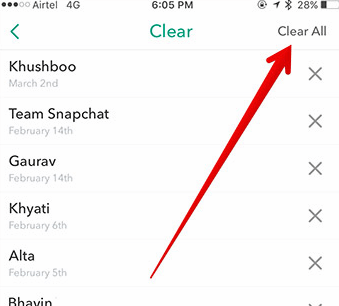 Step 6: Finally, on the pop up window, tap on "Clear Feed" to continue.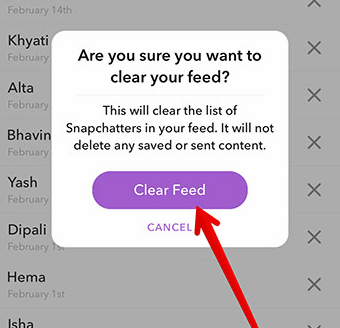 It is pertinent to note here that clearing the list of Snapchat conversation will not delete everything of Snapchat on iPhone, other traces of Snapchat such as cached contents, saved and sent files, videos or pictures are still left behind hard drive.
How to Delete Specific Snapchat Conversation on iPhone?
If you don't want to delete all the Snapchat conversation and just want to delete some of them, just the follow the following steps.
Step 1: Launch your Snapchat app on iPhone.
Step 2: Tap on the Snapchat icon at the top left corner of the screen.
Step 3: Click on the "Settings" at the top right corner.
Step 4: Scroll down and tap on "Clear Conversation" under the "Account Action" section.
Step 5: You can see the chat list. Find out the conversation you want to delete and then tap on the "X" next to it.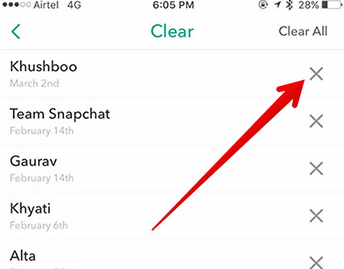 Step 6: Tap on "Clear" in the pop up window to confirm.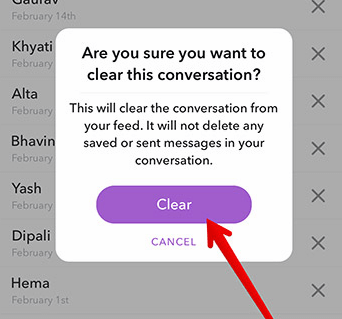 The Importance of Erasing Private/Delete iPhone Data
Based on studies done on this issue, the photos or other data you delete from Snapchat manually are not deleted in reality. The application just changes the labels making it difficult to detect by the operating system used in the device. To prevent it from recovering,it is importance to protect private Snapchat pictures, messages, videos, photos, notes, etc. by using a competent Snapchat history eraser like iMyFone iPhone Eraser when deleting your files, this is because most deleted files on iPhone can be traced back or recovered if the file is not deleted appropriately with the right tool.
Therefore, using iMyFone iPhone Eraser to erase private files or to erase deleted files would help to protect your privacy by erasing iPhone files permanently without leaving any trace behind. The recommended Umate feature to achieving these fits is by using "Erasing Private Data" option or "Erasing Deleted Files" option respectively.
Step 1: After downloading and installing iMyFone iPhone Eraser, you should connect your iPhone to your PC with a cable and launch the app.
Step 2: When connection has been clearly established, select "Erase Private Data" option or "Erase Deleted Files" option as the case may be.
Step 3: After the scanning, you can preview your private or deleted files and chose to delete all of them, or one after the other.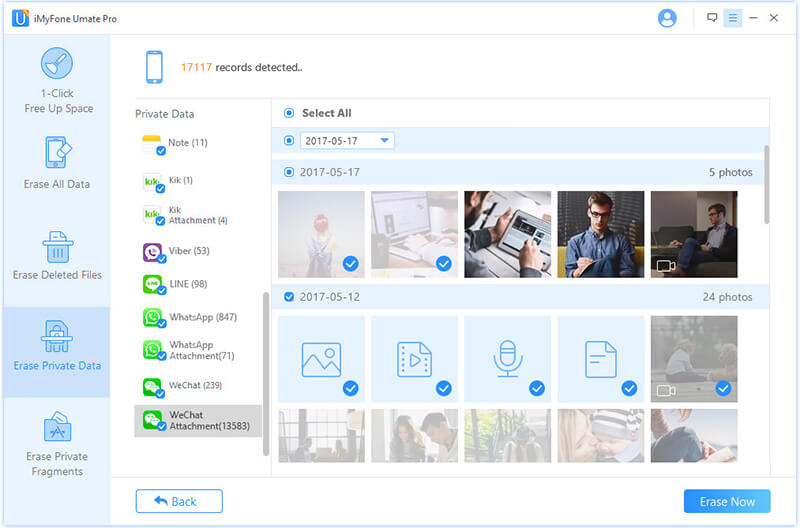 Step 4: Type delete into the box and select your security level. Then, click on "Erase Now" button to clear up your private files, or to erase your deleted files.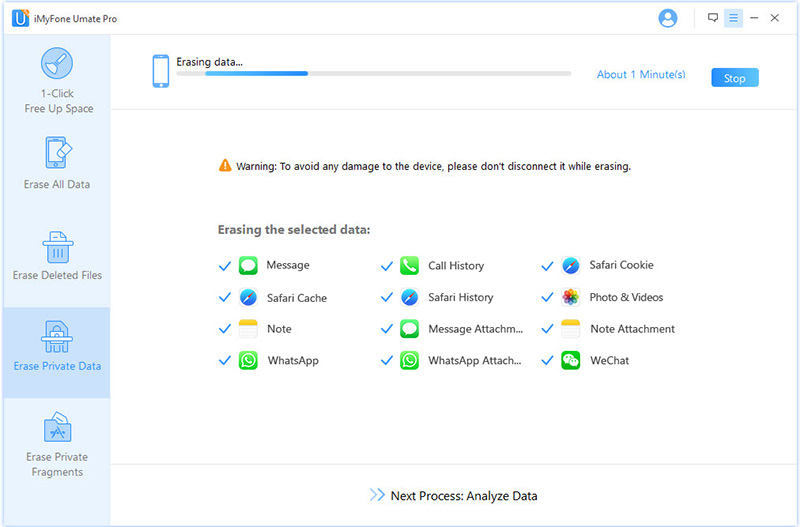 For more about how to use this software, please download it and watch the video below.