You may forget your password to unlock your iPad if you change the password often. What's worse, your iPad will be disabled if you try the wrong password several times. Generally, the way to unlock the iPad passcode is using iTunes to restore. But what if you really need to unlock the iPad without restore as you don't want to lose any data?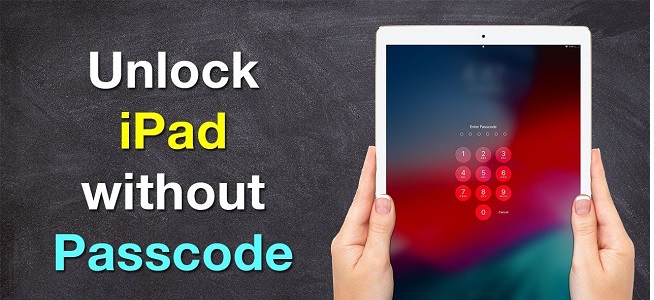 Is It Possible to Unlock iPad Password without Restoring?
Unfortunately, there is no official method for unlocking the iPad passcode without restoring it. So restoring iPhone is the only way to get into a locked iPad.
However, you can back up your iPad data before you restore the locked iPad. It will prevent you from losing any iPad data.
How to Unlock iPad Passcode - The Complete Guide
Method 1 helps you not only to unlock iPad passcode but also to unlock iPad from iCloud lock, while other 3 methods only unlock iPad screen lock.
1

Unlock iPad Passcode Without Restore
If you forgot the passcode on your iPad, iPhone, or iPod touch, and have no idea how to deal with it, we recommended the best iOS device unlocking tool - iMyFone LockWiper to you!
iMyFone LockWiper is the first tool of its kind that can unlock iPad passcode. What's more, it's also can unlock the iPad from the iCloud without a password. Therefore, whenever you're locked out of the iPad screen, or the iPad is locked with an iCloud account, you can consider LockWiper for help.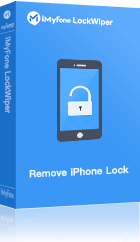 iMyFone Lockwiper
· Instantly remove the screen passcode which includes 4/6-digit passcode, Face ID or Touch ID.
· Compatible with iPhone, iPad, iPod touch with all iOS versions including iOS 15.
· Remove Apple ID without Password.
Steps to Unlock iPad Passcode without Restore
Step 1. Download and install iMyFone LockWiper. Launch it and cick "Unlock Screen Passcode".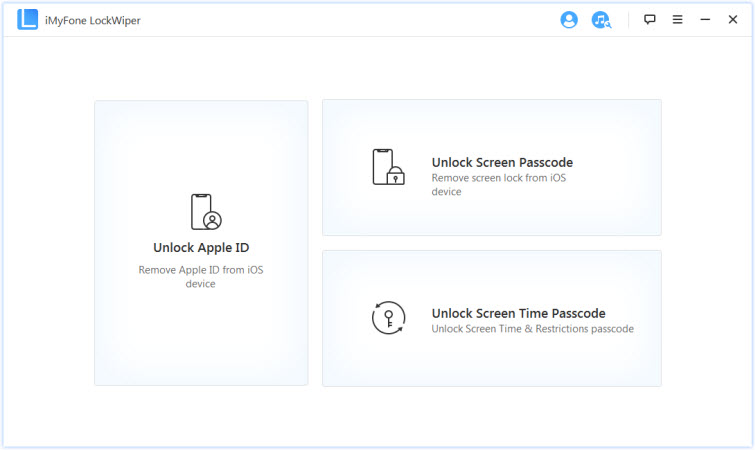 Note
If you want to unlock iPad from iCloud account, choose "
Unlock Apple ID
" instead.
Step 2. Connect your iPad to your computer using a USB cable. Click "Start" and then "Next" to proceed.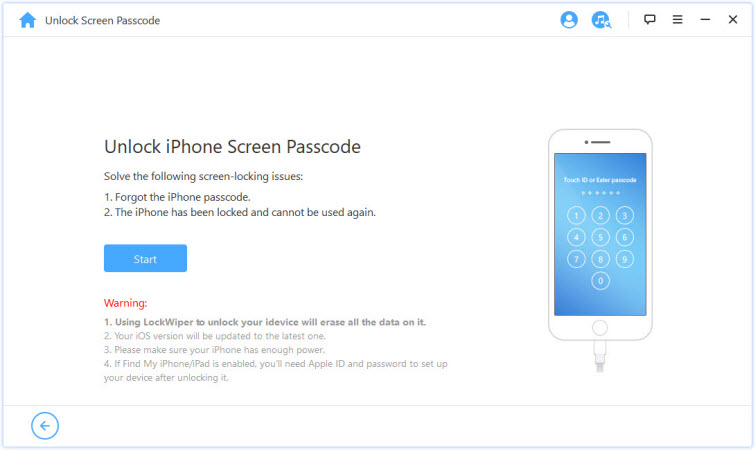 Step 3. Click "Download" to get a firmware package for your iPad.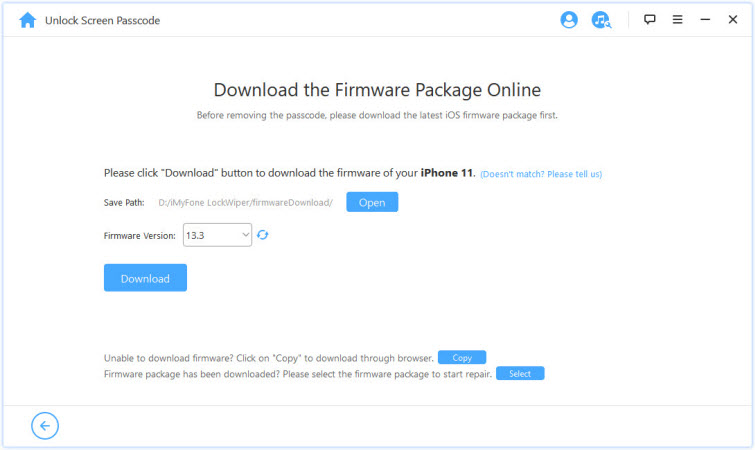 Step 4. Click "Start to Extract" when it's done.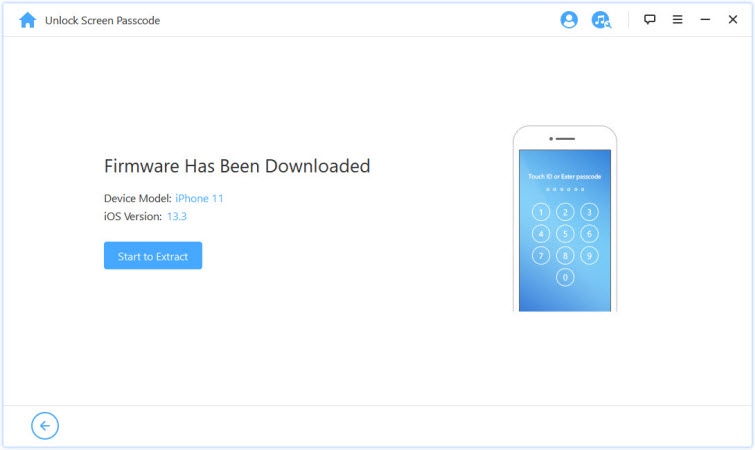 Step 5. After that, click the "Start Unlock". Enter "000000" into the box and click "Unlock" to double confirm and start unlocking.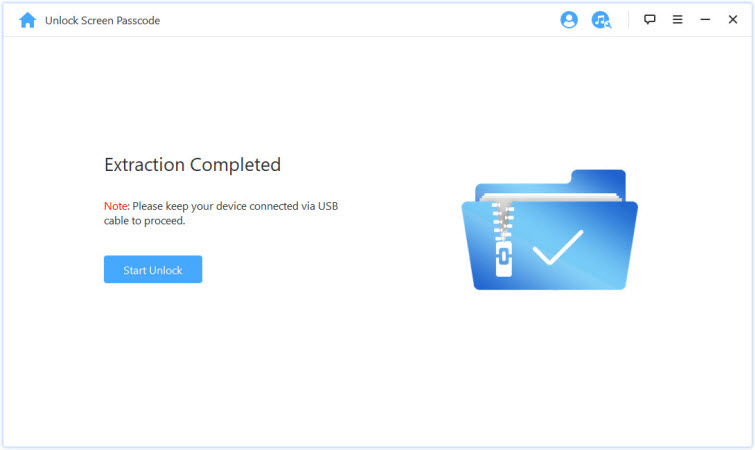 2

Unlock iPad Using iTunes
If your iPad synced to your iTunes before, you can use this method. Otherwise, you only can restore your iPad in recovery mode.
Launch iTunes (which your iPad synced with before) and connect your iPad using a USB cable.
After it is detected, click on the device icon on iTunes, and you will be in the "Summary" window.
Click on "Restore iPad" in the right panel and follow the steps shown on-screen. Then wait for it to finish.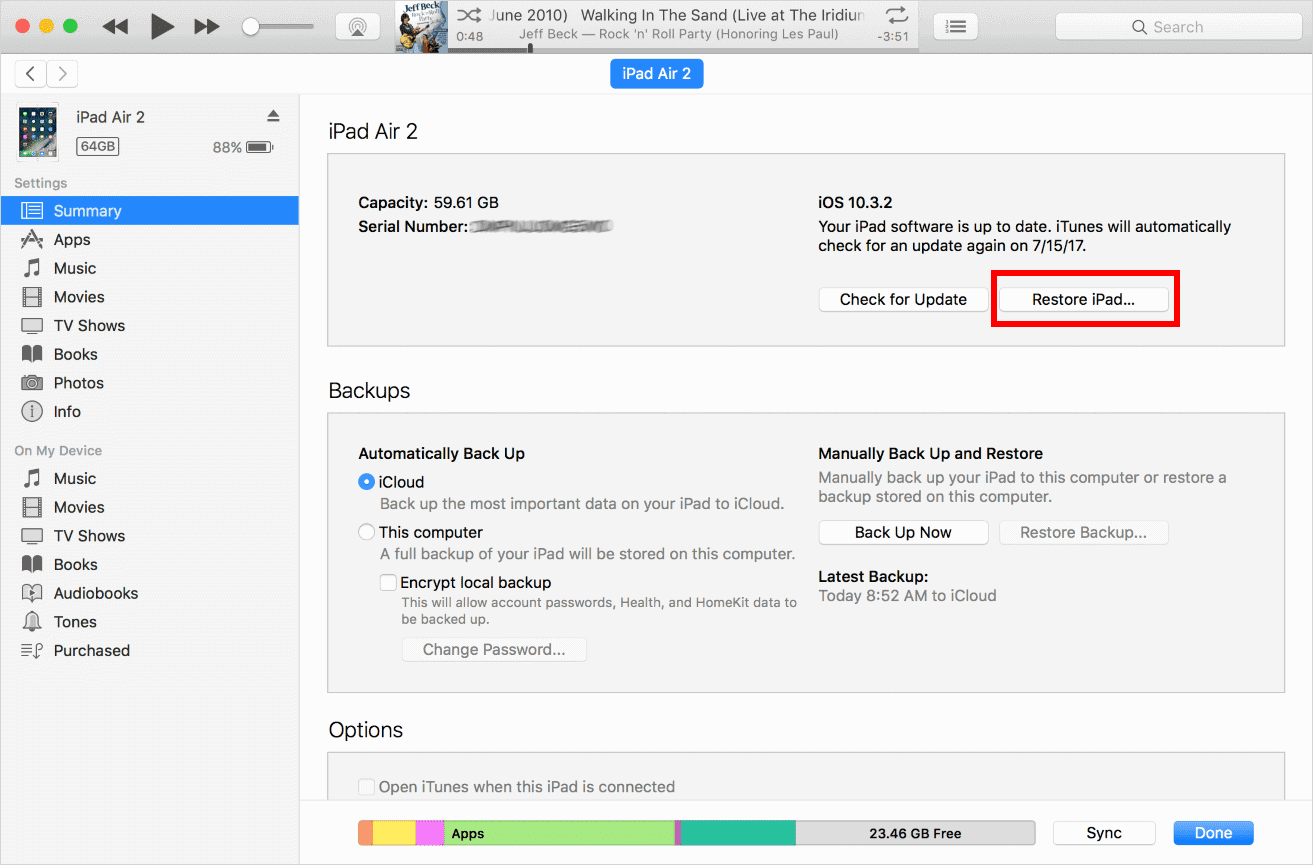 Note
The iTunes you used should be the one you used to sync iPad before. Besides, if your iPad is running in iOS 11.4 or later, the "USB Accessories" in "Settings > Touch ID; Passcode" should be enabled. This setting is disabled by default.
3

Unlock iPad through iCloud
Another option that you can consider is using iCloud to remove and unlock your iPad passcode. This way is available only when "Find My iPad" is enabled on your locked iPad.
Go to the iCloud page on computer and sign into your Apple account.
From the iCloud menu, click on "Find iPhone".
Once the "Find My iPhone" web app has loaded, click on "All Devices" and select your iPad from the list of connected devices.
From the menu at the top-right, click on "Erase iPhone".
Type your iCloud passcode and the device will be remotely erased and afterward.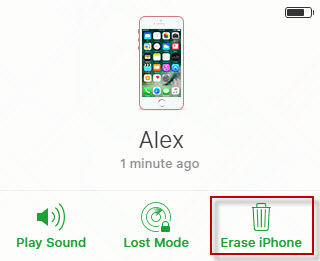 Tips
This way will take effect when your iPad has connection to internet.
4

Restore Locked iPad with Recovery Mode
If you never synced your iPad with iTunes, or if "Find My iPad" is off, then try this way.
1. Connect your iPad to your computer and open iTunes.
2. While connecting, force restart your iPad:
From iPhone X to iPhone 12: Press and quickly release the Volume Up button. Then press and quickly release the Volume Down button. Then hold the Side button until you see the recovery-mode screen.
For iPhone 7 (7 Plus): Hold the Side and Volume Down buttons together until you see the recovery-mode screen.
For iPhone 6s and earlier: iPad or iPod touch, hold the Home and Sleep/Wake button together until you see the recovery-mode screen.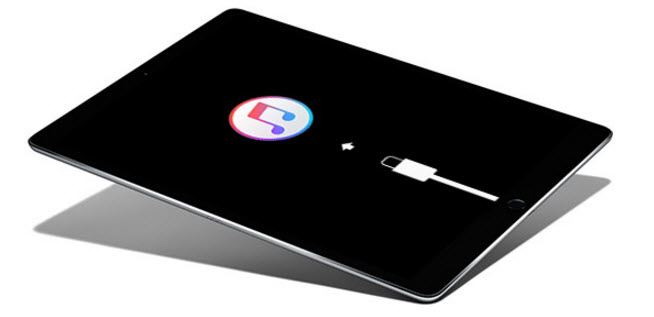 3. On the computer, you will see a window pop up, click "Restore".
4. iTunes will download the latest iOS to your iPad. If it takes more than 15 minutes, your iPad will exist in recovery mode. Then you need to repeat steps 2 and 3.
5

Unlock iPad via Siri without Restore
Use Siri to unlock the iPad passcode is not an official way to fix disabled iPhone issues. This method is essentially a loophole in the iPhone system and has not been frequently used by users. In the future, it may also be disabled. If you still want to try this method to fix your iPhone issues, get reading to see how it work!
Follow the steps below to unlock iPhone via Siri:
Step 1. Activate Siri on your iOS device first and ask Siri some questions that can open the iOS clock.

Step 2. Click the clock icon, and open the "World Clock" interface on your device, then tap on the "+" icon.

Step 3. Type something in the search bar, and choose "Select All," then tap on the "Share" button.

Step 4. Click "Message" >"To",type something and then click "+". In this way, you can move to a new contact.

Step 5. Tap on the "Create New Contact" option, and then click the "Add Photo" > "Choose Photo" option.

Step 6. Keep waiting, and you will see "Photo" launched, and then you can visit any album you want. Once the album opens, press the home button, you can access any feature on your iPad freely.

How to Back Up Locked iPad in iTunes?

Steps to Back Up Locked iPad in iTunes:

Launch iTunes on computer and connect your iPad with a lightning cable.
After iTunes has detected your iPad, click on the device icon at the top left corner.
Click "Back Up Now" in the right panel.

Of course, this method won't fix the problem that you're having but rather it will preserve your personal data.

Note

You should use the iTunes that your iPad synced with before. Or you can't back up your locked iPad without a password.

---

The Bottom Line

After reading this guide, you must have known how to disable the passcode on an iPad, how to unlock any iPhone lock, and more. If you're search "forgot iPad passcode without restore", iMyFone LockWiper is your perfect answer for how to unlock iPad passcode without restore.