One of the most common questions iOS users come up with is: does iCloud backup text messages? Stick to reading to find out the answers to this and many other questions pertaining to this topic.

Let's cut to the chase.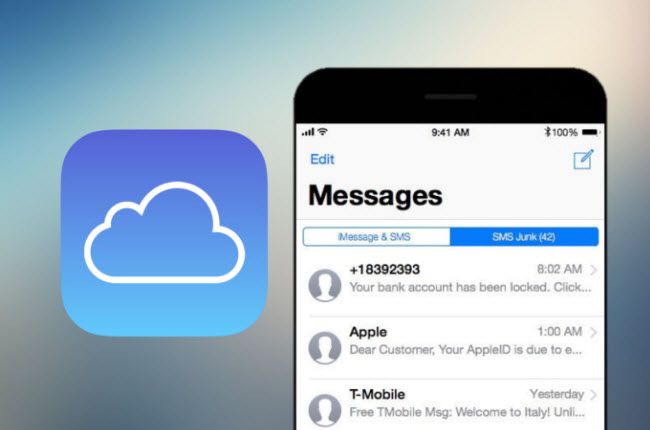 1

Does iCloud Backup Text Messages?
The answer is Yes. iCloud allows users to back all the text messages if they have enough iCloud space. Once backed up, you can easily sync them to any iOS device using the same iCloud ID. Note that text messages don't occupy much space as long as they don't have attachments.

This feature comes in handy when you lost text messages due to any reason or you want to transfer them to a new iOS device. 
2

Does iCloud Automatically Backup Texts?
No, iCloud doesn't back up your text messages by default, rather you have to enable Messages in iCloud manually for every iOS device.

Many people choose to backup text messages, along with the accompanying photos and other attachments, to free up space in their devices. Remember, iCloud offers only 5GB of free space. So, if you receive a notification for lack of iCloud storage space, you'd have to BUY extra space from Apple to complete the backup process.
3

What Does iCloud Back Up?
Apart from text messages, iCloud can also back up iMessage and SMS/MMS conversations. Here's what users can back up on iCloud:
Text Messages, iMessages, MMS/SMS conversations
App data
Photos and videos in your iPhone's gallery
All ringtones
Purchase history from App Store, iTunes Store, and so on
Music
Data in iCloud drive
Device and device settings
Voice Memos
Bookmarks
Health Data 
You can turn the toggle on in front of the app/service you want to backup.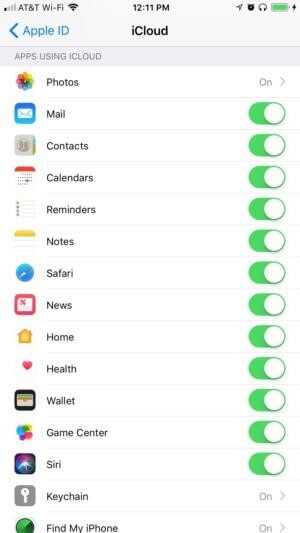 If you need certain types of data in iCloud backup - iCloud backup doesn't support partially and selectively restore. And you will lose all the existing data on the device after you restore the whole backup. There is a powerful tool - iMyFone iTransor (iOS 14/13 Supported) that allows you to restore only contacts, messages, WhatsApp and WeChat from your iCloud backup instead of restoring the whole backup. If you don't want to restore all data in your iCloud backup, you can try this tool.
4

How Does iCloud Backup Work?
iCloud is probably the most ingenious feature of iOS devices that connects iOS and macOS. Basically, when you back up an app, media file, or service, iCloud makes a copy of the information on your iOS device that can be synced with all the devices linked to that specific Apple ID. 

That is, you can set up a new device and restore the information stored on iCloud with just a few taps. Additionally, you can access information stored on iCloud from any iOS device using the same Apple ID.
5

How to Back Up Text Messages on an iPhone
Below is a step-by-step guide on how you can back up text messages on your iPhone using various simple methods. Let's read them up.
1. Back Up Text Messages with iCloud
The easiest way to back all your text message on iPhone is via iCloud. Here's how you do that:

Step 1. From your phone's Home screen, navigate to Settings > tap Your Name > iCloud. Step 2. Now, turn the slider on in front of Messages. If it turns Green, the feature is enabled. iCloud will now back up your messages.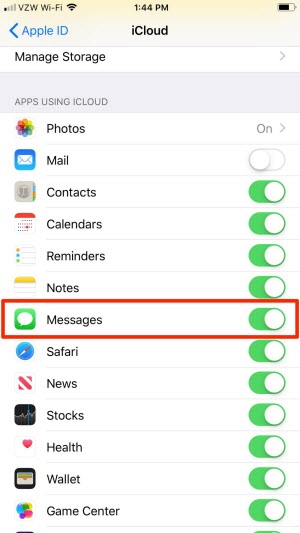 An iCloud backup mostly takes a while the first time – especially if your internet speed is less. But subsequent backups take less time as the system automatically stores only the messages that have been modified.
2. Use iTunes to Back Up Text Messages
Another official way to back up text messages is via iTunes. This method makes a copy of text messages on your computer. The best thing about this method is you make a backup only when you have to and you no longer have to worry about extra storage – as your PC must have significantly more storage than free iCloud storage.
Check out yourself how to back up text messages using iTunes:
Step 1. Launch the latest iTunes version on your PC and connect your iPhone to it.
Step 2. When it detects your iOS device, hit on iPhone icon at the top window.
Step 3. Finally, click on Back Up Now and all your messages will be stored on your computer.

3. Back Up Text Messages/iMessages by Mac
For Mac users, storing messages in iCloud is as simple as it can get. What's best is they don't have to install any app like in the case of iTunes and you won't lose any data if your iPhone is damaged or lost. 
Follow the below steps to back up text/iMessage on Mac:
Step 1. On your Mac, head to the Messages app and hit on Messages at the top bar.
Step 2. Now, click on Preferences and select the check box next to Enable Messages in iCloud.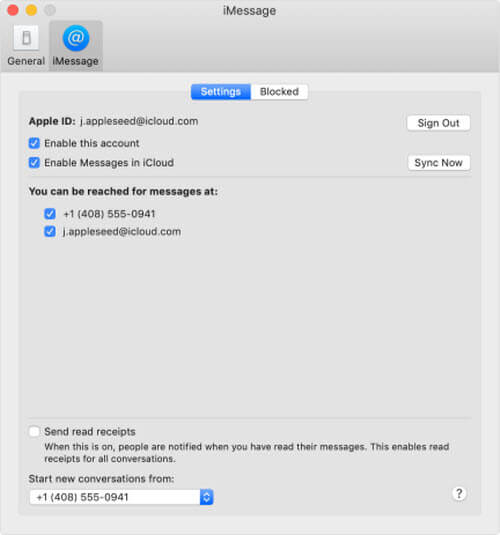 Step 3. After that, go to your iPhone's Settings, scroll down to Messages, and tap on it. Step 4. Here, tap the Test Message Forwarding option and select Mac to start sending the messages to your Mac.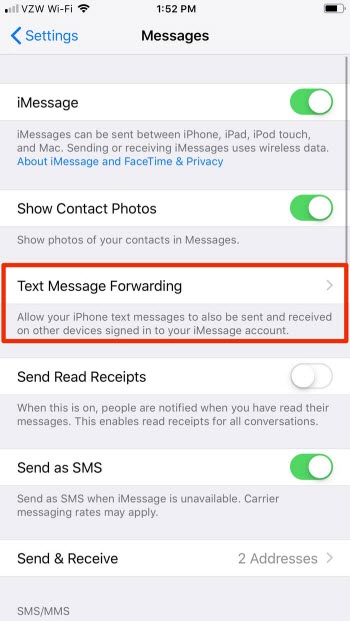 4. Take Screenshots to Back Up iMessages
This method entails taking screenshots of your iMessage conversations to have a copy that you can save. Note that this method isn't effective – and certainly not the first choice – as you have to take screenshots of every conversation separately and if any conversation is lengthy, brace yourself for many screenshots.
5. Summary
While all four methods are effective and have their own sets of pros and cons, but it's simple and easier to back up messages via iCloud on your iPhone. For one, it occurs automatically and you can also easily restore a new iPhone while setting it up.
6

How Do I Retrieve/View Text Messages from iCloud?
Let us discuss how users can view their text messages on iCloud.
1. Find Text Messages by The Official Way
Unfortunately, you can view text messages only on Mac. So, if you're using a Windows PC, you have no option but to rely on a third-party software to view messages in iCloud.
To view iCloud messages on Mac:
Open the Message app and go to Preferences.
Select your account and enable the Messages in iCloud option.
You'll be able to view the iCloud messages.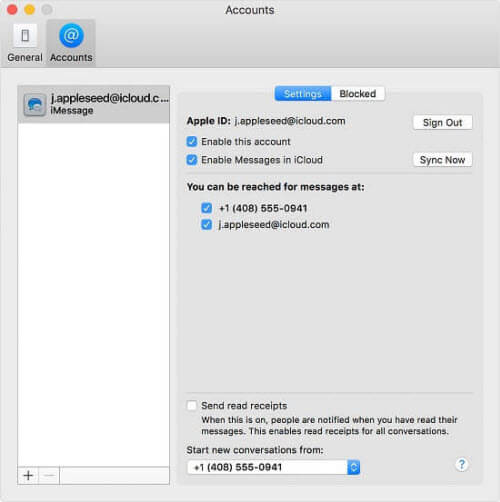 2. View All iMessages by A Smart Tool
The best option to view all iMessages on iCloud is by using a professional third—party software like iMyFone D-Back.Being a top-ranked iOS recovery tool, D-Back makes it exceptionally easy, even for newbies, to view or retrieve messages from iCloud with just a few taps.
Here is a video for you to learn how to retrieve text messages in iCloud without any hassles.
Here's how you do it:
Step 1. Once downloaded, launch iMyFone D-Back and hit on the Recover from iCloud mode from the left tab.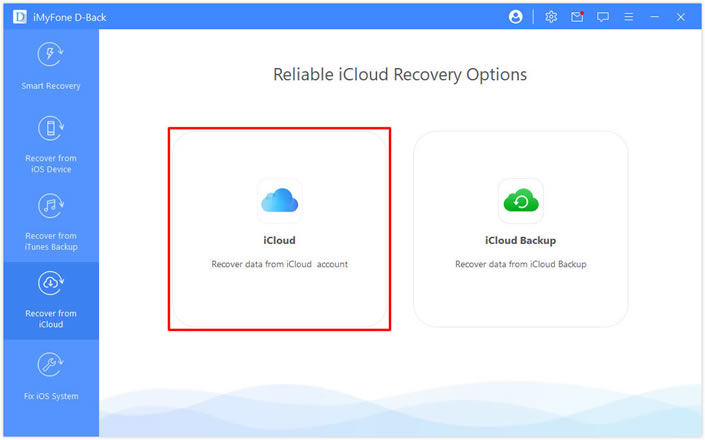 Step 2. Log in to your Apple account and hit Next.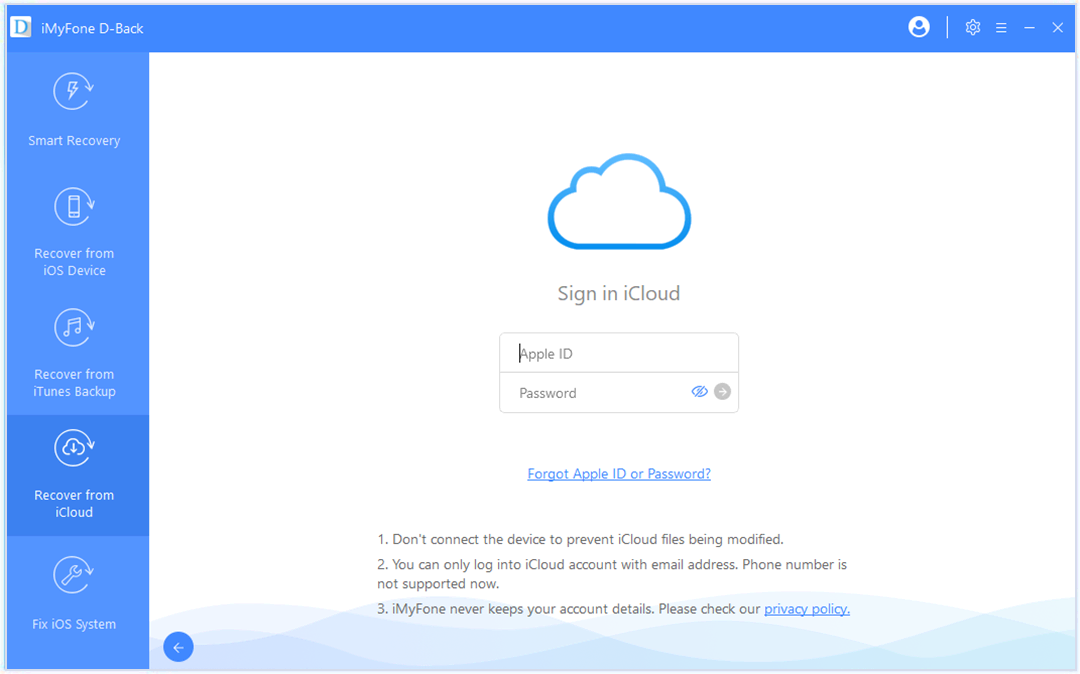 Step 3. On the next interface, check Messages and hit Scan.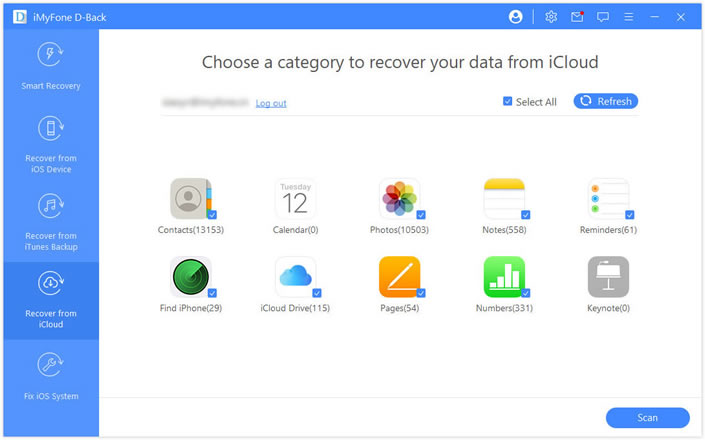 Step 4. Within a few seconds, the program will display all the messages stored on iCloud. Select the files you need and hit Recover. Wait until D-back recovers and saves the messages on your computer.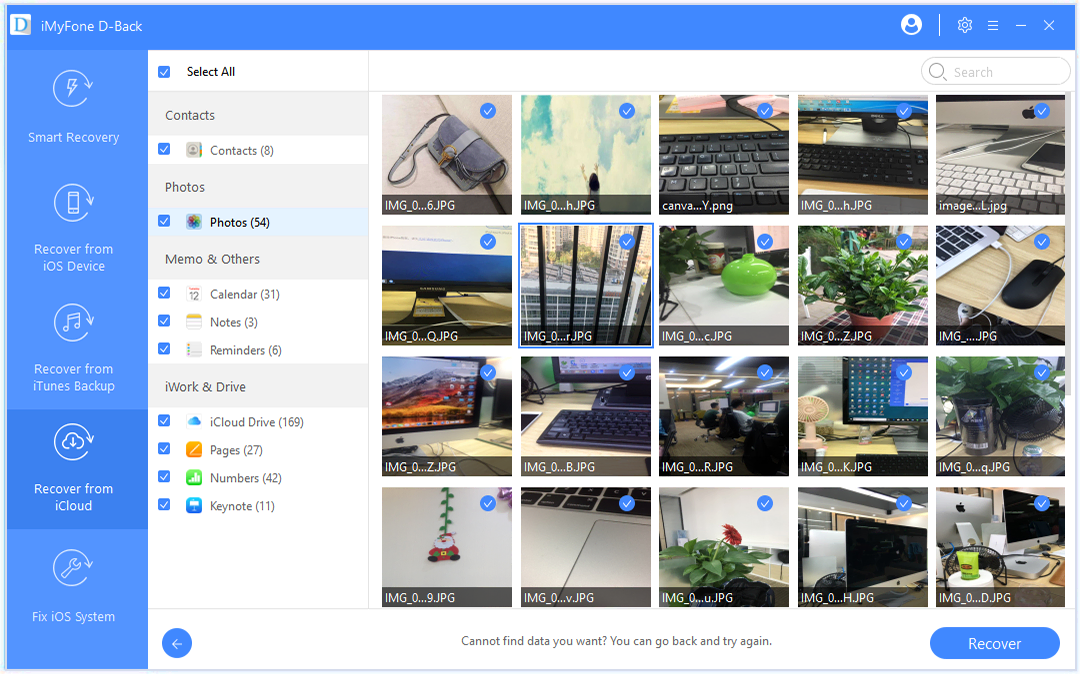 7

Are Deleted Text Messages Saved on iCloud?
The answer is a big NO. If you have enabled the Messages in iCloud, the system will automatically update the backup data. So, when you delete messages from your iOS device, iCloud removes those messages from every device synced with that Apple account.
Simply put, iCloud works by keeping all your data up-to-date. When you delete a message, conversation, or attachment, iCloud deletes it as well.
8

How to Restoring Deleted/Old Text Messages from an iCloud Backup
Unfortunately, there's no official way to restore specific messages from an iCloud backup. So, if you want to recover the lost messages, you have to restore the entire iCloud backup on your device - or any other iOS device. 
Method 1
Now, if you have an iTunes backup:
Launch iTunes and connect your iPhone to it.
Click on the iPhone icon and then, hit on Back Up Now.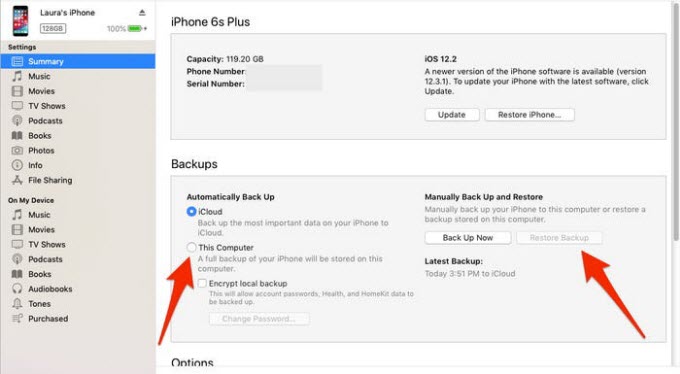 Method 2
If you have backed up your messages on your iPhone, then you have no option but to erase your iPhone and set it up from scratch. During the setup process, choose the "Restore from iCloud Backup" option and select a backup file as shown in the figure.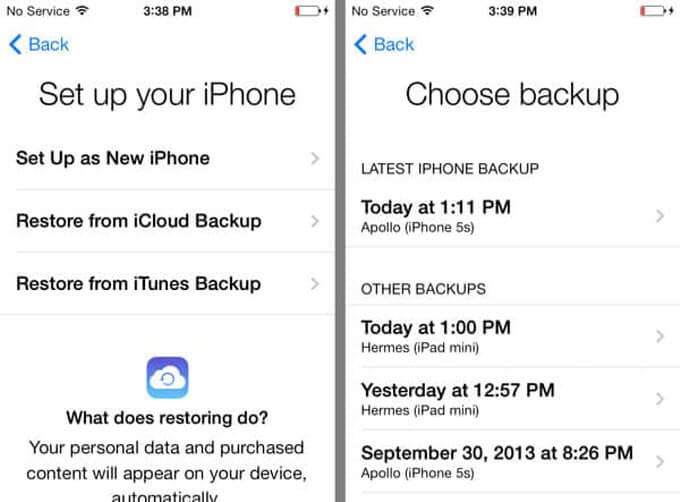 Note that you can easily recover all the deleted text messages easily and quickly using iMyFone D-Back. It gives an added benefit that you don't have to reset your iPhone to retrieve the lost messages.
9

How Do I Export My iMessage Chat History?
Apple allows users to export iMessage chat history on both Mac and PC in several formats, including PDF, Excel, or simple text. 
If you're using Mac, then:
Launch the Messages app and sign in.
Select the chat conversations you want to export.
Go to File > Export > Save to export it in PDF.
Here's how you do it without using any third-party software on Windows PC:
Step 1. Make an iTunes backup of your messages and locate the iTunes backup folder.
Step 2. Locate the message database which is stored in "~/Library/Messages/" under "chat.db." You can export it in CSV format using the free SQLite database viewer.
10

What Happens If I Disable Messages in iCloud?
Once you disable Messages in iCloud, your message history is transferred to a separate iCloud backup. From that point on, iCloud doesn't back up your new messages. Users turn off the iCloud Message feature when don't have to keep their conversation up-to-date across their iOS devices.
That is, your previous messages will be saved as such on iCloud which you can retrieve anytime you want.
Conclusion
To sum it all, this article has answered all your questions pertaining to "Does iCloud backup text messages?" It summarized discussed how users can backup text messages on iCloud using various methods as well as how can you retrieve or view the messages stored in iCloud. 
Additionally, we also walked you through a detailed guide on how to retrieve the deleted messages from an iCloud backup. And we sincerely recommend you to use
iMyFone D-Back
 to quickly recover/view text messages in iCloud.