"I recently updated my iPhone and while the update went well, immediately after, I realize that I had somehow lost all my contacts. I am using the iPhone 6. How can I get my contacts back?"
"iPhone 6S running 11.2.2. I can see the contacts from one account (oddly, Microsoft) but not the iCloud and Google ones. If I had called people recently it will show up in the call history as if the contact is there but if I look for the same person in contacts itself they just don't show up."
Just so you know that you are not alone, there are a lot of users who have reported losing contacts after iPhone updates. The above are just some of their complaints. Yet we can understand how frustrating it might be for you to suddenly find that there are no contacts on your device. But before you lose yourself in panic, there are several solutions you can try to help you get your contacts back. This article will share these solutions with you in detail.
5 Ways to Get Back the Lost Contacts after iOS 16 Update
These heartfelt and frustrated complaints show how common this problem can be. The good news is we have found some solutions that may work for you. They include the following;
Option #1. Re-Sync the iCloud Contacts
If you have enabled contacts in iCloud, the contacts are saved in iCloud. You can go to icloud.com and check whether your contacts are still there on iCloud. If the contacts are shown there, follow the steps below to re-sync and restore the contacts back on the device.
Go to Settings > iCloud > Contacts on your iPhone and turn the contacts off first. A window pops up indicating what you would like to do with the previously synced iCloud contacts on your iPhone. Choose "Delete from My iPhone".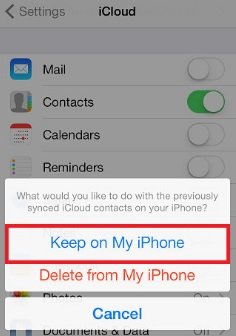 Then re-turn on the contacts. All your contacts stored in iCloud will re-sync to your iPhone.
Option #2. Make Sure You Have Checked All Groups in Contacts App
You also need to make sure that the groups which stores your contacts are checked in the Contacts app. If they are, it may not be easy to see the contacts on the iPhone. Here's how to do it;
Step 1: Launch the contacts app on your device and then tap on "Groups".
Step 2: Tap on "All iCloud" or other groups that you store your contacts. If it is unchecked, check it. Then tap "Done" in the upper right hand corner.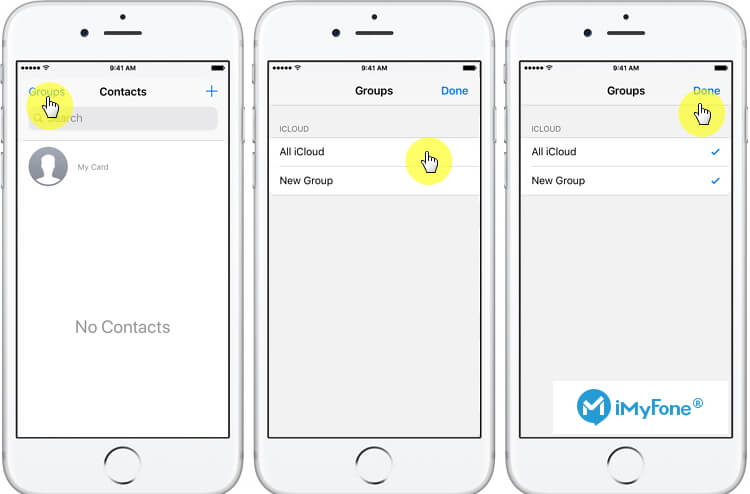 Option #3. Import Contacts from SIM
If you have a record of the missing contacts on your SIM card, you may want to import them from the SIM to the device.
You can do that by going to Settings > Contacts > Import SIM Contacts.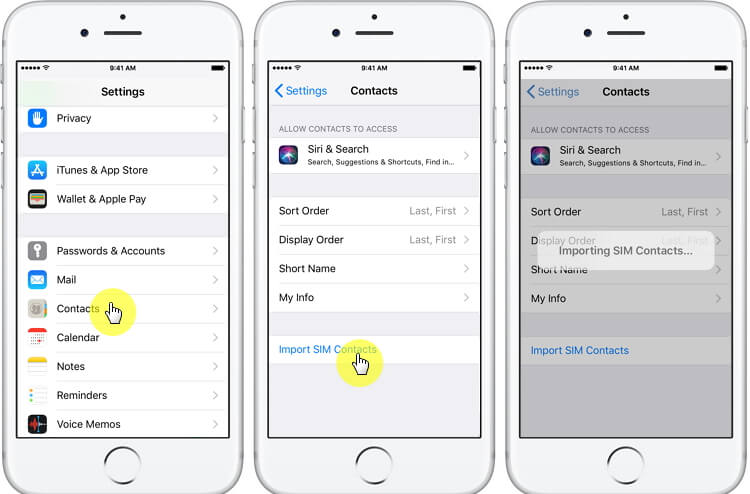 Option #4. Use A Third-Party Tool to Selectively Recover iPhone Contacts Lost after Update
If the upper solutions don't work for you, you can try a professional third-party iPhone data recovery software - iMyFone D-Back to selectively recover the lost contacts from your iPhone. It will deeply scan your iPhone to find out the deleted contacts. It also allows you to gain access to the iTunes or iCloud backups and preview the contacts you need before restoring them to the device.
Key Features:
Recover lost iPhone contacts from iPhone directly without backup or from iTunes/iCloud backups.
Support 22+ types of data from iOS devices. You can recover deleted photos from iPhone, retrieve deleted messages on iPhone and so on.
Support recovery for almost all iOS devices, including recovering data from iPhone 11, iPhone 11 Pro (Max), iPhone XS (Max, iPhone XR, iPhone 8, iPhone X, iPad, and iPod touch.
Four modes that can be used as per user's proficiency - Smart Recovery, Recover from iOS Device, Recover from iTunes Backup. Recover from iCloud Backup.
iMyFone D-Back is fully compatible with the latest iPhone models and iOS version including iOS 16/15/14/13.
To know how to recover lost contacts from iPhone after the update, you can refer to D-Back Data Recovery guide.
Option #5. Official Ways to Restore iPhone Contacts after Update
1. Restore Lost Contacts on iPhone after Update from iTunes Backup
If your latest iTunes backup includes the lost contacts, you can retrieve them back by restoring your iPhone from iTunes backup.
Step 1. Connect your iPhone to the computer that you've backed your data via iTunes with. Launch the iTunes app on the computer.
Step 2. Click the iPhone icon, access the Summary page under the settings menu.
Step 3. Hit Restore Backup button, then choose the latest backup that contains your lost contacts, click on Restore.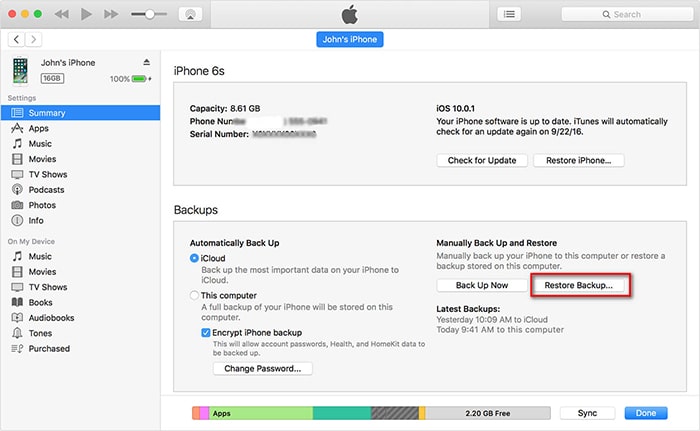 Once the process is done, you'll get your lost contacts back.
2. Restore Lost Contacts after iPhone Update from iCloud Backup
If you have backed up your contacts before the update, you can get lost contacts back by restoring your iPhone with iCloud backup.
Step 1. Go to iPhone Settings > General > Reset.
Step 2. Click Erase All Content and Settings. When your iPhone was erased, it will go back to the Set Up screen.
Step 3. Choose Restore from iCloud Backup from the various options.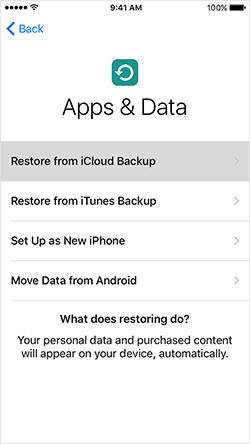 Step 4. Choose the relevant backup that contains your lost contacts, then click on Restore.
Wait for the process to complete, your lost contacts will be restored back to your phone.
Note
The official ways don't allow you to preview data before restoring, and it can not restore contacts only.
Conclusion
After reading the guide, you now know the reasons that you lost iPhone data and quick solutions to solve the problem, as well as ways to recover lost contacts from iPhone after updating. With D-Back iPhone Data Recovery, you can not only recover lost contacts, but also retrieve messages, photos, notes, safari history, and more. Do not hesitate to get the free trial.
Frequently Asked Questions
Q1. Why did I lose my contacts after an update?
Often times when you lose contacts on your device after an update, it is likely because of the update itself. Sometimes iOS updates can be buggy and cause a whole host of problems on the device including data loss. This is why Apple recommends that you create a full backup of the device before updating it and will also sometimes release updates to fix the pre-released ones.
Q2. Why don't my contacts show up on my iPhone?
There are different reasons for this issue. Incorret password, settings, or cloud screen names, all of these can be the reason. Go to the Settings > Mail, Contacts, and Calendars, choose iCloud account. Besides, check whether the Contacts option is turned on.
Q3. Why did my contacts app disappear?
It sometimes happens after an update. To get your contacts app back, just reboot your iPhone. If the app is still missing, locate the missing app using the Spotlight and check whether the app is uninstalled.