Have you ever encountered such a situation - You remember clearly that you DID NOT manually delete any notes on your iPhone, but some (or all) notes just disappeared without a trace. This bizarre thing often confuse us and it's really annoying especially when we need to use some notes which record important data but cannot find them at all. Before you go mad though, relax and calm down. Everything happens for a reason and something must have gone wrong so your notes disappear.
In this article, firstly we'll help you figure out why all my iPhone notes lost and then provide 5 methods to find where did my notes go on iPhone. Read on and check them out!
Why my iPhone notes disappeared after update? Don't worry, iMyFone D-Back iPhone data recovery software can help you get the disappeared iPhone notes back, it can preview all the deleted data before final recovery, You need recover it with a computer, Download iMyFone D-Back free now.
Watch this video to learn how to find lost notes on iPhone
Part 1. Possible Reasons Why All My iPhone Notes Disappeared After Update
1. iOS 16 Update Errors
Unsuccessful iOS update, i.e. the process is interrupted or unfinished and some other system update errors may cause some data to be deleted, which includes iPhone notes, Gmail notes, photos and messages.
2. Accidental Deletion
When you multi-select and delete a large number of notes, there are chances that some useful notes of yours get deleted accidentally. In a situation like this, check solution 1 below.
3. Email Setting Errors for Gmail Notes Disappeared
Maybe you have synced your notes with Gmail accounts at first but unknowingly turned it off afterwards, therefore the Gmail notes disappear on iPhone.
In addition, if you recently deleted an Gmail email address or change the Gmail email password but didn't update it on iPhone settings, you may also find some Gmail notes missing.
To tackle problems related to Gmail, you can check solution 2 in the latter part.
4. Minor iPhone issues
Minor issues with your iPhone may also result in the disappearance of notes. You can simply restart iPhone to fix it and check if the notes are back afterwards.
Of course, there are more reasons why iPhone notes app disappeared which we cannot fully detect. But don't worry, in the next section, 5 effective solutions are introduced. Just have a try and get your problem fixed!
Part 2. 5 Find Where did My Notes Go on iPhone After Update(iOS 16 Supported)
Solution 1. Find Disappeared iPhone Notes from Recently Deleted Folder
Where did my notes go on iPhone? For iOS 11 and above (iOS 16 included), there is a folder named "Recently Deleted" in the Note app. You can try to find disappeared notes first from this folder. Just follow the steps below:
Step 1. Open Notes app and find Recently Deleted folder.
Step 2. Tap Edit on the top righter corner and select the notes you want to recover.
Step 3. Tap Move option, then select a folder on your iPhone as the destination of this move.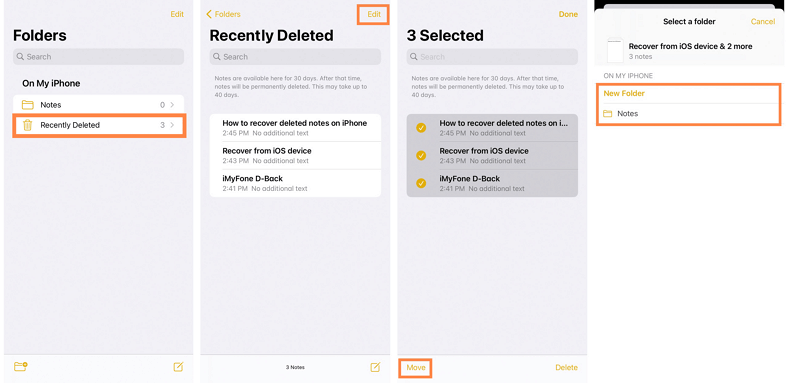 Note
If there is no Recently Deleted folder on iPhone, then it's probably because there are no notes in the folder, i.e. you haven't deleted any notes or the notes in the folder are permanently deleted. Besides, maybe you are not using the upgraded version of Notes app. Lastly, if you are only a participant of a shared note, deleting it will only remove it from your list, but not from the owner's or other participants', and the deleted note will not be moved to Recently Deleted folder.
When you delete a note from the folder which is synced with your email account, then it cannot be found in the Recently Deleted folder.
Your deleted notes will be kept in Recently Deleted folder for only 30 days. After that time, they be permanently removed. Therefore you can't retrieve notes deleted more than 30 days ago using this method. In this case, you can opt for iMyFone D-Back as the instructions in solution 3.
Solution 2. Check Your Email Settings
As we have mentioned before, sometimes notes disappear due to some errors with the email settings. We can start with checking the account settings.
Step 1. Go to Settings > Mail.
Step 2. Here, tap on every email account and make sure that Notes is turned on for each. If you had removed an email account from your iPhone recently or change the email password,set up the account again and turn on Notes afterwards.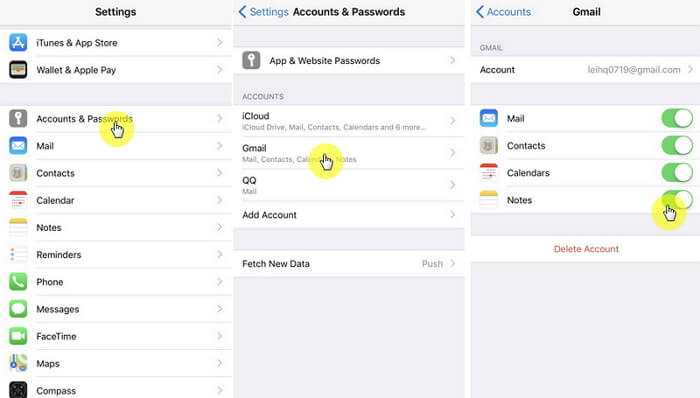 Step 3. Now go back to the Notes app to see if the disappeared notes are back.
Sometimes when you're lucky enough, you delete a note from the Notes app but it hasn't synced with your email provider, then the deleted note will still exist in your email provider's own app. If the deletion has been synced between the two sides,you can still find the deleted note in the email app's trash can, where you can get it back as well. Gmail, for example, stores everything in the trash for 30 days.
Solution 3. Retrieve Disappeared iPhone Notes After Update without Backup
If neither of the two methods works, and you're eager for a quick fix, then iMyFone D-Back iPhone Data Recovery is definitely something you cannot miss. This perfect tool is capable of retrieving disappeared iPhone notes directly from your iPhone in a fast while effective way.
Main Features of D-Back
Recover disappeared notes in the easiest way. Nobackup is required.
Since this tool recovers notes directly from your iPhone without restoring, none of your current data will be affected and no data loss will occur.
Allows users to preview the notes before deciding what to recover.
Supports to selectively recover only the data you exactly need.
Apart from notes, D-Back can also recover other types of data such as contacts, videos, and text messages.
Fully compatible with nearly all iOS devices including iPhone 12 and all iOS versions including iOS 16.
Before starting, download and install the software on your Windows or Mac computer.
Step 1.Launch the program and choose the mode "Recover from iOS device".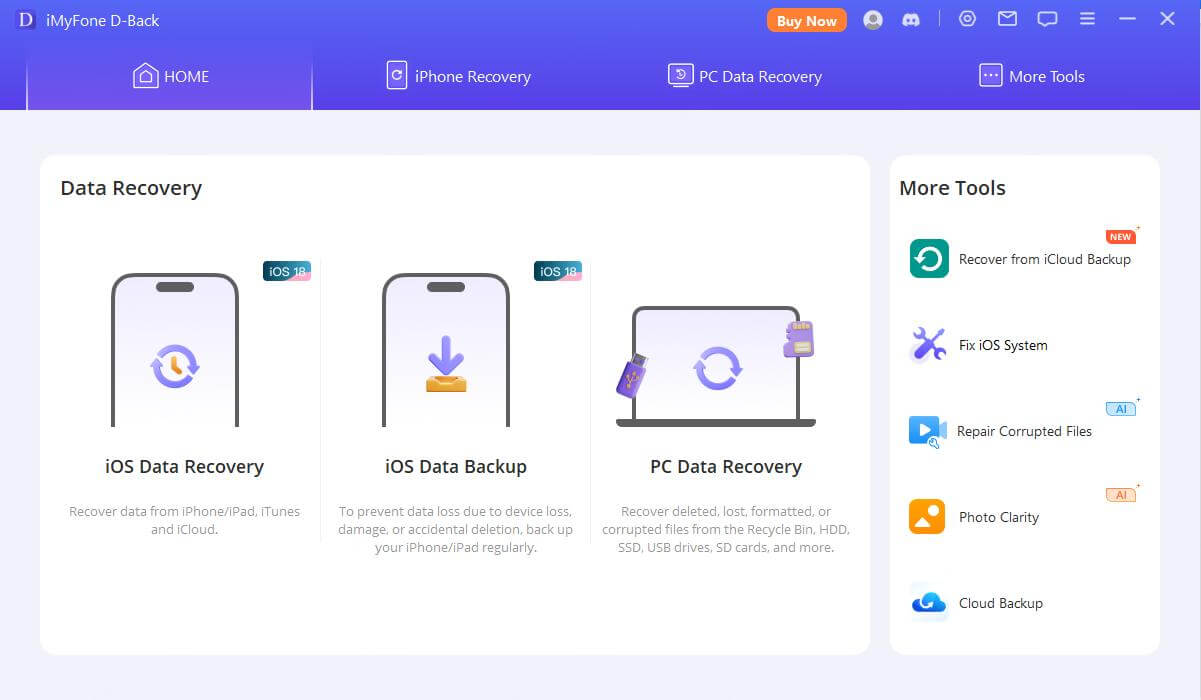 Step 2.Connect your device with your computer and wait for the program to detect it. Then click the "Next" button.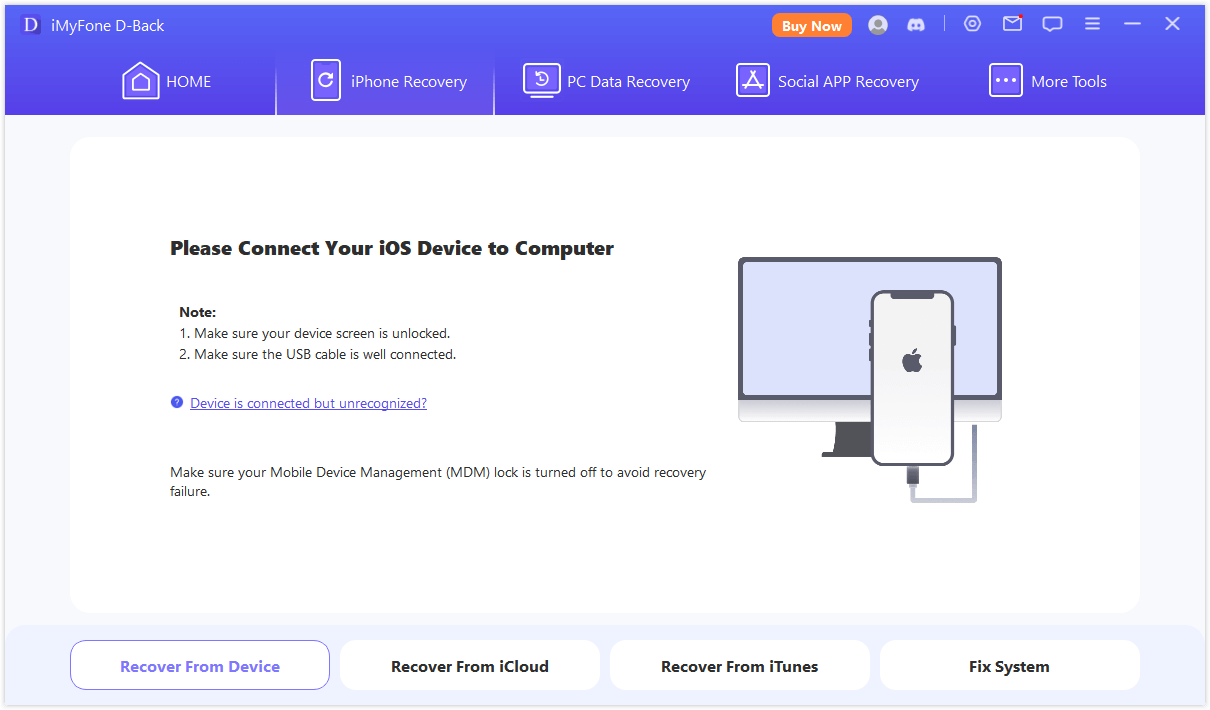 Step 3.Choose the data type you want to recover. Here we choose "Notes". Next click the "Scan"
button.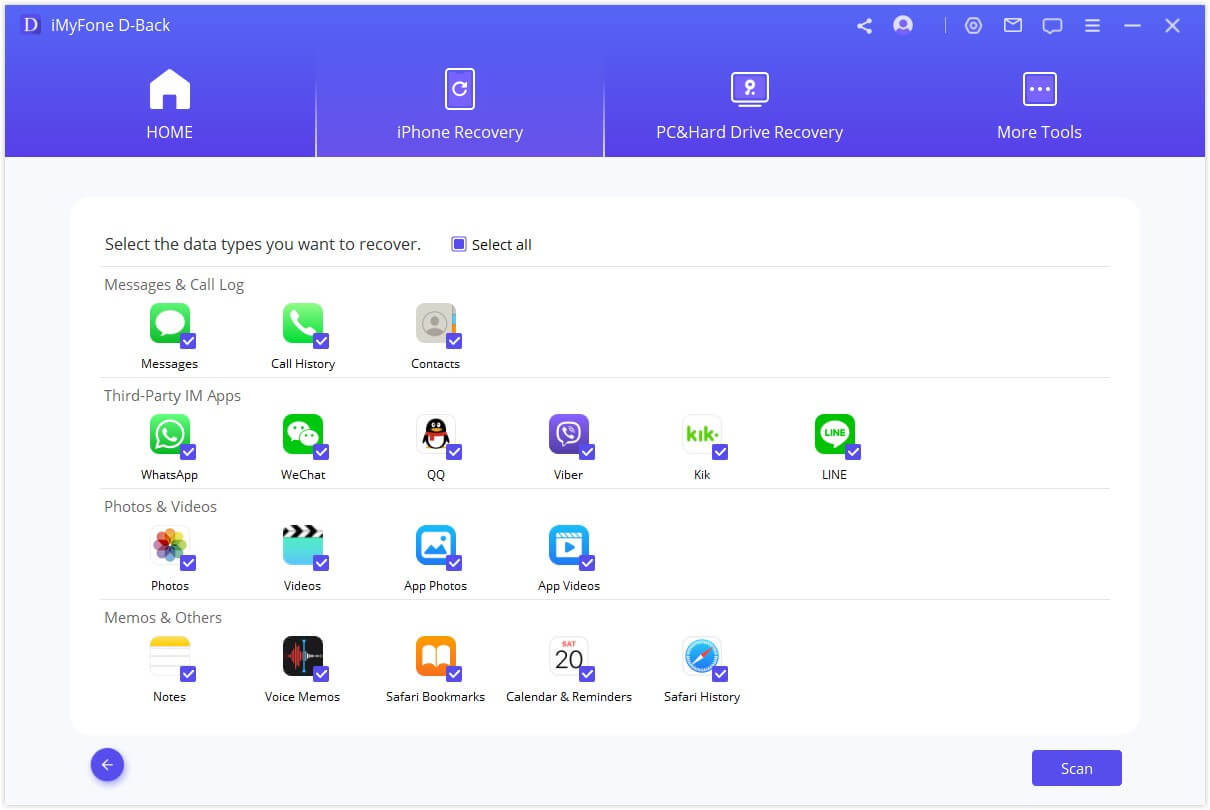 Then the program will start to scan your device for all the recoverable notes.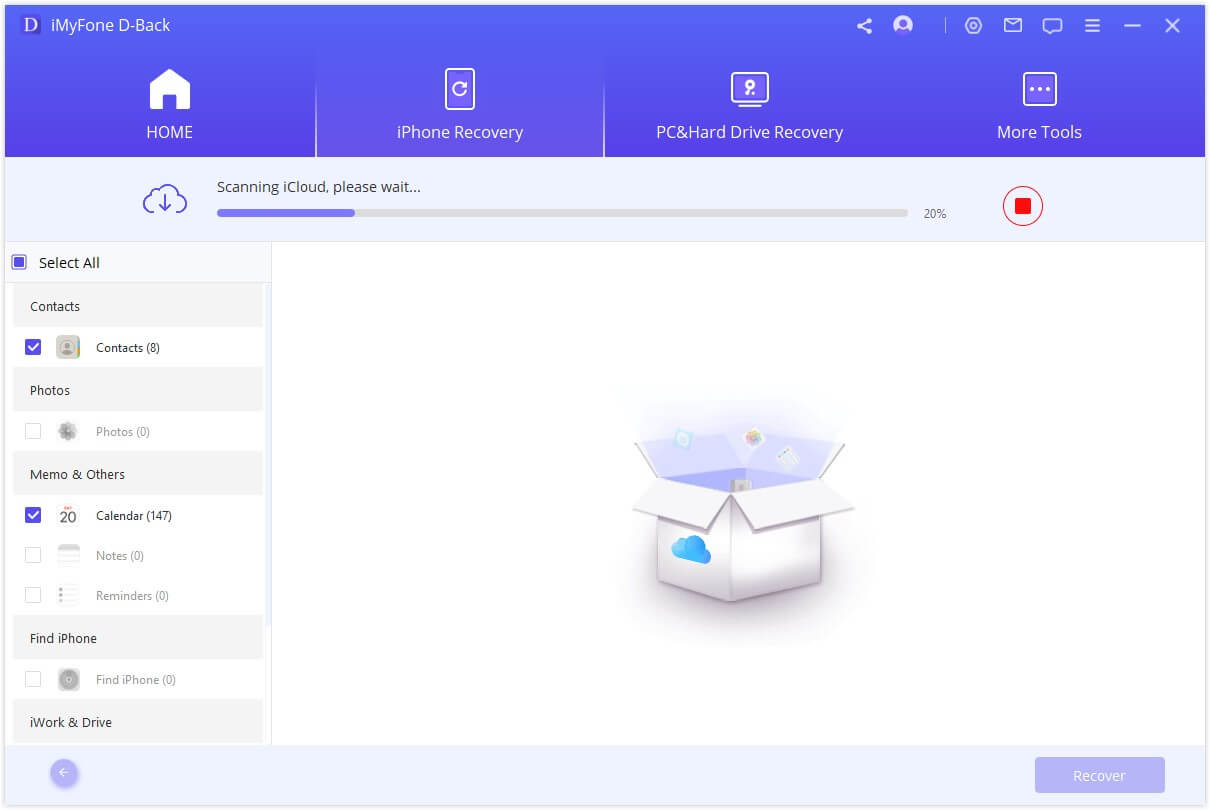 Step 4.Preview the notes on the results page and select what you want to recover. After that, click "Recover" and choose a location to save the recovered notes.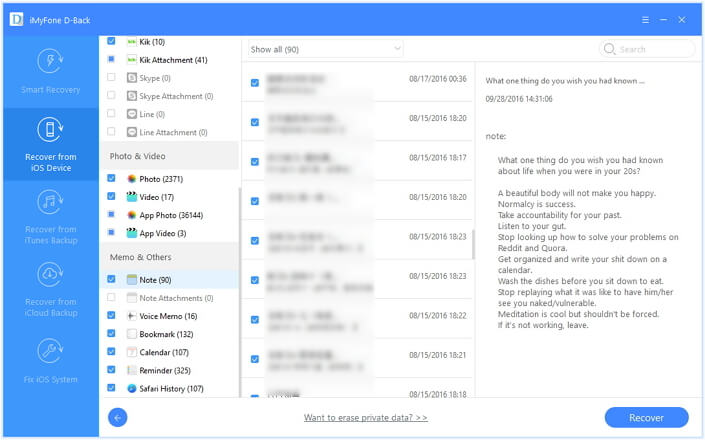 Tips
iMyFone D-Back provides free trial for everyone. You can download and install it to scan your iPhone and see if the scanned recoverable notes include the ones you need. If so, you can then proceed to pay and get your desired notes back. Don't hesitate to give it a try!
Here is a video guide for using D-Back to retrieve disappeared iPhone notes. Check it to get more information.
Solution 4. Find Lost iPhone Notes from iTunes Backup
If you have regularly backed up your iPhone notes to your iTunes, then there is always a very easy way to recover those disappeared notes from iTunes. Just follow the instructions carefully.
Step 1. Open your iTunes and click the iPhone icon.
Step 2. Select the iTunes backup file that contains the deleted Notes and click "Restore Backup".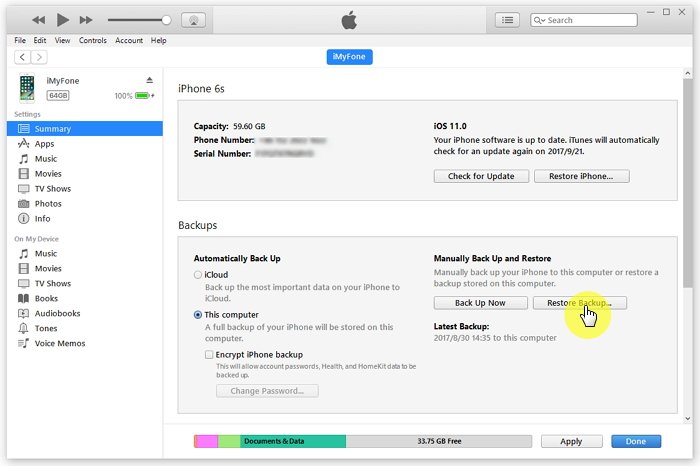 Note
First of all, this method is not applicable for the recovery without a previous backup, undoubtedly.
Besides, all the current media files not included in the backup will be overwritten when you restore the backup and probably get lost permanently.
Solution 5. Find Disappeared iPhone Notes via iCloud Backup
iCloud automatically backs up your iPhone when it's connected to power and Wi-Fi each day - as long as you have already toggled ON of iCloud backup option from the iCloud settings. Therefore you can also choose to recover disappeared notes from iCloud backup. But first make sure you have made a recent backup to restore from. Go to Settings > iCloud > Storage > Manage Storage, check the date and size of your iPhone's latest backup. If that backup contains the lost notes, then you can begin to recover them with the help of it.
Step 1. Head to Settings > General > Reset and choose Erase All Content and Settings.
Step 2. After the resetting process, turn on your device and follow the instructions to set it up. From the Apps & Data screen, choose Restore from iCloud Backup.
Step 3. Choose the iCloud backup file that contains the missing notes.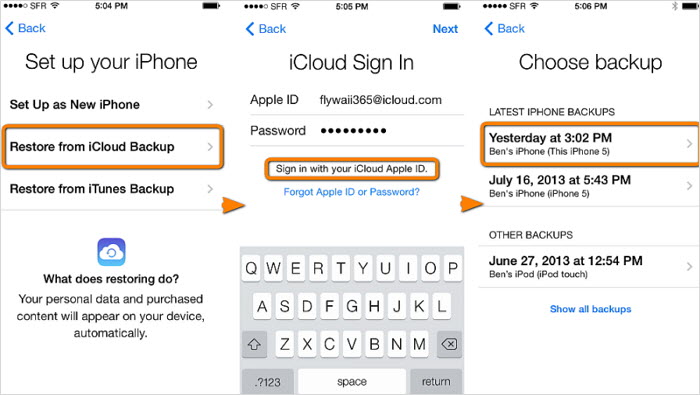 Note
You have to make sure that you've enabled the automatic backup function before.
Like restoring from an iTunes backup file, this method will also overwrite your current data and may result in permanent data loss. Know more about restoring your iOS device from a backup.
You can neither selectively choose notes to restore nor preview them before recovery.
Reviews of the Methods
| | | iTunes | iCloud | Recently Deleted Folder | Email Setting |
| --- | --- | --- | --- | --- | --- |
| Selectively find lost iPhone notes | | | | | |
| Fully recover lost iPhone notes | | | | | |
| Recover without backups | | | | | |
| Recover from iTunes backup | | | | | |
| Recover from iCloud backup | | | | | |
| Recover notes without restoring | | | | | |
| Will not affect current data | | | | | |
| View all iTunes backup content | | | | | |
| View all iCloud backup content | | | | | |
Conclusion
As we can easily see from the comparison table above,iMyFone D-Back is the best choice when it comes to recovering notes disappeared from iPhone after update. It is capable of achieving the same effect as what others methods do, while at the same time remedy the fatal defects brought by them. Therefore, it's highly suggested that you give D-Back a try first to get twice the result with half the effort. Of course, please don't forget to leave your questions or comments below if you have any.