Question
Help! Please! I just looked at my "Notes" app on my iPad running iOS 12, and one of my notes has vanished and I think I deleted it mistakenly. It's about a year's worth of work. How to retrieve deleted notes on iPad? Is there any way I can?
This question I came across on Apple Communities is not rare. Besides, accidentally deleting Notes on the iPad is not uncommon. Notes may contain important information, which is why it can be terribly inconvenient when we lose the notes. Retrieving the missing notes is however not impossible. This article will provide you with four potential solutions even you are using iOS 14/13/12.
1

Recover Recently Deleted Notes on iPad
On the Notes app of your iPhone or iPad, notes will not be gone immediately after you remove them from the list. Rather, they will be saved in the device for another 30 days before they are deleted permanently. And before that, we can get the deleted notes back directly from the device as long as they are in the 30-day period. Here is how to recover recently deleted notes on iPad:
Step 1. Open the Notes app on your iPad, and go to the folder screen by tapping on the Back arrow.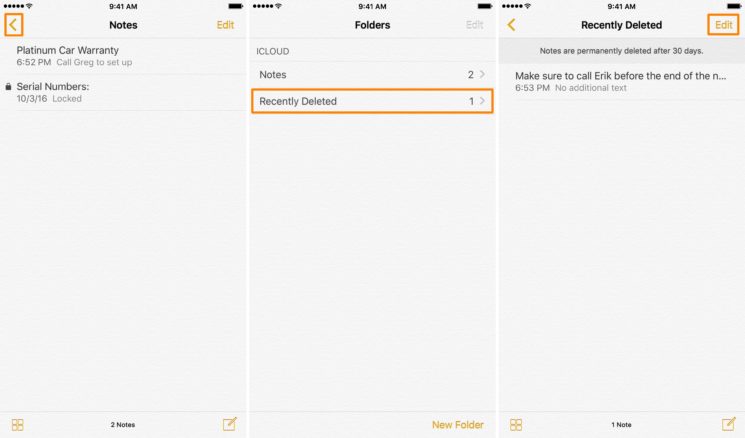 Step 2. Tap on the Recently Deleted folder, select Edit, and press on the note you want to recover to select.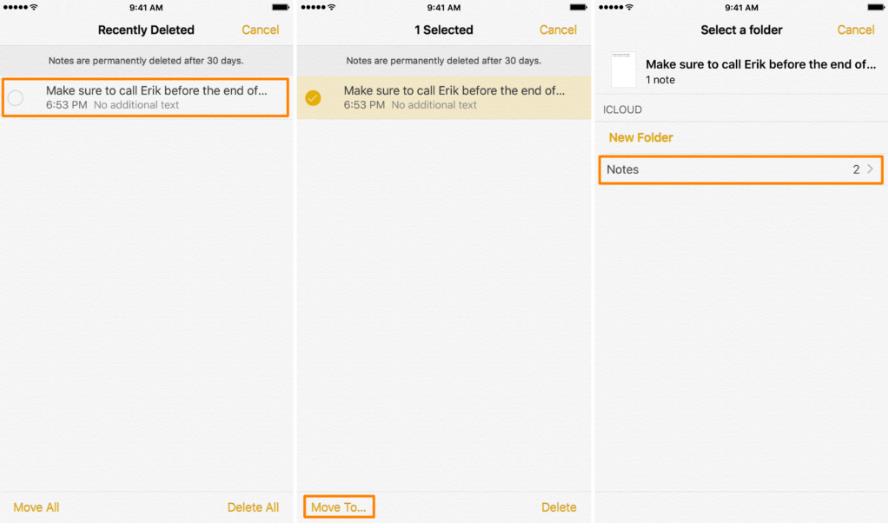 Step 3. Tap on Move To button, then choose the Notes folder, and you will see the deleted note has been retrieved to the Notes folder.
Note
The catch here is, you can only restore notes on iPad within 30 days, which means you can't restore notes from the "Recently Deleted" folder that exceeds 30 days.
If you have recently emptied the folder, your deleted notes will be permanently deleted on your iPad and can't be recovered.
2

Retrieve Missing Notes on iPad Using Email
If you have associated your Notes app with your email account, the notes may have synced with your email. Follow these simple steps to check how to get back deleted notes on iPad.
Step 1. Log in your email account on the web and check whether the notes are accessible from the account's Web interface.
Step 2. If you find your notes, go to iPad Setting - Mail, Contacts, Calendars. Select the exact email account, and then toggle the Notes setting to On.
Step 3. If the Notes is already on under the email account, just turn it off and then turn it back on to re-sync the notes.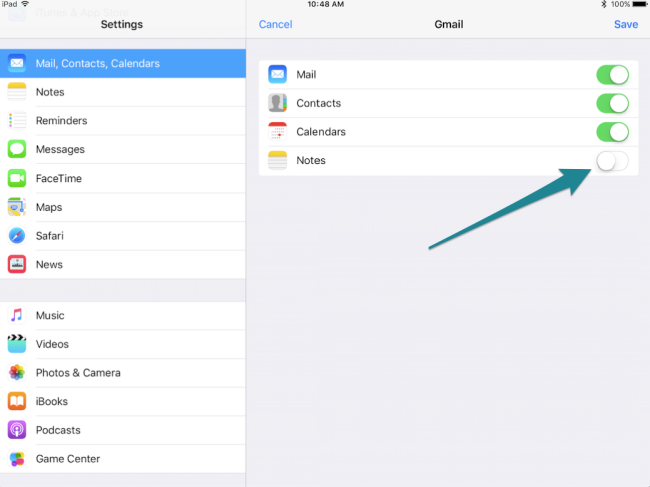 Your notes should be back on your iPad again. If you didn't sync your notes with an email account but you have iTunes/iCloud backup of the deleted notes, you can try the third method to recover deleted notes on iPad/iPad mini/iPad Pro.
3

Restore Lost Notes on iPad From Backup
Option 1. Completely Retrieve Lost Notes on iPad from iCloud/iTunes Backup
If you have ever backed up your iPad on iCloud or iTunes, you may try restoring your notes from either backup. But before restore, you should check whether your deleted notes have been successfully backed up on iCloud or iTunes before.
Here is how to check iCloud backup:
Step 1. If you are using iOS 10.3 or later, go to Settings > Your Name > iCloud. Tap on Manage Storage > Backup on iOS 11, and tap on iCloud Storage on iOS 10.3. If you are using iOS 10.2 or earlier,go to Settings > iCloud > Storage > Manage.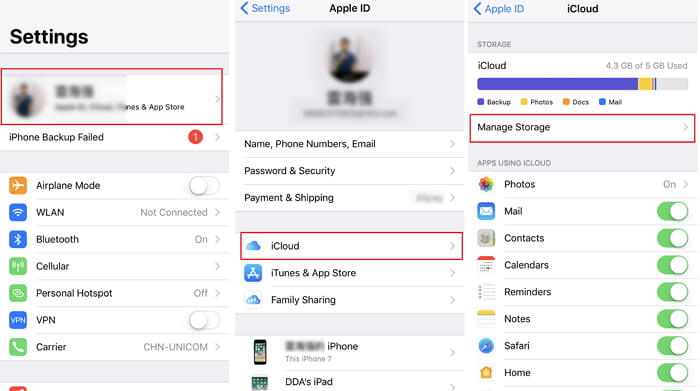 Step 2. Tap on the device name, and check the date of the last backup. After that, you may restore your data from iCloud backup.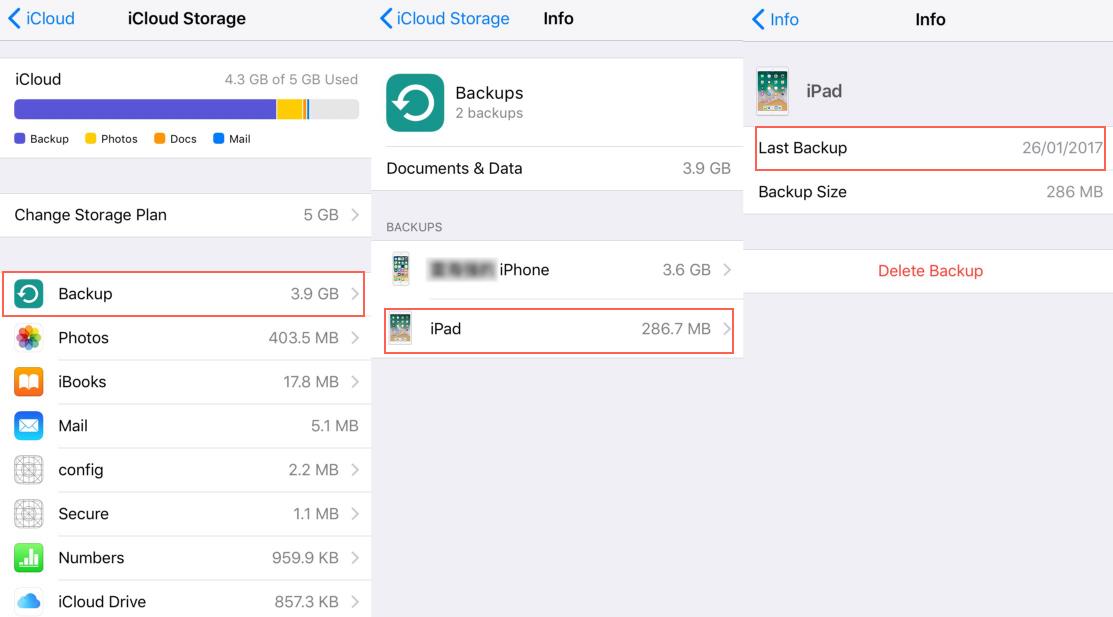 Step 3. Go to Settings > General > Reset, tap Erase All Content and Settings.
Step 4. Tap Restore from iCloud Backup on the Apps & Data screen, then log in to iCloud with your Apple ID.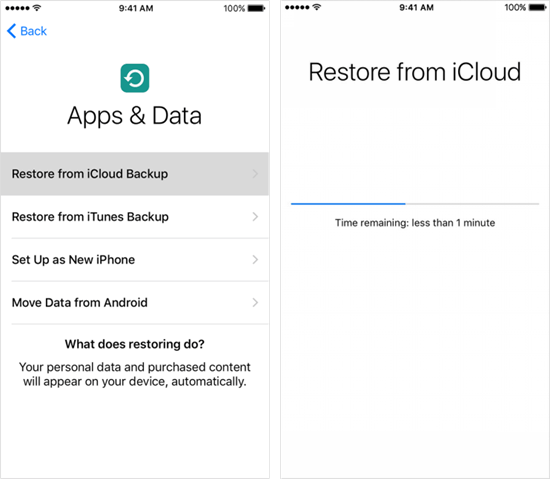 Step 5. Proceed to "Choose backup," then choose from a list of available backups in iCloud.
If you often back up your iPad notes to your iTunes then there is always a very easy way to recover those notes from iTunes backup. You may go to the summary page of iTunes, and check the latest backup time, and then restore your iPad from a backup to retrieve deleted iPad notes. Follow these steps:
Step 1. Open iTunes and connect your iOS device to the computer.
Step 2. Select your device in iTunes under Devices in the menu on the left hand side of the screen.
Step 3. Right-click the device and choose Restore from Backup.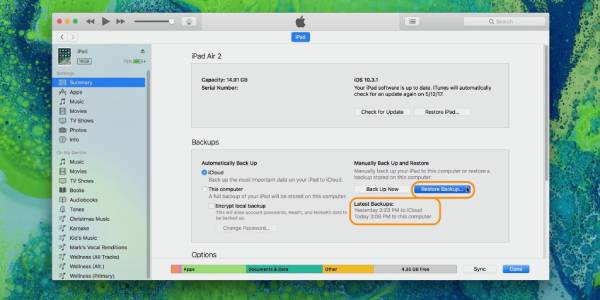 Note
All the current data on your iPad will be replaced when you choose to restore an iTunes or iCloud backup file. So be careful before you use the method. If you only want to restore the data of some apps from iTunes or iCloud backups, such as Contacts, WhatsApp, Messages, and WeChat, you can use a third-party tool.
Option 2. Selectively Recover Notes from iCloud/iTunes Backup
As the option 1 may overwrite your current data after the recovery, you can try a third-party tool D-Back. Meanwhile, this tool provides users a better approach than iTunes or iCloud in which they can preview deleted notes on their iTunes/iCloud backup and extract them selectively.
Key Features:
It can view both deleted and existing notes before the recovery.
Recover deleted notes without affecting your current data.
Support to recover permanently deleted notes on iPad without backup.
You can view notes without restoring your iTunes/iCloud backup.
It can be used to view and extract more than 22+ types of data from your device including messages, photos, videos, WhatsApp history and more.
Suitable for everyone, all you need to do is connecting device to your PC and select the relevant backup file to recover from.
It comes with 4 recovey modes, you can freely choose from them according to your needs.
It is compatible with all iOS devices and iOS versions including iOS 14/13.
Here is a video tutorial on how to recover permanently deleted notes on iPad with iMyFone D-Back, check to learn the specific steps:
Step 1. Download and launch D-Back on your computer. Choose recovery mode per your needs: "Recover from iTunes Backup" or "Recover from iCloud", click "Start".
Step 2. Start the recovery process to retrieve your deleted notes by following the instructions.
Step 3. All the recovery notes will be displayed on the interface after the scan, choose the note you want to recover and tap "Recover".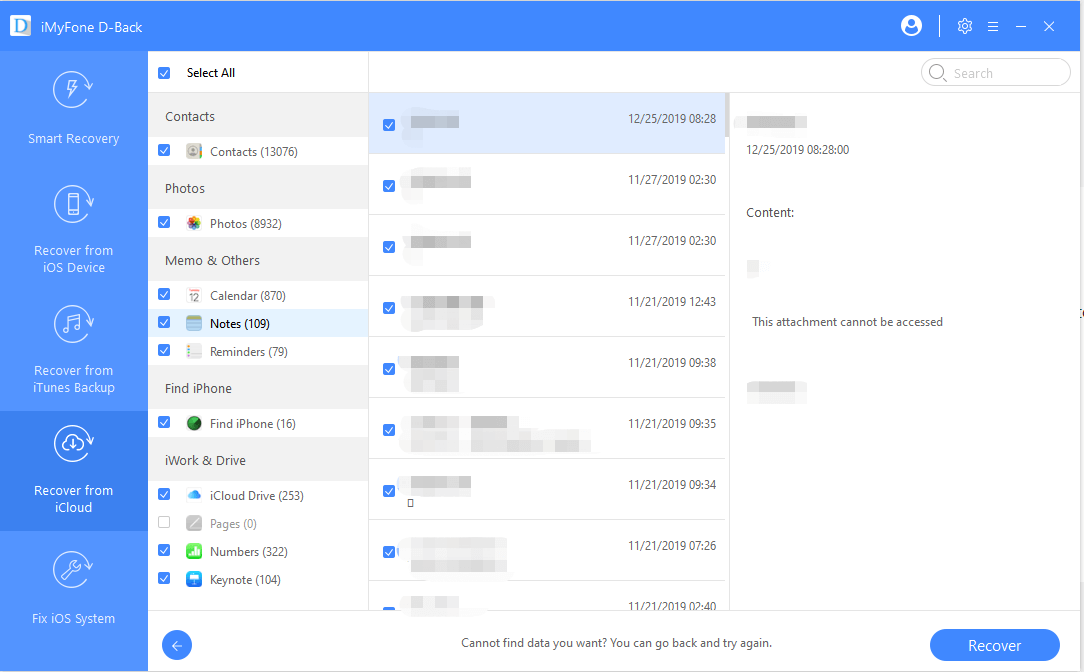 4

How to Retrieve Deleted Notes on iPad without Backup (iOS 14/13/12 Supported)
If you do not have an iTunes/iCloud backup file, you can still manage to recover your lost notes with iMyFone D-Back.is one of such tools that are capable of finding back the deleted notes on iPad easily without the backup file.
Read on to learn how to get back your notes on iPad back without using backup files.
Step 1. Run iMyFone D-Back on your computer. From Recover from iOS Device tab, click Start to proceed.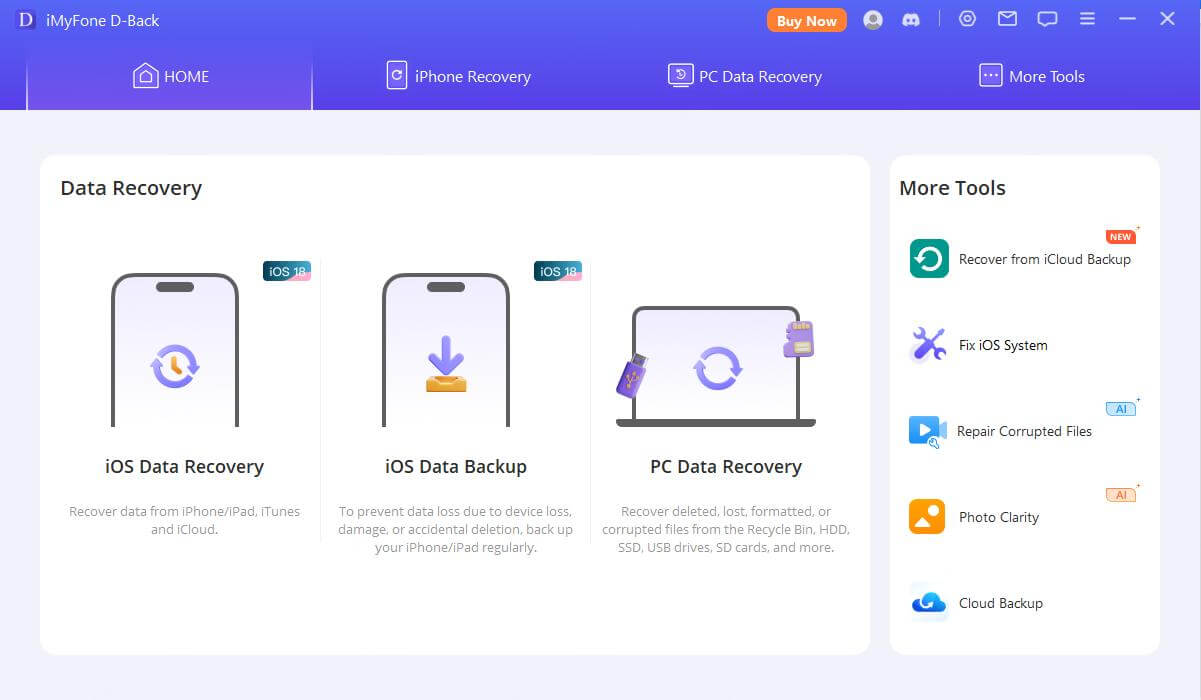 Connect your iPad with your computer and wait for the program to recognize it. Then click Next.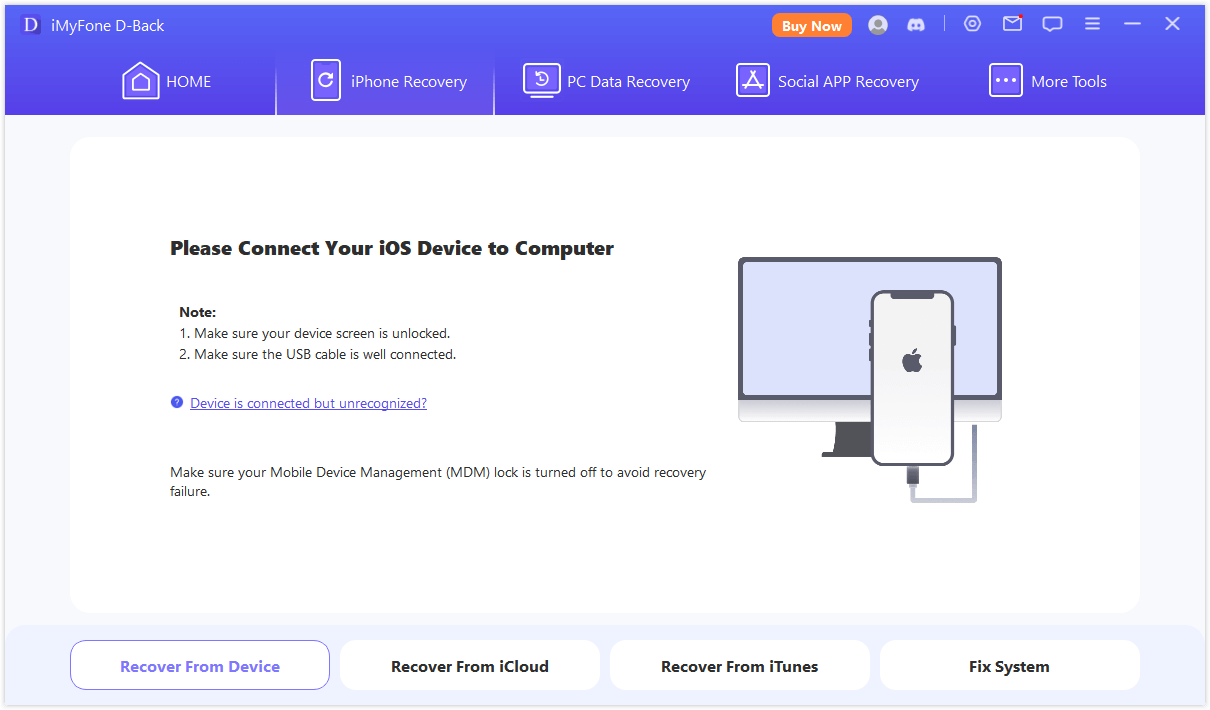 Step 2. Choose Note from the list and then click Scan. Then the program D-Back will start to scan your iPad for the deleted or missing notes.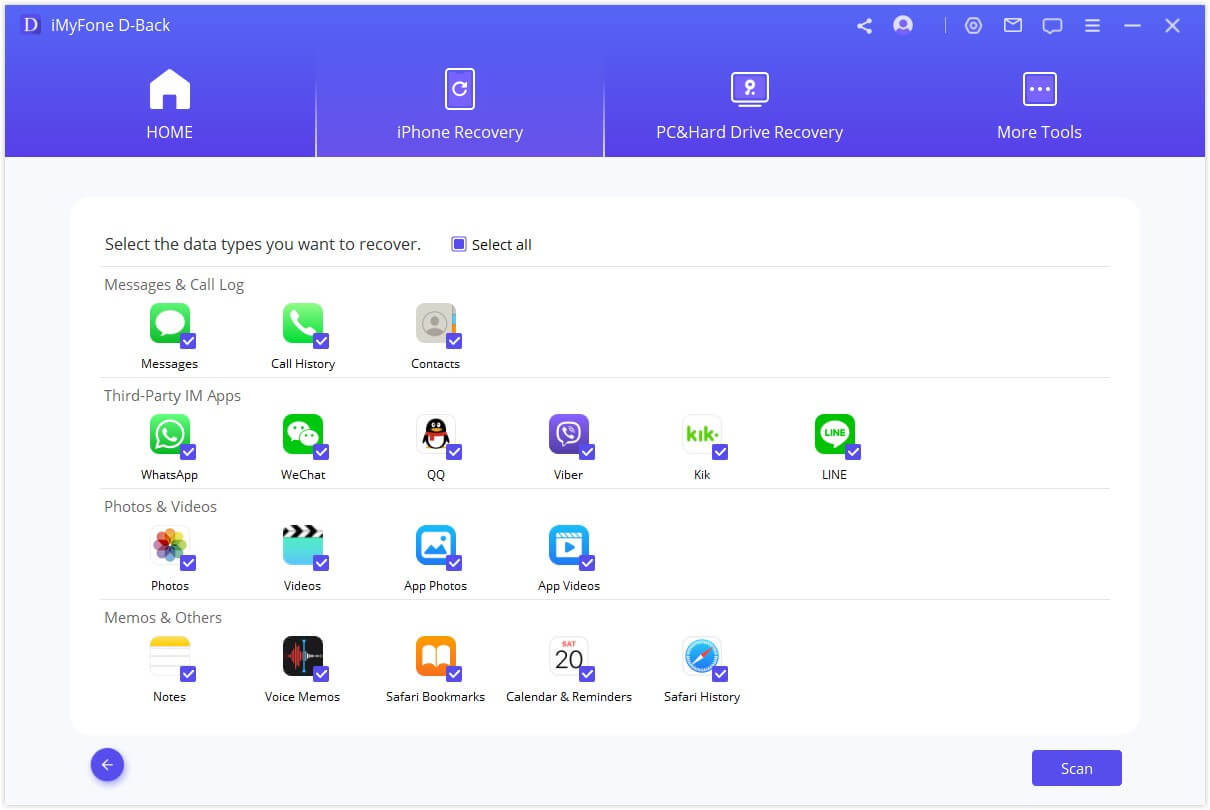 Step 3. After a few minutes' scanning, iMyFone D-Back will find and list all the recoverable notes, including the deleted or missing ones on your iPad for your preview. You can check the specific content of these notes. After you check all the notes you need, click on the "Recover" button to undo deleted note on iPad. If you want to retrieve notes from backup, choose two recovery modes are also easy to follow with similar steps.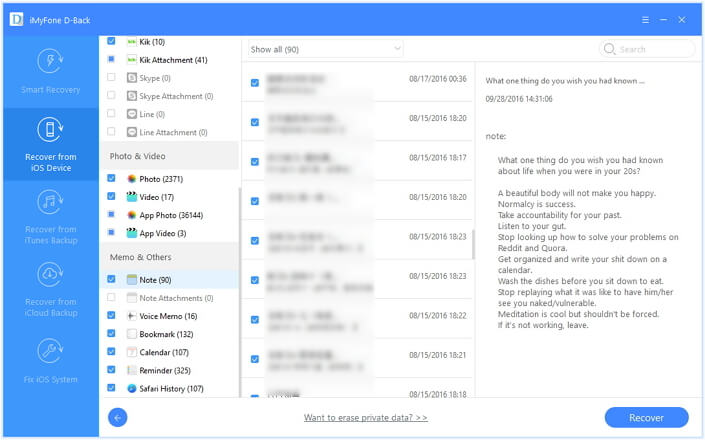 One of the three methods above should help you easily recover deleted notes on your iPad.iMyFone D-Back iPad data recovery (compatible with iOS 14/13/12) offers a free trial version. Just download and try it.
Summary
Always remember that the best way to prevent data loss is to regularly back up your data. If any data loss, unfortunately, happened to your device, you can try the above different methods to recover deleted notes. Even if your notes have been permanently deleted from your device, and you do not have iTunes or iCloud backup to retrieve them back, you still have iMyFone D-Back to help you get out of the trouble. It can get your lost notes back from iPad/iPhone (even it is running iOS 14/13/12) with or without any backup files.