Lately, a lot of people reported an issue about missing WhatsApp contacts that led us to post this article. Losing WhatsApp contacts means you have been cut off from your loved ones and it's a huge loss. Well, follow this post and learn more about why WhatsApp contacts disappear at the first place and what the best solution is to retrieve missing WhatsApp contacts.
Reasons Why WhatsApp Contacts Have Disappeared
The main reason why WhatsApp contacts aren't showing on your iPhone is that WhatsApp is unable to access your phone contact list. You will still be able to receive and send messages on WhatsApp; however, you can run into problems like numbers showing instead of names and new contacts not showing in the WhatsApp contact list too. This can happen for several reasons including
iOS Upgrade
Jailbreak failure
The WhatsApp auto-sync option is turned off
You may have added your contact to the hidden contacts list
Furthermore, incorrect passwords or settings may also prevent WhatsApp from syncing contacts from your iPhone Contact.
How to Solve WhatsApp Contacts Missing on iPhone Issues
There are several approaches to retrieve missing WhatsApp contacts on iPhone. You can either go for a third-party data recovery software or simply recover the lost contacts using iPhone backups i.e. iTunes or iCloud backups. Note that each method has its own pros and cons that we'll discuss in the upcoming parts.
Check WhatsApp Contacts Settings
Before we get to the actual solutions, it is recommended to check if you haven't mistakenly messed up with the WhatsApp contacts settings. Follow the steps below to check WhatsApp contacts settings.
Open the WhatsApp application and click on the three dots in the top-right corner.
From the drop-down menu, click on Settings.
Now click on Contacts and you will see a checkbox named "Show All Contacts".
Mark the tick and you're done.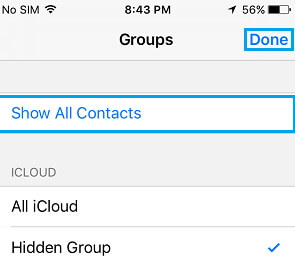 Note that selecting the Show All Contacts setting will push all your contacts and will also show hidden contacts available in your contact list.
Find Missing WhatsApp Contacts via a Reliable Software
Using a third-party data recovery software is the best way to retrieve the WhatsApp contact disappeared from the list. iMyFone ChatsBack is certainly the best option in such conditions. It can help you recover any type of data lost including WhatsApp contacts.
Steps to Recover Missing WhatsApp Contacts Using iMyFone ChatsBack
Step 1: Download, install and open the iMyFone ChatsBack on your desktop computer. Click on the start button under the Recover from Device Storage. Please make sure your device connect to software successfully.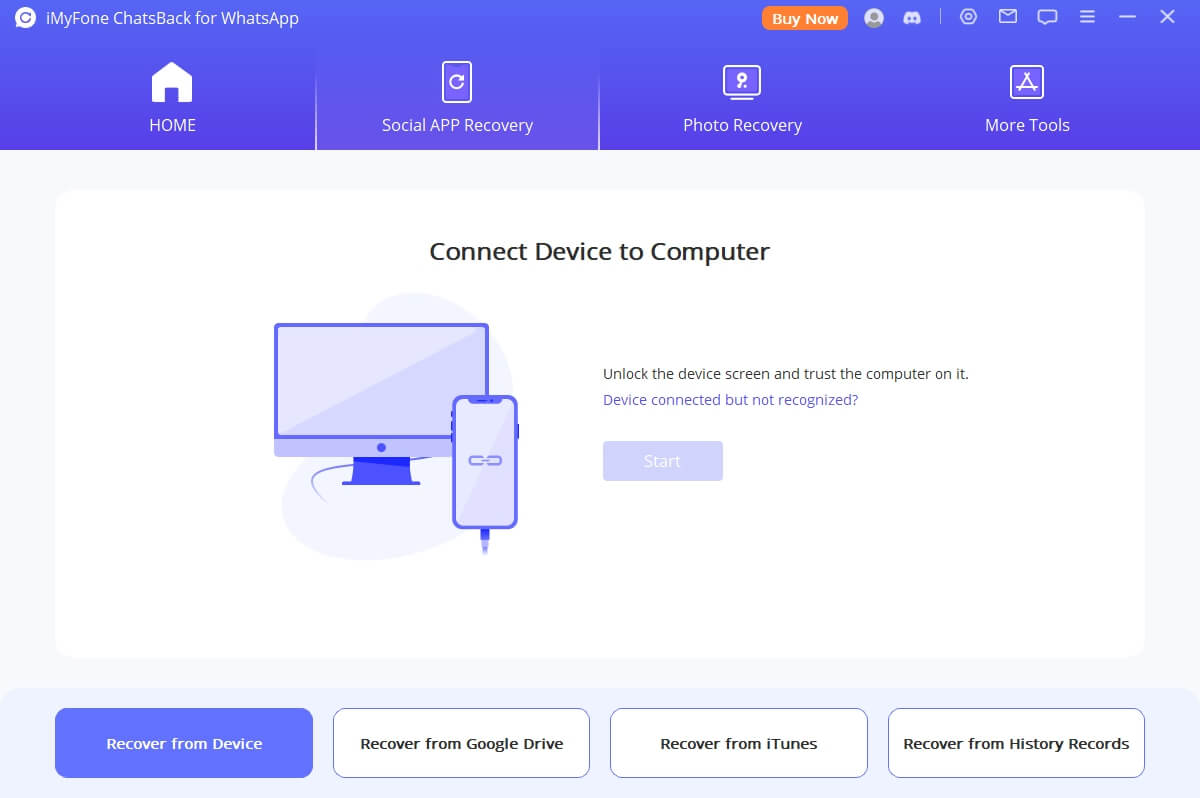 Step 2: Then choose WhatsApp Messager and click on the "Start" button to start scanning.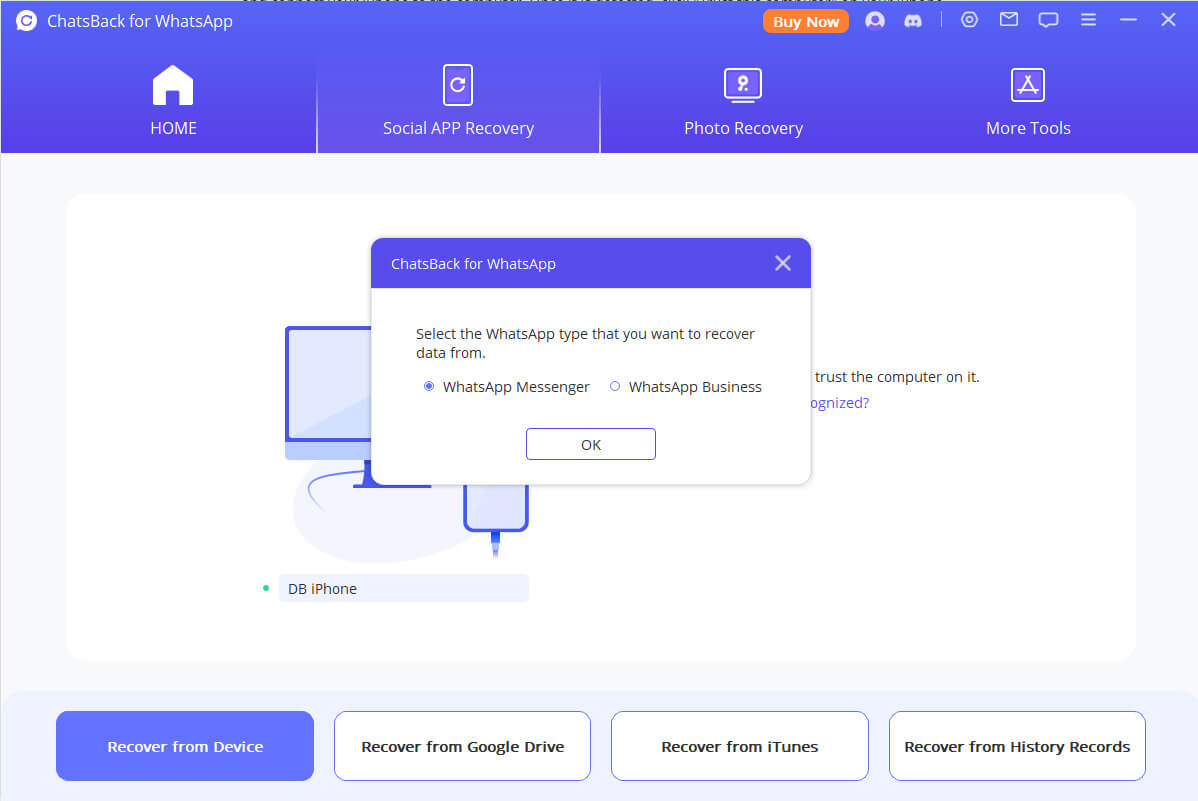 Step 3:After scanning, iMyFone will show you a preview of the lost WhatsApp contacts in several tabs. When you click on Recover to Device or Recover to PC, those contacts will be restored.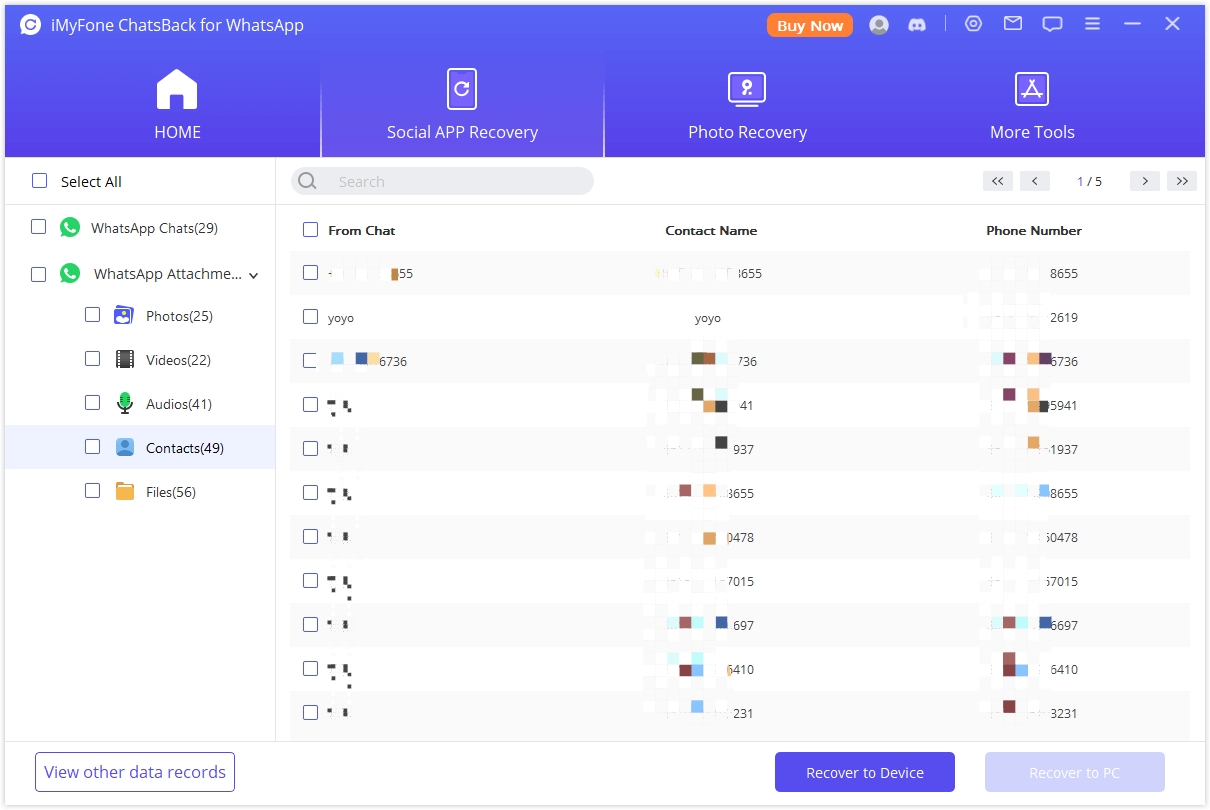 Recover Disappeared WhatsApp Contacts via iTunes Backups
You cannot store WhatsApp data on its own servers, yet iTunes and iCloud backups allow us to make backups time-by-time. If you have iTunes or iCloud backup for your iPhone, you can also use iMyFone D-Back to recover the disappeared WhatsApp contacts from them.
Here is how you can retrieve contacts from iTunes Backup.
Retrieve Contacts From iTunes Backup via Software
Follow these steps to retrieve WhatsApp contacts from iTunes backup via iMyFone D-Backup:
Open iMyFone D-Back on desktop and connect your iPhone with the computer.
Click on "Start".
Then select the "Recover from iTunes Backup" option and click on "Next" to scan.
After scanning, click on the "WhatsApp" and select the type of files you want to recover.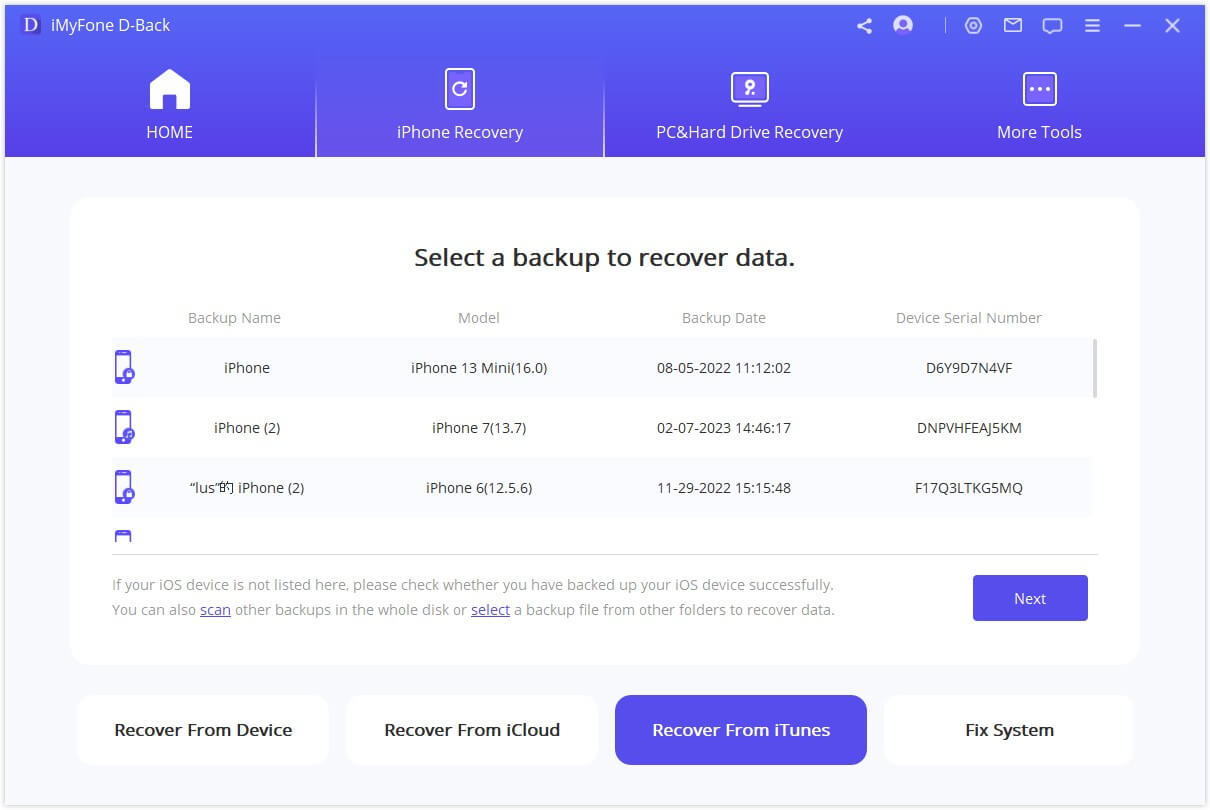 Retrieve Contacts From iTunes Backup in Official Way
Open iTunes on desktop i.e. PC or Mac and connect your iPhone with the computer.
Now select "Restore Backup" iTunes and you can see the size of the backup files and date when it was created.
Now Click on "Restore" and let the process finish.
Note that keep your iPhone connected with the computer and after the setup completes, sync the data in iPhone.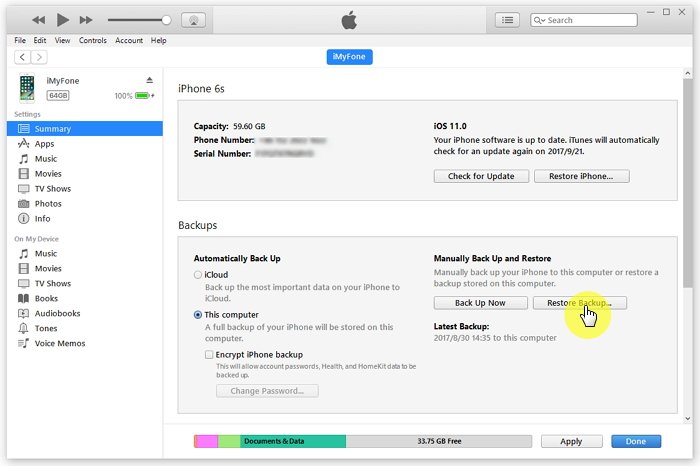 Comparison of These Two Methods
iTunes backup allows you to restore all the files at a time, iMyFone allows you to recover what you want from your iTunes backup to computer without overwriting current data.
iMyFone D-Back also allows provides a preview of the deleted files before you can recover them, but iTunes itself won't allow you to view its content.
Recover Disappeared WhatsApp Contacts via iCloud Backups
iOS devices provide you efficient data security and backup options. iPhone users are never afraid of losing data or mobile devices unless they haven't set up the iCloud or iTunes backups.
Retrieve Missing WhatsApp Contacts From iCloud Backup via Software
Open iMyFone D-Back on your Mac or PC and click "Start" after selecting the "Recover from iCloud Backup" tab.
Sign in to iCloud using your Apple ID.
Determine the size and date of the backups. Then select the iCloud backup you want and click on "Next".
Click on the WhatsApp and select the files you want to recover.
After the scanning process, you can select the destination folder where you would want to save the recovered files.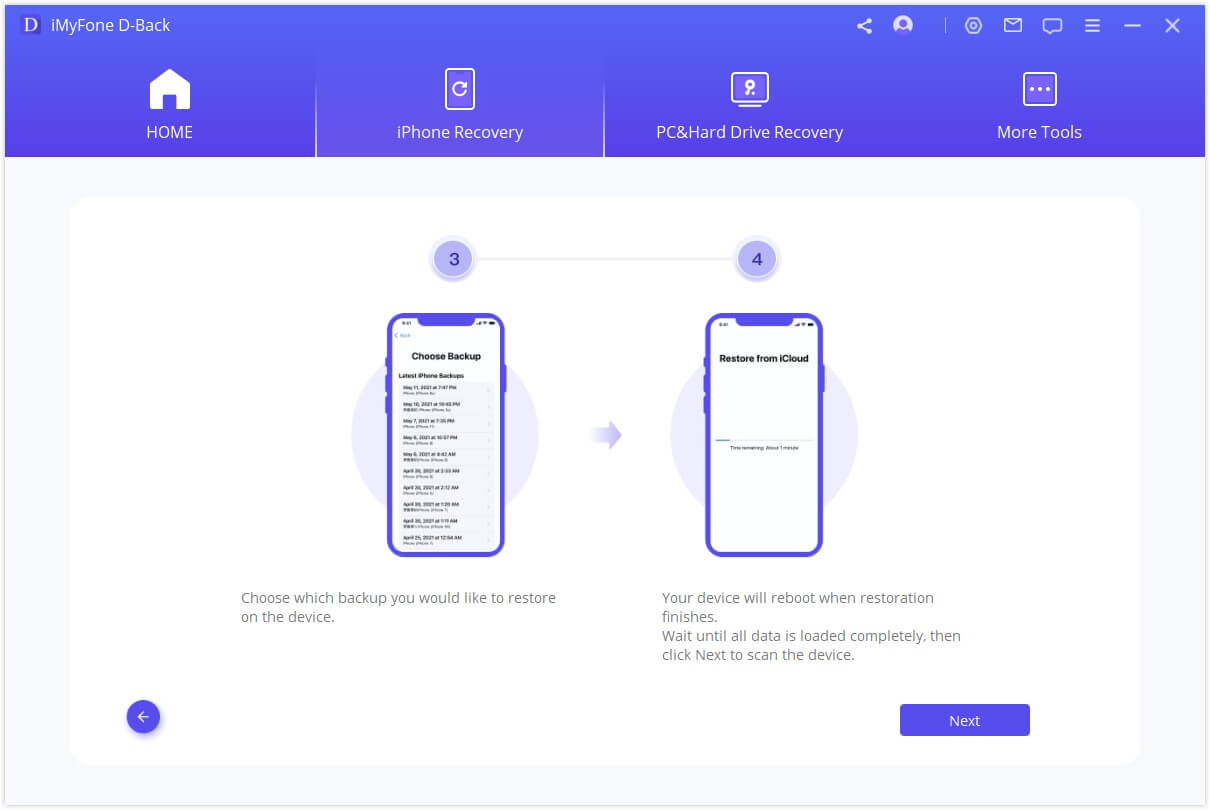 Retrieve WhatsApp Contacts From iCloud Backup in Official Way
Before using this solution, make sure your iCloud backup option was turned on and backup of your lost files was made.
Go to the iPhone settings and erase all its content.
Now turn on the iPhone and select "Restore from iCloud Backup" on the App & Data page.
Sign in on iCloud and determine the size of the files and date when the last backup was made.
Complete the restore process. Note that the process can take quite a time depending upon the internet speed and backup size.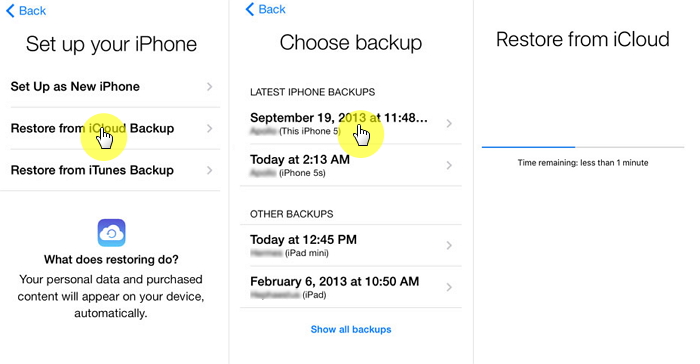 Comparison of These Two Methods
Like iTunes Backup, using iCloud Backup via iMyFone D-Back gives you more access to the backup files and you can always select the files from the scanned list to be recovered.
On the other hand, using iCloud Backup in an official way will restore all backup files without a preview and all your current data will be replaced.
Final Verdict
Losing your WhatsApp contacts means cutting off from all your connections. We hope any of the above solutions helped you in getting back your missing WhatsApp contacts. Overall, using iMyFone ChatsBack is certainly the best option as it provides a preview of the deleted files and you can always recover your selected files. On the other hand, iCloud and iTunes backups force you to recover all backup files.
Well, we'd love to hear if you were able to solve your WhatsApp contacts problems on iPhone. Please let us know which solution worked best for you - we will really appreciate it. In case of further questions or suggestions, feel free to leave a reply below.