You took a break to watch more TikTok videos to entertain yourself. How would you feel if it said TikTok network error? Well, frustrated and irritated. The page may take more than usual time to get downloaded.
However, the occasional problem and downtime can be fixed using 7 proven methods. Let's move on to see how it going.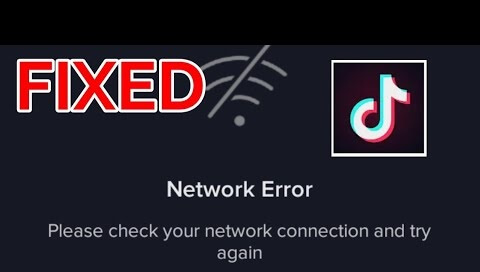 Why does TikTok Network Error Occur?
TikTok has over 800 million users today, and most of its videos are also shared on other social media platforms. Like other applications and platforms, it also sometimes attracts network errors. When TikTok says no internet connection, it may happen because of these significant reasons.
Problems with Internet Connection:
The unstable internet connection is the primary reason for TikTok stop working. You must check about the ban in your country.
The Build-up of Temporary Bugs:
The unnecessary build-up of temporary junk files and bugs leads to no network connection. It slows down your app magnificently.
Server Being Down:
Another reason TikTok shows network error is a server issue. The server can be the main reason even if it's not banned in your country.
These are a few significant reasons why TikTok is showing no network connection. The restrictions and unstable settings count as the main reasons. However, there are a few solutions that you can follow up by reading this article till the end.
How to Fix TikTok No Network Connection Issues?
Sort the TikTok no network connection issue by digging into these seven solutions that will fix your app.
1

Check TikTok's Server
TikTok's website has a feature where users can check the status of their servers. If your app shows no network connection or an error for a long time, there is an issue with its server. There can be a possible downtime, and the social media platform must encounter the problem. The server encounters the problem because of the large community it has to manage. Sometimes, these apps also need a break. It results in a server downtime error, and you will not be able to connect to your account.
2

Restart the TikTok App
For Android device:
On the Settings > Apps > Tiktok.
Tap on the force stop button, and head to the menu screen to open the TikTok app again.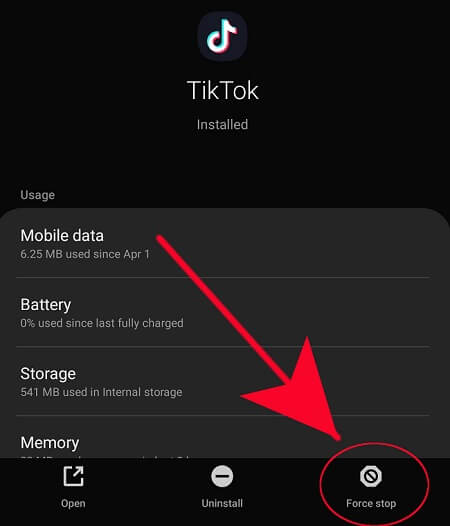 For iPhone:
Open the app through App switcher.
Find the TikTok app, swipe up, and stop it.
Go to the menu screen to restart the TikTok app.
3

Restart Your Device
Sometimes your mobile device system isn't working, and the operating system must be stuck in the problem. You can carry out all the solutions and start your app fresh. You must switch off your Android or iOS device or force the app to shut down. You must restart your computer if you are using the app on your desktop. So, you can try restarting your mobile device, and the error may go away.
4

Reinstall the TikTok App
Follow the below steps for reinstalling the TikTok app on your Android and iOS devices
For Android device:
On the Menu Page of your home screen, long press the TikTok app. Then tap on uninstall app option.
Open the Google Play Store and search the TikTok app.
Tap on the app, and install it on your device.
For iPhone:
Go on the device's home screen and long press the TikTok app.
Select the 'delete app' option to remove the app.
Go to the App store now, and search for TikTok.
Follow with the 'Get' button.
Now, enter your ID verification details, and the app will start downloading.
5

Clear TikTok's Cache
The app's working slows down if you do not clear the accumulated cache. It can lead to the problem of no network connection. Do the following:
Tap on Settings > Apps > TikTok > Data Storage.
After this, tap on the clear cache.
It will remove the cache files from your device, and you can restart the TikTok app again.
6

Use VPN
VPN works as a server that directs all the network traffic from your country to another server. If TikTok is banned in your country, you can use a VPN of another country where it is permitted. VPN helps you bypass the faulty server of your country and still enjoy the particular app. Moreover, it protects your identity and provides you with a stable connection.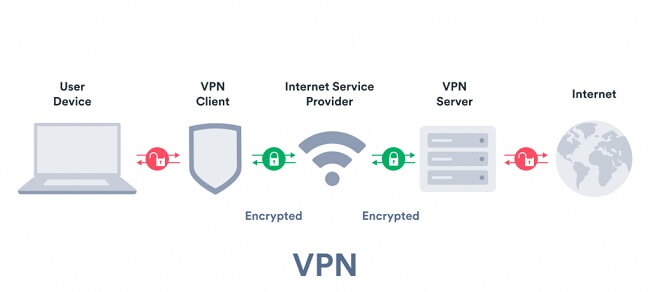 7

Contact TikTok for Support
Customer support seems the last alternative when all other options seem to fail. You can contact TikTok's customer support through their page or Twitter account. It is essential to provide information about your device model and the error messages you are getting.
Bonus Tips: How to Fix TikTok no Internet on iPhone
When opening this app, most iPhone users get the TikTok no internet connection iPhone error. Many users refresh the app but still get the same response every time. If TikTok is throwing the error code, it can be because of an unstable internet connection, restriction in your country, poor cellular signal, servers down for maintenance, faulty or corrupted connections, and much more. You can use iMyFone Fixppo for the recovery of the iOS system. Without losing any data, you can restore your TikTok app.
iMyFone Fixppo
One-stop Solutions to Fix iOS Issues
To Conclude
Follow the steps above, you'll able to fix Tiktok network error issues successfully. If you have any question about iPhone issues, leave your comment below!