If you need to search for something on your iPhone in a daily routine, you must need Safari since it's Apple's own browser with powerful features. However, there are growing complaints these days saying that their Safari keeps crashing after iOS 17 update, which brings a great inconvenience to those who rely on it deeply.
Like many iPhone users, I met this problem the day I made an update to iOS 17, which was solved successfully after that. Therefore, I'll list all methods that I've tried for you to take a reference in this article, and let's move on to check!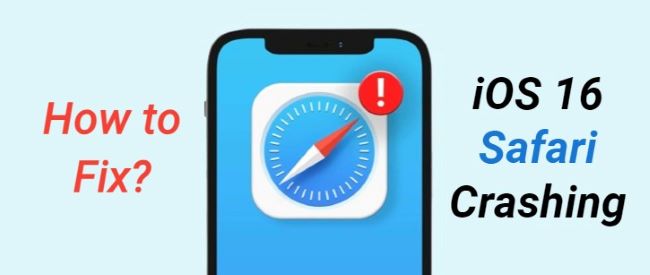 iMyFone Fixppo
Quickly fix the problem of Safari keeps crashing on iPhone.
Part 1. Common Safari Problems
According to customers, there are different kinds of Safari problems that happen to them. And you may check them below to be better aware of them.
Safari is not working or responding.

Safari is running slow and stops at the loading bar.

Safari hides the full URL making you unable to copy a complete one.

Safari won't play videos after the update.

Error message of "This connection is not private".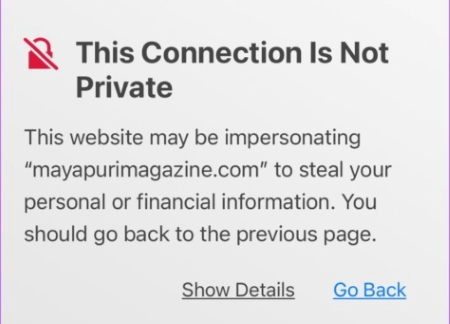 Part 2. Why Does Safari Keep Crashing?
After getting to know those problems with Safari, you must want to know why your Safari keeps crashing. The answer is quite simple and can be concluded to 4 reasons.
There are too many tabs opened. If you keep opening tabs without clearing, your Safari will crash inevitably because it is required to process those tabs and accumulate cache at the same time.
Your Safari is out of date. Since the latest version of Safari is automatically included in the latest version of your iOS system on iPhone, this Safari not working on iPhone problem may happen when you haven't updated your device in time.
with
Some browser extensions are causing you the problem. If you're using the wrong extensions on your iPhone, Safari may crash as well.
iOS bugs with your iPhone. It's very likely that certain iOS bugs are interfering in the proper functioning of your Safari.
Part 3. How to Fix Safari Not Working on iPhone?
Since you now know why is Safari not working, it's time to check out what methods can be employed to address this problem.
1

Turn Off Tabs and Clear Safari History
The first thing you can do is to turn off those never-closed webpages and clear the cache stored on your iPhone. And Cleaning the tabs and data may help to explain why is your Safari not working. To do so, please follow the steps below.
To turn off tabs:
You can either turn it off manually by going to Safari and delete them one by one or you can allow Safari to clear them automatically. Here I'll show you how to make it work on its own.
Go to Settings, scroll to the middle to find Safari, tap on Close Tabs under Tabs.
Since you've to clear them manually by default, choose to let Safari close those unused tabs automatically.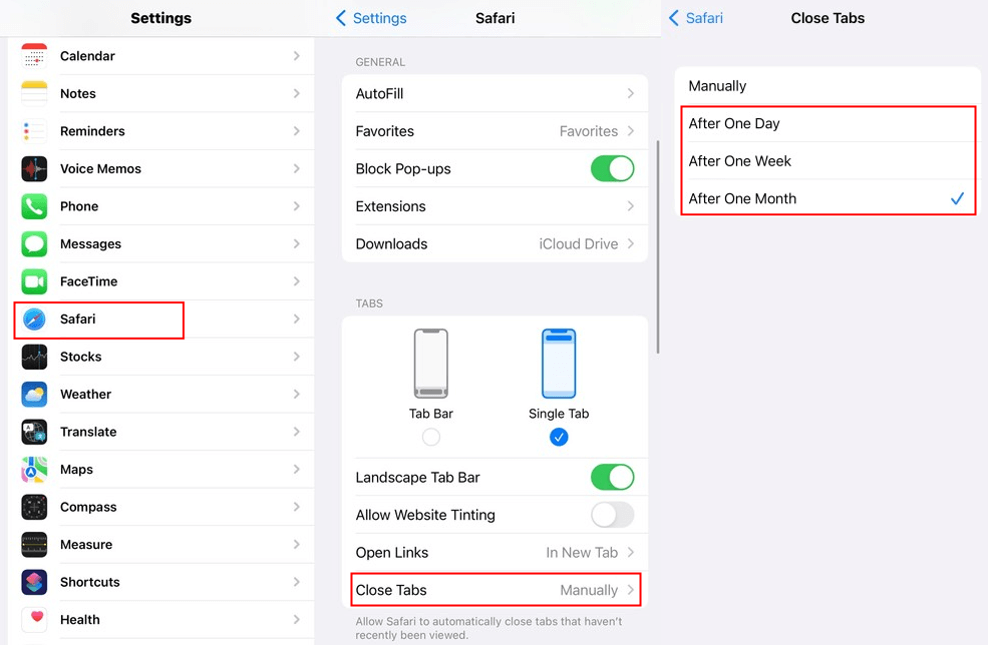 To clear history:
This is suitable for those who no longer need the searched information stored on Safari.
Go to Settings, scroll to find Safari, tap on Clear History and Website Data.
Double check before you continue to tap on Clear History and Data or it will remove all browsing data completely.