iMyFone Fixppo
Fix iPhone 5G not working problem and enable you to surf smoothly.
5G network was deployed widespread starting from 2019. From that on, people all rushed to get that, hoping to have a better experience in surfing with a higher network speed. However, many iPhone users voiced their confusions even until now.
They complained online, saying that their iPhone 5G not working and want to get it fixed right away. With so many concerns and complaints, this article here lists 12 real fixes for those who run into this problem including you. Stick to it and Let's move on.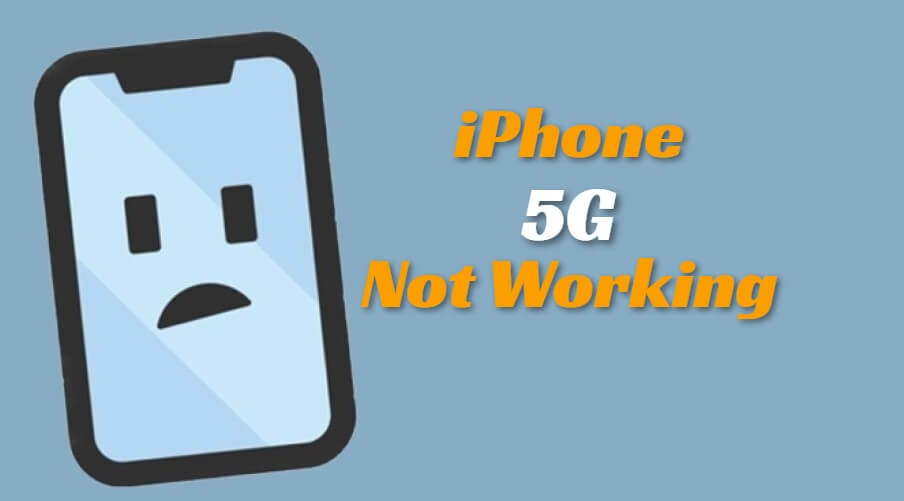 Part 1: How to Fix iPhone 5G Not Working?
If 5G not working on your iPhone, please check the following methods and troubleshoot the problem instantly.
1

Make Sure Your iPhone Supports 5G
Not all iPhone models support to use 5G network. If you are holding an iPhone earlier than iPhone 12, then you're not likely to use 5G even if you have your carrier updated. And that's why the 5G network doesn't work as expected. Replace one if you think it necessary or the 4G network is already dragging your feet intolerably.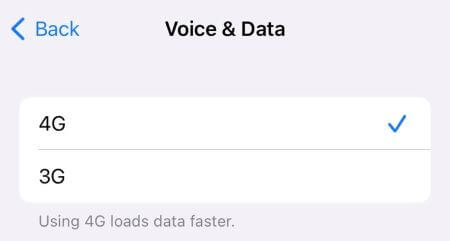 2

Check If 5G is Supported and Upgraded with Your Carrier
There are 2 other things you should check ahead: Whether your carrier allows you to use 5G and whether you're having the 5G plan. It's recommended to directly contact or check this list of 5G carriers to see whether 5G is supported. If it's but no sign indicates that your 5G can work normally, you should ask whether you've upgraded to the 5G plan.
Some carriers may inform you through texts that they will automatically upgrade your plan to 5G while for most of the carriers, they won't and once you apply to it, it will lead to extra cost.
3

Make Sure Your Belonging Area is Covered with 5G
This can happen when you're in some rural areas that have not been covered with 5G signal fully. If you're not sure about that, the simplest way is to google by typing in 5G map + the place/country. Or you can go to the official website of your carrier to check whether the 5G network is supported by your carrier in your place.

4

Check if Dual SIM Mode is Running in iOS 14.4 or Earlier
Though dual SIM mode excites users a lot, through which people don't have to carry 2 iPhones simultaneously, there is one glaring shortcoming in the dual SIM mode: You can't use 5G network when dual SIM mode is enabled under iOS 14.4 or earlier.
Namely, to use 5G, you should either update your iOS system or disable one SIM line if both are active. Therefore, if the 5G not working on your iPhone, make sure to rule out this cause.
To update your iOS system:
Go to Settings, tap on General, then Software Update.
If you haven't make an update for a long time, you may have to update for a few times until you get the latest one, which is iOS 16.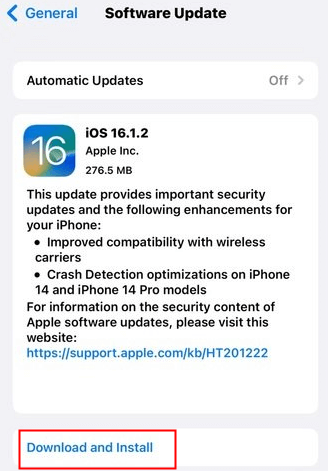 To disabled one SIM line:
Go to Settings, then Cellular, tap on the SIM card you want to turn off..
Toggle off the button next to Turn On This Line, then tap on OK.

Note
If you're using an iPhone 12 or later and the system is running on iOS 14.5 and later, you should be able to use 5G on dual SIM mode with 2 lines on.
5

Ensure the 5G Button is Turned On
If your iPhone 5G not working problem has not yet been fixed, here is something obvious you should check as well: Whether the 5G feature on your iPhone is enabled or not? This can be easily neglected when people just upgrade their plans to 5G since you have to turn it on manually.
Go to Settings, then Cellular, tap on the phone number with detailed info.
Tap Voice & Data, you can see 5G On option, turn it on if not and it will be used whenever it's available.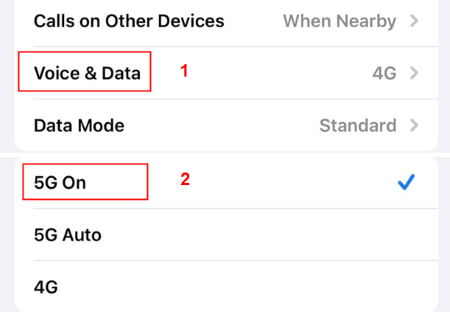 6

Remove then Re-insert SIM Card
Your misplaced or damaged SIM card may also affect the normal functioning of your 5G network. If 5G not working on iPhone, try to check your SIM card to see if it's damaged or scorched with black spots that hinder it from receiving a better 5G signal.
Turn your phone off then insert the attached SIM-eject tool into the hole of the SIM tray.
Take it out, fetch a clean cloth to wipe it carefully. If there are black spots that can't be removed, ask your carrier to change a new one.
Insert it back then turn on your device, follow the fifth method to see if your 5G can work.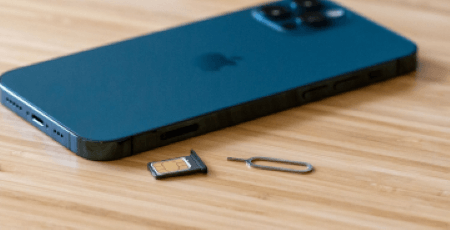 7

Turn Off Low Power Mode
It's reported that if users turn on low power mode, 5G is disabled except for most occasions, which is no surprise since the main purpose of turning on low power mode is to save your battery's life.
Nevertheless, this feature will inevitably reduce many activities that require to use data a lot in high speed. Therefore, if the 5G not working on your iPhone 14/13/12 series, please go check and turn it off to ensure the best experience.
Go to Settings, then Battery, toggle off Low Power Mode if it's on.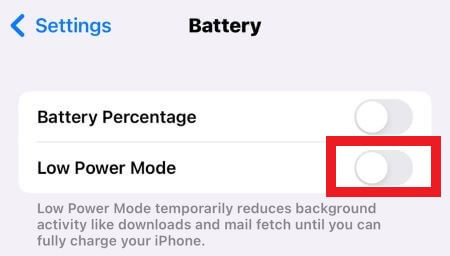 8

Toggle On and Off Airplane Mode
It's common that your 5G network is unstable. If your iPhone not connecting to 5G, don't press the panic button first. Maybe you're just experiencing a bad signal reception, which switch your 5G to 4G automatically.
You should be able to end this frustrating situation by toggling on then off your Airplane Mode and go to somewhere spacious. If this still not working, try more times.
9

Force Restart iPhone
You should get tired of seeing this method every time you want to fix minor bugs of your iPhone, but there is no denying that it works all the time and deserves to be mentioned and tried when other methods fail. Follow steps below to try it yourself, you may be surprised at its magic.
Press Volume Up, release it.
Press Volume Down, release it.
Press Side button, release it at Apple logo.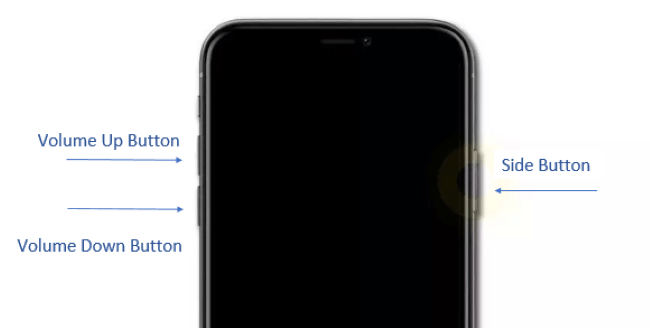 Part 2: What Next If 5G Still Not Working On iPhone?
Have you tried the above methods to troubleshoot your 5G not working on iPhone problem? If everything is set correctly and you meet all the prerequisites, it's time to find out what cause you the trouble with more advanced methods.
1

Quickly Repair iOS System with iMyFone Fixppo
As it's stated, iOS system should be checked thoroughly if it's the culprit that is stopping you secretly. If common solutions in Part 1 are not useful, try iMyFone Fixppo to see if there are deeper and trickier glitches that can't be fixed with regular ways. Within 4 steps and half an hour, you can get the iPhone 5G not working issue fixed and enjoy your tour to the 5G magic world.
Step 1: Download and install Fixppo, then open it to choose Standard Mode.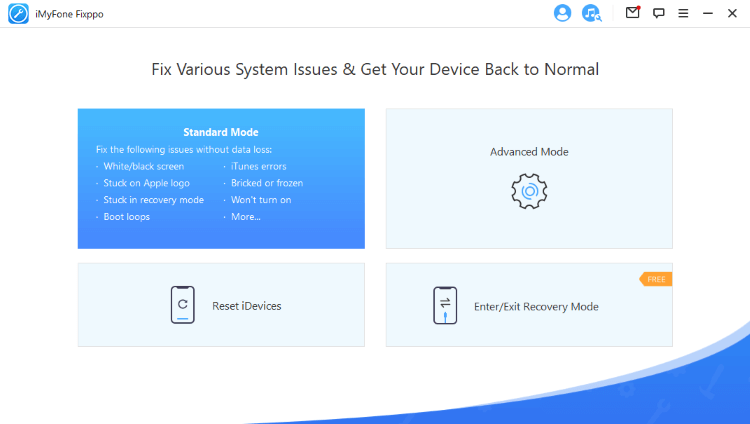 Step 2: Connect your device to computer, then follow to put your iPhone into Recovery Mode first.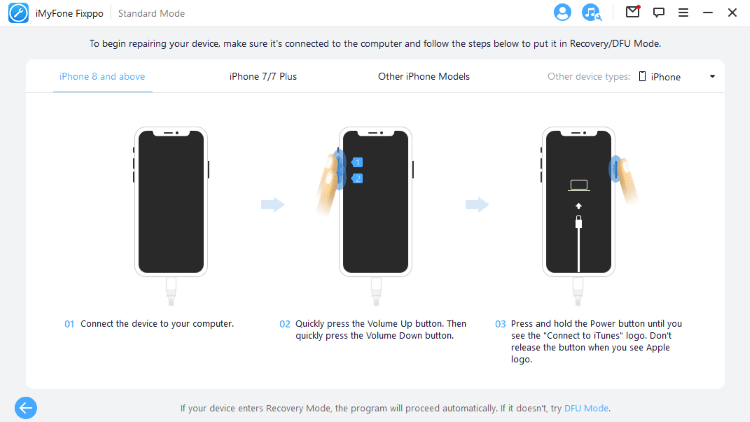 Step 3: Now, check your device infomation and click on Download to download the firmware package.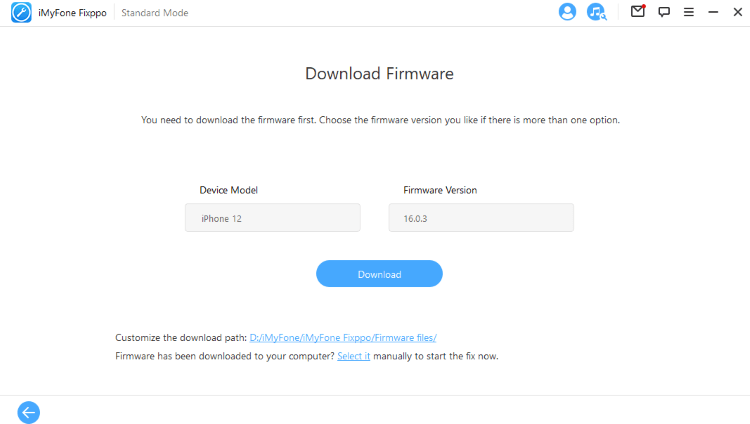 Step 4: When the firmware is downloaded, click Start to begin and wait patiently. After that, your device will be turned on again automatically. You may now go to see if Your iPhone 5G not working problem is fixed and you can enjoy a high speed in surfing.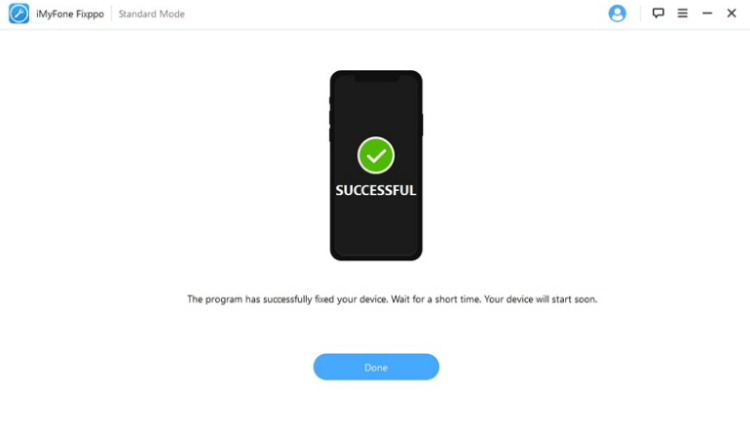 2

Factory Reset iPhone
This can be your last resort if you've checked and tried other possible methods without getting a satisfactory result and the problem is software-related. Like always, please make a backup ahead whenever you want to reset your iPhone to factory reset unless data on iPhone are useless to you.
Go to Settings, then General, find Transfer or Reset iPhone, then tap on Erase All Content and Settings. Enter your passcode to begin the resetting process.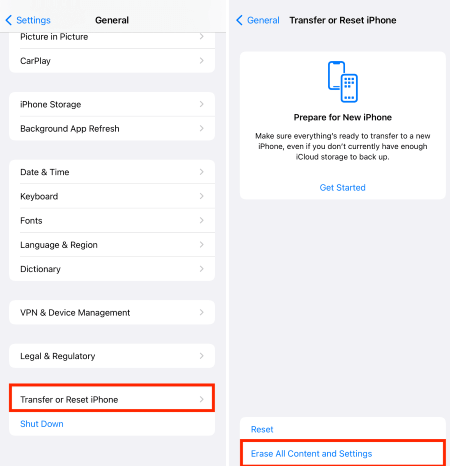 3

Contact Apple Support Team
Unlike factory reset your iPhone, contacting the professional Apple support team can be your last try to fix all iPhone issues including hardware-related problems. If you don't want to try the resetting technique first, go to the Genius Bar can save your time from getting yourself in a puff.
Conclusion
All right, is your iPhone 5G not working problem is solved with suggestions given above? Glad to know that these methods help you out. However, if the problem lies in the buggy iOS system of your iPhone, it's not a bad idea to try iMyFone Fixppo, which would surprise you with its professionalism in fixing iPhone problems.