Does your iPhone cellular data keep turning off on its own and you're looking for an easy way to fix it all by yourself? Well, you're in luck as this post has put together 10 exciting and easy ways to fix this glitch without visiting a phone repairer.
Several iPhone users usually experience this problem after updating the iOS versions. It happened when the iOS 16 release, and it also happens on the latest iOS 16 Whether it is an outright failure to transmit cellular data to not having access to the internet or certain apps not connecting to mobile data, you'll find the solutions after reading this post.
Keep iPhone Data Safe before Fixing
Can't wait to read all of the exciting ways to get this issue solved once and for all?
Well, not too fast. Before you experiment with any of the methods we are about to reveal to you, it is essential that you keep your iPhone data safe.
You can easily do with iTunes or iCloud. Alternatively, you can use one amazing third-party program named iMyFone D-Back. One incredible thing about using this app is that it allows you to selectively  save the data you need.
Best 10 Ways to Fix iPhone Cellular Data Keeps Turning off
Now to the part you've been waiting for. Having conducted comprehensive research and tested every one of these steps, we can boldly state that these methods will work. Give them a try today, and you'll be glad you do.
#Way 1. Enable Roaming Settings
Enabling roaming settings on your iPhone can fix a lot of hassles on your device. Thankfully, you can easily do it by yourself within seconds.
Step 1: Navigate to settings on your iPhone and tap on cellular.
Step 2: Now, select cellular and data option.
Step 3: Select data roaming. Proceed to check if the setting is on, if it isn't activated, you can simply enable it.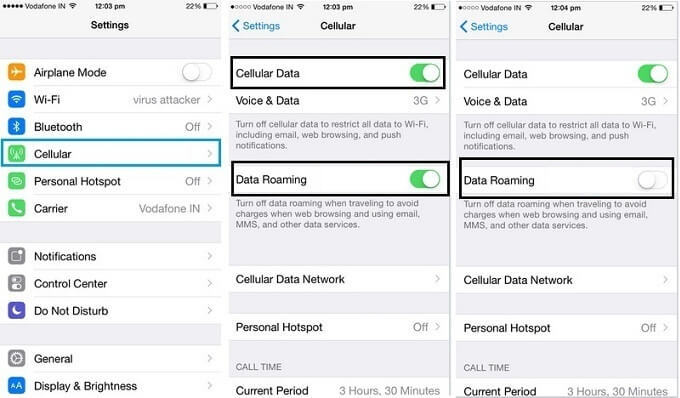 #Way 2. Restart iPhone
Restarting your iPhone is another way to fix this problem that many iPhone users go through. Here, check out these easy to follow steps:
For iPhone 13/12/11/X users: Hold down the Side button alongside volume up or down. If you did this correctly, you'd notice that a slider pops up. Now, drag the slider to turn off your iPhone 12/11/X. Proceed and hold down the side button once again to turn it on.
For iPhone 8 or earlier: Hold down the Top (or Side) button. You'll notice that a slider appears. If you see this, proceed by dragging the slider to turn off your device. Hold down the Top (or Side) button again to turn on your iPhone.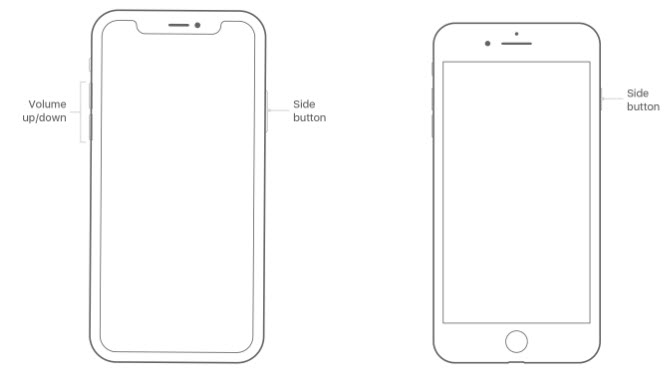 #Way 3. Reset Network Settings
Tried the two methods above with no success? Have you thought about resetting your network settings? Here is how to get started:
Step 1: Navigate to settings on your iPhone and tap on general.
Step 2: Proceed by selecting reset and clicking on Reset Network Settings.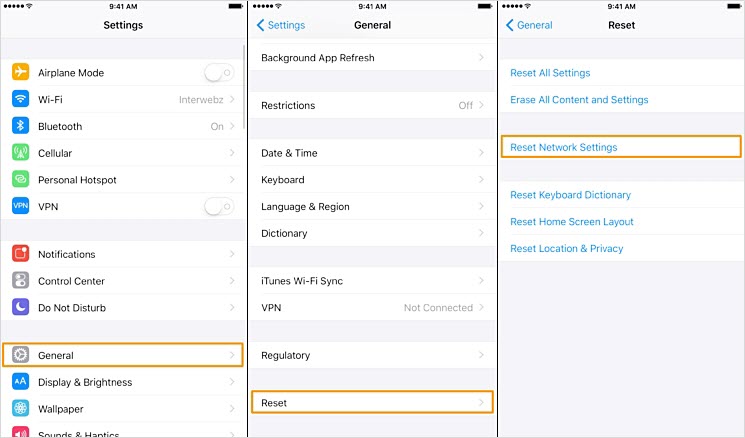 This method, although effective, comes with little issues you should be aware of. Using this fix will erase Wi-Fi networks and passwords, cellular settings, as well as VPN and APN settings.
#Way 4. Check Cellular Carrier Update
For iPhone users experiencing mobile data turning off issue, you may want to check for a possible cellular carrier update. Doing this has proven to solve this problem for some iPhone users. Read on to find the steps to follow.
Step 1: Start by connecting to a Wi-Fi or cellular network.
Step 2: Proceed by selecting settings and tapping on general.
Step 3: Now, check if carrier updates are available.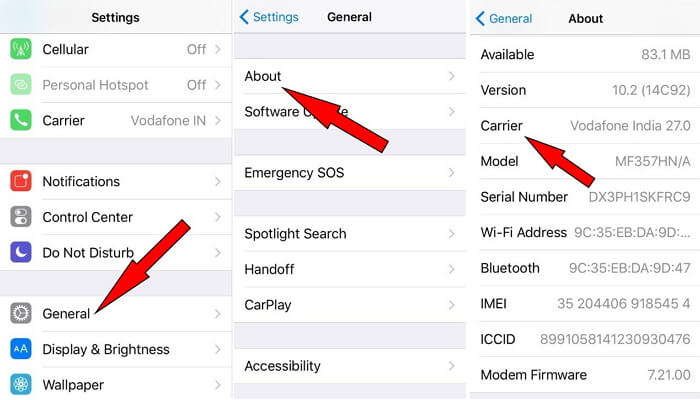 Note
It is always important to download the carrier setting when you insert a new sim.
#Way 5. Turn on & off Airplane Mode
If the above tips have failed to fix the problem, turning on and off airplane mode wouldn't be a bad idea.
Step 1: Navigate to settings.
Step 2: Turn on airplane mode and disable it.
Step 3: Having done this, your device will start searching for network signal.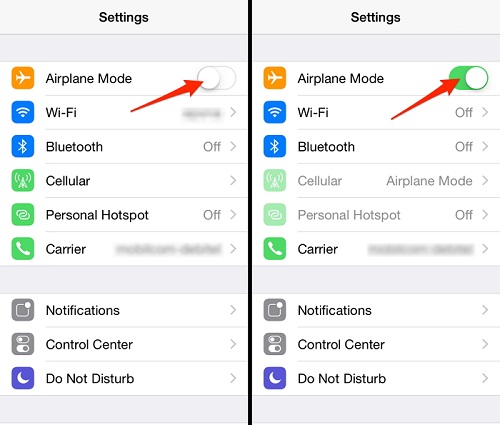 #Way 6. Remove & Insert Your SIM Card
Still want to try something off the hook? How about removing and inserting your sim card? This works for many iPhone users, and yours shouldn't be any different.
Step 1: Start by removing your sim card.
Step 2: After doing this, check to know if the sim card is damaged or not. You should also check whether it fits perfectly or not.
Step 3: Insert sim card and watch to know if the issue has been fixed.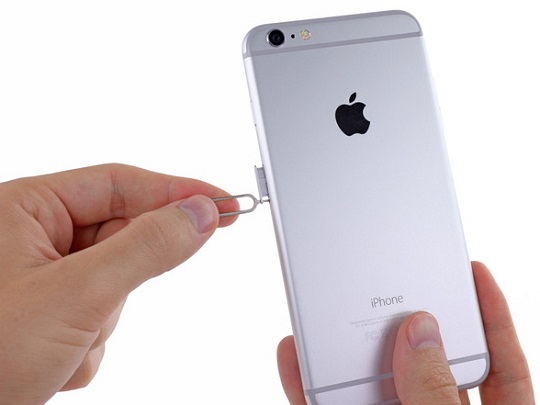 #Way 7. Enable Don't Allow Changes
Another powerful way to fix this issue is to enable don't allow changes. Take a look here at some of the steps needed to get this right.
Step 1: Go to Settings and select Screen Time.
Step 2: Select Content & Privacy Restrictions. If you're asked to input a password, feel free to do so.
Step 3: Now, navigate to changes and select the features or settings you want to allow changes to and choose Don't Allow.
#Way 8. Fix iPhone Cellular Data Keeps Turning off without Data Loss
Have you recently noticed that your iPhone cellular data keeps turning off and you want to get it sorted out right away? Well, now it is an amazing time to give iMyFone Fixppo a try. A uniquely designed software for iOS issues fix (from iOS 7.0 to the latest iOS 16).
iPhone users who do not want to lose the data can choose the standard mode to have a try.
Step 1.Begin by connecting your device to the computer, once your device is detected, click Next.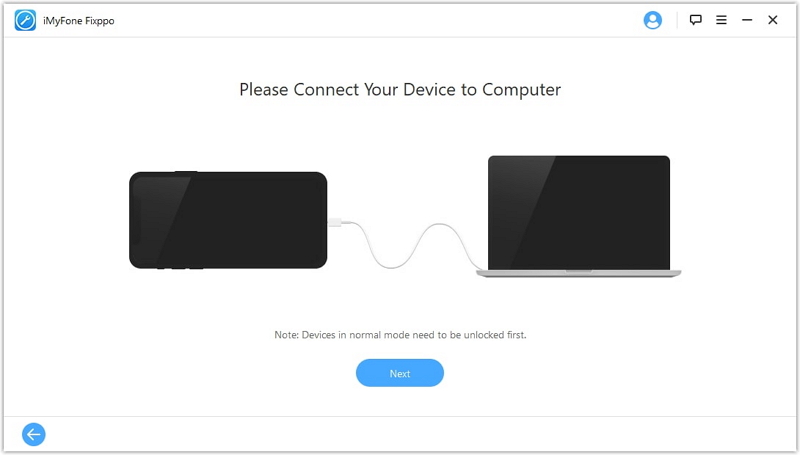 Step 2. Once your phone is detected, the program will download the needed firmware to fix your phone.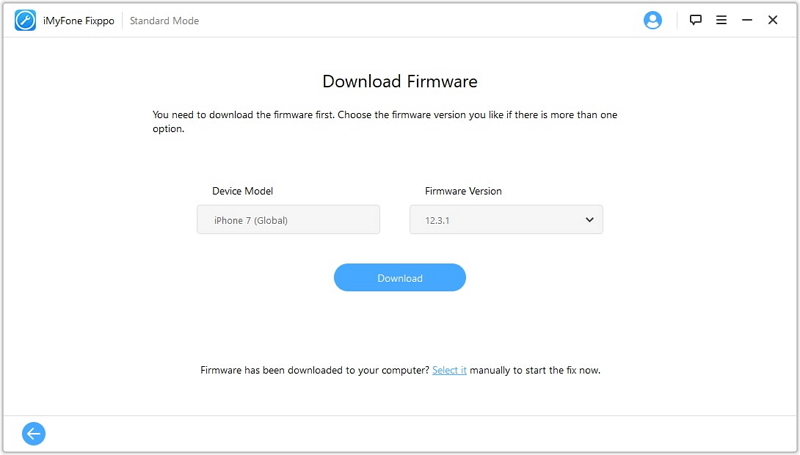 Step 3.After downloading the firmware, you can click Start button to fix your device.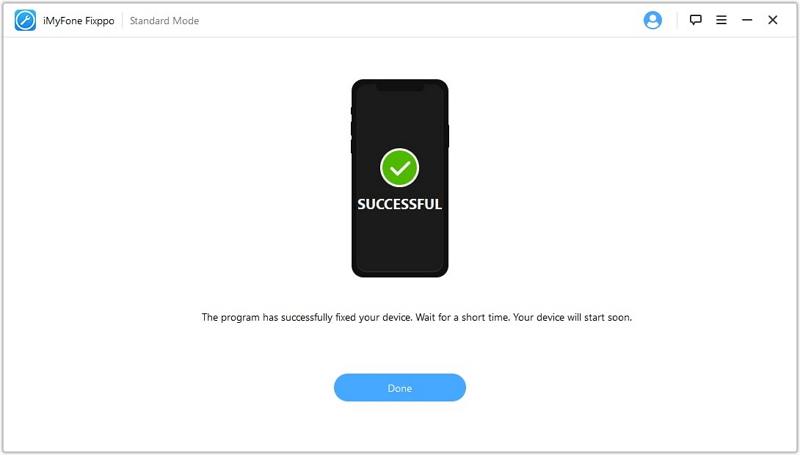 Note
Please don't use or unplug your device during the process or it may brick your device.
Besides the fact that this iOS repair tool works effectively, it is also easy to use. More so, it supports iOS 7.0 to the latest 15.0 do most iPhone users will benefit, and it doesn't take too much time to fix the issue.
#Way 9. Restore Your iPhone via iTunes
Restoring your phone via iTunes is another powerful method to solve the issue of no cellular data on iPhone. Here are all the steps you'll need and please ensure your computer has the latest iTunes version.
Step 1: Connect your iPhone to your computer.
Step 2: Open iTunes and select restore backup. Once the restoration is complete, your iPhone will restart, and you're good to go.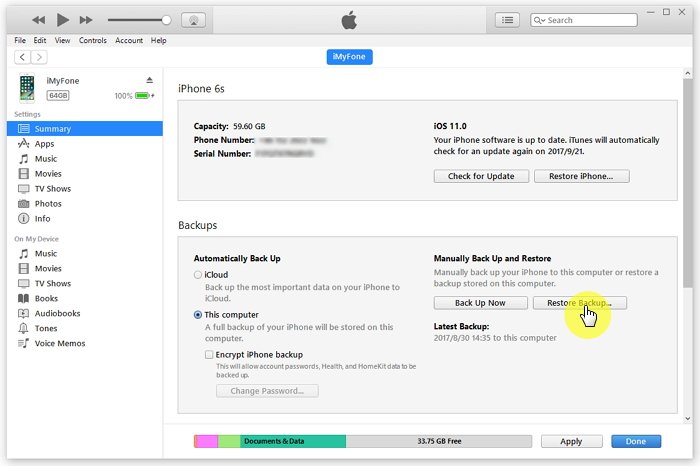 #Way 10. Contact Apple Support
If all the method listed above fails, you should consider contacting Apple support for further assistance in case there is something wrong with the hardware.
Tip. What If Losing Data after Fixing
Not bothered that you may lose all your data? Well, you should consider using iTunes or iCloud backup to restore your phone fully. Although it would get the problem fixed,this may result in you losing important information.
For iPhone users who do not have a backup, you should consider using iMyFone D-Back. As a powerful data recovery tool, this software is capable of recovering more than 18 data types. Here, check out the steps to recover what you need on your iPhone.
Step 1.Connect your iPhone to computer. Once the software detects your phone, continue by clicking Next.
Step 2.Now, select the types of files you'd like to recover and click Scan to continue. 
Step 3. Having completed the scan, you can select the files you need and click the Recover button.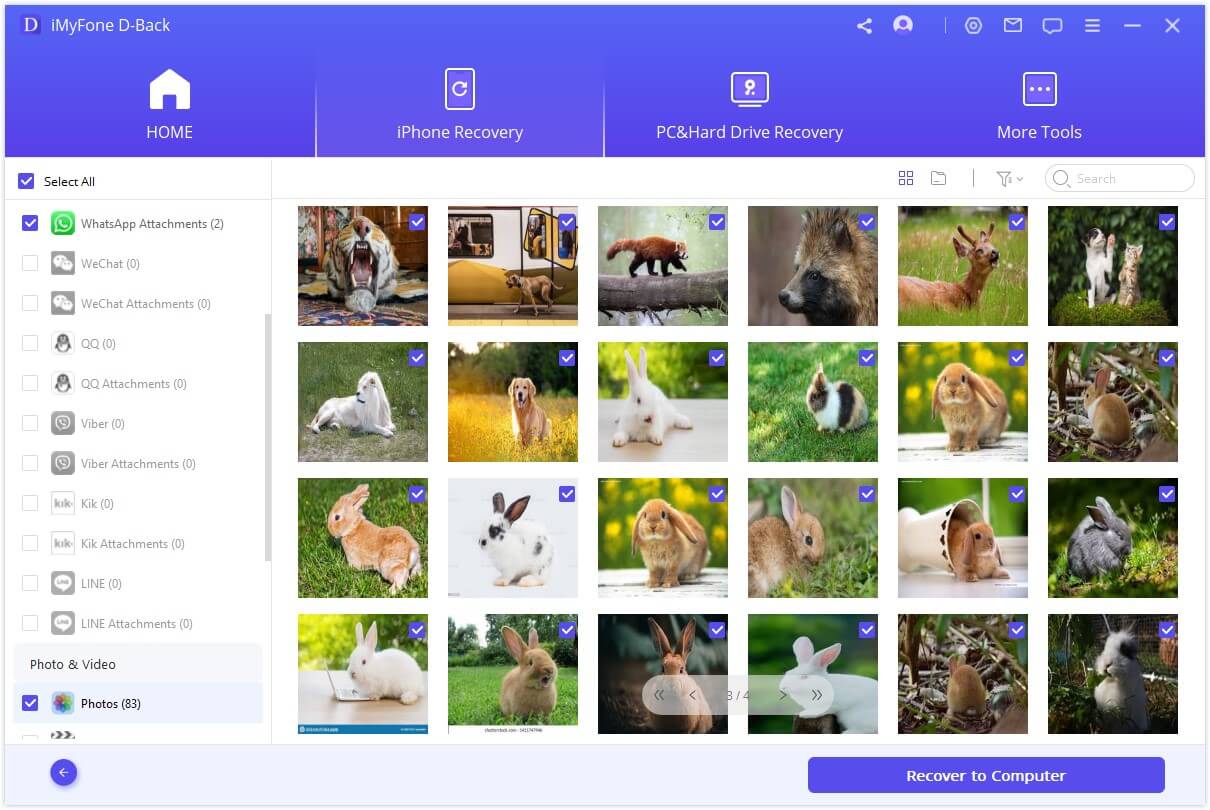 Conclusion
This post tells you how to fix iPhone cellular data keeps turning off. Feel free to explore all the above methods listed and choose one that works for you. If you have a question or comment, feel free to reach out to us, and we will be happy to reply.