iPhone devices are fantastic ones that can hold your entire life in a a hand-sized device, and with all that technology, it's no wonder that sometimes things can be a little buggy. Take the browser Safari as an example, if you look at the Apple support forums you can often find threads asking why Safari can't find a server even though it could before.
3 Recommended Ways to Fix Safari Can't Find the Server on iPhone
Fortunately, this is a relatively common problem that is well known by Apple and its users, and there are several ways to fix this issue. You can find the best ways to solve this problem below.
Way 1. Use an Advanced iOS System Repair Program
iMyFone Fixppo is an advanced iOS system repair program software that supports all versions of iOS devices, including all iOS versions and the newest models of Apple devices. If you encounter Safari can't find the server on iPhone issue, it might be something wrong with the iPhone operating system. Now, do not hesitate to learn more about this wonderful tool.
Fixppo comes in two different modes, standard and advanced. Standard mode will fix most common iOS issues and it also prevents any of your data from being lost. Advanced mode does cause data loss, however it will fix more serious iOS issues not covered in standard.  So generally we suggest you try the standard mode first.
Apple users love iMyFone Fixppo because the software is secure and has a user friendly interface, and the customer service is extremely helpful and professional. There is never a concern for breach of privacy while fixing your device, and you don't need to have any technological knowledge to use the service. It's also well trusted!
If you're interested in using iMyFone Fixppo to fix your iPhone issue, following these steps. we recommend using standard mode for the "Safari Can't Find Server" issue, as this is quite common and will keep your iPhone data safe.
Step 1.Connect your device to a computer and click the Next button.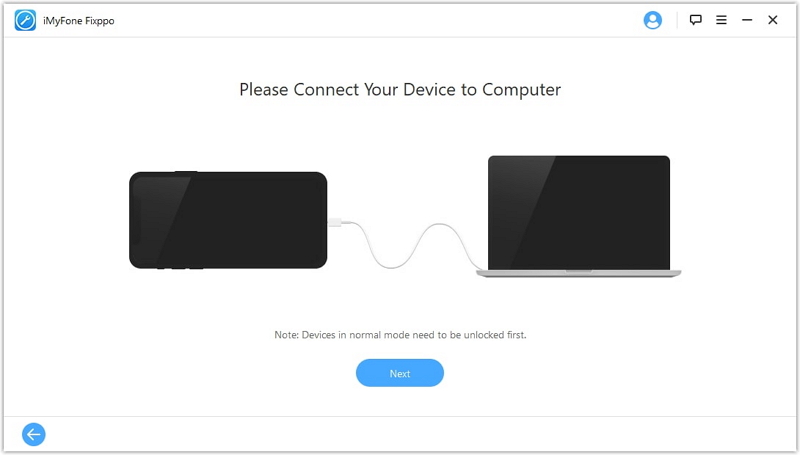 Step 2.The program will automatically detect the model of your phone and will display a list of options for firmware to download. Choose the one that your prefer and click download.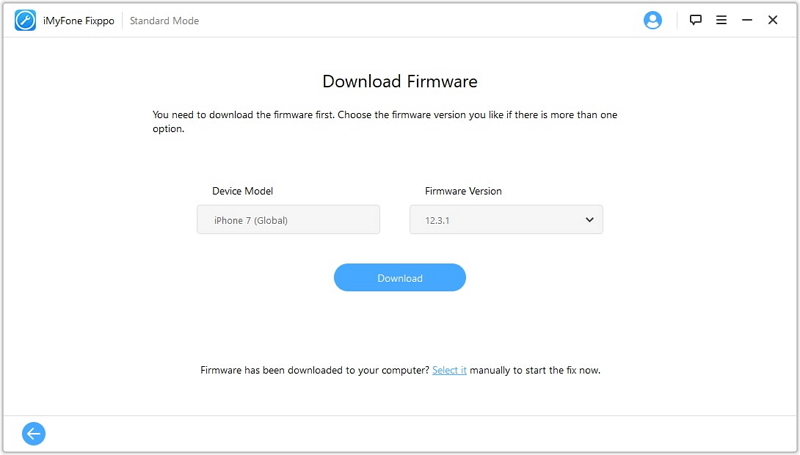 Step 3.Check to make sure that the device and firmware displayed are correct, then simply click the Start button. Do not unplug your phone during this process or it could end up bricked.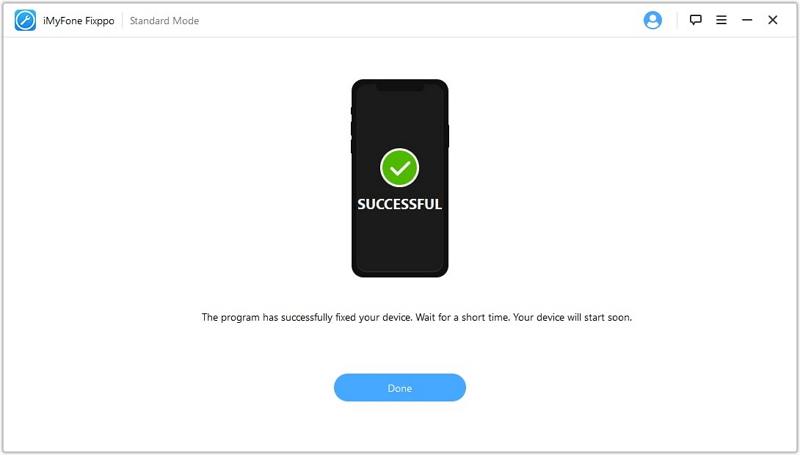 Way 2. Erase All Content and Settings on Your iPhone
This is the last resort: a full reset will erase all your data. You must back up your phone before doing this if you dpo not want to lose data.
Step 1: Launch "Settings" and tap "General". Scroll to the bottom to find "Reset".
Step 2: Tap"Erase All Content and Settings"
Step 3: Tap "Erase iPhone", then tap it again to confirm.
Step 4: Enter your passcode when the phone prompts you.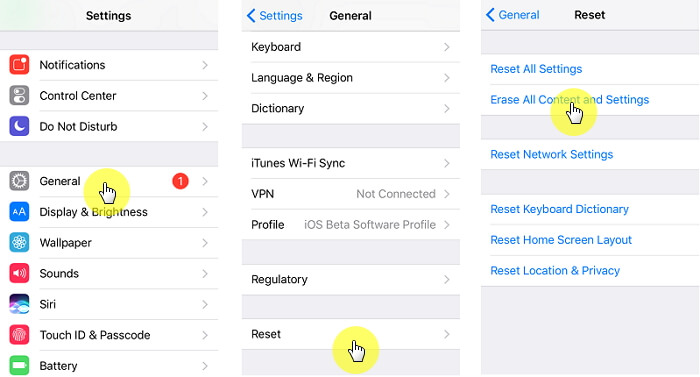 Way 3. Contact the Apple Support Center
If this doesn't work either, then you can contact Apple support enter to check whether there is something wrong with the hardware. 
6 Common Ways to Fix "Safari Can't Find the Server" on iPhone
We understand that going straight to diagnosing software or hardware problems is a bit abrupt. Before you see if the software has a problem, you should always check to see if the problem is with either the iPhone settings or human error. So investigate these possible problems first.
Way 1. Check Internet Connection
Sometimes when we're faced with a technical error we don't know, we may run to find the most complicated solution, but it might not be that major.
If Safari can't connect to the server, first try checking your internet connection before doing anything else. If you have a poor connection, then nothing will be loaded anyway. Make sure you're on a strong data or Wi-Fi connection. Also check that you don't have airplane mode enabled, as this will block all data connection.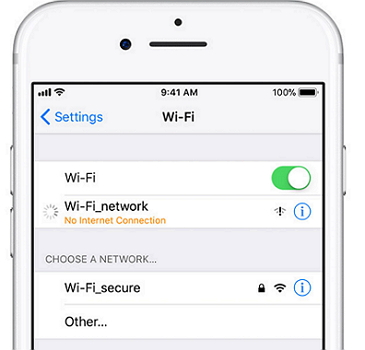 Way 2. Check the Website URL
Checked the Internet connection and everything is all good there? If Safari still won't connect, make sure the URL for whatever you're searching has been keyed in correctly. The smallest of mistakes in a URL will cause the issue that the webpage you're looking for won't load. When entering a URL manually, make sure it's 100% accurate.
Way 3. Restart Your iPhone
The simple old school "turn it off and turn it back on" method. You may laugh, but nine times out of ten this does the trick.
To restart an iPhone 8 or older, hold down the power button until your phone restarts. The power button will either be on the top or the side of your iPhone opposite the volume buttons.
If you have a newer iPhone X, XS (Max), or XR, then you'll have to press and hold the power button and the volume button simultaneously.
Your phone will automatically restart itself, and hopefully this will fix the issue with Safari.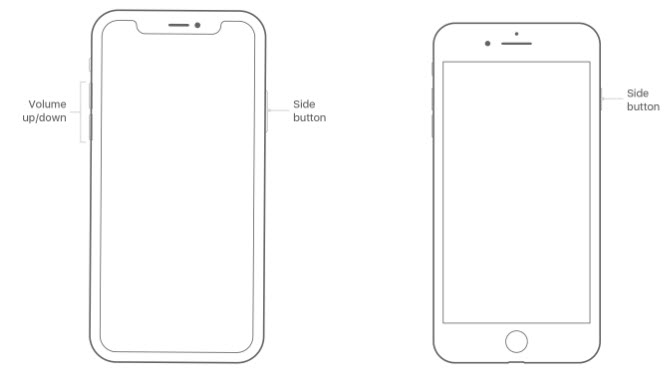 Way 4. Reset Network Settings
When you see Safari still displaying the "Can't Connect to Server" error message, then you try resetting your network settings.
Step 1: Go to the Settings app and select General.
Step 2: Select Reset and tap Reset Network Settings.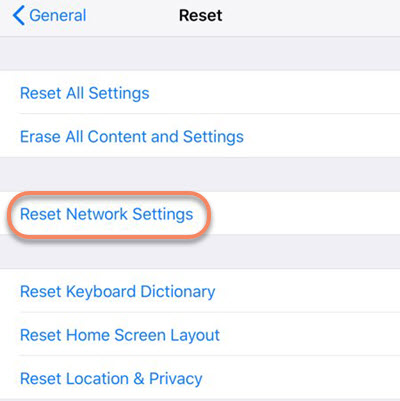 Once you've done all that, try opening Safari again to see if it will now connect to the server.
Way 5. Clear Safari Cache and Data
If you're still getting that error message, you can try clearing the cache and data from all your previous Safari searches. Here's how:
Step 1: Open the Settings app.
Step 2: Scroll down and choose Safari.
Step 3: Select Clear History and Website Data.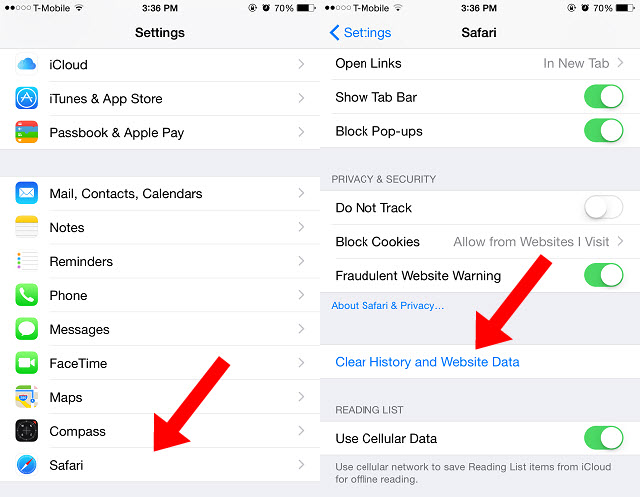 Way 6. Modify DNS Settings
Another thing you can do to try to fix the Safari error yourself is to manually modify the DNS settings. DNS stands for domain name system, and its purpose is to convert a URL into and IP address, so that the corresponding web page will load. To change your DNS settings, just follow these steps:
Step 1: Go to your Settings app and select Wi-Fi.
Step 2: Tap the little blue information icon next to the Wi-Fi domain you're connected to.
Step 3: Select Configure DNS and switch it to Manual.
Step 4: Select Add Server and type in 8.8.8.8 or 8.8.4.4 to add the Google DNS server.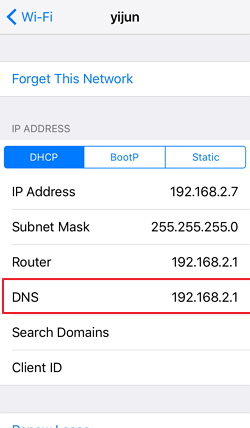 Conclusion
As you can see, there are a wide variety of ways to try to fix your phone, and we recommend that you consider your options carefully. Work through each option from least to most risky according to your level of technological confidence. Please use your best judgement, and if there are any more tips that we have not mentioned, just comment below.