Is TikTok glitching? Or is it just my phone cause this is weirdddd! Playing the same video for a long time! &nbsp ---- Mia from Twitter
Tiktok is one of the most used applications where users record videos and share with other people. It has become a hot-selling platform to advertise your business and get entertainment at the same time.
It has been reported by many users that they are facing issues while using TikTok. Have you also been fed up with such Tiktok glitching? Here you will find the solutions to every problem regarding this dimension till the end.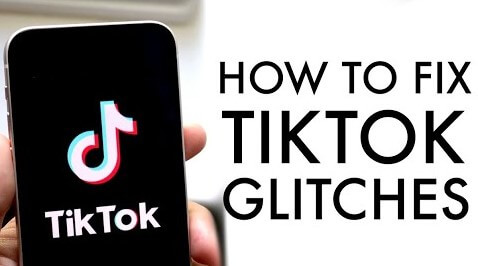 Part 1. Why is TikTok Glitching?
There are multiple reasons behind glitcheaven TikTok that are making it hard to use this amazing application. Many TikTok users have been reporting TikTok videos/views/followers/comments/share glitches on Twitter, the possible reasons for the above glitches are:
Device Related
Internet Related
App Related
If you are depressed due to the Tiktok glitches, here below are the best solutions to get relaxed and enjoy recording videos with Tiktok's hundreds of filters.
Part 2. 8 Ways to Check and Fix TikTok Glitches
There are multiple methods available to solve the Tiktok glitching problem in an easy method. But most of them are just a squander of time. So, we have handpicked some general methods with a brief description to make this fix most of TikTok glitches.
Let's have a look at the following methods and try to find what you have been looking for hours.
1) Update or Reinstall TikTok App
Sometimes, glitches are due to an old version of the application. You might have blocked the auto-update feature on your account which may lead you to this point. First of all, you have to go to Google Play Store or App Store to check the last update of your application.

If it is showing that you have not updated the application, you should update it quickly. In some cases, you might not be able to update the application because of issues like storage deficiency. So, you can uninstall the application and install it again after few minutes.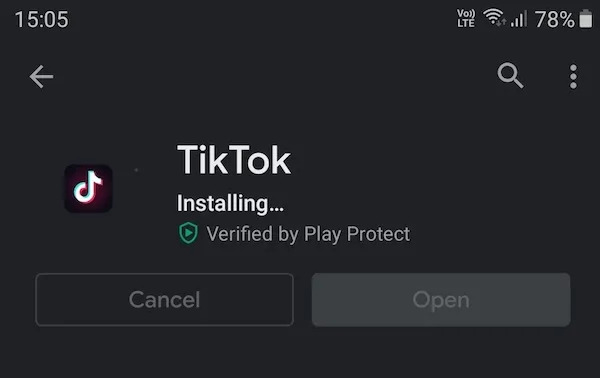 Tips
Keep in mind that you have to do this only if you know the credential of your account. If you have forgotten your username or password, first of all, recover them and then uninstall the application. There are huge chances that your problem of Tiktok glitches will be resolved.
2) Clear App Cache or Junk Data
If you have a fully updated application and still facing Tiktok video glitching, you should try to clear unnecessary data of the application. You have to clear app caches or junk files by exploring the phone manager of your mobile.It is another efficient method to resolve the Tiktok glitch and enjoy its working smoothly. Here are some simple steps:
Launch the TikTok.
Tap on the "Profile icon" - Me at the bottom menu.
Click on the three dots(…)at the top right of your profile.
Tap on "Clear Cache".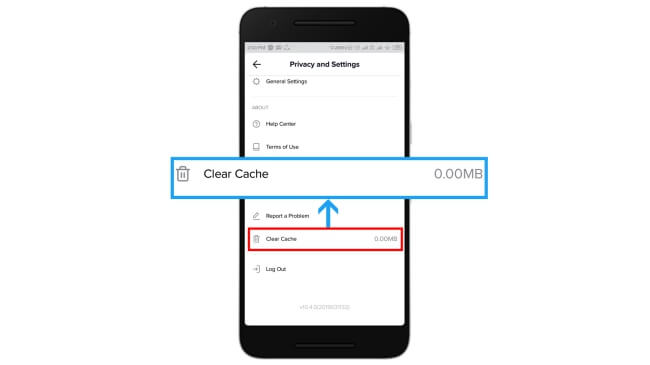 Or you can clear TikTok cache on Android with these steps: open the Settings > Apps & notification > TikTok > Storage > Clear Cache.
3) Restart Tiktok or Your Device
If both of the above-mentioned tricks are not working for you, it might be the turning point for you. It is pretty simple because you have to only restart the application or device. Some users simply close the application and open them after a while to check if the problem has been resolved.
4) Force Stop the TikTok App
Whenever you open an application, it will collect some data to save at the backend. But this data will not be deleted after the closing of that application. In such a case, this data will keep collecting and make your application heavier. To resolve this problem, you can force stop this application. It will clear all the unnecessary data from the application and make it smooth.
For iPhone users:
Touch your finger to the gesture area at the bottom of the screen.
Swipe up and you can see the card-like multitasking interface appears.
Flick the TikTok up.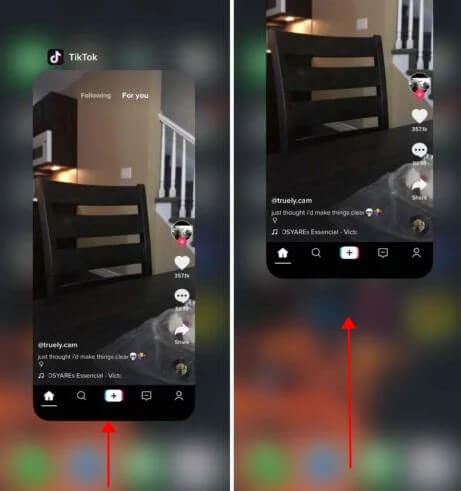 5) Check Internet Connection
Sometimes, a Tiktok glitch occurs when you don't have a stable Internet connection. You should check the internet speed or router connection to get an idea about its reliability. If you have a weak Internet connection, you must connect with your service provider and ask them to restrain this issue.
In this way, you might be able to resolve Tiktok glitches and enjoy yourselves again.
6) Use VPN
Due to TikTok privacy policies, it is prohibited to use this application in many countries. If no method is working for you from the available list, you should try to download VPN and use this application over there. In this way, you will be able to watch or record TikTok videos smoothly. It is the best method to resolve glitcheaven TikTok.
Here we suggest some VPN, you can sign up for a free trial to check if their services meet your present needs:
7) Use iMyFone Fixppo (iOS Only)
iMyFone Fixppo is an iOS system recovery tool. You can easily use this third-party tool to update or repair your iPhone so that you can fix TikTok glitches issues.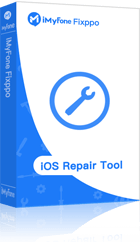 We are here prepare how to use iMyFone Fixppo for you, you can check detail steps in that blog.
8) Contact TikTok Support
If something worst has happened with your account and restricting you to play videos properly, you should contact TikTok Customer Support or find Support on your TikTok App.
Tap on "Me" on your TikTok App.
Click on the three dots(...)above;
Select "Support" or "Support Center" in the menu settings.
With this, they will tell you the actual problem with your account or videos. In this way, you will be able to know which method will work for you regarding the Tiktok glitches.
Part 3. How to Fix TikTok Videos Not Loading Glitch?
It has been reported by many users that their TikTok videos are not loading but the audio in the background keeps working. If you are facing this problem, you must try the above methods one by one to get rid of this problem.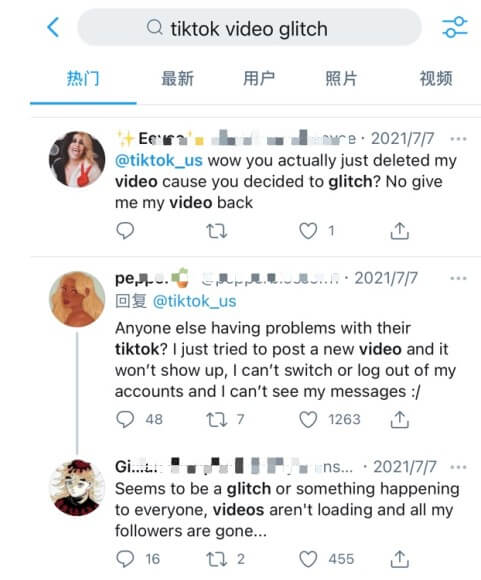 Part 4. How to Fix TikTok 0 Views Glitch?
Many users try to go viral by uploading the same videos from the previous account. It will never work smoothly while you are copying your own videos or others. You should try to capture or record new videos to engage the audience.
In the last, don't try to share inappropriate content with the TikTok community. It may violate their rules and they will restrict your account for any activity.
Remember: always try to make and upload high-quality content to engage your visitors.
Part 5. How to Fix TikTok Comments Glitch?
First, please try the 8 methods above to solve this problem. If you still have this TikTok glitch, make sure that the comments you leave don't contain swear words or even ads links that can be easily blocked. Besides, taking a break from commenting if you receive a TikTok "You're commenting too fast" error message.
FAQs about TikTok Glitches
Q1

How Do I Stop TikTok from Glitching?

It is pretty simple to stop the TikTok glitch when you know the exact process. You should follow all the above methods properly unless you have reached the right one.
Q2

How to Clear TikTok Caches on Phone?

You only have to open the phone manager and look for the TikTok application from the available list. Just click on the application and it will open a sub-menu. Here click on the caches and hit the delete button.
Q3

Why Did My Followers Go to Zero on TikTok?

It might be due to a bug in the backend of TikTok official. If you have shared any inappropriate video from your account, you might also have to face this issue.
Conclusion
By using the above methods, you will be able to solve the TikTok video glitching problem. Not every method is for every TikTok users. But I'm highly recommended you to try out iMyFone Fixppo for free now by clicking the download button! If you have any questions or ideas, feel free to leave a comment down below.