Fdownloader alternative: TopClipper for Easy Facebook Video Saving.
Category: Videos Maker
7 mins read
Are you looking for fdownloader alternatives to save your favorite Facebook videos? If yes, then you are in the right place. In this article, we will discuss the fdownloader alternative and how to use it to save Facebook videos in 3 steps with iMyFone TopClipper.
We will also talk about the features of TopClipper, which make it the best fdownloader alternative on Android and Windows. Finally, we will finish our discussion with frequently asked questions about fdownloader alternatives. So, let's get started!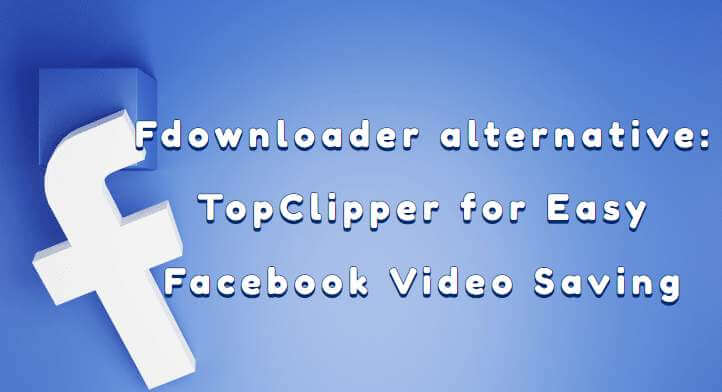 How to Save a Facebook video with a Fdownloader?
Facebook is one of the most popular social media platforms. With millions of users worldwide, Facebook offers a great way to keep in touch with friends and family. However, navigating the platform can be tricky when saving videos from Facebook.
FDownloader is an online tool that can easily be used to download favorite youtube videos and facebook videos. Below are more details of what FDownloader is, and provide detailed instructions on downloading online videos from Facebook using it. 
01

What is FDownloader? 
---
FDownloader is a free online 4k video downloader that allows you to download videos from various sites such as YouTube Videos, Vimeo, Daily Motion, and more. It also supports downloading content from social media platforms like Twitter and Instagram.
Using the website, you can search for the video you want to download and initiate the process just with a single click and it can convert youtube videos. The website offers a user-friendly interface and easy steps for downloading youtube videos and facebook videos quickly and easily. 
02

How to Download Videos From Facebook With FDownloader?  
---
Using FDownloader couldn't be easier. All you have to do is follow a few simple steps: 
Step 1: Open up the FDownloader software on your computer or mobile device. You should see an icon on your desktop or home screen, depending on which type of device you're using.
Step 2: Find the video you want to download from your news feed or timeline on Facebook and click on it to open it up on its page. 
Step 3: Copy the URL (web address) of the video that appears in your browser window at the top of your screen (it should start with "https://"). 
Step 4: Go back into FDownloader and locate where it says "paste link here" - this is where you will paste the URL you copied in step 3.  
Step 5: Once you've pasted in your link, click on "download" near the bottom right corner of FDownloader's window - this will initiate downloading the video onto your device! 
Step 6: After a few moments, depending on file size, you should receive a notification that your video has been successfully downloaded - all left for you to do now is enjoy watching!  
And there you have it! With these simple steps, you can successfully use FDownloader to save FB videos in just a few moments!
How to Save Facebook video in 3 steps with TopClipper?
Although most of us are accustomed to saving images, audio and video files from social media platforms like Facebook, many people don't know how to do this.
However, it can be difficult to download these memories for later use. Fortunately, iMyFone TopClipper makes it easy to save a Facebook video in just 3 simple steps:
Step 1: Download the TopClipper App
The first step is to download the TopClipper app! This fdownloader alternative is available on both Android and Windows. You can easily install it right onto your device with just a few simple clicks.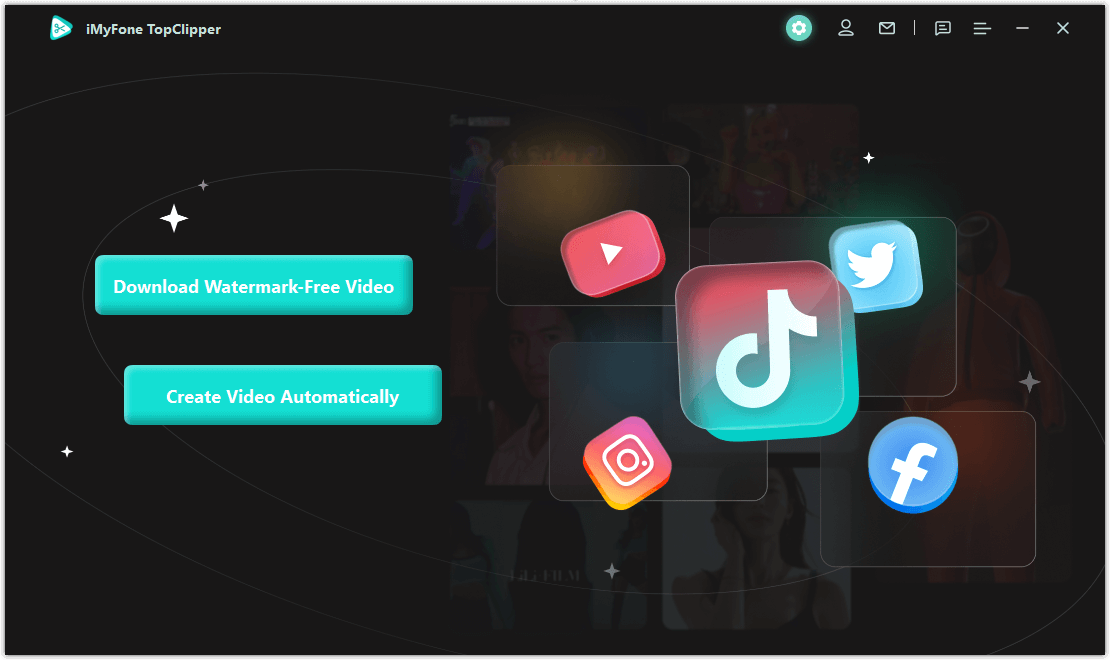 Step 2: Copy & Paste the Video Link
Once the app is installed, open the Facebook video you want to save. Then, copy the video link and paste it onto the TopClipper app. The fdownloader alternative will then start to download the video right away.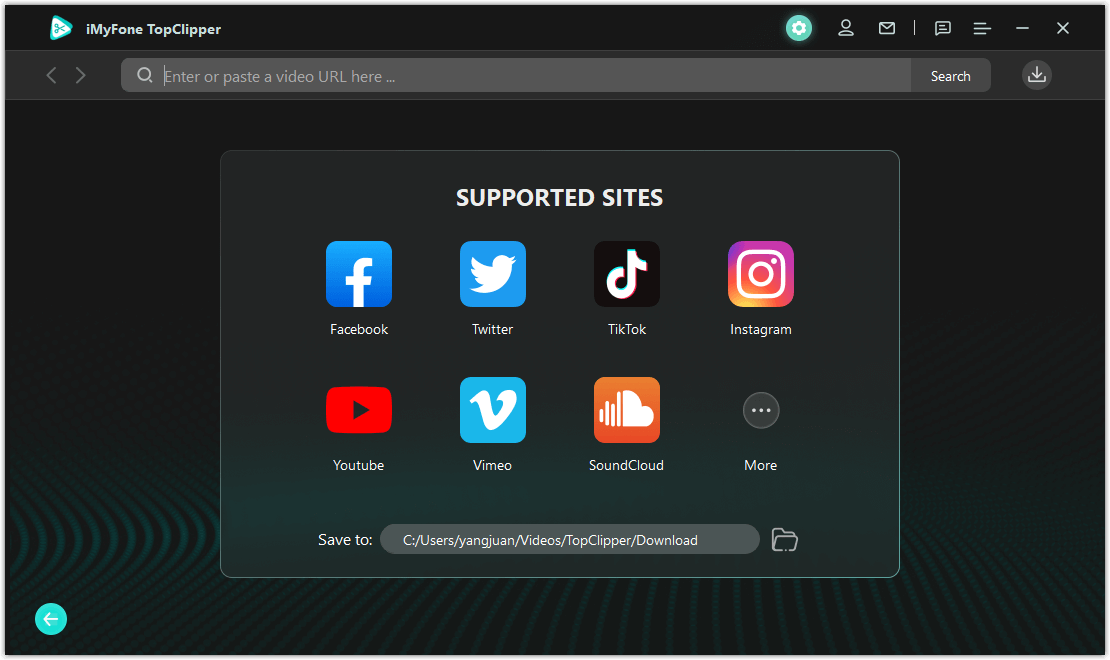 Step 3: Select Video Quality & Save
The last step is to select the quality of the video that you would like to save. Choose between standard, HD or UHD quality depending on your device's storage capacity. Then, wait while the fdownloader alternative downloads and installs the video onto your device. Once complete, you can now watch it anytime and anywhere you like!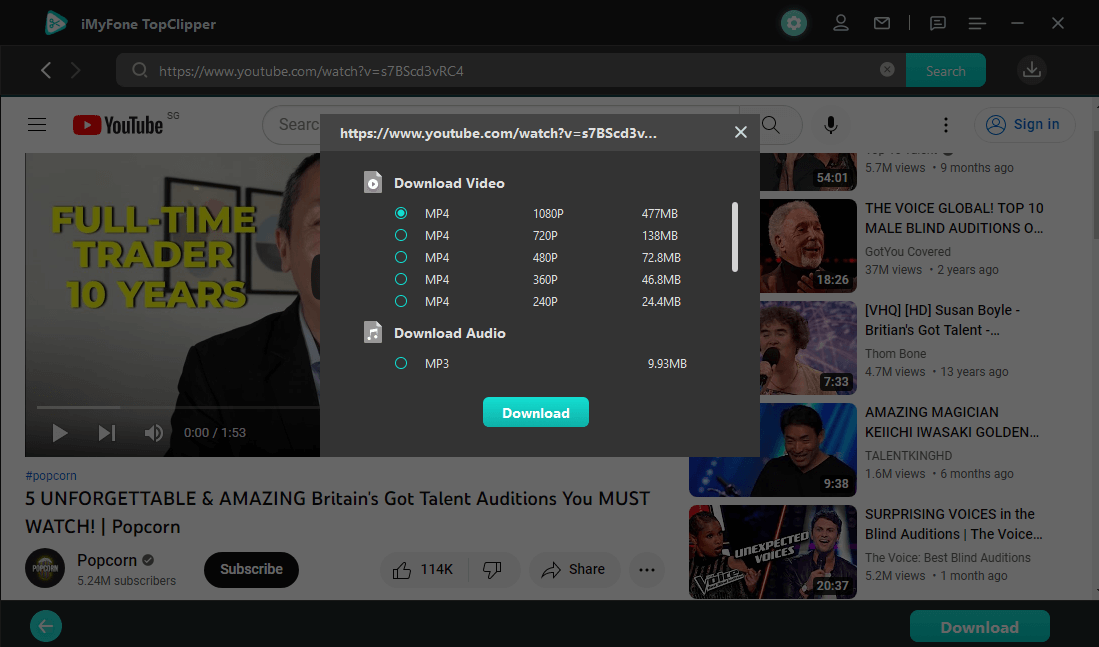 Using TopClipper is one of the easiest ways available today for anyone looking to save videos from Facebook quickly and simply without having any technical know-how. It provides users with great features such as downloading various file types and editing capabilities which make manipulating videos simple even for those who aren't tech savvy!
Why TopClipper is the Best fdownloader Alternative on Android & Windows
iMyFone TopClipper is a popular downloader alternative for Android and Windows users. It offers multiple features that make it an ideal choice for those looking to download files from the internet quickly and easily. It provides users high-speed downloads, video converter,secure file transfer, and various other options and it is also excellent for download youtube videos.
Compared to other downloaders, TopClipper stands out as one of the best due to its extensive range of features, user-friendly interface, and reliable performance. Here are some of the reasons why TopClipper is the best downloader alternative on Android & Windows: 
1

High-Speed Downloads
---
One of the main advantages of using TopClipper is its ability to provide high-speed downloads. Thanks to its advanced algorithms, it can achieve up to 10 times faster than most conventional downloaders.
This makes it ideal for those who need fast downloads and also save youtube videos. Plus, since all downloads are carried out via an encrypted connection, you can be sure your data is always secure and protected from malicious attacks.
---
2

Secure File Transfer

With TopClipper's secure file transfer system, you can rest assured that your data will remain safe while downloading or transferring files across different devices. The built-in security protocols ensure that all sensitive information remains confidential while protecting users from malicious actors attempting to gain access to their data.

Additionally, you can set up additional layers of encryption if necessary to further protect your privacy and security. 
3

Powerful Search Function
---
TopClipper also has a powerful search function that lets you quickly locate files on the web without manually browsing through endless pages or results lists.
You can search for specific files by entering keywords into its search engine or filter results according to specified criteria such as size or type of file format. This makes finding what you need much easier, so you don't have to spend hours locating something online.  
4

User-Friendly Interface
---
Another great feature offered by TopClipper is its user-friendly interface which makes it easy for even novices to navigate around without any difficulty whatsoever. All functions are clearly labelled and organized intuitively so users can quickly find what they need without trouble.
Furthermore, there is also an integrated help section that provides detailed explanations of how certain features work so beginners won't have any problems understanding them. 
5

Automatic Updates
---
In addition to these features, TopClipper also offers automatic updates, so you won't have to worry about manually updating the application whenever new versions become available.
The program will update itself within minutes, so you always have access to the latest version with all bug fixes and feature improvements installed right away without requiring any additional effort on your part whatsoever. 
6

Compatibility With Multiple Platforms
---
iMyFone TopClipper is compatible with Android and Windows platforms, which means you will be able to use this program regardless of the device or operating system you might be running at home or in the office without having to worry about compatibility issues getting in the way of your workflows ever again!
Plus, since this program relies on cloud technologies, it doesn't take up too much storage space, making it ideal for anyone with limited resources! 
7

Free & Affordable Pricing Plan
---
Last but not least, TopClipper offers free access for basic users and affordable pricing plans for those who need advanced features such as extra storage space or increased download speed limits, among others!
This means that no matter your budget constraints, there will still be an option available that meets your needs perfectly while providing excellent value money overall too!
Frequently Asked Questions 
1

Why should you use FDownloader.Net to download Facebook videos?

FDownloader.net is one of the best options available for downloading Facebook videos. It allows you to quickly and easily download any Facebook video, whether private or locked. Additionally, FDownloader supports downloading multiple videos at once and in different formats like MP4, 3GP, and more. 
2

Does FDownloader support downloading private Facebook videos?

Yes, FDownloader supports downloading private Facebook videos! FDownloader is an online service that makes it easy to download video off the internet with just a few clicks. It's compatible with the most popular video websites such as YouTube Video, Dailymotion, and Facebook.

You can download any private or locked video by providing the URL address to FDownloader. 
3

How to download Facebook videos on Android or Windows?

Download a Facebook video on Android or Windows using Fdownloader's alternative iMyFone TopClipper. However, suppose you want a more advanced solution with additional features, such as the ability to trim and create clips of downloads and high-quality view resolutions. In that case, TopClipper may be a better option for downloading files from Facebook.

This app has both premium and free versions based on the type of editing features needed for your project. With premium plans starting from just $, this might be worth considering if you download lots of content from social media sites like Facebook to edit them professionally afterwards.
4

What are the Other fdownloader Alternatives?

Several free and paid alternatives available can provide similar features as fdownloader.

One of the top free options is TopClipper. This desktop download manager allows users to quickly and easily download videos, images, documents, audio files, and more from popular streaming sites. It supports a wide range of media formats, including MP4s and MOVs. Additionally, it offers batch downloading capabilities, making it easier to process multiple files at once. Best of all, its lightweight footprint won't clog up system resources like other heavier-weight solutions typically do. 

Download Mate is another great alternative for those seeking an efficient file-downloading experience. This app includes both automatic downloading tools as well as manual controls that allow users to streamline their processes even further by customizing various settings, such as choosing separate folder locations for each type of downloaded content or limiting data usage to stay within any bandwidth restrictions set by ISP's or other service providers.

In addition to these two solutions, several more excellent software packages are worthy of consideration, such as GetRight Pro or Download Accelerator Plus (DAP).
Conclusion: 
fDownloader is a great tool for downloading videos from the web, but it's not the only one out there. iMyFone TopClipper is a excellent fdownloader alternative that can be used on Android and Windows devices, allowing users to save Facebook videos in just three steps with minimal effort. GetRight Pro and Download Accelerator Plus (DAP) are excellent solutions for those looking for best youtube video downloader.