How to re-upload a TikTok video without watermark? A Complete Guide
Category: Videos Maker
5 mins read
If you've been on TikTok recently, it's likely that you've seen some of the crazy, creative content people have come up with. It has rapidly taken over as one of the most popular forms of social media entertainment -- but there can be a problem: if you try to re-upload a video without watermark, the process can become tedious and overwhelming. In this blog post, I'll provide step-by-step instructions on how to re-upload your favorite TikTok videos without watermark quickly and easily so that you don't miss out on any of your favorite trends. So don't worry - let's get started!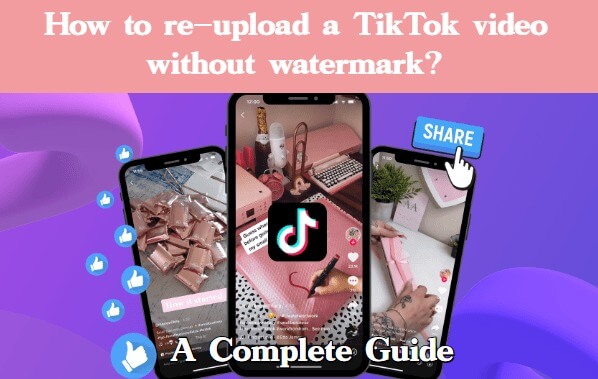 All-in-One Video Downloader & Editor for TikTok/ YouTube/ Twitter/ Instagram Video
Part 1. How to download a tiktok video without watermark
For those of you who need to save videos from any UGC website without a watermark so they can be viewed or for example, uploaded for other purposes, you can do so using the "Download Video without Watermark" function. iMyFone TopClipper is an easy-to-use video download tool that allows you to download a tiktok video without watermark and re-upload it on tiktok. It offers many features to make the downloading process faster, easier, and more efficient.
Step 1.

Start iMyFone TopClipper

Install and run iMyFone TopClipper on your computer. You will need to select the "Download Watermark-Free Video" mode in order to download the video.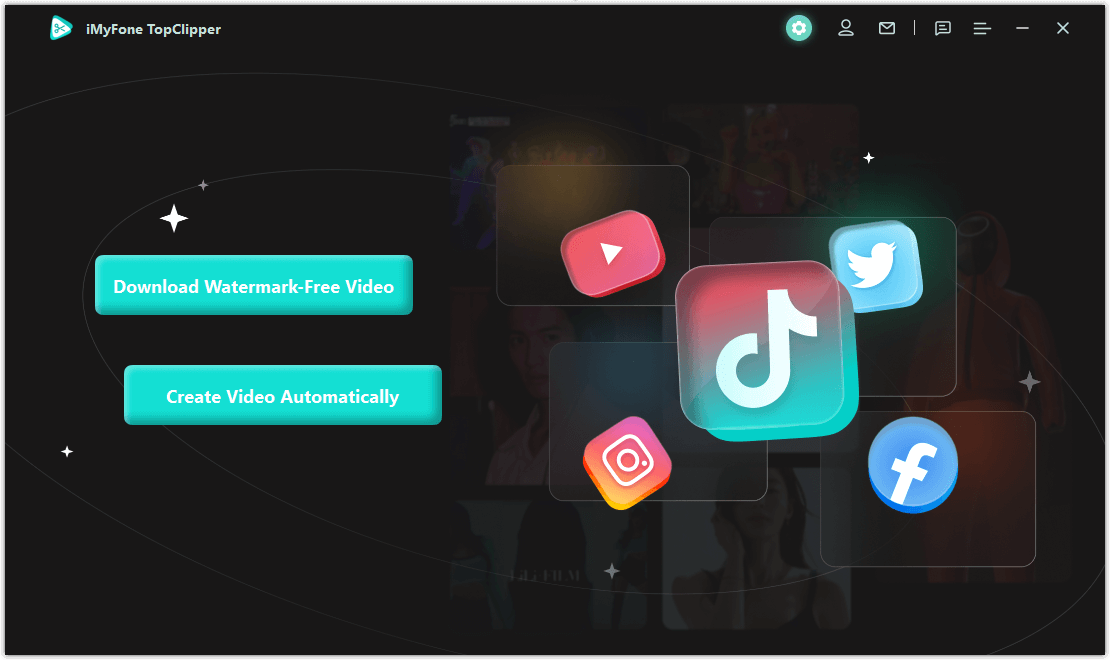 Step 2.

Paste the link to the video in the box

If you want to download a video from a specific platform, you can paste the URL into the input box and click "Search", or simply click the icon of that site. iMyFone TopClipper is a powerful tool that allows you to view and search for your favorite videos through the embedded browser. A Download button will appear when the program recognizes that there is a video available and supports parsing. This allows you to parse and download the video as soon as the program recognizes that the video exists.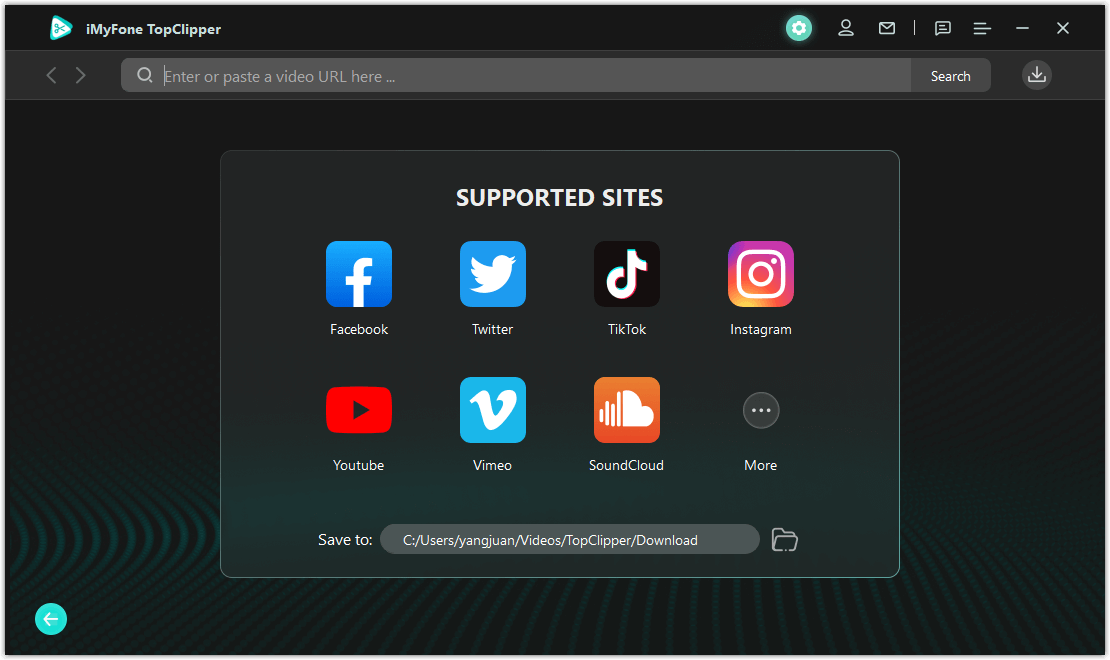 Step 3.

Identify the video's parts

Click on "Download" if you would like to enter the page that shows the parsing process. Upon completion of the parsing process, you will be able to select the resolution you'd like and the video will be automatically downloaded and saved to your computer.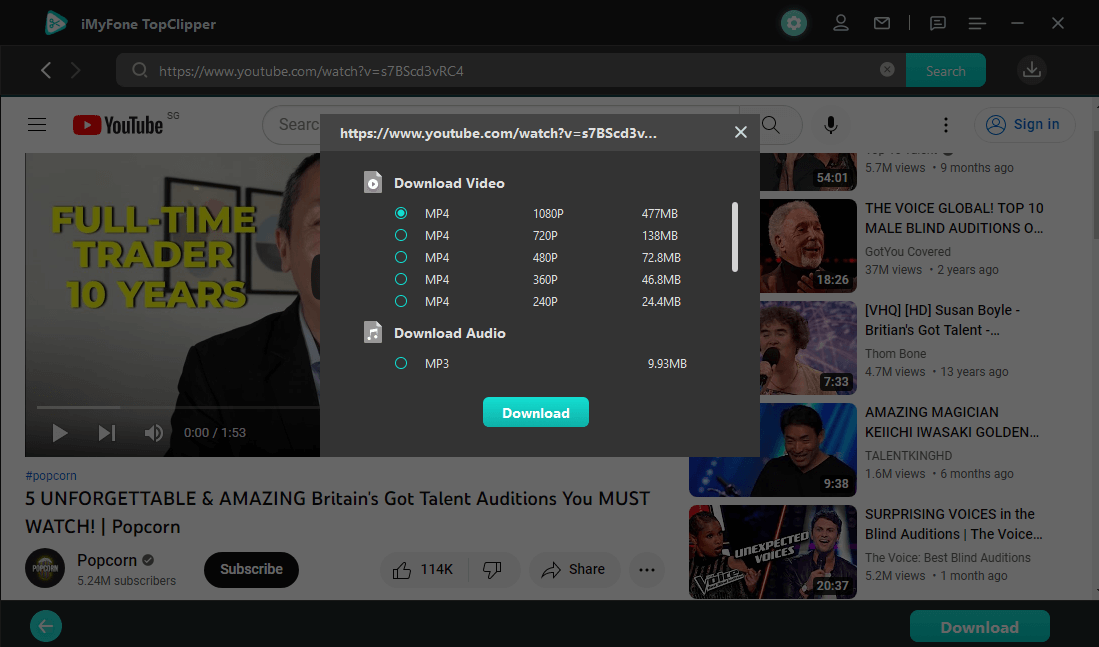 Step 4.

Success in downloading

TopClipper downloads videos at high speed in just a few minutes, so please be patient. The video effect can be viewed directly by clicking "Thumbnail", or you can edit it automatically by clicking "Start Creating". The file can also be opened by going to the location where it has been saved. As an alternative to clicking the link icon at the top of the page, you can also paste the URL of the video, parse it directly, and start the downloading process.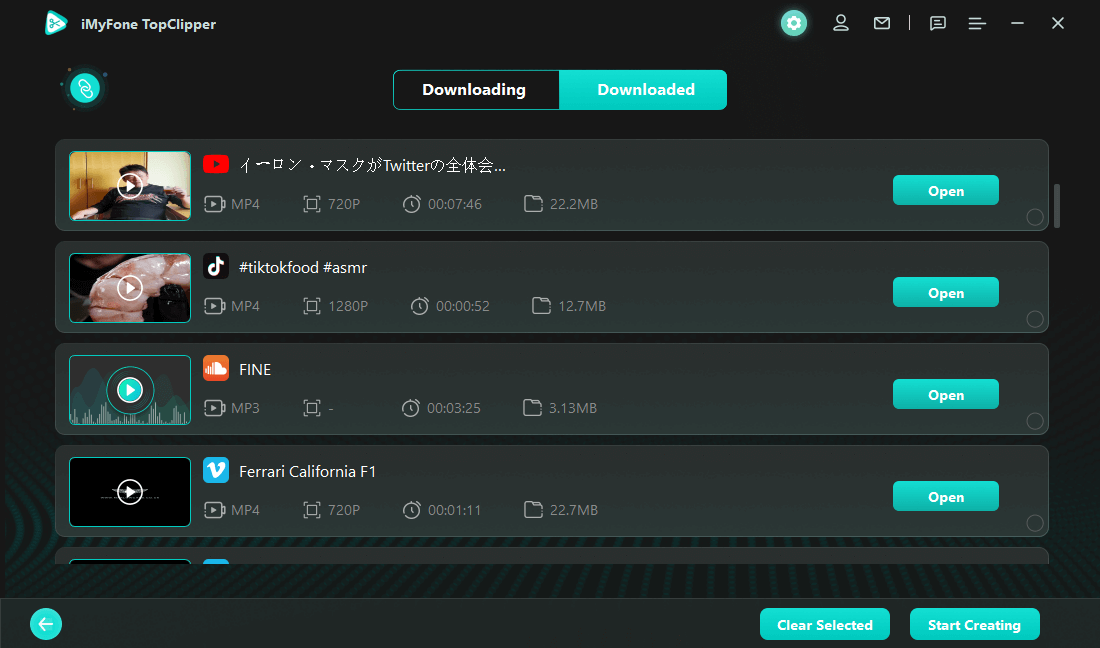 Step 5.

Re-Upload the Video

Finally, re-upload this now a watermark-free version of your video onto its original platform or another suitable platform. Make sure you have all the right details, such as artist credits and copyright information, before submitting your finished video online.
Part 2. How to re-upload a tiktok video without a watermark
Re-uploading a TikTok video without the watermark is easy with iMyFone TopClipper . A TopClipper video can be processed according to the fixed editing parameters, whether it has been uploaded as an MP4 video or has been processed after the watermark has been removed. It will then become a brand new video by changing the pixels in every frame. A flipping method, a picture-in-picture method, a frame drawing method, a method of modifying the duration of video, and pinching the start and end are some of the processing methods.
Step 1.

Launch the iMyFone TopClipper application

Start iMyFone TopClipper by downloading, installing, and launching it. Put a video file in MP4 format into the "Create Video Automatically" mode.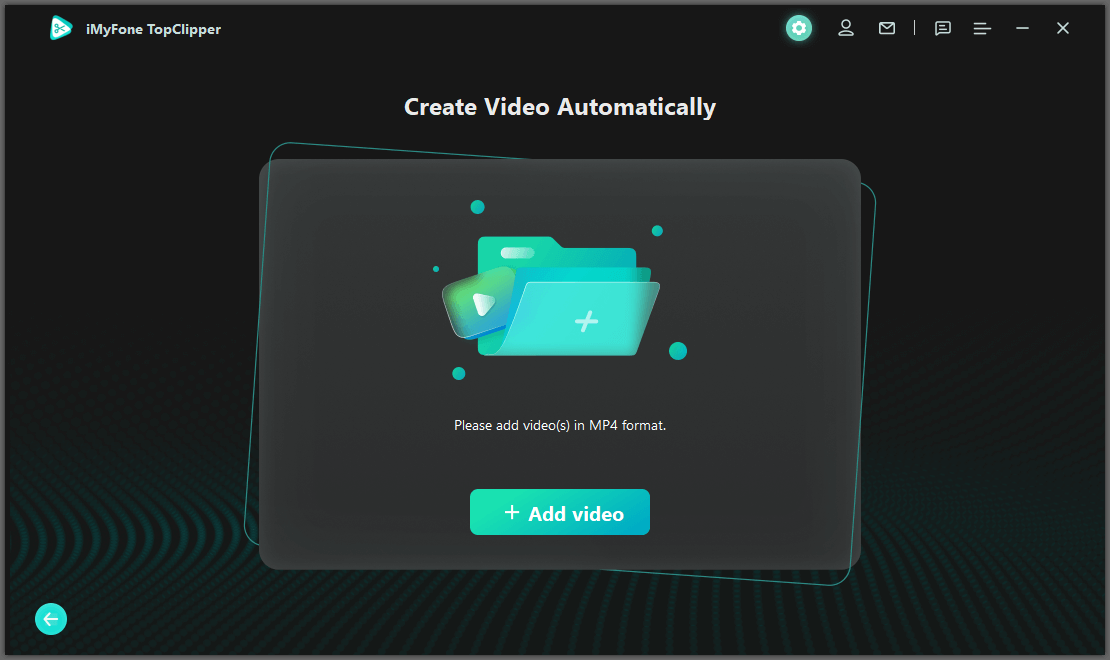 Step 2.

Let's get started

The creation preparation page will appear after the video is uploaded successfully. Click "Start" on the top left corner of this page to allow TopClipper to create an original video for you automatically based on the basic information that you have provided.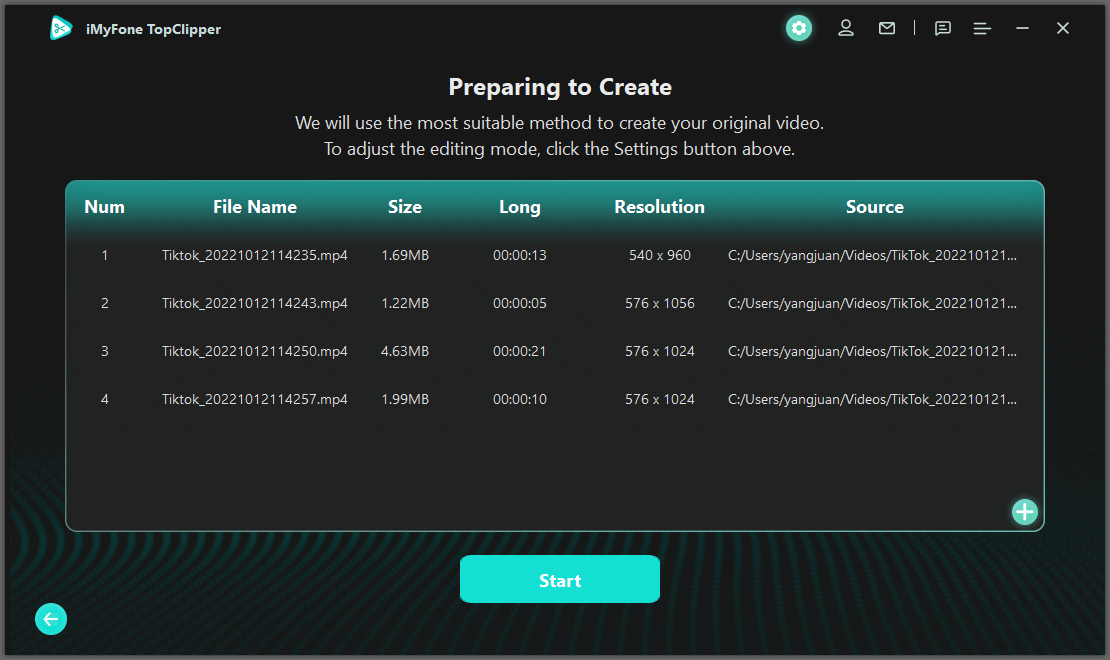 Step 3.

Wait for the video to be processed and then preview it

Please be patient while TopClipper creates an original video for you. It only takes a few minutes for TopClipper to make an original video for you. In order to check the effect of the video processing on the video, you will be able to preview the video after it has been completed. In order to save the document, click the "Save" button on your computer, and it will be saved to a folder.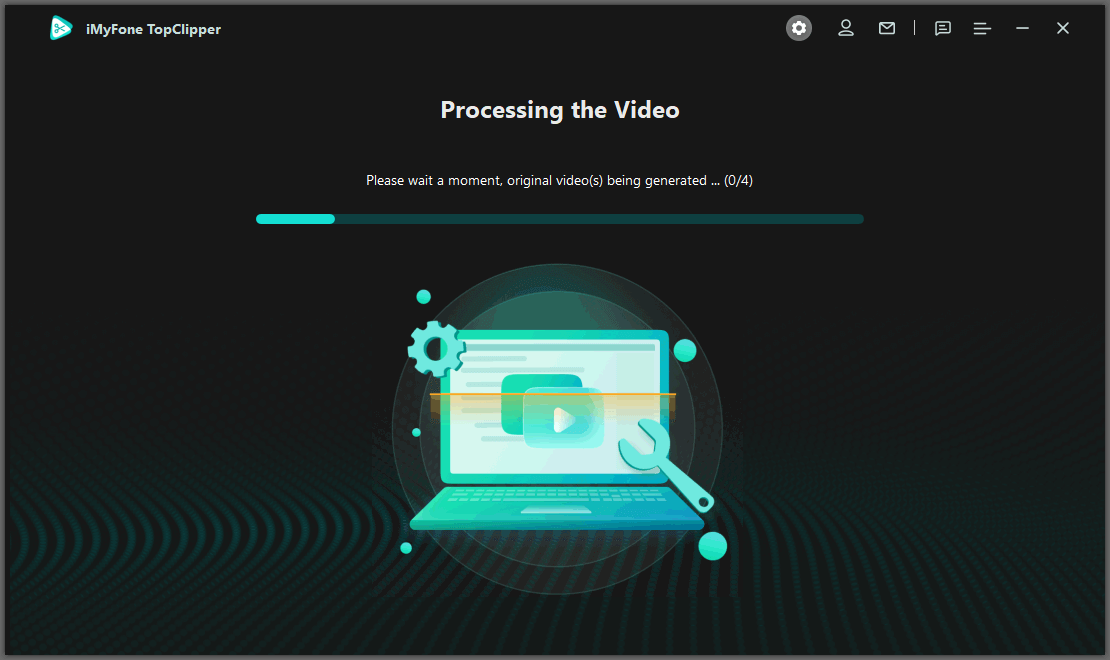 Step 4.

Save the video to your computer

When you have successfully saved a video, you will be able to return to the main interface and use any of the functions there again after saving.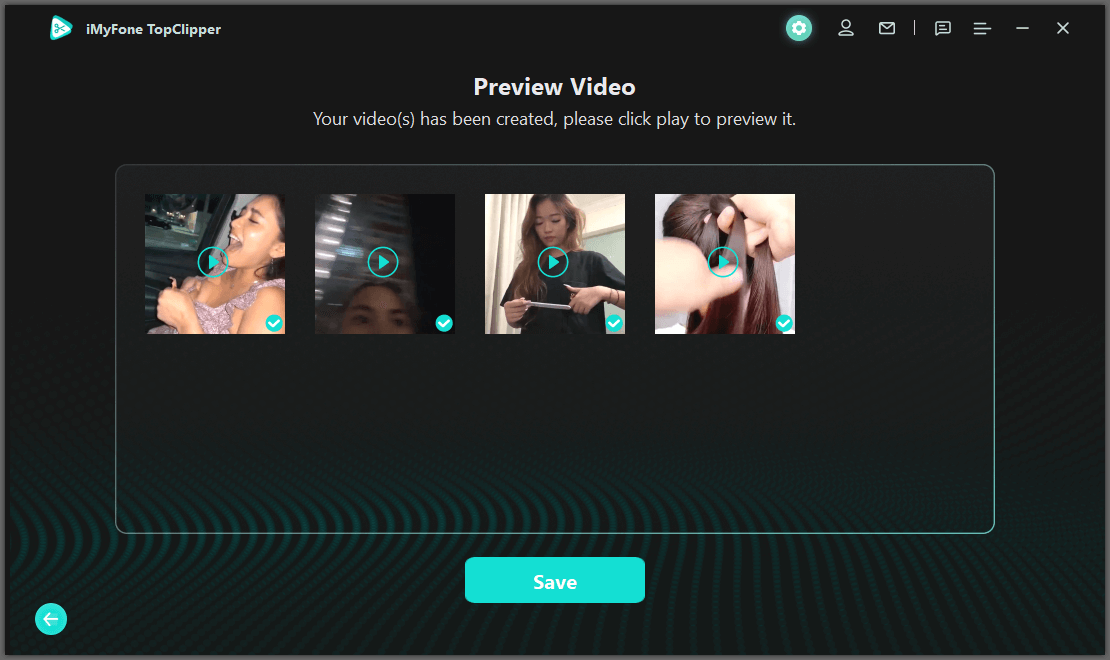 Step 5.

Re-upload the video

After saving the video, you have turned any TikTok video into a brand new original video. This way, you can repost the newly created content on TikTok and start earning revenue! All it takes is a few taps of the screen and you're ready to make money with your TikTok videos. With TopClipper's Create Videos Automatically feature, you won't have to spend any time creating content – it will all be done for you!
Part 3. TopClipper——Best tool for re-upload a tiktok video without watermark
iMyFone TopClipper is the perfect tool for re-uploading TikTok videos without watermarks. It offers a variety of features that make it stand out from other similar tools. With its fast editing tools, you can clip, merge and split different clips into one single video in just seconds. You also get to add text, music and add other effects to bring out the best in your video. It even supports full-width or mobile aspect ratios for both Windows and Android devices - giving you a wide range of options when creating original videos from TikTok. With all these features combined together, TopClipper definitely gives an edge over other similar tools online; allowing you to quickly turn any TikTok video into a creative masterpiece.
Additionally, TopClipper allows users to quickly download their edited videos directly onto their devices with just a few clicks. This makes it easy to share high-quality content quickly and effortlessly! With these powerful features, TopClipper is an ideal choice for anyone who wants to re-upload Tiktok videos without watermarks.
Not only is the quality of video achieved with TopClipper unbeatable, but the speed and ease at which you can do it makes this tool even more desirable. What's more, all downloads are completely free so you don't have to worry about draining your budget just to create amazing videos. Don't miss out on this great opportunity; start using TopClipper now and be amazed by its simple yet powerful features!
Part 4. FAQs about re-uploading a tiktok video without watermark
1

Can I reupload someone's tiktok video?

The answer is yes, but there are certain regulations around it when it comes to TikTok. You cannot simply take another user's content and post it as your own. However, you can use tools such as iMyFone TopClipper to download videos without the watermark, then reupload them with credits given to the original creator. You should also make sure that the original video has been marked as 'Allow Reuse' by the author. This way, people will be able to see the original video and you will not be accused of copyright infringement.
2

Can we make money after re-uploading a TikTok video on Tiktok ?

Yes, it is possible to make money after re-uploading a TikTok video on Tiktok. You can monetize your videos by enabling ads in your videos and being part of the TikTok partners program which allows you to get a share of the ad revenue generated through your video. In addition, if your video becomes popular enough, you could be rewarded by TikTok with monetary or physical gifts.
3

What is the best way to create original videos with TopClipper?

In addition to our precision editing method, TopClipper uses an intelligent video editing algorithm that has been tested and proven many times in order to intelligently adjust various aspects of the original videos. In other words, TopClipper has the ability to automatically reconstruct every frame of the original videos by utilizing high-end technology. As a result, you will be able to get an original video. By downloading this Windows version of the video editing software, you will now be able to change the way you edit videos as well as process them in batches.
4

Which video editing tool is best for newbies?

It can help you get hold of various video materials and make original videos automatically with iMyFone TopClipper, the most advanced and intelligent video download & editing tool on the market. This software is very easy to use, as well as allowing you to download and create videos quickly, so beginners will find it easy to use.
Conclusion
There are several strategies for how to re-upload a TikTok video without a watermark. If you have access to the video's original source file, then you can use an editing app or software to remove the watermark from the video before re-uploading it. If not, then using an online tool such as iMyFone TopClipper is a great way to download videos without a watermark. Re-uploading a TikTok video without a watermark can be done manually, but it's much easier if you take advantage of the tools available online. With these strategies in mind, anyone can easily and quickly share their content without a distracting watermark.