There is nothing more frustrating than trying to watch a great movie on your mobile device or trying to show a friend a home movie on a screen too small to enjoy. Instead, you want the whole cinematic experience of a large Vizio TV mounted on your wall where you can sit back, enjoy a drink, get out the popcorn and watch a full-screen show.
We have put together an excellent list of methods to show you how to screen mirror on your Vizio TV. So read along to enjoy hours of quality entertainment.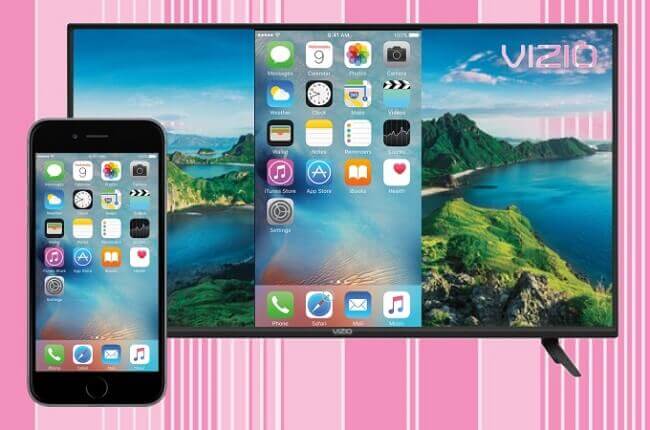 Install Vizio SmartCast Smartphone Application
This method of Vizio screen mirroring involves your smartphone, like an Android, and downloading the application SmartCast from the app store. This is the native application to the Vizio brand. It puts all the controls together into one convenient, easy-to-understand interface. It includes a full keyboard for searching out your favorite movies and TV shows, listing all your favorite entertaining streaming services, and adjusting video features.
Follow these easy steps to complete the process:
Start by downloading and installing the Vizio SmartCast app. And then hit the toolbar on the upper left of the phone and pick the device you want to pair with from the list. Click your TV's name and click the "Start" button.

You will be given the option of validating the connection between your smartphone and the TV. You'll have to enter a four-digit code from the screen. Once you type that in, your two devices should be paired, either by Bluetooth or through your home WiFi network.

After you've paired the devices, you'll be asked to type in a display name and lock the connection. That is it. Now you are ready to enjoy hours of fun entertainment on your Vizio TV mirrored directly from your smartphone.
Method 2: Connect to Vizio TV with a Digital Adapter
This method is best used with an iOS device like an iPhone or iPad. It involves using a "middle man" device like a digital adapter that converts your screen into an image transferable through your lighting connection. The video is then converted through an HDMI input/output directly into your Vizio TV.
The upside is the fast, high-quality image. The downside is that you have to be physically connected for this to work. You can get extensions from your local electronics or big box store so your iPhone can be mirrored to your Vizio TV from the comfort of your couch.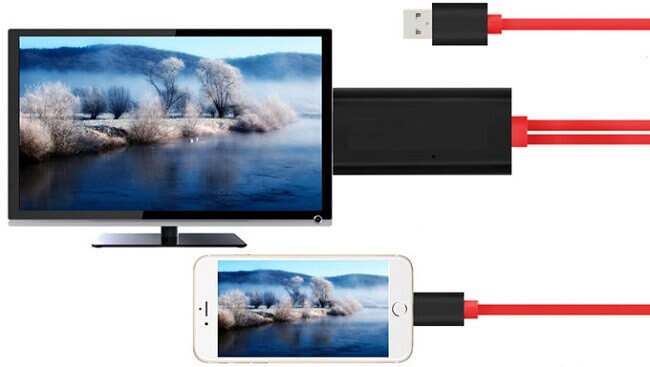 Let's see how to do it!
First, connect your lightning digital AV to your iPhone. This is a white box with a cable coming out of it. There are inputs for HDMI and for lightning connections. This way, you can charge your iPhone while it is mirroring.
Then, connect your adapter to your Vizio TV using the HDMI cable.
If you've connected everything correctly, your iPhone screen should start automatically appearing on the Vizio TV. And you can stream anything you'd like from your iPhone directly to your Vizio TV.
Tips
Please make sure your TV is turned on to the correct HDMI input source. Otherwise, you'll be staring at a blank screen.
Method 3: AirPlay on Vizio TV
AirPlay has to be one of the most convenient features of iPhone. It allows you to cast whatever you're watching on your smartphone onto another place that accepts the wireless transfer. Of course, Android users already have the SmartCast application to use with a Vizio TV.
There is a slight difference between casting remotely compared to being physically wired when it comes to audio and video quality, but it is so tiny that most users won't even notice the change.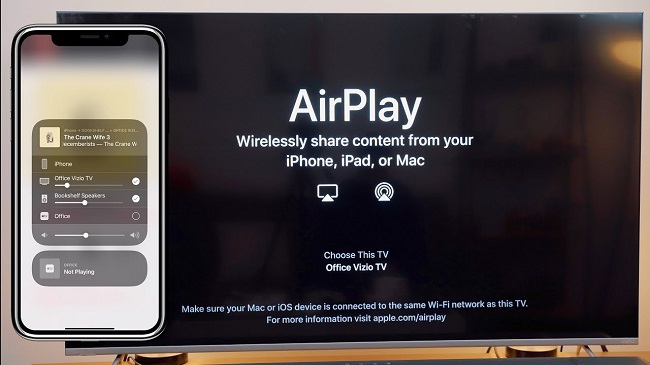 You can get start with Airplay with these step:
You start this process by pressing the "Home" button on your Vizio remote. Locate "Extras" at the top right corner of your Vizio TV screen and click on it. Another option will pop up to allowing you to navigate to the Apple AirPlay selection.
Pair your iOS device with your Vizio TV. You have to make sure both devices are on the correct WiFi and your Bluetooth is turned on. Next, swipe down on your iPhone and select the "Screen Mirroring" option. Your phone will search for the Vizio smart TV.

Select your TV's name from the drop-down list and wait a few moments for the two devices to connect. Once there is a strong connection, you can see your iPhone's screen mirrored onto the TV screen.

Are you also wondering how to control your android phone on pc? Here I recommand that you can also easily screen mirror your Android device on computer to watch video or

play Android mobile games

by using

iMyFone MirrorTo tool

, After having it, you can use keyboard and mouse to operate your phone screen freely. Now take a free trial.




FAQs about Mirroring onto Vizio TV

1

Does Vizio support screen mirroring?

Yes! Vizio likes to push their native Android application called SmartCast, but other options are available to users. You can directly mirror using that app, or you can use a digital adapter, mirror your iPhone using AirPlay, or try a third part adapter like Chromecast, Amazon Fire, or Roku. For each of those last options, there are a lot more steps. The best methods are the ones we've listed above to mirror with your smartphone directly.

---

2

How do I cast my iPhone to my Vizio TV?

The easiest methods to directly connect your Apple iOS device, including your iPhone, are through a digital adapter or Apple's AirPlay option. You can pick up a digital adapter for a pretty reasonable price from your local electronics store or order from major suppliers like Amazon.

---

3

Does my Vizio TV have AirPlay?

Most modern Vizio TVs have Apple AirPlay 2 built inside during their production. This way, you can easily play movies and shows from your iPhone, iPad, or Mac. You can even stream music from Pandora, iTunes, or Spotify as well as mirror any other apps on your iPhone.




Wrapping it up

All of these methods of mirroring your phone to your Vizio TV allow you hours of quality entertainment for relaxing in your home. You can show your favorite home videos to your friends on your large TV screen or stream apps and music when you want a full-sized picture. We hope you have enjoyed our list of mirroring methods and that you'll come back to our site frequently for the latest news and updates.