If you are looking for the best screen mirroring apps for iPhone, we have jotted down a comparison between the most downloaded ones. Please go through the list to gauge what every app offers and what sets them apart.
This list will include both free and paid mirroring apps, so you have the ease of choosing applications according to your budget. We will also discuss the most frequently asked questions related to screening mirroring so you have a thorough understanding.
What is Mirroring
Are you tired of watching your favorite movies or shows on a small screen? Install a mirroring app and choose a bigger display so that you make the most out of your show and movie-watching experience.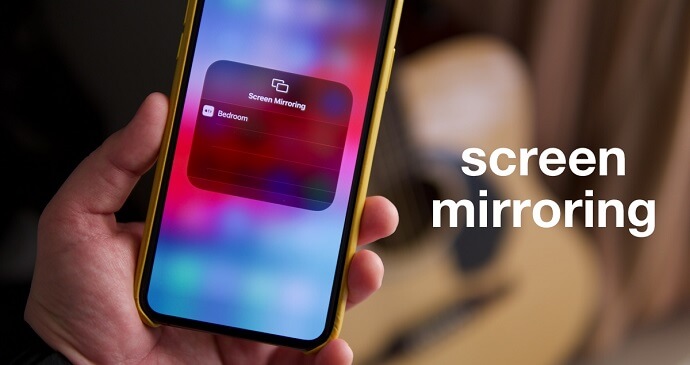 Screen mirroring, also known as screen sharing, is the act of duplicating a mobile device's, laptop's, iPad's, or desktop's screen onto a television. Factually speaking, whatever type of device you have, you can mirror its screen onto a bigger one.
Best Free Screen Mirroring Apps for iPhone
If the free apps get the job done, you don't need to go for a paid one necessarily. The App Store offers a variety of apps that let you replicate your screen entirely free of cost.

Are you wondering what the best free screen mirroring app for iPhone is? We will be discussing five of them below:
1

Screen Mirroring - Cast to TV
Screen mirroring allows you to mirror or project your mobile devices on television screens. Videos, pictures, movies, everything that you use on your smartphone can be played on the big screen via this app. This app is easy to connect to and ensures a secured connection. One of the best screen mirroring apps, and that too for free!
Features:
Unrestricted Web access.
No installations are required to connect the devices.
Wireless mirroring of any application on your iPhone/iPad devices to the TV.
Seamless streaming of videos, casting pictures, music, and videos are all supported by the app.
Can cast other sites such as Vimeo, Facebook, YouTube, daily motion to the TV.
No additional wires, hardware, or cables are required.
PROS:
Can duplicate the phone screen to your TV at your convenience.
Secure connection to avoid any unauthorized content and protect your data.
User-friendly and free to use.
Supports apps like YouTube and Netflix.
Allows effective streaming of shows and movies anytime on your television screen.
CONS:
Requires a good Wi-Fi connection for the mirroring process.
Includes advertisements and pop-ups that the users find annoying.
Some users faced time restrictions where the screen stops working after 25 to 30 minutes.
---
2

LetsView
LetsView is a highly sought-after mirroring App for educational and corporate purposes. It aims to make communication more efficient for its clients.
Features:
This App is AirPlay compatible, which lets you play all kinds of mobile games on your PC as well as stream music and video and use live-streaming apps.
It offers a wireless display; you can control it entirely through your phone and avail a high-resolution display.
It even allows you to replicate your iPhone's camera onto the screen, resulting in your selfies being a tad more interesting than usual.
PROS:
Minimal to zero lag which results in a smooth and convenient experience for users.
High video resolution lets you stream videos with a premium display and sharp quality.
Great for screening teaching apps of whiteboards and notes.
CONS:
Certain users have stated to have an audio time delay resulting in an un-synced replication for them.
It does not lucidly support older IOS' older than 14.0, so you are bound to have the latest iPhone for it to run smoothly.
Some users had stated that they witnessed a high latency/ping when they duplicated their screens for gaming.
---
3

VNC Viewer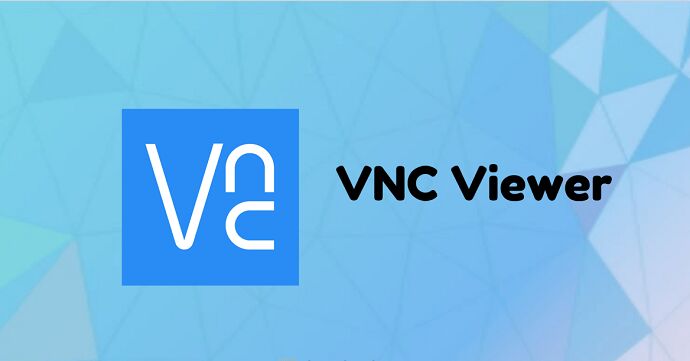 VNC Viewer provides remote access instantly from any location across the globe. It allows you to mirror and use your desktop PC as if it was right in front of you. VNC Connect will enable you to access all the computers you want to control.
Features:
It provides a cloud service that offers you ease in connecting to computers running VNC connect, resulting in convenient access.
Allows you to sync and back up connections between all your devices; all you need to do is sign in to VNC viewer on each one of them.
VNC Viewer provides Bluetooth support for speakers and advanced commands through their scrolling bar, a part of their VK (virtual keyboard).
PROS:
Users have stated that the provision of a keyboard is highly beneficial, and all the keys are working. In addition, it works for all Apps, not just a few handpicked ones.
Users have stated it to be highly intuitive, efficient, and simple to use. It doesn't entail any complex technological keys, and it is very user-friendly.
Highly convenient according to users. They feel like it has provided them a lot more control over their desktops.
CONS:
A few users stated to find the use of fingers rather than the mouse slightly inconvenient and troublesome.
Some users found the scroll feature to be inefficient.
---
4

Chrome Remote Desktop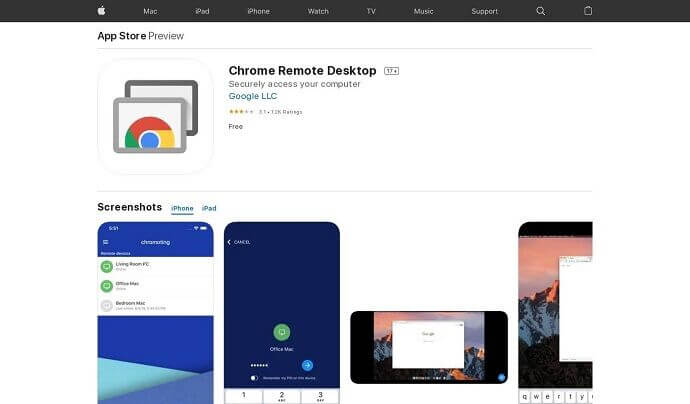 Chrome remote desktop offers a free, simple, and convenient option to access your desktop PC in a highly secure manner. Google has ensured the performance provided is excellent and easily accessible.
Features:
Seamless duplication of your PC screen to your iPad or iPhone.
In-sync with your desktop – access it whenever you want to through the chrome remote desktop app.
This app takes minimal space on your iPhone or iPad–  roughly 35 MB.
PROS:
Allows you to add several devices simultaneously, be it your home desktop or your office one; with it, you are at ease with the options offered.
Student users state that it is a very convenient and on-the-go app to use, resulting in 24/7 remote access.
Microsoft users can tackle the compulsory installment of Windows 10 to access their desktop remotely. With this, you can do it for free, rather than paying $99.
CONS:
Trackpad mode does not entail or support Windows 10 gestures.
Apple Stylus is not supported yet (although an update might be on its way fixing this).
"Device offline" issue faced by some users; even though their devices were up and running, it couldn't recognize them.
---
5

AirMore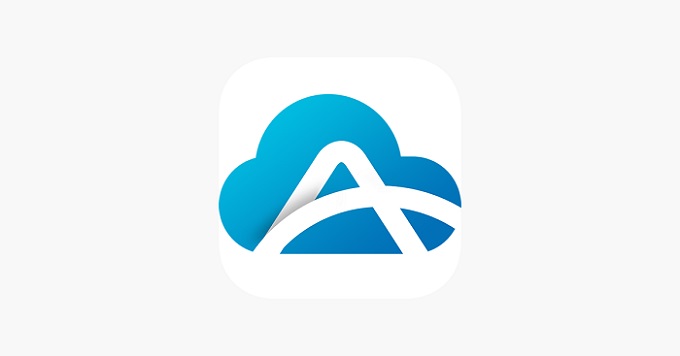 AirMore is a cross-platform application that enables users to connect iPhones and iPads to personal computers without wires. Cables no longer bind you. All you have to do is open a web browser on your computer, and you are good to go.
Features:
Stream multimedia as AirMore lets you stream your images and video clips with ease. You do not need to go through the tedious hassle of transferring files.
Management of files as AirMore supports various file formats such as ppt, pdf, txt, etc.
AirMore offers easy transferring of documents and files wirelessly with the use of a few clicks.
PROS:
Convenient and easy connectivity, scan the QR code on the app and duplicate your screen.
Requires your approval before transferring files making the process highly secure.
Allows customization to take place, which makes the user experience versatile.
CONS:
Some users experienced issues in exporting their images and videos to the television and projector.
Often crashes according to the experience of some users, stating the app to be slightly glitchy.
According to a few users, there is no proper listing for choosing files; it all seems jumbled up.
Best Paid Screen Mirroring Apps for iPhone
Paid mirroring apps have the same purpose as the free apps – to cast and replicate your screen. The only difference is, they go an extra mile to provide you with unique features that would further enhance your experience.

We're going to discuss the top five best-paid mirroring apps for iPhone below:
1

iMyFone MirrorTo
iMyFone MirrorTo provides you with a more convenient life through mirroring. It allows you to slack off during working hours, check social information on PC, and use the keyboard and mouse to control the phone screen in real time without any delay.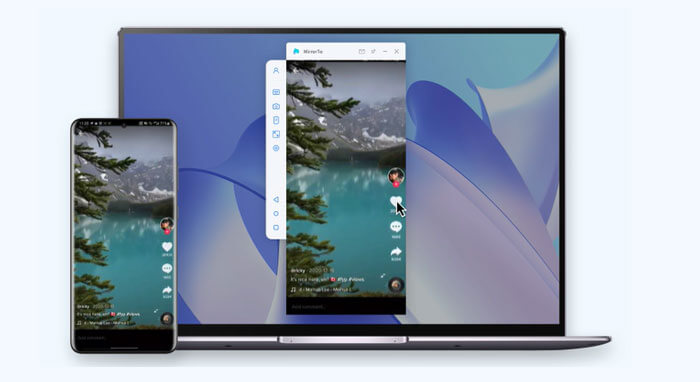 Features:
You can easily save screenshots to the clipboard between your device and PC, convenient for work.
You can use your computer to record the videos, which makes video editing easier and takes up less memory on your iPhone.
It's efficient to deal with messages on SMS or WhatsApp and reply on social media platforms via computer.
PROS:
It provides high-definition resolution without affecting the effect of the screen on PC.
You can use your computer for leisure during work hours without anyone noticing that you are loafing on the job.
You can use the computer keyboard to type on the iPhone screen, which is much more convenient than operating on the phone.
CONS:
The current version does not support playing mobile games on PC.
---
2

DouWan
DouWan app is a paid screen mirroring app that allows you to cast your iPhone to a PC with the help of a USB cable. Once the cable is plugged in, you can easily synchronize your phone to the bigger screen.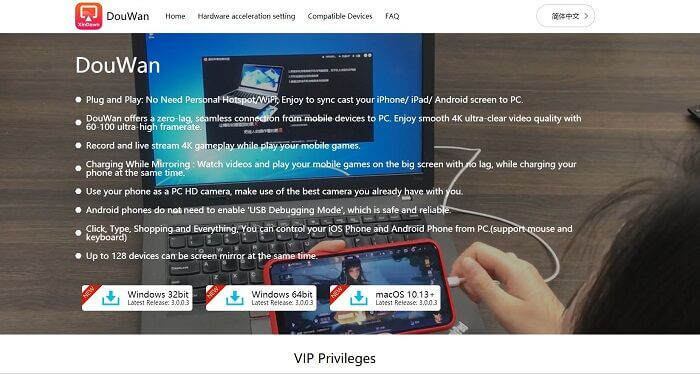 This process does not require any internet device and can be enjoyed by iPhone and Android users. Through DouWan, you can watch your favorite movie, play video games, listen to songs in HD, and much more.
Features:
You can play games or watch videos on the big screen without lagging while charging your phone simultaneously.
Live stream and record up to 4k gameplay.
Sync cast available for iPhone/ iPad screens.
Frictionless 4K extremely clear video quality with 60 to 200 ultra-high framerates.
Seamless connection of both the devices; mobile to PC.
PROS:
A simple and effective interface makes the process of screen mirroring easy and convenient for the user.
Vibrant and clear graphics with no lags.
Converts the phone camera into a webcam where the user can live stream while recording.
CONS:
It might not support some phone models.
Some users faced an issue where their devices got pirated when they downloaded the app.
---
3

Tubio - Cast Web Videos to TV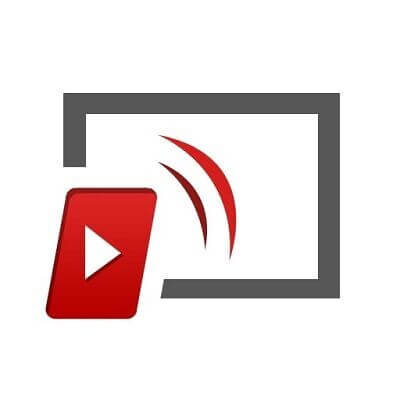 As stated by the creators, Tubio is one of the most easy-to-use apps for streaming purposes for SmartTV's, Chromecast, or AirPlay.
Enjoy videos from a variety of websites such as YouTube, Facebook, and so on. Stream music through apps like SoundCloud.
The paid version of the app costs $2.99/month and $35 a year.
Features:
The app functions as a tv remote, providing you with all the options to optimize your viewing experience.
The premium version has no popup ads running.
The premium version also provides the user with HD Playback.
The premium version offers unlimited customer service and support.
PROS:
Streams clips and videos without any interruptions, resulting in a positive customer experience
Compatible with several devices and tv brands such as Samsung, LG, Panasonic, and more.
Easily recognize's videos on browsers, as in some apps, this was a surfacing issue for users.
CONS:
The free version often played the ad videos rather than the actual video streamed by the users.
The app does not finish the videos completely sometimes, it lags midway or stops running, and you have to start all over again.
If there are several videos on a page, users stated that the option to stream one of your choices was not available, and it would cast any video and run it.
---
4

AnyDesk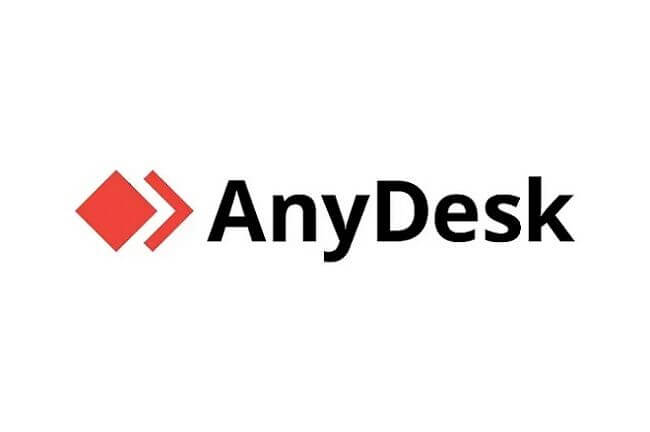 AnyDesk is a remote desktop application with a convenient solution for its users. Through this app, users can connect to a desktop or computer remotely.
The desktop connectivity can then be controlled through iPhones from a distance. Download AnyDesk for a secure and reliable remote connection. Highly suitable for IT professionals.
Features:
High framerates and low latency are provided for remote work.
Instant working of the operating system with no additional installations required.
Military-grade TLS technology is used to ensure the proper security of your device from any other unauthorized access.
Supports and runs on all standard devices and operating systems.
PROS:
Seamless connectivity allows easy access for users in any setting.
High screen resolutions available of 100 kB/s.
No installation or other administrative privileges required.
Can operate through multiple mobile devices.
CONS:
The app constantly runs in the background of your phone, even when it is not in use.
Receiving files from one device to another may take up time.
---
5

Miracast – Screen Mirroring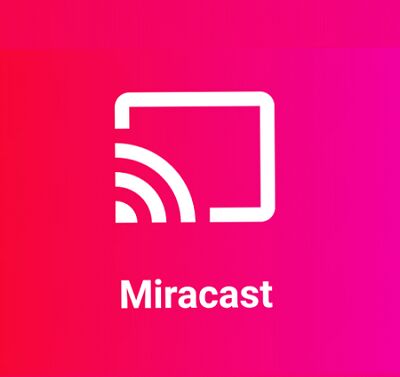 Miracast is another paid screen mirroring app that acts as a wireless HDMI cable for the devices. Through this app, users can connect their iPhones to TV screens. If Miracast is connected to the big screen, whatever video or app is being played on the device will be mirrored on the TV with high-quality visuals and audio.
Features:
Easy connection of devices to the TV. The app is user-friendly and straightforward to use.
Supports seamless multimedia content between other Miracast devices.
Facilitates high-definition videos and high-resolution, vibrant pictures.
PROS:
Videos can be streamed in HD and 4K Ultra HD quality from tablets to televisions.
Supports a wide variety of video and audio formats that also assists the battery life of phones.
Can also share one laptop screen in a conference projector.
Facilitates screen sharing from mobile to smart-tv through which movies can be watched on Netflix or Amazon Prime.
CONS:
Does not support other devices.
The app consists of ads and pop-ups that may redirect the user to other apps.
FAQs about iPhone Mirror Apps
1. What's the difference between AirPlay and screen mirroring?
They are pretty much the same thing, and airplay is limited to Apple devices such as iPads, iPhones, and Mac. It serves the same purpose of casting videos onto a bigger screen, just like mirroring apps.
The only difference is that mirroring Apps provide you with a certain level of flexibility and are not limited to just one platform. Both android and apple have separate mirroring apps available in their application stores.
---
2. Can I mirror from my iPhone without WiFi?
You do not require an Internet connection, but you should link your iPhone to the very same WiFi network as that of the device you're mirroring. Connection to the same network is vital to indicate the applications that mirroring is possible.
---
3. What is the screen mirroring option on iPhone?
The Screen Mirroring option in your iOS device's Control Center allows you to do precisely that: AirPlay your iOS device's whole screen (read: replicate);to a Television or projector. The duplication is particularly helpful when you want to stream videos in high quality or conduct meetings.
Conclusion
We hope that now you all have a thorough understanding of what exactly mirroring your screen means and the kind of benefits these applications entail.
We made sure to cover the most running and opted for apps so that you can choose the best ones for mirroring that match your criteria.
Whether you are tight on budget or willing to spend an extra buck for unique features – this list covers the best of both worlds when it comes to exploring the best screen mirroring apps for iPhone.