How to Delete Google Account from Android Phone without Password
Category: Unlock Android
3 mins read
Deleting Google account from your phone can be frustrating especially when you don't have the password. Many people have complained about the difficulty they face when it comes to deleting a Google account. We have studied this complaint and came out with a solution and we are happy to share it with you.
Free download iMyFone LockWiper (Android) to unlock screen locks and FRP lock/Google account without password.
Part 1: The Things You Need to Know Before You Delete Google Account
Getting rid of Google account should be done with caution. Before you do it, it's important to keep in mind there are related options that may be confusing:
Delete Google Account from Android Phone: When it's done, you can't have access to Google Play anymore. The same goes for Google Music, YouTube, and other Google services. It will also affect Gmail syncing on your device, which means you'll no longer receive Gmail notifications. But you can add the account back to your phone any time you want.
Turn off Syncing for Gmail App: This leaves Google account on your phone, that means you can use it for Google Play, YouTube, etc. But you'll no longer receive an email notification.
Delete Account from Google: This is irreversible. The account will be deleted from Google service. You will lose your Gmail account and everything attached to it.
Part 2: How to Delete Google Account from Phone with Password
If you know your Google account password, you can delete it from your phone. But keep in mind that, your phone should be connected to internet. The following steps can help:
Step 1: On your Android phone, open the Settings app.
Step 2: Scroll down and find Accounts option. (Or you may see Users & accounts, click on it.)
Step 3: Click on the Accounts again.
Step 4: Find the Google account you want to delete and click on it.
Step 5: Click Remove account.
Step 6: When asked, confirm the deletion with a click on Remove Account again. (If this is the only Google account on your phone, you'll need to enter your phone's password, PIN or pattern.)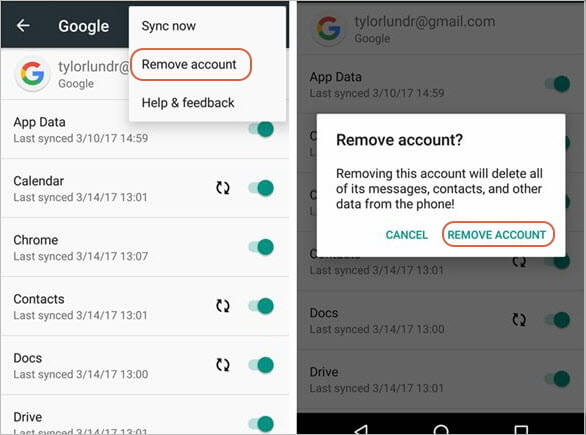 Part 3: How to Delete Google Account on Android Phone without Password
What if you don't know the password or even the account, especially when you try to set up your device and it asks you to verify your Google account? You can still solve the issue without a password requirement and conveniently bypass "verify your account" page.
Welcome, iMyFone LockWiper (Android) – the only reliable software to use to delete Google account from Android phone or bypass Google account verification without password. It was developed to completely remove Google account whenever you wish.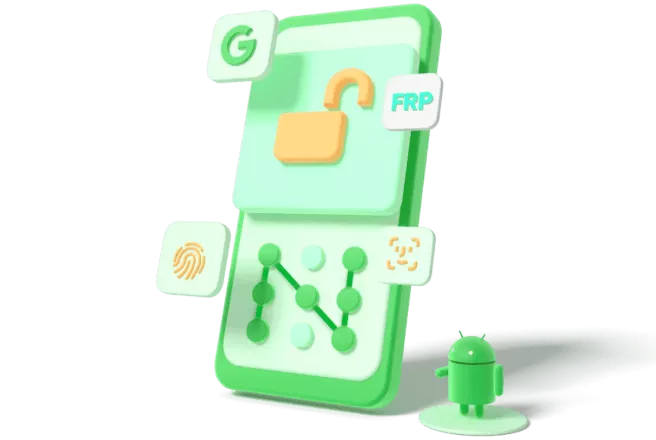 LockWiper (Android) - Delete Google Account Completely
Permanently delete Google account from Samsung phones.
Easily bypass the Google "Verify your account" requirement.
Gain total control over your android phone and enjoy all the features.
Prevent your phone from being tracked or remotely blocked.
Also work perfect to unlock your screen lock without password.
Steps to Delete Google Account Permanently from Android Phone
iMyFone LockWiper (Android) provides a free trial so that you can check whether your phone is supported or not.
Download LockWiper (Android) on Your PC >>
Step 1. Install Program & Connect Your Phone
Click the above link to download and install LockWiper (Android) on your computer. Click "Remove Google Lock" from the home interface and then "Start". Connect your phone to computer with a USB cable.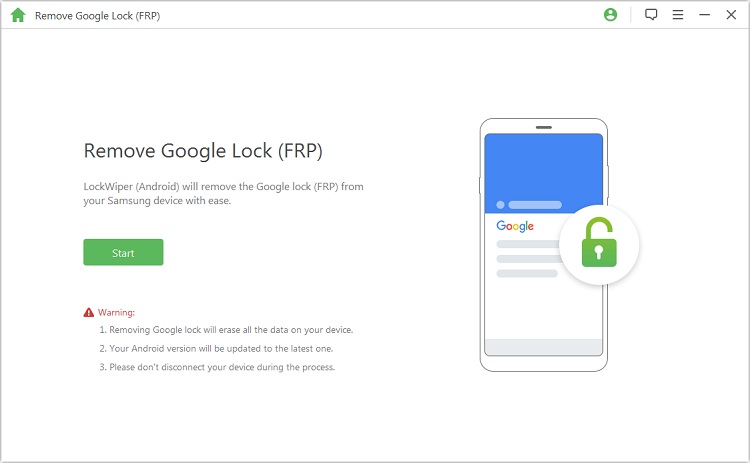 Step 2. Select Your Device Information
Select your phone name and follow to put your device into recovery mode. In the next page, choose the PDA, country and carrier for your phone. Click "Download" to get a specific data package for your phone.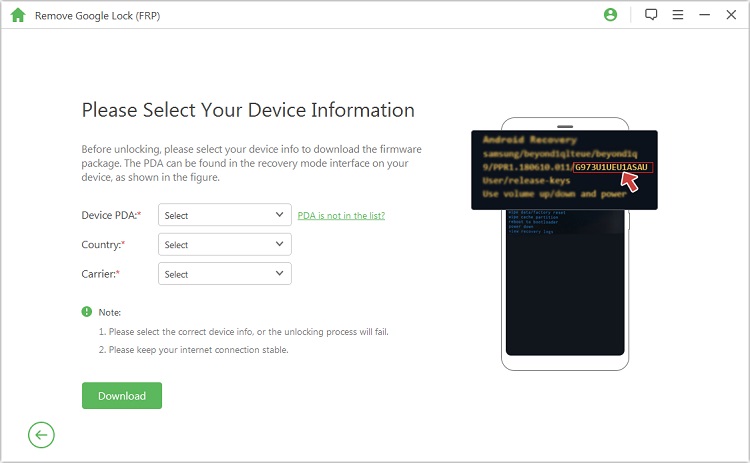 Step 3. Install Data Package
When the data package is downloaded, click "Start to Extract" to unpack it. When it's done, put the device into downloading mode by following the steps shown. LockWiper (Android) will start installing the package into your phone, which will prepare the environment to unlock the Google lock.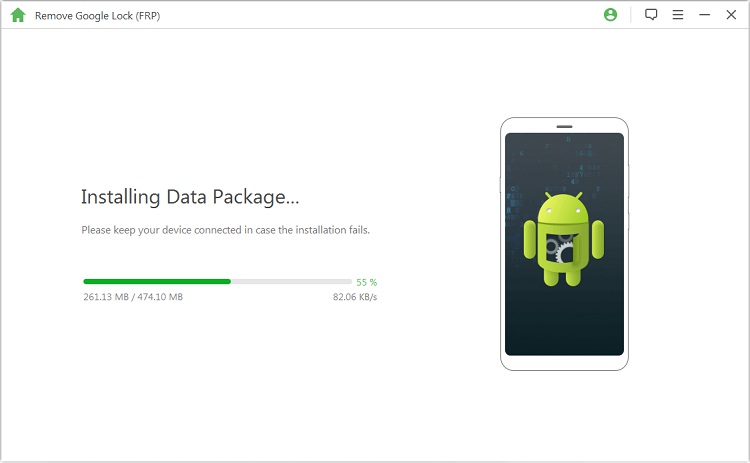 When installation completes, simply follow the onscreen instructions to enable "USB debugging" and "OEM unlocking" on your phone.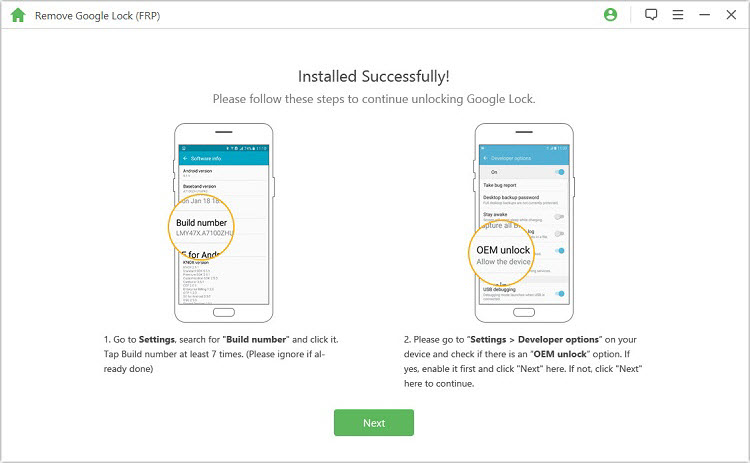 Step 4: Start to Remove
LockWiper will download a unlocking package for your device. When it's done, click button to extract it. Then LockWiper (Android) will start removing the Google account from your phone.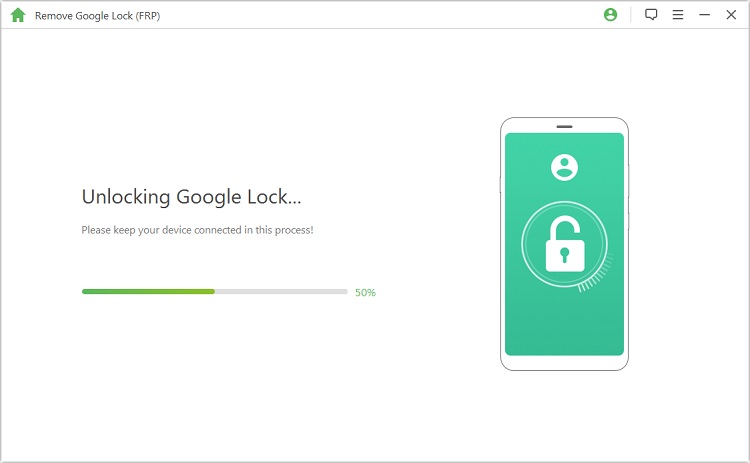 Kindly wait for it to finish. Your phone will looks like brand-new device. You now can set it up without verifying the Google account. Instead, you can set up a new account.
---
There is no doubt that removing Google account can be complicated especially if you forgot the password, but if you try out LockWiper, you'll discover an easy way to delete it without even a password.