Sometimes you locked out of your own device because either you may not remember the Google account or you bought a second-hand cell. In this case, unlocking Samsung Google account can be really difficult. If you've just reset your Samsung device, chances are that you are probably looking for how to get those important data in your Google account.
This post is going to provide you with some really top secrets to ensure that your Google account is unlocked even without password.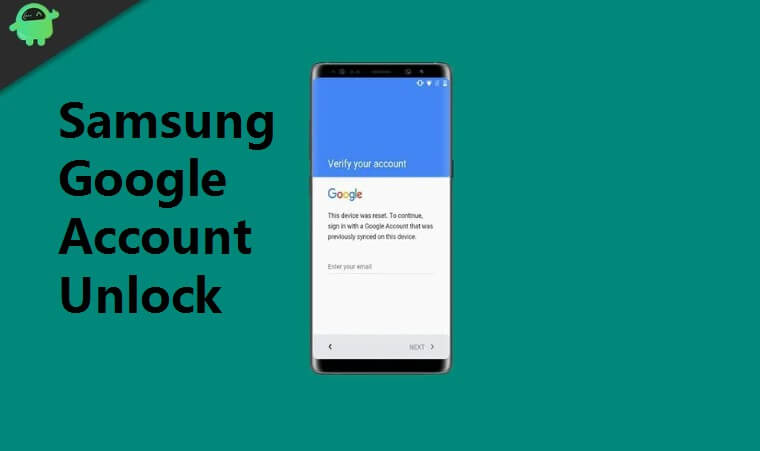 Top 5 Samsung Google Account Unlock Tools
There are lots of tools which have been created to help you carry out the process of Samsung Google account unlock without any problem. Below are the top 5 tools for such process.
1. iMyFone LockWiper (Android)
iMyFone LockWiper (Android) FRP Unlock Tool is one of the best tools around when it comes to unlocking Google accounts for Samsung devices. It has been popular due to its highly sophisticated nature as well as effectiveness in the process of helping people have easy access to their locked Google accounts. You definitely want to try this one out.
Key Features of iMyFone LockWiper (Android):
Google account can be easily unlocked on Samsung devices without any password.

Completely bypass Google FRP lock, allow you to fully control your device and use a different Google account on it.

Allow to use a new Google account without being traced by the previous account.

Android lock screen can also be removed without any hassle, like face lock, fingerprint, pattern, PIN and password.
How to Bypass Samsung Google Account with LockWiper (Android)?
Below are the steps you can take in order to make effective use of iMyFone LockWiper (Android).
Step 1: iMyFone LockWiper (Android) should be downloaded on your computer. Launch the program and select Remove Google Lock (FRP) mode.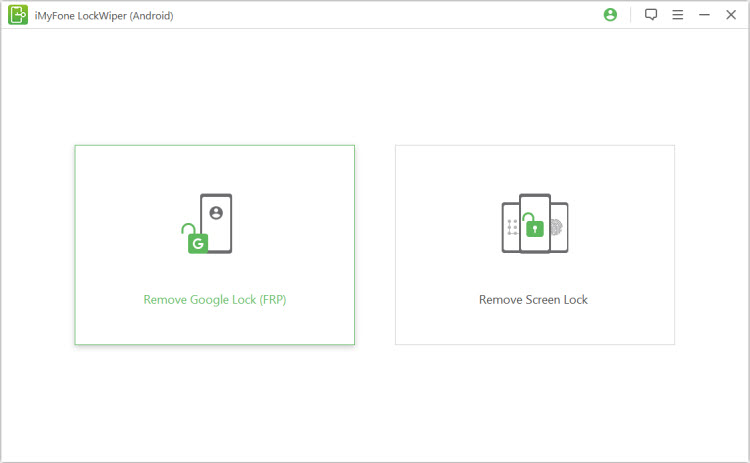 After that get Start clicked on and connect your phone to the system using a USB cable.
Step 2: Your device's details will be detected automatically. Click on Next in order to proceed. In case the details of your device displayed aren't correct, get them corrected manually. To get into recovery mode for your device, you will need to follow the instructions on your screen. Your carrier, country and PDA should be selected after which you should click on Download to proceed.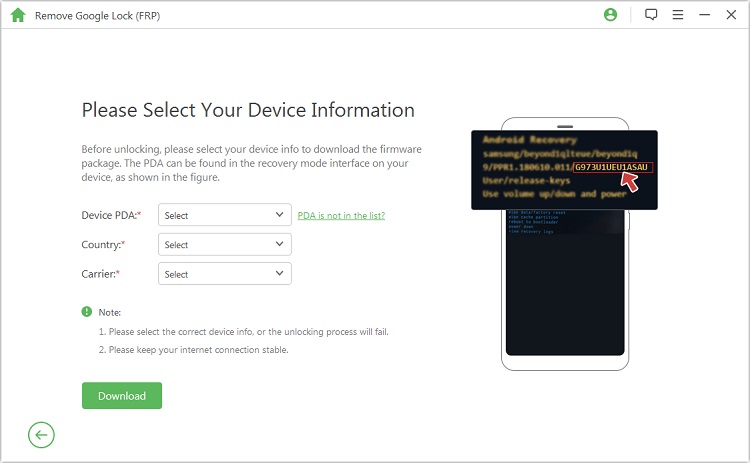 Step 3: Once the details above have been confirmed, the software will then begin the download process of your device's data package. Locate the Start to Extract button and get it clicked on once the download process is complete.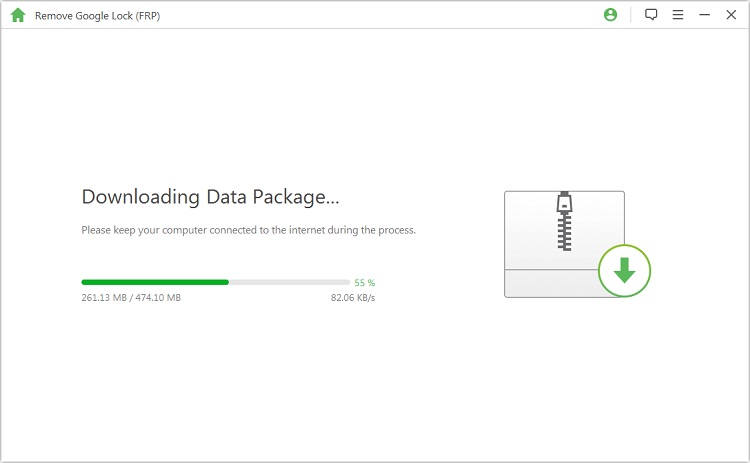 Follow the instructions on your screen to put your device into downloading mode. Now get the Start button clicked on.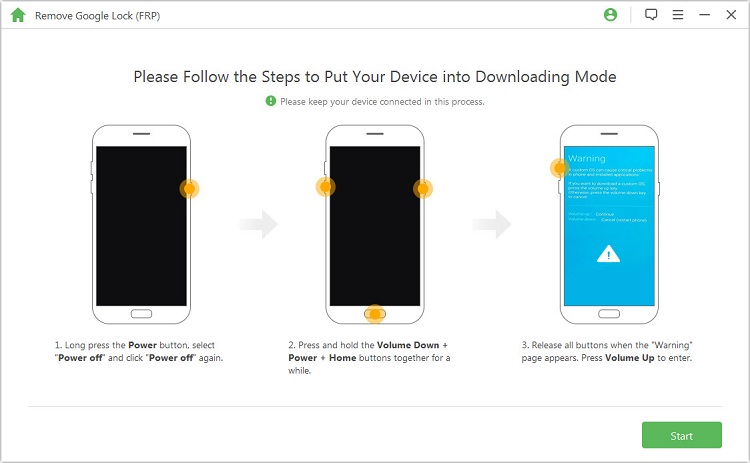 You will need to follow the instructions on your screen to activate USB debugging as well as OEM unlock once the process of installation process is complete. Once again, you will need to get OEM unlock confirmed.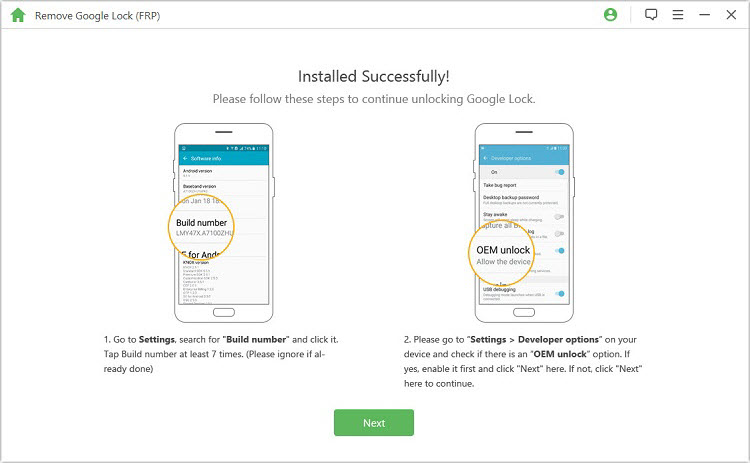 Step 4: Follow the instructions to reset your device. Once complete, the device will have to be put into downloading mode again. This will get its firmware package downloaded.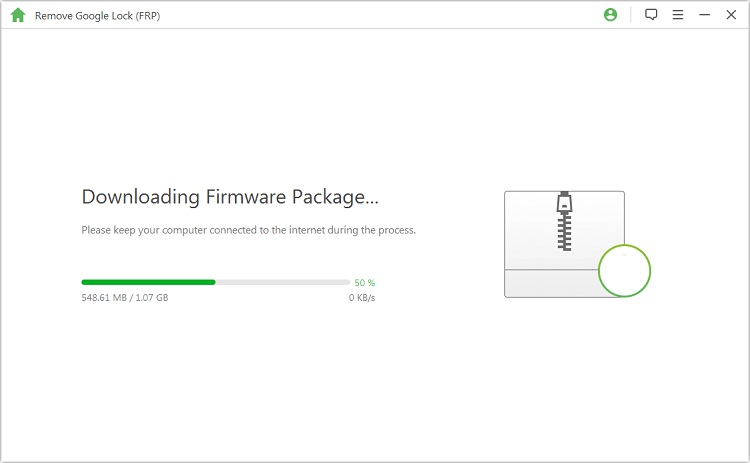 Locate Start to Extract button and click on it after the process of downloading is complete. Through this, your device's firmware will be prepared.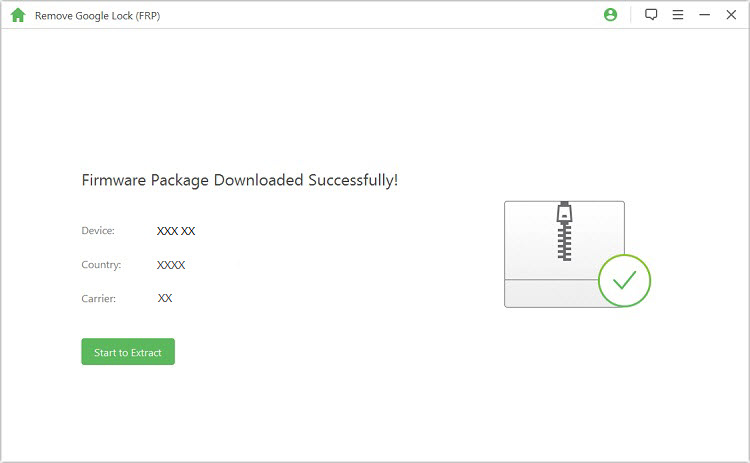 Step 5: After the above steps, the Google account unlock process will commence. After a while, you'll get a congratulation message on the screen saying that your Google account has been removed successfully.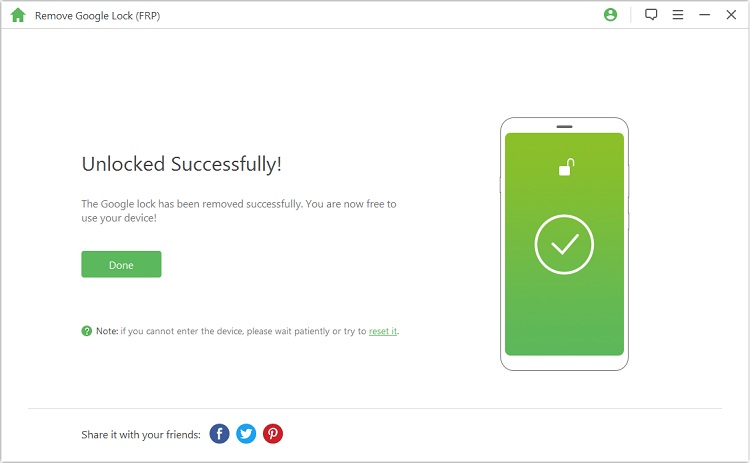 2. Samsung FRP Helper V-0.2 FRP Removal Tool
This is also another top and advanced tool that you can easily make use of when it comes to Samsung Google account unlock. It may not be as popular as the one stated above but has been able to help people in the past.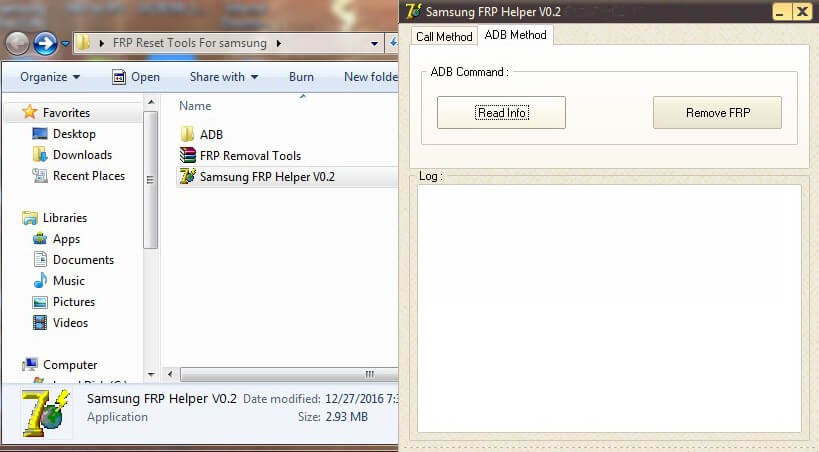 This tool has its own strength and weaknesses. Some of them will be listed below.
Pros:
It comes with a user - friendly GUI.

Information on how it can be used are outlined in steps.

It can be used for free.
Cons:
It is not compatible with other devices except Samsung.

For this software to be launched, different firmware will be used.
3. D & G Password Unlocker Tools
If there is one reason why D & G Password Unlocker Tool has been very popular amongst others in the market, such should be due to its simplicity. After hard reset, unlocking Google account on your Samsung device will become very easy. It is truly a comprehensive tool by nature.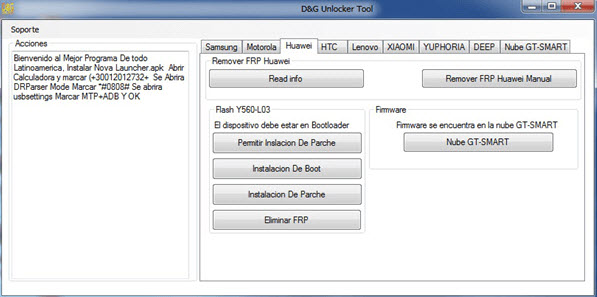 Some of its pros and cons will be listed below:
Pros:
The set up for windows operating system is free.

It is compatible with every Windows operating system.
Cons:
LG devices may not be supported.
4. FRP Bypass APK for Samsung
If you've got a Samsung device and want to easily unlock your Google account, there is no doubt that FRP Bypass APK will be able to carry out a perfect job. This tool is very easy to make use of as the screen for authentication will be bypassed after a few minutes. Some of its strength and weaknesses are listed below: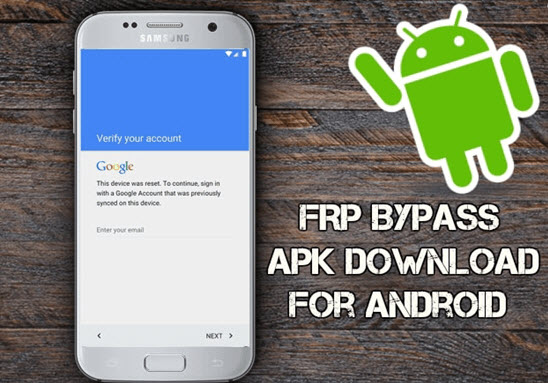 Pros:
It is user - friendly.

It can be used freely on Samsung devices.

It comes with an integrated share feature to show your friends and family members the App.
Cons:
Downloading it from Google play store isn't possible. It can only be used by Samsung devices.
5. Samsung Reactivation/FRP Lock Removal Service
This is a cloud service that ensures you are able to remove FRP lock without any problem. It is also another simple tool that anyone can make use of when it comes to putting an end to problems related to Samsung Google account unlock. Just ensure that you've got the correct details of your device on - hand. These could be IMEI number, model and others. Some of its pros and cons will be highlighted below: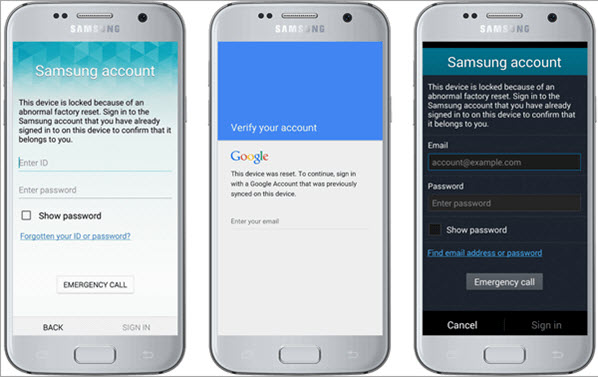 Pros:
You aren't downloading any software since it is completely cloud-based.

It is user-friendly, therefore, can be used by anyone.

Issues can be solved in a matter of 24 hours - 72 hours.
Cons:
At the moment, it is compatible with Samsung devices. If you've got other types of devices, you may have to look elsewhere.
Conclusion
Based on the above, you can see that although the problem of Samsung Google Account Unlock is one that is technical, there are lots of tools which you can make use of in order to overcome it in the most effective way. Of all the tools listed, iMyFone LockWiper (Android) FRP Unlock Tool is highly recommended, it is an effective and advanced tool which have helped lots of Samsung users in the past.