Suppose you are resetting your Samsung Galaxy J7 phone and unluckily it gets locked by automated FRP. Android Factory Reset Protection (FRP) is a novel feature in some of the devices running Android OS 5.1 or higher versions. FRP  protects your Samsung Galaxy J7 by prevents others from performing a factory reset and using it without your permission.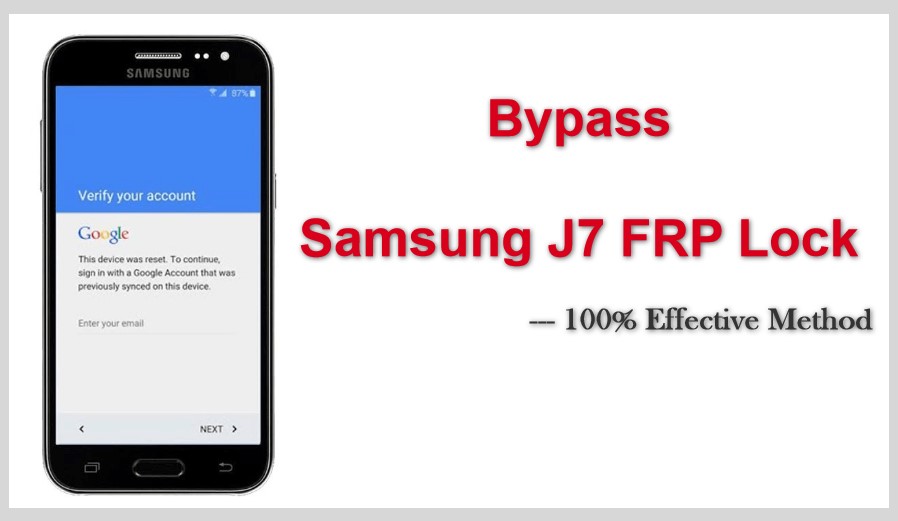 In such a situation where your device is locked by FRP and the password is lost, you might consider how to remove the FRP lock. This article offers effective solutions to bypass Samsung J7 FRP lock.
1. 100% Effective Method to Bypass Samsung J7 FRP Lock
The iMyFone LockWiper (Android) can not only remove the screen lock of any android device but also aid in FRP lock bypass without the password. There are no technical terms to learn before using this tool because it is very simple to run. After using this tool, the FRP lock on your Samsung Galaxy 7 will be removed and you will have full control of your device without limitations.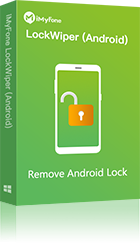 120,000,000 Downloads
Features of iMyFone LockWiper (Android)
Work effectively on Samsung J7 FRP bypass by removing Google account from phone without the password.

Remove different Samsung J7 screen locks such as pattern, PIN, password, face lock or fingerprint with ease.

Access your device completely as well as remove the FRP lock and let you enjoy all features.

Support to use a different Google account and remove device from previously logged in Google account.
Steps to Bypass Samsung J7 FRP Lock with iMyFone LockWiper (Android)
Follow these basic steps below to bypass Samsung J7 FRP lock and gain access to your device again without any disturbance.
Step 1. Connect Your Device
Download iMyFone LockWiper (Android) on your PC and install it. On the first screen, choose the Remove Google Lock (FRP) mode.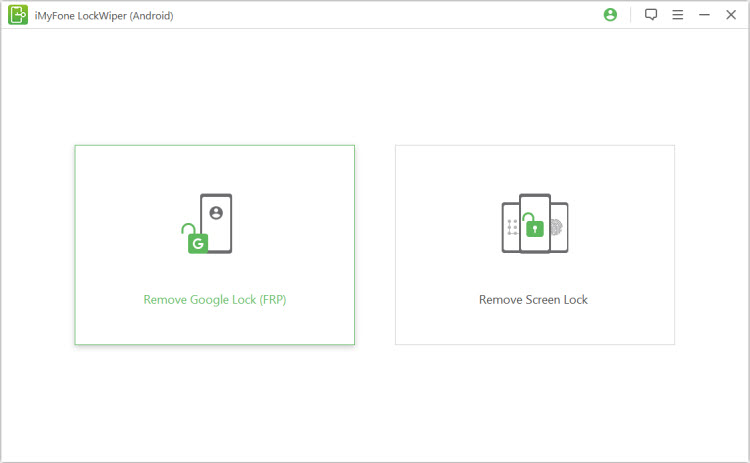 Click on the Start button and then connect your Samsung Galaxy J7 device to the computer through a USB cable.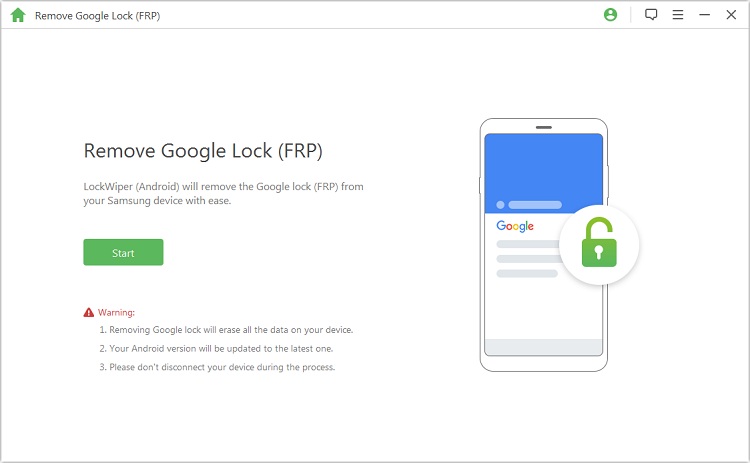 Step 2. Select Your Device and Confirm its Information
Usually, the device information is detected automatically. In case it doesn't, then correct the Device brand and name with the dropdown boxex. Click on the Next button to proceed.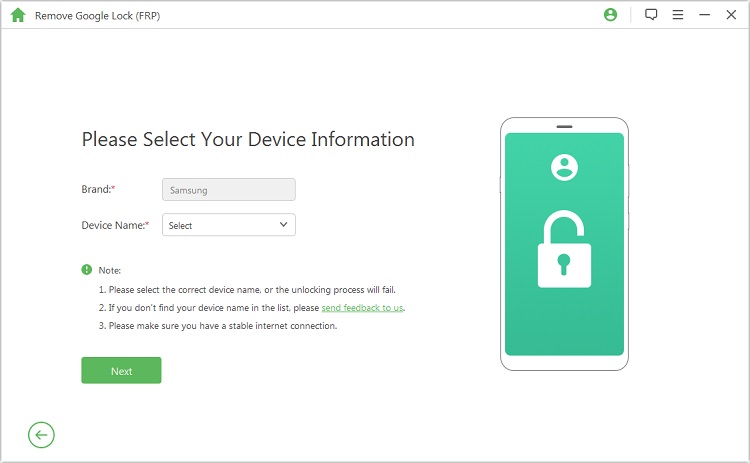 There will be onscreen instruction to apply recovery mode on your device, follow the instruction and click Next. Select PDA, country and carrier of your device from the list or enter the information manually, then click the Download button to go on.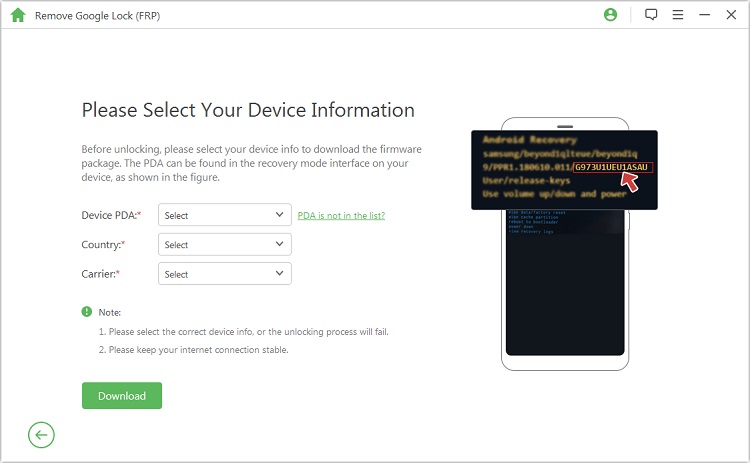 Step 3. Prepare Data Package & Firmware Package for Your Device
After confirming PDA information, the tool will start searching and downloading a data package to your device. Click on Start to Extract to use the package when the download completes. After extraction, you can put your device into downloading mode by following onscreen instructions and click Start. To start the installation process, enter this code 000000.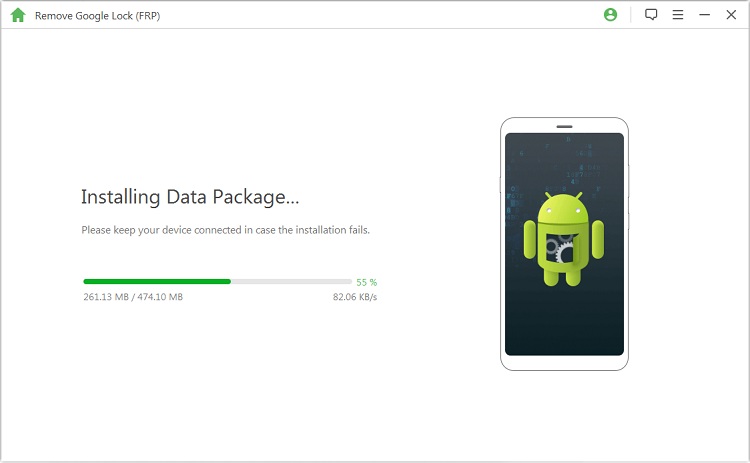 After data package is successfully downloaded and installed, allow the USB Debugging and OEM Unlock on your Samsung J7 with the onscreen instructions. Confirm the OEM unlock again. Turn your Sansung Galaxy J7 into Downloading Mode again and download the firmware package. After a successful download, click on Start to Extract and it will formulate the firmware for your device.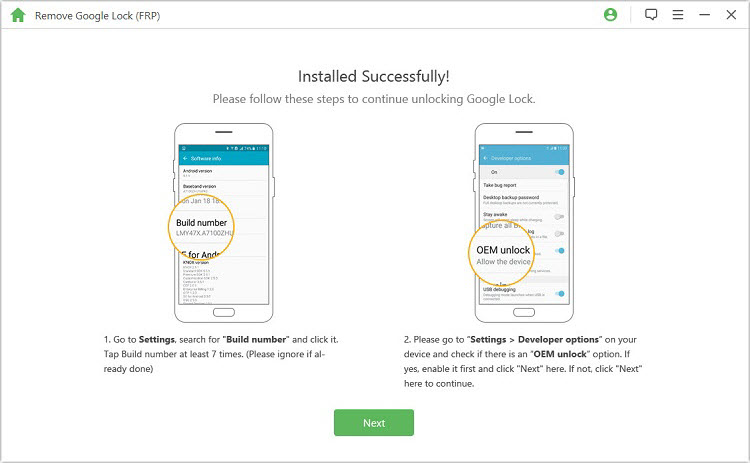 Step 4. Unlocking the Google Lock
Once the firmware is extracted, iMyFone LockWiper (Android) will start to unlock Google FRP lock for your Samsung Galaxy J7 device. Just sit around and wait for the unlocking process to finish.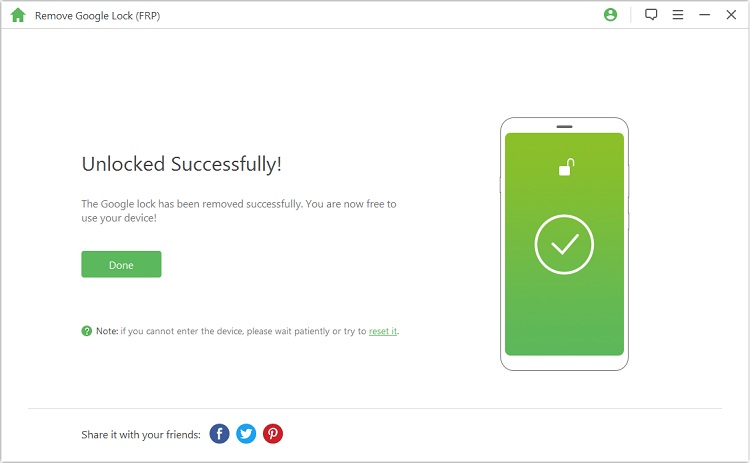 How to Bypassing Samsung J7 FRP Lock without PC
If you don't have a computer to install LockWiper (Android) to remove FRP lock from your Samsung Galaxy J7, the following method might be an alternative option to bypass FRP lock on your phone.
Step 1. Start the device, choose a language and click on Start. If you are asked to insert a SIM Card, skip this and proceed further.
Step 2. Connect Wi-Fi and click on Next. There will be an option Tap on more in the Wi-Fi screen, click on it. The next option Add Network will appear, click on it.
Step 3. Then, type the in a network name in SSID Field and double tap on the same words. An optional panel of Cut, Copy, and Assist will appear. Click on the Assist option and search for it in Google Chrome. Click to open it.
Step 4. Download the Google Account Manager relevant to Samsung J7. Also download the Quick Shortcut Maker. Click on Open the Download Folder, and start bypassing the FRP lock of Samsun J7. Then, click on Google Account Manager and install it.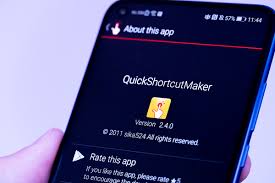 Note: If the Installation Blocked Pop Up, tap on Settings and click on Enable the Unknown Sources.
Step 5. Launch Quick Shortcut Maker, go to Search Bar and type Google Account Manager. Then click on the resulted Google Account Manager and open it. There will be a list of Google Account Manager, select one from it which has an option of Type Email and Password. Click on Try button.
Step 6. From the above right corner of your Samsung J7, click on the 3 dots and tap on Browser Sign In. Add a new Gmail Account to Bypass Samsung J7 FRP Lock. After that you can restart your Samsung J7.
Limitation of this method:
The process is lengthy and complicated.
Many supplementary downloads are needed.
Tips
When the device restarts again, click on Start> Next> Next> Agree> Next and wait for some seconds. It will take some time, so be patient. Likewise, in the Date and Time section, click on Next > Not Now >No Thank you > Skip > Skip Anyway.
Swipe up from the option of Which Device. Click on Do Not Restore, also swipe up from Sign In option and then click on Skip > Skip > Next > Agree > Not Now > Next > Finish. When you've completed all the steps above, the Google FRP lock would have been removed from your Samsung Galaxy J7. You can set up your phone now!
How to Avoid Your Samsung J7 Phone Being Locked by FRP?
It's wise to handle problems before it starts. Although LockWiper (Android) can help bypass Samsung J7 FRP lock, following precautions are beneficial in order to avoid your device being locked at first place.
Remove your Google account from Samsung J7 phone. In this case, you will not have to worry about remembering or forgetting Google account information. This also means that you should stop using all kind of Google services on your Samsung J7 device.
If you cannot comply with the precaution above, then back up the information of your Google account and password. Make sure you can access the information whenever needed.
Conclusion
If your device is locked and you have important data in it, you don't need to worry. The iMyFone LockWiper (Android) has proven itself in bypassing Samsung J7 FRP lock. It will unlock your locked device in few minutes and also sets you free from being tracked by previously logged in Google accounts. You can set and use a new Google account on the device to get full control. Do not hesitate to download iMyFone LockWiper (Android) to bypass Samsung J7 FRP lock without a password in minutes!