Most major companies use mobile device remote management (or MDM) to keep tabs on devices given to employees in a variety of sectors. Sectors like banking, business and even teaching all will use mobile device remote management to control these devices. Often times these restrictions bar you from accessing certain features on these devices, however, with our guide you will have iPhone MDM bypass solutions.
Part 1. About Device Remote Management
What is Device Remote Management?
A mobile device remote management tool is a tool used by an IT department, normally a part of a larger company, to monitor and secure a device given to an employee by that company. Many sectors will employ a mobile device remote management software such as banking and business. They are not solely used on Apple products and are employed on most types of devices and across almost all networks.
The vast majority of Apple MDM solutions cover everything on the device including mobile apps, data and your network- all of which can be observed by the IT department in control of the MDM solution.
How do I tell if my device is MDM locked?
Many do not know when their device has MDM software on it. On iOS, MDM software often comes up as a downloaded app or strange profile. To check your iOS settings for such MDM software then do the following: go to settings, then general and then profiles and management. If you do not see the last option, then there is no MDM installed on your Apple device. However, if there is a last option available then you can investigate it by clicking "More Details".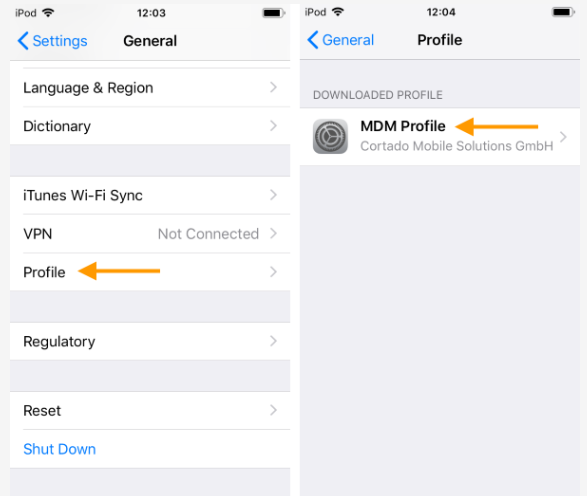 Another way to check to see if there is MDM software on your iOS device is to look for these things: the battery life does not last long from day to day, your keyboard has a slight lag or may get stuck on one button for a length of time or the location services are on all the time.
If you have correctly identified the presence of MDM software on your Apple device, then you are going to want a free MDM bypass tool so you can make full use of your device. Here are the top free iPhone and iPad MDM bypass solutions that you can use.
Part 2. 3 Apple MDM Solutions to Bypass Device Remote Management
Solution 1: Apple Device MDM Bypass Using iBypasser
LockWiper is one of the most popular Apple MDM solutions. The advantages of such a software is that it leaves your Apple device MDM free very quickly with no need of any password. Also, the program has high success rate and is entirely user friendly.
If you are locked out of your Apple device because of the MDM, or you can't enjoy all features of your device because of the MDM restriction, try the genuine Apple MDM sulutioin of iMyFone LockWiper. It is the best tool to get rid of any kind of iOS lock or restriction you may have on your Apple device.
Reasons for choosing iMyFone LockWiper:
iMyFone LockWiper can help you easily bypass the MDM lock so that you can enter your device.
iMyFone LockWiper can remove the MDM restriction from your iOS device without password.
After the MDM bypass, you can enjoy full features of the device.
The company/organization/school/military won't be able to monitor/manage your device again.
iMyFone LockWiper can also unlock the screen lock and remove the Apple ID without password.
iMyFone LockWiper is fully compatible with all iPhone, iPad and iPod Touch & all iOS verions including iOS 16.
Here's the step-by-step process on bypass Remote Management using iMyFone LockWiper.
Watch Video Tutorial to Bypass the Remote Management Step by Step
[Video Transcript]

Step 1: Download iMyFone LockWiper and launch the application. On the main interface of the program, Click the "Bypass MDM" to remove the screen passcode.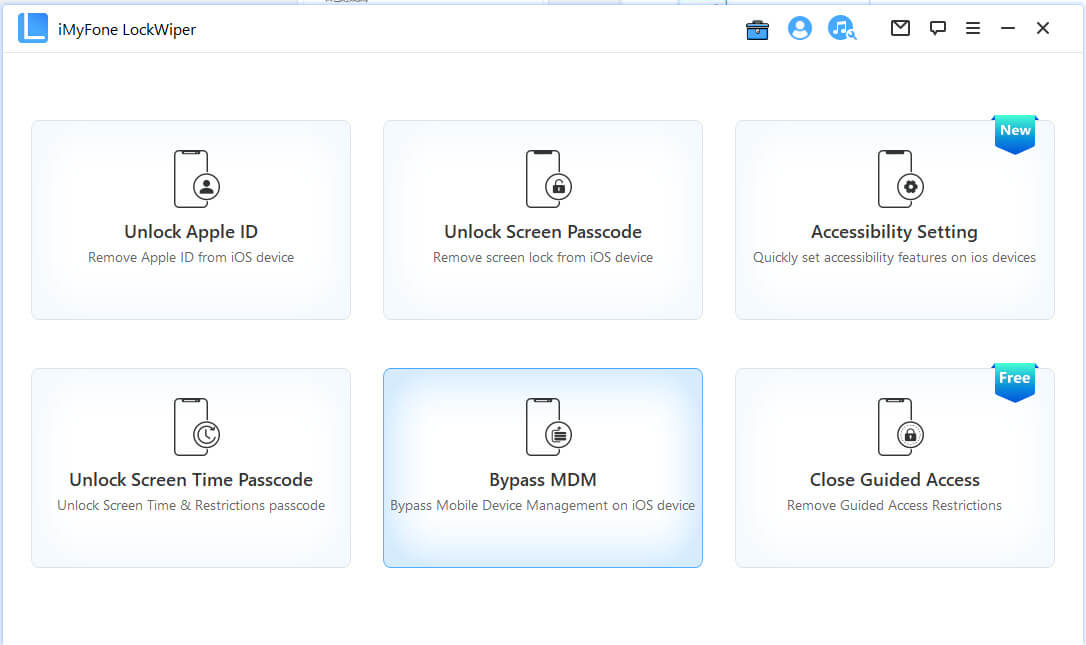 Step 2: Connect your iOS devices to PC via USB.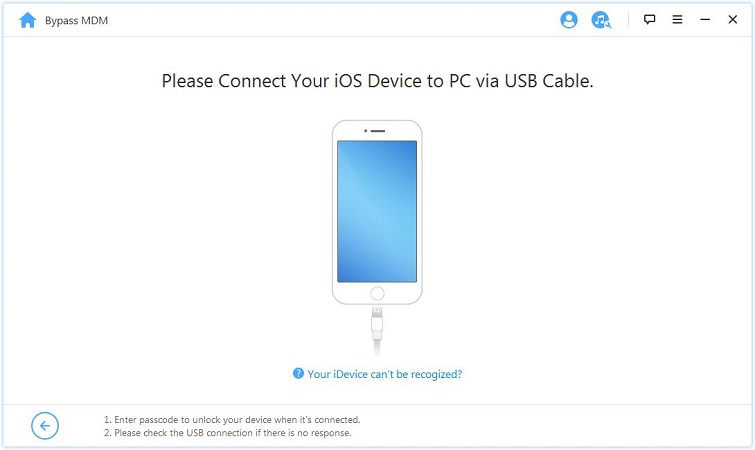 Step 3: If your device is locked out of the MDM screen, click "Start to Bypass". If your device is restricted from the MDM, head to "Settings > General > Reset > Erase All Content and Settings", and then click "Start to Bypass".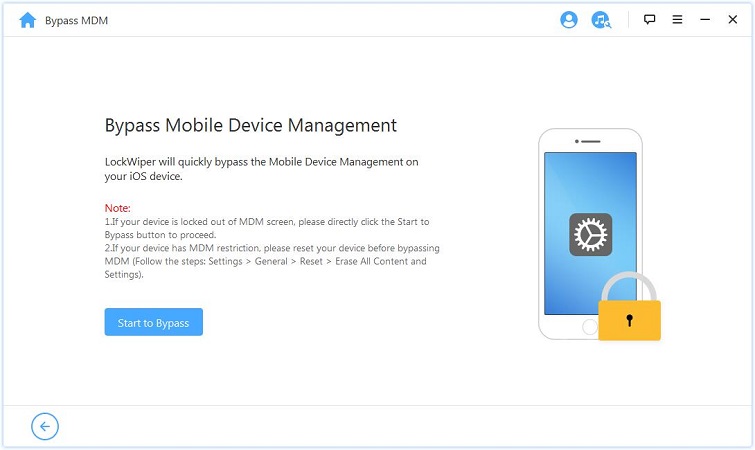 However, it is important to make sure that your iOS device is on the MDM lock screen before you start to bypass MDM.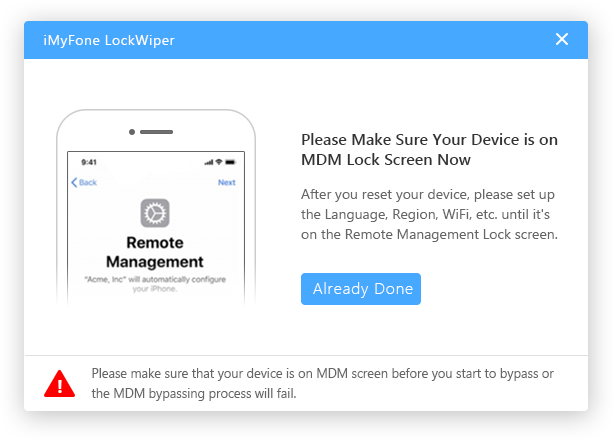 Step 4: After that, the program will bypass the MDM of your device in no time.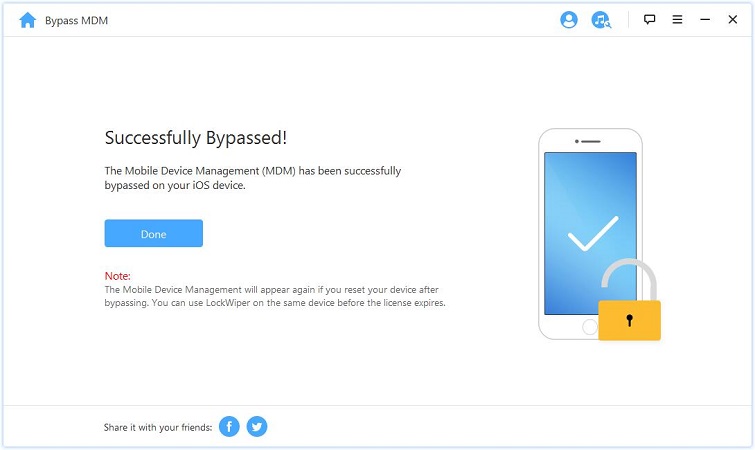 Note
The MDM will be bypassed 100% with LockWiper, but it will need bypassing again if you ever need to reset or wipe your Apple device. But it takes just a few seconds and can be done for free.
Solution 2: Apple Device MDM Bypass using iTunes
Note
This method only works for the MDM restriction by some app. If your device is blocked by the MDM screen, or restricted by the MDM from settings, iTunes can't help you.
Step 1: The first step for the MDM bypass process is to download iTunes onto your laptop and find a working USB cable. Once this is complete you need to load up iTunes, plug in the USB cable to your computer but do not connect your Apple device.
Step 2: Move through the start-up process until you have to choose a Wi-Fi network. Now connect your device to the USB cord and therefore, iTunes. Once you have connected you should be able to proceed to the next step by pressing the "Next" bar in the top right-hand corner of the device.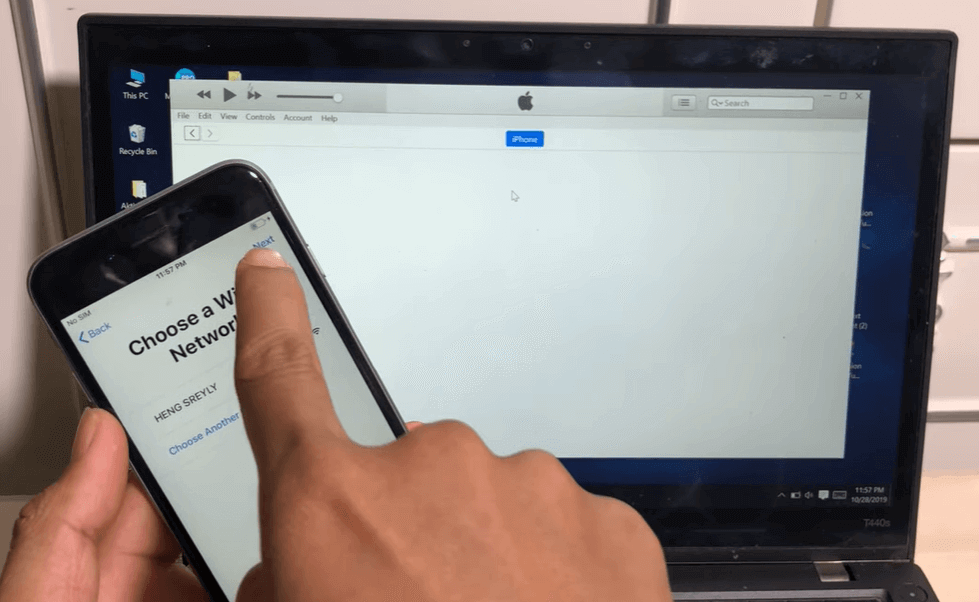 Step 3: Now unplug the device from the USB cord, you should still see the "Next" button in the top corner.
Step 4: At this point, put your SIM card into the device until you see a network displayed in the top left-hand side of the screen. Your device should be "retrieving configuring" as displayed by that written on the screen.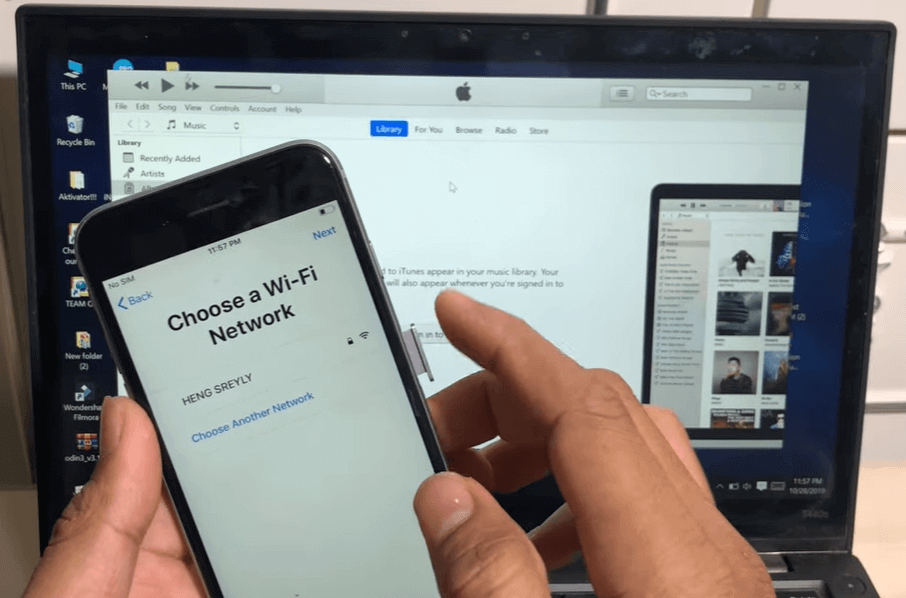 Step 5: Next, remove the SIM card and proceed through the usual set-up process until you get to the "Apps and Data" page.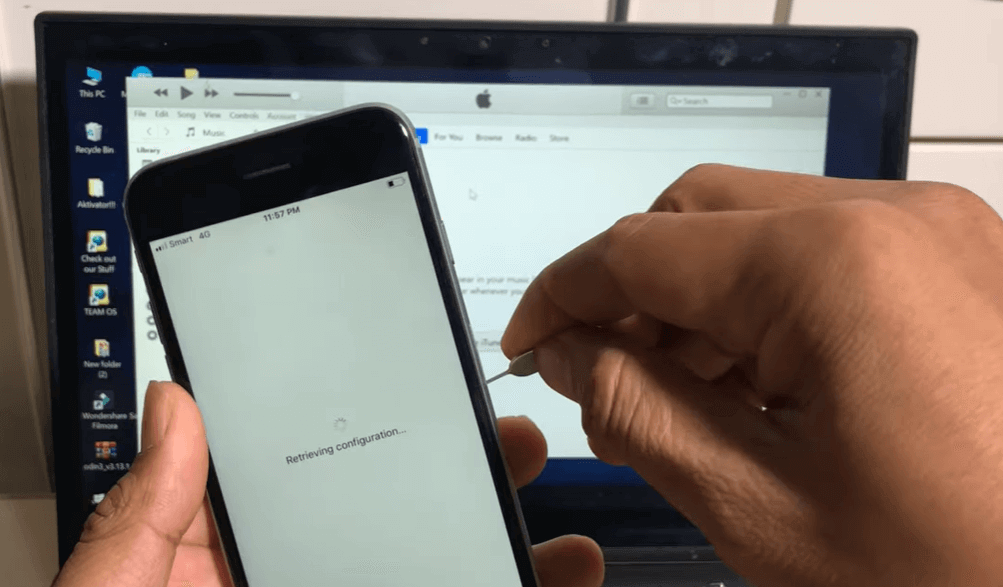 Step 6: From here go to the remote management page and while it is still loading, re-enter your SIM card. Once the page has loaded, go all the way back in the set-up process to the "set up touch ID" page. Re-enter all the details again and it should then send you to an Apple ID page. Go through the final device set-up and you are good to go.
Pros:
Completely free MDM bypass tool.
No third-party software required.
Cons:
Too complicated to operate.
Low success rate. You may have to try multiple times before it succeeds.
Solution 3: Apple Device MDM Bypass Using DFU Restore
Note
Like iTunes, this method also only works for the MDM restriction by some app. If your device is blocked by the MDM screen, or restricted by the MDM from settings, the DFU mode can't help you.
This is another non-intrusive fix to this issue and will leave your device exactly how it was. It is free and only requires you to follow the following instructions correctly.
Step 1: First, download the latest version of iTunes onto your computer. Then disable firewalls and anti-virus software on your computer before launching iTunes.
Step 2: Plug a USB cord into your computer but do not connect to your device yet.
Step 3: Press and hold the sleep and home button on your device until the screen turns black. Once the screen is black release the sleep button but continue holding the home button (NOTE, if an apple logo appears you have done it wrong and you need to start over).
Step 4: While still holding the home button, connect to the USB cord and therefore, your computer. iTunes should show a message saying that a device in "recovery mode" has been detected, this may take some time, and once you have seen that message you can release the home button.
Step 5: When setting the device back up, make sure to not restore a backup and instead set up a new phone.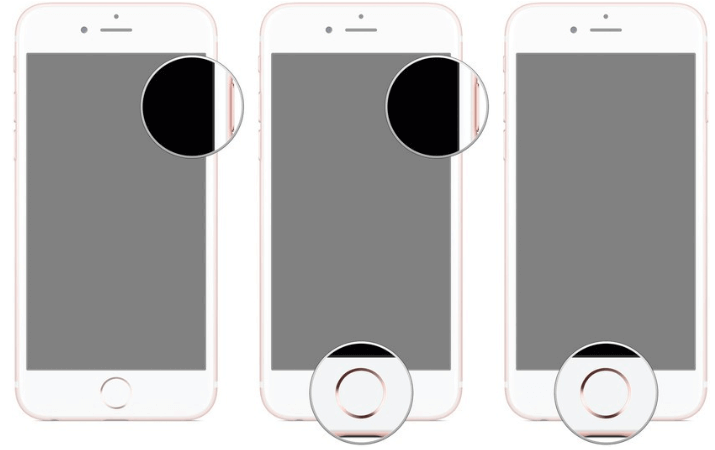 Pros:
Free MDM bypass solution.
Safe. No risk of bricking the device.
Cons:
Firewalls must be disabled which would endanger your computer.
It could be difficult to enter DFU mode for some iOS device models.
To Sum Up...
MDM was intended to make sure that your device is under the company's or school's supervision. If the device has become your personal property, then removing the MDM on your device is very important as it gives you full control over your device. If you need to remove Mobile Device Remote Management on iPhone or iPad, make sure try the MDM bypass software iMyFone LockWiper introduced in this article, and always stick to the instructions. And if you have any further questions surrounding this topic then just contact us.