An MDM stands for a mobile device management software. This is installed onto a device such as iPhone and iPad and it can control what that device can do and will even set up accounts and apps without you knowing. It is essential that you understand what this threat is, where it comes from and how best to remove the threat. This guide will tell you everything about that.
Part 1. The Privacy Concerns of an MDM
As mentioned previously, an MDM stands for mobile device management and is a type of software installed on mobile devices like iPhone or iPad to control and limit their use. The type of things that an MDM will do to your device are: set up email accounts, download and restrict apps found in the App Store and even secretly gather personal data like telephone numbers and credit card details.
1

Your companies can access your data.
However, MDM's traditional use is with large companies' IT departments and the use of company devices. Company devices will often have an MDM downloaded onto them to keep the user in the rules set out by the company guidelines. With MDM installed on your device, you can only use the device for work purposes, and basically everything you do on that device will be monitored by the IT administrator of your company. Most people would find it disturbing. So if you know you have an MDM software installed on your device, you should seriously think about what you do with that device because whatever you do, you're watched.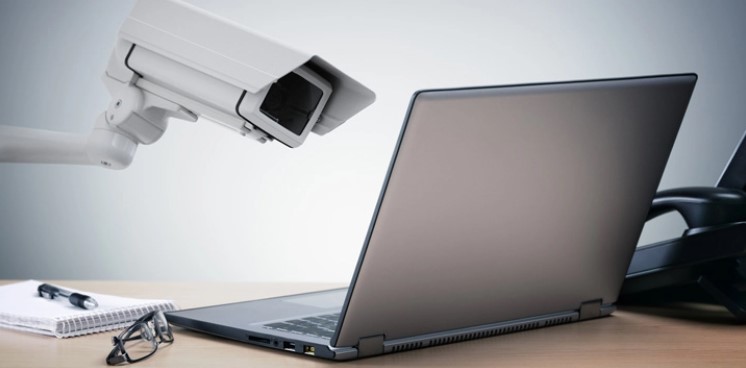 2

Hackers may bring more serious problems.
Many hackers also make use of MDM technology. However, they will not follow the moral standard as most companies do. They would take advantage of MDM to steal data from the owners of second hand or stolen devices that are often sold on eBay and other second-hand sites.
In this case, there will be issues with your Apple ID and other Apple-related accounts. Since MDM often appears like a profile on your device, it will have access to all of your Apple accounts like your Apple ID and could reveal sensitive personal data that could be used against you. This Apple ID breach will bring a world of issues surrounding your email address and your passwords. If a hacker gets your email address, they will sell the address to scammers and also use that address to sign up to fraudulent websites. Your passwords can be accessed as well and if you use the same password for other accounts then this will lead to further issues.
The MDM major privacy concern can also bring you financial trouble. If you use Apple Pay or other Apple-based payment apps, then MDM can access the information and use it to rack up your credit card debt and other such financial fraud.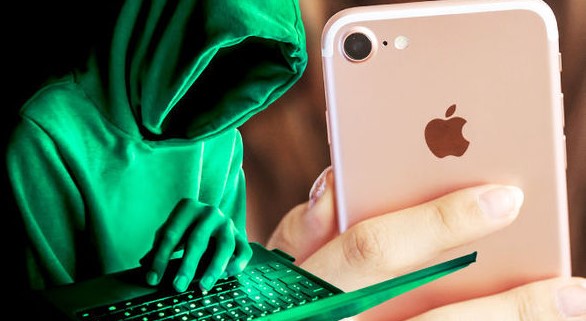 To sum up, here are the major privacy concerns that MDM could bring you:
1. MDM monitors basically all activities on your device
2. MDM limits the functionality of your device
3. MDM secretly gather personal data on your device
4. MDM potentially gives hackers an approach to acquire your personal data
5. MDM exposes your payment information in danger.
Part 2. What Can You Do About Your Privacy Concerns?
There are a number of things that you can do to effectively address these privacy concerns:
1. Have a frank discussion about MDM with your employer.
If you have an issue in the workplace and you suspect that your employer is misusing the MDM installed on your company device, then the best option is to look for legal support. What the focus of your investigation should be is whether your employer is misusing the technology at their disposal or whether the MDM controls too much on a device. Be aware, that attention also should be paid to the company policy as what they limit you to maybe a breach of your online rights.
2. Use MDM removal tool.
You can get rid of the software and stop the problem at source once you are no longer required to install it. Handily, the best way of removing an MDM with third-party software. The details of this method are included in Part 3. You can follow the simple steps to remove MDM on your devices.
3. Report illegal sellers.
If you buy a second-hand device with MDM installed, a further way to limit the effects of an MDM is to report the site that you bought the device on and stop the seller at the source. This is a good way to stop hackers at their source as hackers will often buy second-hand phones or stolen phones and install the MDM on them. Then they sell the phone on such sites as eBay and Craigslist. If you report the seller on these sites as being fraudulent, the site administrators will often act quickly and efficiently in dealing with your request. This will stop others from suffering a similar fate.
Part 3. What Can You Do About Your Privacy Concerns?
As mentioned in the above, one of the best ways to deal with the privacy issues brought about by the MDM is by getting rid of it. There are a number of different ways of doing this, but one of the most efficient methods is by using iMyFone LockWiper.
iMyFone LockWiper can make your life easier and secure by helping you remove MDM on your iOS devices. After MDM removal with LockWiper, you can continue using your device as normal.
Some main features of iMyFone LockWiper are listed below:
Remove MDM on your iOS devices with simple clicks.
No need for username and passcode for the MDM removal.
Free you from privacy worries and keep your device secure.
Easy to use without technical knowledge required.
It can also remove all kinds of screen locks from iDevice.
Follow the steps to remove MDM restriction: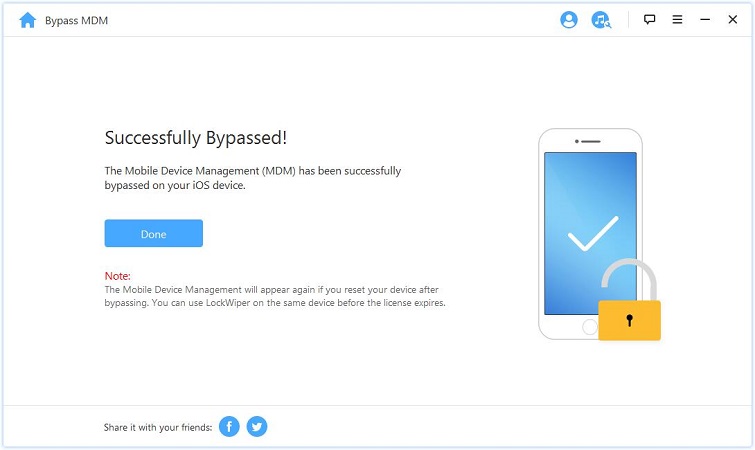 Here's the step-by-step process on how to remove MDM on your iDevice using iMyFone LockWiper.
Watch Video Tutorial to Free Yourself from MDM Privacy Concerns in 2020
[Video Transcript]

Step 1: Download and launch iMyFone LockWiper on your PC. From its home screen, click on the "Bypass MDM" mode.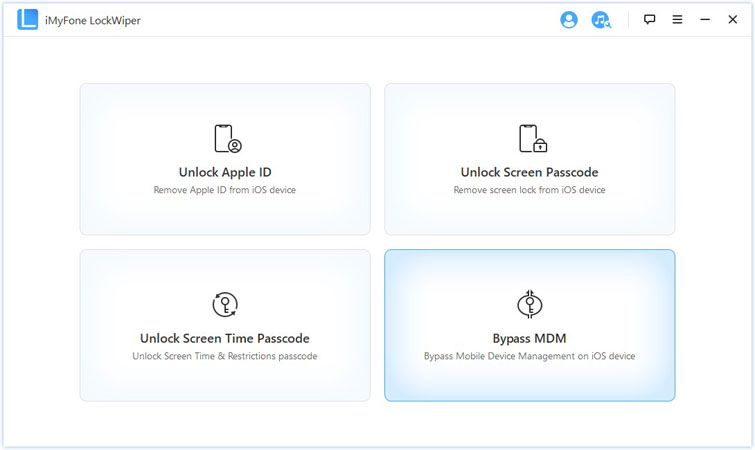 Step 2: Use a compatible lightning cable to connect your device to the PC.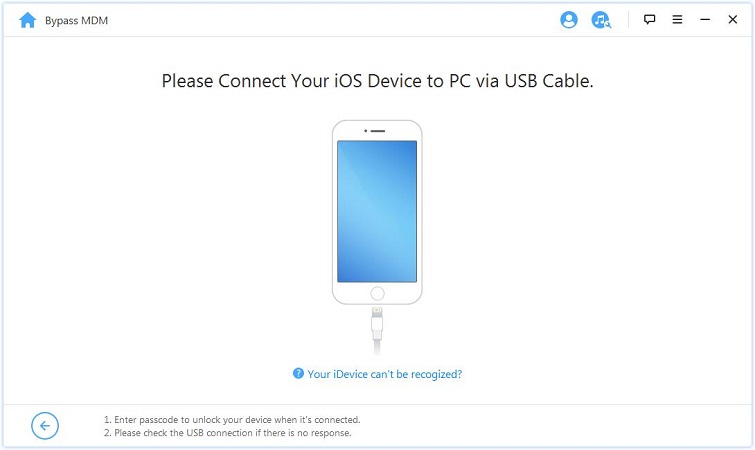 Step 3: To remove the MDM restriction on your device, please rest your iOS device by tapping "Settings > General > Reset > Erase All Content and Settings".
Note:
Before you would like to start the MDM bypass process, please make sure your iOS device is on the MDM lock screen.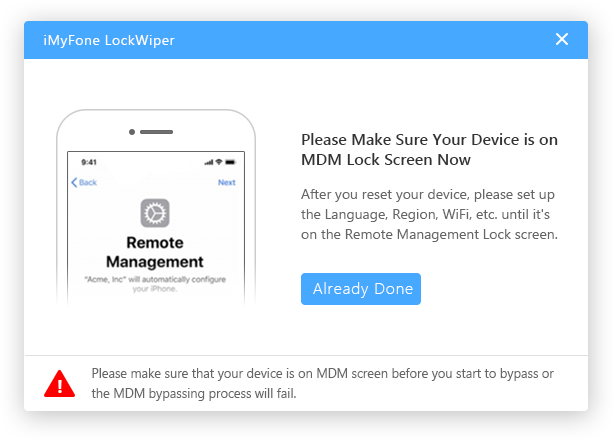 Then click "Start to Bypass" on the interface.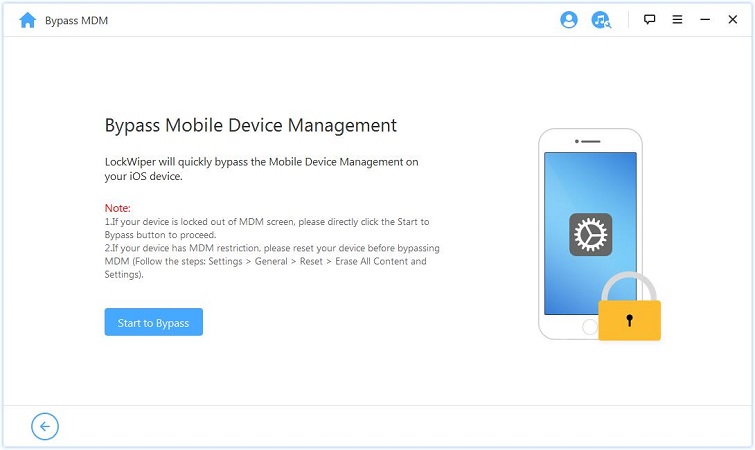 Step 4: After that, you can see LockWiper starts to bypass the MDM.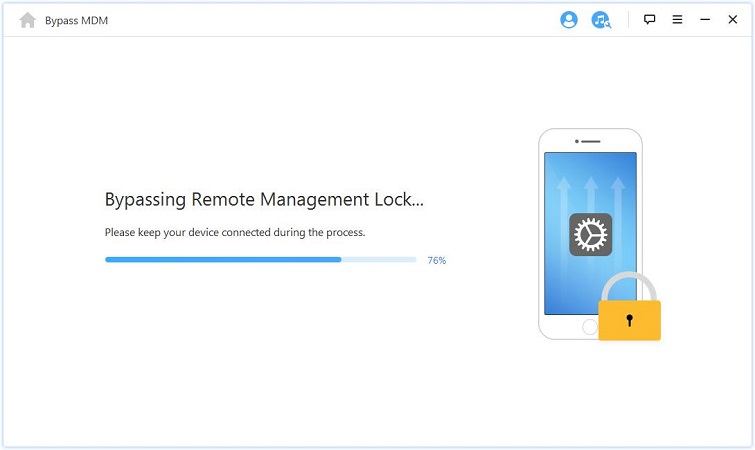 Once the process is finished, your device will be free from MDM restriction.
To Conclude
MDM poses a serious security threat and it should be taken seriously. By understanding the risks and knowing how to protect yourself, you will be better prepared to avoid fraud and other illegal activity.
The best solution is to remove MDM from your device with an easy-to-use tool. iMyFone LockWiper can do a good job and save you from all these MDM privacy concerns to protect your privacy.