Question
"I got a second-handed iPhone 11 a couple of days ago, only to find the iPhone is somehow "Supervised" by an enterprise, which limits a lot of functions on the phone. Can anyone tell me what the supervised mode is and how to remove iPhone supervision?"
Whether you are a second-handed iPhone buyer, or a former employee or student, the iPhone supervision could be a big problem preventing you from having full access to the device. But with proper tools, you can remove iPhone supervision and regain access to your iPhone quite easily. Here are the details.
Part 1: Why is Your iPhone Supervised?
What is iPhone supervision?
To disable supervised mode in iOS, you have to know what the iPhone supervision is and why your iPhone is supervised. When an employer or school issues you an iPhone for professional use, it might be supervised. Supervision gives your employer or school greater control over their iOS devices. By default, iOS devices are not supervised. Your device can be setup to be supervised through the use of Mobile Device Management (MDM) software that the IT department administrators can install and configure onto the device before issuing it to you.
Mobile Device Management software tools process and manage anything and everything about the mobile device. The software will implement security and data privacy / restriction measures to improve efficiency, improve productivity, achieve compliance, and enhance security.
How does iPhone get supervised?
Your employer's or school's IT administrator can therefore apply restrictions on the device usage and specific configuration profiles to the device, which may include, but are not limited to, the following:
Restrict access to apps
App lock (Single-App mode)
Web content filter
Activation lock bypass
Native restrictions)
Global proxy
Silently install and remove apps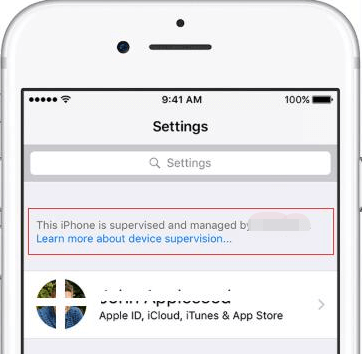 As a result, an organization's IT administrator will gain extensive remote control over its assets and devices. This will place organization information security policies and practices onto your device to adhere to its data security and access management standards. So if you no longer have a relationship to the party that supervises your iPhone, it is very important to remove device supervision on iPhone.
Also Read: New MDM Features on iOS 16 and How to Remove
Part 2: How to Remove iPhone MDM Supervision
Best MDM Removal Software to Remove iPhone Supervision
If you use an MDM removal program to do the job, you will be able to remove iPhone supervision all by yourself. If you are looking for a professional MDM remove program, iMyFone LockWiper is here as the state-of-the-art solution that enables you to bypass MDM activation screen in 1 click. When you are locked out of Remote Management lock screen and can't enter your device, iMyFone LockWiper can also help you bypass MDM on iOS device without username and password.
Some main features of iMyFone LockWiper are listed below:
Bypass MDM activation screen with 1 click.
Remove MDM restriction on iPhone, iPad, and iPod touch, etc.
Bypass MDM on your iOS device without username and password.
Remove different kinds of MDM including Lightspeed MDM profile.
It can also unlock Apple ID, remove iPhone passcode, bypass screen time or restriction passcode, etc.
It is fully compatible with all iOS versions (iOS 16 included).
Here's the step-by-step process on how to remove iPhone supervision using iMyFone LockWiper.
Watch Video Tutorial to Remove iPhone Supervision on iPhone
[Video Transcript]

Steps for how to bypass MDM restriction with iMyFone LockWiper:

Step 1: Download iMyFone LockWiper and launch the application on your computer. On the main interface of the program, select the "Bypass MDM" mode.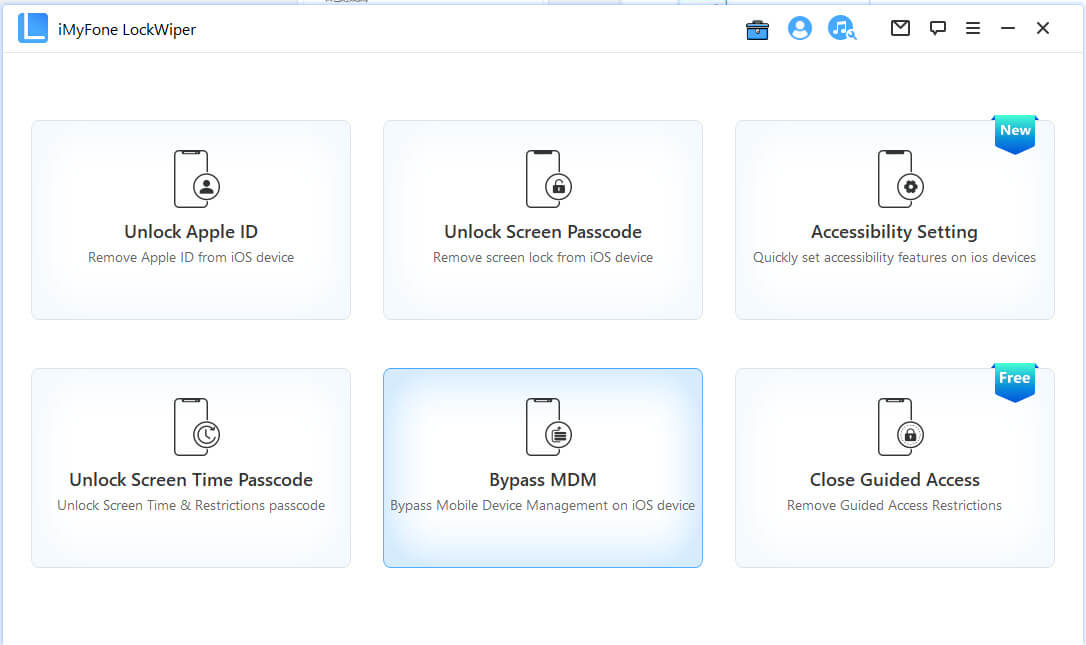 Step 2: Follow the instruction and connect your iOS devices to computer via a USB cable.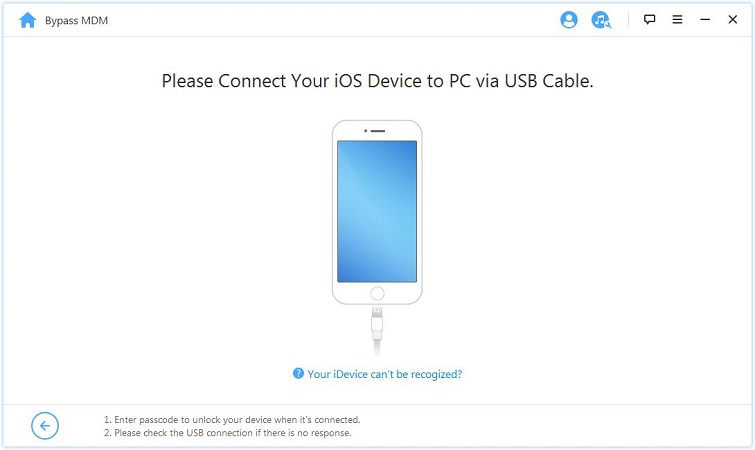 If your device is locked out of the MDM screen, please directly press the "Start to Bypass" button to begin the process;
If you want to remove the MDM restriction on your device, reset your device first by the following steps:
"Settings > General > Reset > Erase All Content and Settings". Then click "Start to Bypass".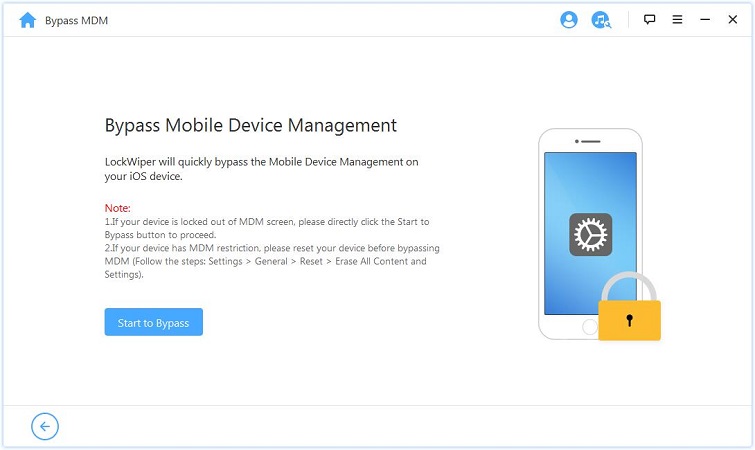 Note:
Before starting MDM bypassing, please make sure the iPhone is on MDM Remote Management screen.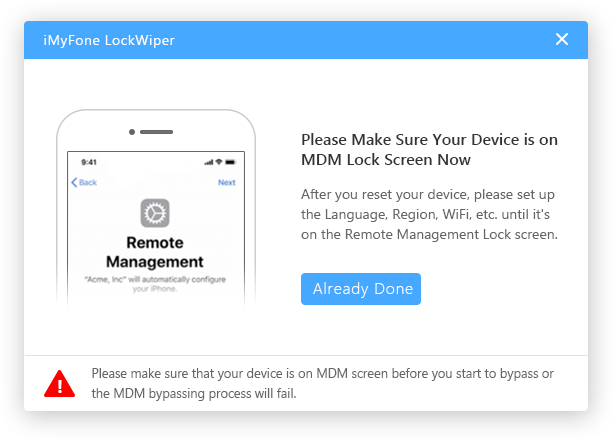 Step 3: After that, LockWiper will immediately bypass the MDM on your iOS device.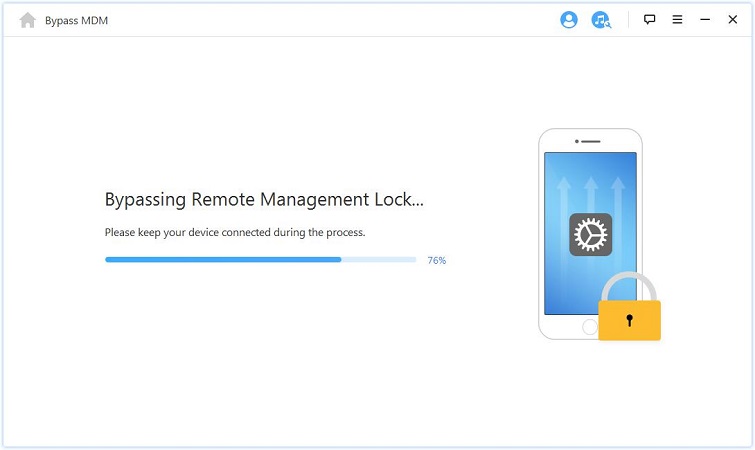 Once the process is finished, you can bypass the MDM and get access to your iOS devices successfully.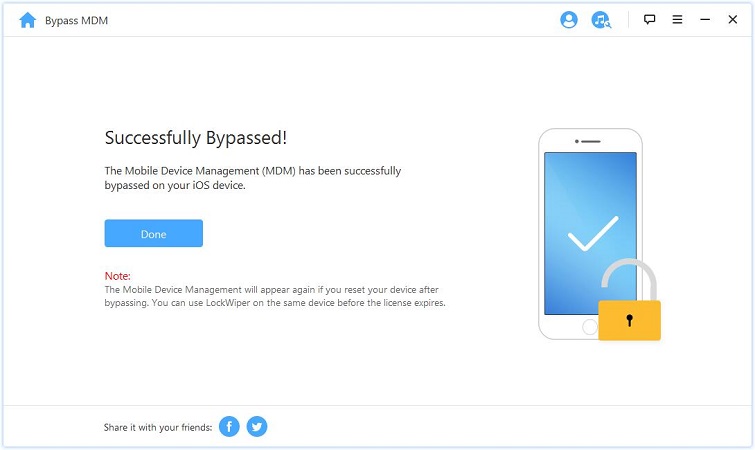 Part 3: Remove iPhone Supervision with Configurator 2
Apple Configurator 2 is a free Mac OS tool used via USB connection to configure one or any large number of devices quickly and easily. IT administrators use this tool to configure settings on Apple devices before issuing them out to end users. With Configurator 2, IT administrators can update software, install apps and configuration profiles, change wallpapers, export device information, and much more.
It is possible to remove iPhone supervision status on your devices. However, in doing so, it will erase all content and settings, which includes, but is not limited to, your apps and media. Prior to removing device supervision, you should make a backup copy of the device in order to preserve the data. However, do note that backups from supervised devices can only be restored onto another supervised device.
Steps for removing supervision from a device with Configurator 2:
Step 1: Open Configurator 2
Step 2: Select the device
Step 3: Select Actions > Advanced > Erase all content and settings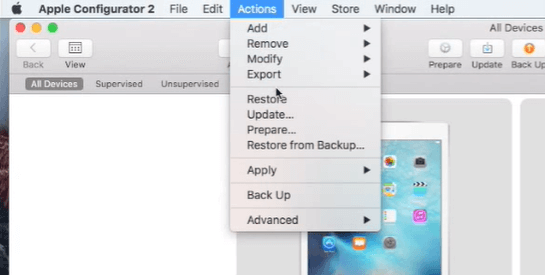 By following the above, you will be able to disable supervised mode in iOS from your device and reset the device to the default factory settings. However, Configurator 2 only allows IT administrators to operate, that means you have to make contact to the IT department who has the supervision of your iPhone first.
Pros and Cons
Pros
Easy to operate.
Completely safe and secure.
Cons
The application is only avilable on Mac.
Requires authorization from the IT department that supervises your device.
Conclusion
iPhone being supervised by a third party has been a common issue for second-handed buyers and former employees and students. If you can contact the IT administrator of the related party, then the MDM should be easily removed by them. But if you cannot make such contact, you can also remove iPhone supervision easily with the help of professional MDM removal software iMyFone LockWiper. Just download LockWiper, follow the instructions and the supervision mode will be disabled easily.